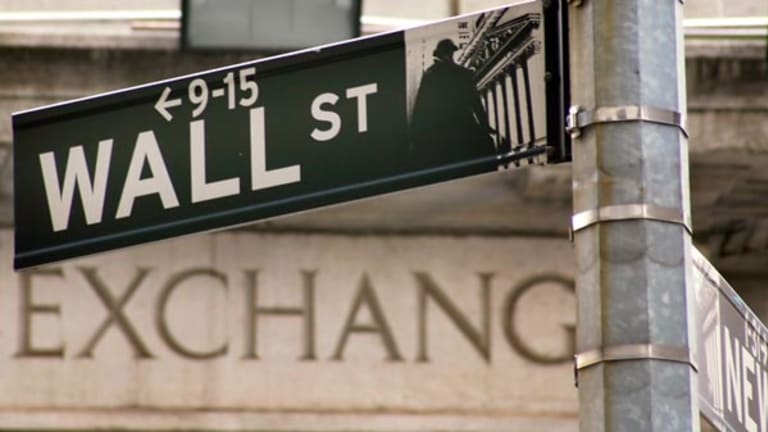 TheStreet.com's DAILY BULLETIN
May 15, 2000
http://www.thestreet.com
Market Data as of Close, 5/12/00:
o Dow Jones Industrial Average: 10,609.37 up 63.40, 0.60%
o Nasdaq Composite Index: 3,529.06 up 29.48, 0.84%
o S&P 500: 1,420.96 up 13.15, 0.93%
o TSC Internet: 843.56 up 9.51, 1.14%
o Russell 2000: 490.94 up 1.55, 0.32%
o 30-Year Treasury: 100 22/32 down 22/32, yield 6.199%
Companies in Today's Bulletin:
Toyota Motors (TM:NYSE ADR)
Nissan Motors (NSANY:Nasdaq ADR)
Sharp (SHCAY:Nasdaq)
Nippon Telegraph and Telephone (NTT:NYSE ADR)
Compass Group (CMSGY:Nasdaq ADR)
In Today's Bulletin:
o Editor's Letter: The Coming Week on TSC
o The Coming Week: The Sure Thing
o The Coming Week in Europe: Mergers and Alliances Are in Bloom
o The Coming Week in Asia: Of Yen Strength and Dwindled Profits
Also on TheStreet.com:
Smarter Money: The Case for Philip Morris
The trader doesn't admire this company, but he still thinks it is poised to move up.
http://www.thestreet.com/funds/smarter/938375.html
Market Features: Granada Set to Take Over Compass Group
The $27 billion deal will likely be followed by the spinoff of Granada's media operations.
http://www.thestreet.com/markets/marketfeatures/939292.html
Jim Griffin: Chimpanzee Poetry and Dart-Board Investing
You don't want a chimpanzee, even a talented one, picking stocks in these markets.
http://www.thestreet.com/comment/jamesgriffin/939227.html
Investing: Song-Swappers Love Napster, But Will Wall Street?
The file-sharing technology has drawn some venture capital, but a viable business hasn't yet emerged.
http://www.thestreet.com/funds/investing/938479.html
Editor's Letter: The Coming Week on
TSC
By
Dave Kansas
Editor-in-Chief
5/14/00 4:58 PM ET
At the front of everyone's brain this week is Tuesday's
Federal Reserve
policy meeting. Inflation and economic growth have displayed more red flags of late, and most on Wall Street expect a hike of 50 basis points.
Will that be enough? At this point it's impossible to know. Some investors believe a strong move will help soothe tension in the market and spark a rally. More bearish investors believe the Fed is just getting started, and that
Alan Greenspan
and his cohorts are more determined than ever to reel in an economy that has gotten too hot for their liking.
We'll give you every angle on Tuesday. We'll be tracking the markets and analyzing the reaction when the Fed makes its intentions known shortly after 2 p.m. EDT.
Given the rising concern about the stock market and the economy, a historical perspective is invaluable. I encourage you to take a look at
Andrew Morse's
story, which compares the Japanese bubble to our own economic and stock-market situation. It's a bit harrowing to read, but provides good insights into our own current situation.
Another good perspective piece comes from
James J. Cramer
. He doesn't go as far back as Andrew Morse, instead comparing the struggles of 2000 with what occurred in 1994. His
rewrite of his column about that year provides deeper insight into how he sees 2000 shaping up in a similar way, and 1994 was certainly a pretty tough year for investors.
Finally, for those seeking some safety,
Ian McDonald
has a great
story on mutual funds that have weathered past market storms. I encourage you to take a look at that for some good pointers on where to put your money when the going gets difficult.
If you've got any questions or comments, feel free to email at
dkansas@thestreet.com and I'll make sure your issues get handled.
Meantime, get ready for another exciting week at
TheStreet.com
. From the Fed to funds, from tech stocks to old-school stocks, we'll have you covered.
L'Etoile du Nord
Dave Kansas
Editor-in-Chief
Dave Kansas is editor-in-chief of TheStreet.com. In keeping with TSC's editorial policy, he doesn't own or short individual stocks, though he owns stock in TheStreet.com. He also doesn't invest in hedge funds or other private investment partnerships. He welcomes your feedback at
dkansas@thestreet.com.
The Coming Week: The Sure Thing
By
Justin Lahart
Associate Editor
5/14/00 4:25 AM ET
It's nice to run into a sure thing every once in a while, and in the coming week, it looks like Wall Street is going to get one.
The
Federal Open Market Committee will meet on Tuesday, and there is little doubt that it will abandon the path of gradualism and raise rates by a half-point. And in the statement that comes with the hike, the Fed will likely say risks are "weighted mainly toward conditions that may generate heightened inflation pressures," thus leaving the door open for further tightening.
But figuring how the market is going to react to this? That's another matter.
"It's really a junk ball here," says Gary Kaminsky, managing director of the asset management group at
Neuberger & Berman
. "Nobody knows where it's going to go."
Generally speaking, when the FOMC goes and does what everybody expects -- and over the past few years it has consistently done what everybody expected -- the market rallies. This time around it's less clear that that's going to happen, partly because there's a general sense that this won't be the last hike, and mostly because on Tuesday morning we're going to get a gander at the April
Consumer Price Index.
It was the March CPI, with its surprising intimation of higher inflation, that sent the market tumbling to fresh lows last month and sparked serious talk of a half-point rise in rates. Investors will use the April report to gauge the extent of further hikes. If the CPI, particularly its core, which excludes food and energy prices, comes in as hot as it did last time, it will start to look like the Fed has a heck of a lot more work to do.
"This CPI almost becomes a referendum on inflation," said Kevin Flanagan, money market economist at
Morgan Stanley Dean Witter
. "Was last month an aberration, or does it signify a new trend toward higher inflation?"
Happily, economists expect this CPI to be a bit tamer, with the headline gaining 0.1% against last month's 0.7%, and the core picking up 0.2% against last month's 0.4%. That's pretty bearable, and if the numbers come in at or below the consensus forecast, there's a good chance that investors will reckon the market has put in its bottom.
"It looks like we are completing such a retest of the April lows," said John Bollinger, president of
EquityTrader.com
. "I think it's a pretty constructive environment." Still, Bollinger thinks it all comes down to how the market reacts to the Fed announcement, and that that reaction will dictate the direction for a while. It's one of those rare situations where being a trend follower might not be such a bad thing.
Even if things dip lower, nontechnology stocks may not have far to fall.
"For the past couple of years, the average stock has performed miserably compared to techs," said Steve Goldman, market strategist at
Weeden
. "We've got values that really can withstand these rate rises. I think the market will be choppy, but I don't think we're ready to start a serious decline."
Technology, on the other hand, is going to continue to have trouble, thinks Goldman. "Any time it pops its head up there will be a massive number of sellers," he said. "It's not likely to stabilize until, say, the fourth quarter."
Whatever the market does Tuesday, it won't be long before it puts this Fed meeting behind it and starts thinking about the next one. "Our memories won't be very long with this," said Flanagan. "Attention will move quickly to the future."
And so, the drudgery of watching the Fed will plod on. "Sometimes," said Bollinger, "it feels like I've spent half my life waiting on Alan."
The Coming Week in Europe: Mergers and Alliances Are in Bloom
By
Marc Young
German Correspondent
5/14/00 4:35 AM ET
BERLIN -- An unusually mild spring apparently hasn't enticed parts of Europe's business community outside to enjoy the unseasonably pleasant temperatures.
No, proud members of the Continent's technology and telecommunications elite have been huddled indoors, as busy as ever, attempting to outsmart their competitors by forging new alliances and pursuing full-blown mergers.
While European corporate partnerships have lately had the habit of being taken up and then broken off in a matter of days, a slew of new talks on Friday from the telcos and technology industries makes it likely both sectors will remain of particular interest to investors on both sides of the Atlantic.
For those in the U.S. not directly purchasing foreign shares or ADRs, mutual funds such as the
(UMINX)
Excelsior International fund and the
(MNIGX)
Montgomery International Growth fund, which invest in European telcos, could be a way to get into the action. Part of the fondness for the sector is spurred by Japanese telco giant
NTT Docomo
, a unit of
Nippon Telegraph and Telephone
(NTT)
, which has recently discovered Europe.
Coming close on the heels of Docomo's $4.5 billion purchase of 15% of Dutch telco
KPN's
(KPN)
wireless unit, the Japanese are now reportedly talking with France's
Vivendi
(VVDIY)
about making a joint bid for U.K. mobile operator
Orange
. For its part, however, NTT Docomo says it hasn't yet singled Orange out as a potential takeover target.
Orange, which the combined company of
Vodafone
(VOD) - Get Report
-
Mannesmann
must sell for competition reasons, is one of Europe's most coveted operations -- even more so after it garnered one of the U.K.'s pricey licenses for third-generation wireless services.
As KPN has also expressed an interest in Orange, investors in the coming week might see the beginnings of a powerful new international wireless alliance emerge between the Japanese, Dutch and French. That could certainly shake up the likes of
France Telecom
(FTE)
and
Telefonica
(TEF) - Get Report
, which also both want Orange. For the Spanish firm, such an alliance could be especially bitter, considering the recent failure to merge with KPN.
Telefonica is also making news in the Internet sector. Its Net unit,
Terra Networks
(TRRA)
, hopes to team up with U.S. portal
Lycos
(LCOS)
. That dance should help keep interest in both European and American Net sector shares percolating next week. With Terra's strong position in Latin America, Lycos could hope to make up some ground against rival
Yahoo!
(YHOO)
.
In addition, Germany's
T-Online
-- a unit of
Deutsche Telekom
(DT) - Get Report
-- is supposedly sniffing around U.K. Internet service provider
Freeserve
(FREE)
.
Of course, next week investors will also be focused on the
U.S. Federal Reserve
monetary policy meeting. Given that the
European Central Bank
held rates steady last week and assuming the Fed will hike interest rates by 50 basis points on Tuesday, the beleaguered euro may again slump. Late Friday, the euro was up slightly at $0.918.
For Robert Halver, an equity strategist at
Delbrueck Asset Management
in Frankfurt, higher rates on tap in both the U.S. and the eurozone are another reason to favor tech and telco issues over traditional Old-Economy stocks. "Since interest rate increases hit the cyclical sectors, underperformance of value against growth isn't astounding," he says. Halver also prefers European shares over U.S. ones, since the expected eventual bottoming out of the euro should support continued investment by U.S. and British investors who "have had to swallow exchange-rate losses so far."
European politicians and central bankers probably hope for the euro to turn around soon too, albeit for a different reason: Unlike Europe's deal-making technology and telco CEOs, they probably want to be able to take a nice long summer vacation.
The Coming Week in Asia: Of Yen Strength and Dwindled Profits
By
Kaya Laterman
Japan Correspondent
5/14/00 4:30 AM ET
TOKYO -- All in all, the past week wasn't a very pleasant one for the Tokyo equity market, and the weeks ahead don't look so great either.
While investors in the U.S. worry about what the
Federal Reserve
is going to do, Japanese players will be mired in their own, homespun mud: earnings. It's week two of the fiscal 1999 earnings rush and so far, the results have been quite atrocious. Many companies have seen profits slashed due to high costs from mergers, restructuring and pension fund deficits. Although all this spending to revamp Japan Inc. is great in the long run, it still hurts the books in the meantime. The only shining stars seen so far are chip makers such as
Sharp
(SHCAY)
, which saw net profits surge 510%, to
28.1 billion ($260 million), as the mobile phone market continues to explode.
But weak domestic economy aside, another huge reason why profits dwindled the past fiscal year that closed March 31 was the sudden and surprising surge of the yen. Any time a Japanese exporter sells a product overseas when the yen is strong, that's less profit for the company when the sale is converted back into the home currency. A strong yen also makes Japanese companies less competitive at home. There is a reason that the
Ministry of Finance
, under the auspices of the
Bank of Japan
, has over the past year often intervened in an attempt to weaken the yen.
The dollar weakened to an average of
113.84 during 1999, down about
4 from the previous year. And against the troubled euro, of course, the yen was even stronger. This is expected to cut into the profits of Japan's big auto makers such as
Toyota Motors
(TM) - Get Report
,
Nissan Motors
(NSANY)
and
Mazda Motors
, all of which are reporting earnings next week.
"In the short-term, there are so many things -- like the performance of U.S. stocks -- that will affect Japan's equities," says Brenda Reed, fund manager of
Fidelity Investment's
(FJPNX) - Get Report
Japan Fund. "So as a long-term investor, that's why I focus on companies that have global operations and can boost earnings when things are not so good at home."
Reed says she likes Toyota, which is one of the top 10 holdings of her fund, because the company has outperformed the
Topix 100
index even though domestic car sales have plummeted for three years straight. And despite the strong yen, the surge in car sales in the U.S. has boosted share prices by about 78% over the past year, helping her fund rise 102.45% over the same period.
Toyota, which will release earnings Wednesday, is expected to announce a group operating profit of
709 billion ($6.5 billion) for fiscal 1999, down 8.4% from the previous year. Net profits, however, are expected to be around
400 billion, up from
356 billion a year ago.
Nissan will be releasing its earnings on Friday, and nobody is expecting any pleasant surprises from this automaker. Nissan, which is 36.8% owned by France's
Renault
, said it expects a group operating profit of about
46 billion, but analysts are calculating losses to the tune of
630 billion. Mired in a three-year restructuring program, while overseas car sales plummet, many are waiting around for Nissan to introduce its new car line (expected sometime this fiscal year) before investing in shares again.
Mazda, which will release earnings Friday, says net profits will likely be between
25 billion and
40 billion. The automaker exports almost two-thirds of its cars overseas with the help of
Ford Motors
(F) - Get Report
, which holds a controlling minority stake. Investors, which have kicked Mazda shares down 36% over a year, reportedly want to see whether the firm survives as a pseudo-Japanese entity or will be swallowed whole by Ford.
The three automakers can blame anything and everything for their paltry earnings -- the high cost of mergers, restructuring and a weak domestic economy -- but it's rather easy to predict what auto officials will be saying first and foremost when explaining results this year: "It's the yen, stupid."
Chat with John J. Edwards on AOL's MarketTalk, hosted by Sage Monday, May 15, at 3:30 p.m. EDT. (Keyword: Live)
Copyright 2000, TheStreet.com