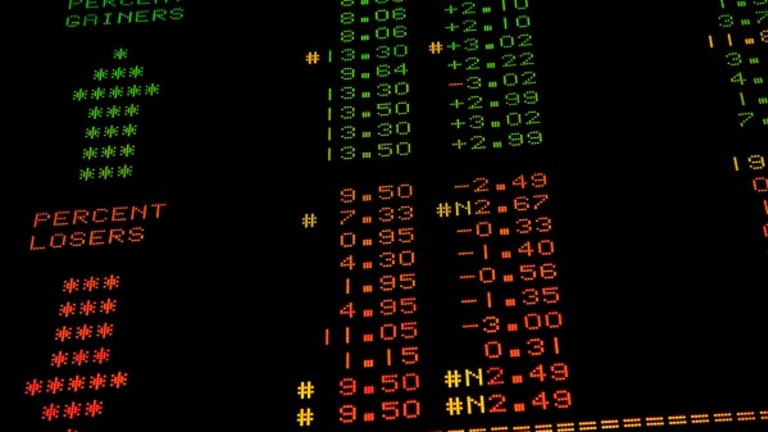 TheStreet.com's DAILY BULLETIN
May 10, 2000
http://www.thestreet.com
Market Data as of Close, 5/9/00:
o Dow Jones Industrial Average: 10,536.75 down 66.88, -0.63%
o Nasdaq Composite Index: 3,585.01 down 84.37, -2.30%
o S&P 500: 1,412.14 down 12.03, -0.84%
o TSC Internet: 850.88 down 13.43, -1.55%
o Russell 2000: 490.86 down 9.22, -1.84%
o 30-Year Treasury: 100 17/32 up 16/32, yield 6.208%
Companies in Today's Bulletin:
Baltimore Technologies (BALT:Nasdaq)
Wal-Mart (WMT:NYSE)
Cisco (CSCO:Nasdaq)
IBM (IBM:NYSE )
Microsoft's (MSFT:Nasdaq)
AT&T (T:NYSE)
In Today's Bulletin:
o Europe: The Anglo File: Baltimore Technologies Stock Dips With Results Release
o Wrong! Tactics and Strategies: Degrees of Decline
o Evening Update: IBM's Gerstner Speaks and Cisco Reports After the Bell
o Bond Focus: After an Auction, Treasuries Snap Losing Streak
Also on TheStreet.com:
Market Features: Just Because Tech Stocks Are Lower, Doesn't Mean Everyone's Buying
At the Chase H&Q, the hot companies draw the crowds. But the old buy-on-the-dips philosophy isn't in favor.
http://www.thestreet.com/markets/marketfeatures/936501.html
Mutual Funds: Behind Closed Doors, Is Janus Turning Bearish?
The aggressive fund giant's move to close three funds has some watchers seeing a warning sign.
http://www.thestreet.com/funds/funds/936374.html
Tech Savvy: An Out for Beleaguered Excite@Home Investors?
There are rumors aplenty of Comcast making a takeout offer.
http://www.thestreet.com/comment/techsavvy/936265.html
Market Features: Watch Out! Light Volume Might Mean More Than You Think
Nothing brings out the bears faster than consistently lousy volume.
http://www.thestreet.com/markets/marketfeatures/936477.html
Europe: The Anglo File: Baltimore Technologies Stock Dips With Results Release
By
Nick Watson
Senior European Correspondent
5/9/00 3:38 PM ET
LONDON -- The roller-coaster ride that shares of
Baltimore Technologies
(BALT)
took following the release of its first-quarter figures on Tuesday shows just what a nerve-wracking experience it is to invest in volatile tech stocks. Yet, if you believe what many analysts and fund managers say about this provider of e-security services, a bit of discomfort is a small price to pay.
Baltimore announced a loss of
7.2 million ($11 million) in the first quarter compared with a loss of
7 million in the same year-ago period. This was generally better than many had expected, yet it was the 100% increase in revenue, to
9 million, that especially pleased the market.
The shares initially rose 3.5% on the statement, but then fell back 11.6% before closing the day down 333 pence, or 4.8%, at
66.36. Actually, this could be considered a quiet day for a stock that has a 52-week range of
7.20 to
137.50.
Baltimore Technologies
The ups and downs of offering security
Source: Bloomberg
"These were a good set of figures," says one private banker, who declined to be named but said he owns a small amount of the shares for his "more adventurous" clients. "The problem was that the stock was dragged back by the fall in the
Nasdaq
overnight. You'll never see Baltimore rise if the Nasdaq is down."
Indeed, that was proving true in New York on Tuesday. Baltimore shares traded as American depositary receipts were off 6 3/16, or 5.6%, to 105 3/16 as of 1 p.m., while the tech-tumescent index was down 2.3%.
Another reason for today's uncertainty surrounding the stock is that Baltimore is changing its business model by moving away from low-margin, security-hardware development and consulting toward higher-margin e-security software solutions. As such, there is difficulty comparing today's incarnation of Baltimore with that of a year ago.
Nevertheless, it is precisely this change that is encouraging analysts to put 12-month price targets of between
120 and
150 on the company. And today's announcement that software revenue jumped 800%, to
5.2 million, during the first quarter, has no doubt cheered those bullish analysts.
How Much Security?
Baltimore designs information security products that allow organizations to carry out activities (such as banking) securely over the Internet. The company is especially focused on a segment of the security market called public key infrastructure. PKI is the most sophisticated form of user authentication and especially important in the e-commerce market.
The consultancy
Datamonitor
expects PKI to be the fastest growing part of the e-security market, growing six-fold between 1999 and 2003. IDC forecasts the global market for PKI products and services to be worth $1.4 billion in 2003, compared with just $123 million in 1998.
It's a big market, in which Baltimore faces some serious competition.
Entrust Technologies
(ENTU)
is probably Baltimore's closest and biggest competitor. It is the market leader in PKI, and in 1999, it had sales of $71 million in the U.S. and Canada compared with Baltimore's paltry $2 million.
However, Baltimore is seeking to address this problem. In January, it announced an agreement to buy U.S. PKI developer
CyberTrust
from
GTE Corporation
(GTE) - Get Report
for $150 million.
Baltimore said today it hopes that CyberTrust's "strong sales pipeline" would help it increase its percentage of revenue from North America. Currently, the region accounts for 18% of total revenue, while Europe, Middle East and Africa represents 52%, and Asia Pacific 30%. Also, by buying the No. 4 PKI provider in the world, Baltimore has increased its global share of the PKI market to 21%.
Security in Diversity
Baltimore is also diversifying into new areas, such as the PKI market for wireless, a potentially huge market with the roll-out of third-generation mobile services. Yet, Jemma Houlihan, an analyst with
ABN Amro
, says in a recent research report that this could prove a double-edged sword.
"While Baltimore's approach ensures that it benefits from growth in both methods of Internet access, it does spread the company's resources more thinly and leaves the company vulnerable to competitive threats from more specialist players," says Houlihan, who has a buy rating on Baltimore. ABN has no investment banking relationship with the company.
Wireless PKI specialists include
Nokia
(NOK) - Get Report
and
SmartTrust
, a division of Finnish mobile operator
Sonera
(SNRA)
. (
TSC
wrote about Sonera on
Monday.)
With losses expected to continue until some time after 2002, investing in Baltimore is not, as the fund manager says, "for widows and orphans." While the company can't assure investors of a smooth ride, what it can say for certain is that organizations require security in an increasingly insecure world, and Baltimore intends to sell it to them.
Wrong! Tactics and Strategies: Degrees of Decline
By
James J. Cramer
5/9/00 2:43 PM ET
Is this day more nauseating or less nauseating than yesterday? Is this shakeout more difficult or less difficult than the nasty April unraveling?
The
NDX
decline today seems a tad more chilling than the previous ones. It bounced off of 3400 just now, which was a relief. I guess.
We have been reluctant to buy even our round of 5,000s until we get some sort of bounce. You contrarians out there can say, "Hmm, that's Cramer panicking," but actually, I am in the capital-preservation mode. We have bought all we want with oil roaring and the
Wal-Mart
(WMT) - Get Report
call still fresh in our minds.
We are in no hurry to do anything, other than watch the
Knicks
game. Jeff points out that if
Cisco
(CSCO) - Get Report
is bad and the Knicks lose, the sun won't come up tomorrow.
I think he may be a little too negative. The sun won't come up if the
Sixers
and the
Flyers
and the Knicks lose
and
Cisco is bad.
That's for certain.
James J. Cramer is manager of a hedge fund and co-founder of TheStreet.com. At time of publication, his fund was long Cisco. His fund often buys and sells securities that are the subject of his columns, both before and after the columns are published, and the positions that his fund takes may change at any time. Under no circumstances does the information in this column represent a recommendation to buy or sell stocks. Cramer's writings provide insights into the dynamics of money management and are not a solicitation for transactions. While he cannot provide investment advice or recommendations, he invites you to comment on his column at
jjcletters@thestreet.com.
Evening Update: IBM's Gerstner Speaks and Cisco Reports After the Bell
By
Tara Murphy
Staff Reporter
5/9/00 7:20 PM ET
Cisco
(CSCO) - Get Report
reported third-quarter earnings of 14 cents a share, edging out the 31-analyst estimate by a penny and up from the year-ago 9-cent profit. The data networking equipment maker posted sales of $4.92 billion, a 55% increase from the third-quarter 1999's $3.17 billion report. "This best sequential and year-over-year revenue growth for the last three years," said Brian Gilmartin, portfolio manger at
Trinity Asset Management
. "They've always been pretty conservative with their guidance and they said they're confident with their model."
Yesterday, Cisco shares skidded 7%, after a
Barron's
article raised doubts on whether the company could sustain its $470 billion market capitalization. "Their strategy looks risky, but they are executing and leverage their acquisitions through their brand," said Gilmartin.
For more on Cisco's earnings, take a look at the
story written by
TheStreet.com/NYTimes.com's
joint newsroom.
To have bought
IBM
(IBM) - Get Report
ahead of CEO Louis Gerstner's annual meeting with analysts last year would have been a beautiful thing. Then, Gerstner's revelation that 20% of IBM's sales came from e-commerce was enough to drive the stock up more than 10% the following day.
Don't expect the same thing to happen tomorrow morning, following Gerstner's address this evening before the analyst community at the Equitable Center in Manhattan. With the company coming off a couple of lackluster quarters, Sweet Lou was in relatively defensive position for much of the session, telling the crowd that the Y2K lockdown on corporate IT spending is a thing of the past. "We'll produce much better results as we move into the second half," he said.
On the positive side, Gerstner spent time pumping the company's initiatives in the middleware software, Web hosting and server segments -- the last of which it expects to bolster on Thursday, when the company will unveil a mid-range server based on the same copper-ship technology used it its high-end S-80 server.
Big Blue's boss offered no specific growth projections, but stressed that the company would maintain its long term target of "high-single-digit revenue growth and double-digit earnings growth."
No one's ever accused Gerstner of giving copy like
Sun Microsystems
frontman Scott McNealy. But the session was able to generate a couple of print-worthy quotes. On the subject of
Microsoft's
(MSFT) - Get Report
antitrust travails, Gerstner, echoing recent comments by McNealy: "I have nothing to say about Microsoft -- either one." Gerstner also offered a pointed response to the question of whether IBM would ever consider spinning off businesses in the form of tracking stocks, as
AT&T
(T) - Get Report
recently did with its wireless division. "I have no interest in tracking stocks," he said. "I mean, you either have a business or you don't. You either own it as a shareholder or you don't."
--
Thomas Lepri
In other postclose news (earnings estimates from
First Call/Thomson Financial
; earnings reported on a diluted basis unless otherwise specified):
Mergers, acquisitions and joint ventures
Citadel Communications
(CITC)
said its
Citadel Broadcasting
division has entered a $300 million cash deal to purchase 11 radio stations in the southern U.S. from
Dick Broadcasting
. Citadel also said that it would run another station's operations that were formerly managed by Dick.
Earnings/revenue reports
Abercrombie & Fitch
(ANF) - Get Report
said posted first-quarter earnings of 16 cents a share, in line with the 22-analyst estimate and up from the year-ago 14 cent-profit. The clothing retailer warned however, that it would report second-quarter earnings between16 cents to 18 cents a share, falling below the 21-analyst estimate of 21 cents a share.
Jack In The Box
(JBX)
reported second-quarter earnings of 41 cents a share, a penny better than the seven-analyst estimate and up from the year-ago 35-cent profit.
Maxygen
(MAXY)
posted a first-quarter loss of 3 cents a share, excluding stock-based compensation. The year-ago report was an 11-cent loss. The three-analyst estimate saw the company posted a loss of 27 cents.
Mentor
(MNTR)
reported fourth-quarter earnings of 34 cents a share, beating the nine-analyst estimate of 32 cents a share and up from the year-ago 19-cent profit.
Primus Telecoms
(PRTL)
reported a first-quarter earnings loss of $1.14 a share, narrower than the six-analyst estimate of $1.28, but wider than the year-ago 89-cent loss.
Teligent
(TGNT)
posted a first-quarter loss of $3.02 a share, narrower than the 10-analyst estimate of a $3.14 loss but wider than the year-ago $2.05 loss.
Whole Foods
(WFMI)
reported second-quarter earnings of 47 cents a share, in line with the 11-analyst estimate and up from the year-ago 40-cent profit.
Bond Focus: After an Auction, Treasuries Snap Losing Streak
By
Elizabeth Roy Stanton
Senior Writer
5/9/00 6:08 PM ET
Like clockwork, the prices of Treasury securities deteriorated into the 1 p.m. EDT bidding deadline for the
Treasury Department's
new five-year notes -- enabling dealers to pick them up at relatively low prices -- and then rebounded to end up modestly.
It frequently happens this way. The Treasury Department announces an auction of new securities, specifying a date, time and quantity. And then bond dealers, by selling in the hours leading up to the auction, manage to push the market lower, so that they can pick up the new issues -- on which many of them are required to bid -- on the cheap.
Today's auction of $12 billion of new five-year notes was the first leg of the so-called quarterly refunding, in which the Treasury Department issues new long-dated notes, and sometimes also issues new 30-year bonds. The second-quarter refunding, which doesn't include a bond auction, will conclude tomorrow with an auction of $8 billion of 10-year notes.
Dealers bought the five-year notes at a yield of 6.789%, and the bid-to-cover ratio, which measures demand for the notes by comparing the amount of securities bid for to the amount offered for sale, was 1.98, the strongest since June 1998.
That news, announced at around 1:30 p.m., helped Treasuries rally into the close. There were no major economic releases today and no other market-moving events. Volume, according to tracker
GovPX
, was 12% below the average for a Tuesday over the past month at $29.8 billion by 3 p.m.
The benchmark 10-year Treasury note ended up 9/32 at 99 25/32, trimming its yield 3.9 basis points to 6.529%. Shorter-maturity yields shed similar amounts. The 30-year bond gained 14/32 to 100 16/32, dropping its yield 3.1 basis points to 6.214%.
At the
Chicago Board of Trade
, the TK
Treasury futures contract gained 18/32 to 93 14/32.
"It was a typical auction day," said David Ging, Treasury market strategist at
Donaldson Lufkin & Jenrette
. "We were up early -- short-covering, probably -- and then cheapened up into the auction." The late-day rally, Ging noted, failed to lift prices over their morning highs, which isn't surprising with another auction slated for tomorrow.
Meanwhile, market analysts continue to look for a more substantial break in the bearish action that has lifted short- and intermediate-term Treasury yields by about 75 basis points over the last month.
The action has been driven by stronger-than-expected economic data, which suggests that the
Fed will have to hike the
fed funds rate, now 6%, to at least 7% by the end of the year.
But at least in the short-term, the selling may have gone too far. "The longer-term trend is still negative, but you do get the sense that the market's trying to make a short-term low," said Walter Burke, chief technical analyst at
MCM Moneywatch
. The June bond contract has tested the 93 level a handful of times over the last two days, a level that corresponds to a yield of about 6.25% on the 30-year bond, he noted. "With the market being as oversold as it is, strength above 94 should be enough to turn it positive for the next several days," Burke said. But he predicts that the contract will run into trouble at the 96 level, corresponding to a yield on the 30-year of about 6%.
In the longer term, the Treasury market's fate rests on the outcome of the
Federal Open Market Committee meeting a week from today. Forecasters are in broad agreement that the committee will hike the fed funds rate to 6.50%. More interesting will be what the committee has to say in its announcement about its likely future course.
Economic Indicators
The weekly retail sales reports were mixed. The
BTM Weekly U.S. Retail Chain Store Sales Index rose 0.8%, lifting the year-on-year pace to 1.2% from 0.7%. But the
Redbook Retail Average for the first week of May lagged April by 0.1%, and the year-on-year pace fell to 4.4% from 7.1%. Redbook attributed the weakness to the lateness of Mothers' Day this year compared to last year.
Currency and Commodities
The dollar rose against the yen and fell against the euro. It lately was worth
109.14 yen, up from
108.99. The euro was worth $0.9074, up from $0.8973. For more on currencies, please take a look at
TSC's
Currencies column.
Crude oil for June delivery at the
New York Mercantile Exchange
hit a two-month high of $28.65 a barrel, up from $28.09.
The
Bridge Commodity Research Bureau Index
rose to 217.13 from 215.72.
Gold for June delivery at the
Comex
rose to $278.20 an ounce from $277.60.
TO VIEW TSC'S ECONOMIC DATABANK, SEE: http://www.thestreet.com/markets/databank/933086.html
Wednesday, May 10
Gary B. Smith will be chatting on Yahoo! at 5 p.m. EDT. Register for Yahoo Chat at chat.yahoo.com. It's free!
Copyright 2000, TheStreet.com