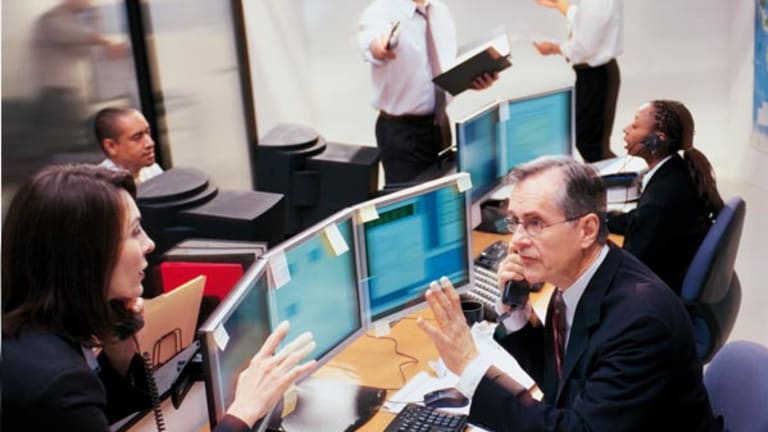 TheStreet.com's DAILY BULLETIN
May 9, 2000
http://www.thestreet.com
Market Data as of Close, 5/8/00:
o Dow Jones Industrial Average: 10,603.63 up 25.77, 0.24%
o Nasdaq Composite Index: 3,669.38 down 147.44, -3.86%
o S&P 500: 1,424.17 down 8.46, -0.59%
o TSC Internet: 864.31 down 33.45, -3.73%
o Russell 2000: 500.08 down 12.76, -2.49%
o 30-Year Treasury: 100 01/32 down 29/32, yield 6.250%
Companies in Today's Bulletin:
Commerce One (CMRC:Nasdaq)
Ariba (ARBA:Nasdaq)
Amazon.com (AMZN:Nasdaq)
Coke (KO:NYSE)
Procter (PG:NYSE)
In Today's Bulletin:
o Market Features: Not Many Tech Stocks Getting 'Blodgeted' These Days
o Wrong! Rear Echelon Revelations: The Grind of This Market
o Evening Update: VoiceStream Plunges After the Bell on Earnings Disappointment
o Bond Focus: Short Treasury Yields Hit Multi-Year Highs
Also on TheStreet.com:
Mutual Funds: Biotech Wreck: Janus Health Care Fund Times the Market and Gets Clocked
Smarting from the blow, Janus may be getting stodgy in its health care bets.
http://www.thestreet.com/funds/funds/935689.html
Retail: Growing Pains: E-tailers' Spending Spree Ends as Profitability Comes into Focus
Internet retailers cut marketing costs to become profitable, but this may be a double-edged sword.
http://www.thestreet.com/stocks/retail/934676.html
Herb on TheStreet: Extra: Ancor's Acquisition by QLogic: Is It
Really
Game Over?
That's unclear, which is why short-sellers are now switching their sights to QLogic.
http://www.thestreet.com/comment/herbonthestreet/935464.html
Tish Williams: Oracle Emerging as Top Dog of E-business Solutions
Gary Bloom, a systems VP, tells how the software company saves big bucks by streamlining.
http://www.thestreet.com/markets/tishwilliams/935495.html
Market Features: Not Many Tech Stocks Getting 'Blodgeted' These Days
By
Justin Lahart
Associate Editor
5/8/00 7:06 PM ET
Given the way highflying tech shares have been whacked around lately, it's easy to forget the whopping price targets analysts placed on some stocks just a few months ago.
There was the 1000 target
Dresdner Kleinwort Benson
put on
Commerce One
(CMRC)
. (That'd be 167 after a series of splits.) There was
Sands Brothers'
250 target on
Ariba
(ARBA)
. There was the 300 target that
WR Hambrecht
slapped on
Terayon
(TERN)
.
Traders even coined a term for the practice, joking that a stock had been "Blodgeted," a reference to
Henry Blodget
,
Merrill Lynch's
Internet analyst. Blodget made a name for himself in late 1998 when -- while still at
CIBC Oppenheimer
-- he put a 400 price target on
Amazon.com
(AMZN) - Get Amazon.com, Inc. Report
. Amazon reached the target just three weeks later -- a 96% gain.
From a pure business sense, Blodgeting a stock makes some sense, particularly if you are a young analyst trying to make your way in the world. "You have a very asymmetrical risk/reward profile," says John Manley, equity strategist at
Salomon Smith Barney
. "No one's going to listen to your first recommendation, so what do you do? You make outrageous predictions."
It's a bit like penny-ante poker. The downside is limited because the stakes are so low. So you do some pretty outrageous things you wouldn't do in a real-money game.
Lately, the game has changed and the stakes have been raised. The
Nasdaq Composite Index
was down 147 on Monday, or 3.9%, at 3669 as several tech bellwethers fell -- including
Cisco
(CSCO) - Get Cisco Systems, Inc. Report
,
Qualcomm
(QCOM) - Get Qualcomm Inc Report
and
Intel
(INTC) - Get Intel Corporation Report
. The Nasdaq is down 27.3% off its March high.
Even in an up market, though, there is more to setting price targets than just guessing, of course. An analyst isn't going to make a big-impact call on some name that he or she doesn't believe in. It wasn't the 400 price target on Amazon that made Blodget famous; it was calling the price target and calling it right. If
Babe Ruth
had lined out to the second baseman instead of hitting his "called shot," would anyone have cared?
There is a method to the madness -- though arguably the methods used would make
Graham and Dodd
, those progenitors of fundamental stock analysis, blench.
Part of the problem is that the highflying companies themselves do not offer the main bearing that old-school fundamental analysis works with: earnings. Up until fairly recently, fast-growing companies had at least something dangling off their bottom lines. An analyst could look at the price-to-earnings ratio for a company, compare it with the company's rate of growth, and make some sort of judgment.
Lacking the "e" in a P/E ratio makes that hard to do. And it does not help that many of these companies are growing at a phenomenal rate. In a sense, it's like someone handed you a jar with some sugar water in it and a couple of fruit flies buzzing around and asked you to tell him how many flies the jar would have in it in a day, in two days, in three days. Except that nobody's ever seen these kinds of flies before, nobody knows how much sugar there is and nobody knows how big the jar is.
So analysts fiddle around, and try to come up with something that works. The WR Hambrecht analysts who affixed that 300 target -- 150, split-adjusted -- on Terayon (it's at 61 9/16 now, having risen as high as 142 5/8), for example, took a look at the firm's enterprise value against its revenue expectations for 2000. Then they compared that with other companies in the same space -- Terayon is a leading cable-modem supplier, so it belongs with "leading broadband-access technology suppliers and next generation carrier datacom suppliers" (which is something you shouldn't attempt to say three times fast unless you live in Silicon Valley). Terayon's enterprise-value-to-expected-revenue ratio was, and remains, much lower than the group -- 12, compared with a mean of 54.
"It's a big discount there," says WR Hambrecht analyst Frank LaPlaca. "The company is growing on a sequential basis the same as the rest of the space. If you look at it that way, there's room for multiple expansion there." WR Hambrecht has done no underwriting for Terayon, though the firm does make a market in the stock.
But Rich Bernstein, Merrill Lynch's chief quantitative analyst, argues that the problem with looking at stocks this way is that it ignores whether a whole group is overvalued. He recently compared technology stocks and nontechnology stocks with similar growth rates.
"That's the way you should be valuing these companies," he says. "Isn't it the growth prospect that you're looking for?" Yet the technology stocks had much higher price-to-earnings multiples than did the nontechs, even though they shared similar growth rates. Technology was, Bernstein figured, just an awfully expensive adjective.
An argument against this that is sometimes heard is that Old Economy stocks, even ones with good future growth expectations, simply do not have the same growth prospects as emerging technology companies. Bernstein's problem with this is that it seems dangerous to make such long-term judgments about a company -- particularly if it hasn't been around for long.
Faye Landes is a retail analyst, well-known for her independence and revered for a call she made on
Nike
(NKE) - Get NIKE, Inc. Class B Report
. But lately, for her former firm,
Thomas Weisel Partners
, she launched coverage of some e-tailers -- most notably
eBay
. And she'll soon be hanging her shingle at
Sanford Bernstein
, where she'll probably pick up more. Neither Thomas Weisel nor Sanford Bernstein have had underwriting relationships with Nike or eBay.
She recognizes the kind of growth some of these companies are having. "If Nike came to me," she says, "and said they could increase operating margins by 2000 basis points, I would laugh. But with these 'New Economy' companies, you know they're evolving very fast." But still, Landes has been reluctant to try on newer valuations models.
"I'd have to say wearing both hats has led me to be skeptical," she says. "My training as a traditional analyst led me to believe profits would count at some point. A lot of the New Economy, throw-all-care-to-the-winds stuff ... I knew that wasn't going to last forever."
Wrong! Rear Echelon Revelations: The Grind of This Market
By
James J. Cramer
5/8/00 4:27 PM ET
Leave it to the
Dow Jones Average
to misrepresent this day completely and entirely. I am sure there are news stations out there that would report today as a positive day.
Think about it:
Coke
(KO) - Get Coca-Cola Company Report
and
Procter
(PG) - Get Procter & Gamble Company Report
were up, as were
Citi
(C) - Get Citigroup Inc. Report
and
Wells Fargo
(WFC) - Get Wells Fargo & Company Report
. Same with
Merck
(MRK) - Get Merck & Co., Inc. Report
and
Fannie Mae
undefined
! Heck, there was a time when I would have said, "Sounds like a good one!"
In truth, it was a miserable day, one of the worst in a string of disgusting and horrid days that have brought the
Nasdaq
back down 10% for the year. The grinding nature of this market is palpable. It's putting whole sections of the four-letter tree into the chipper, with all of the relevant consequences.
We did the least we have done all year today. There just isn't much to do and we aren't about to force it.
Long season.
James J. Cramer is manager of a hedge fund and co-founder of TheStreet.com. At time of publication, his fund had no positions in any stocks mentioned. His fund often buys and sells securities that are the subject of his columns, both before and after the columns are published, and the positions that his fund takes may change at any time. Under no circumstances does the information in this column represent a recommendation to buy or sell stocks. Cramer's writings provide insights into the dynamics of money management and are not a solicitation for transactions. While he cannot provide investment advice or recommendations, he invites you to comment on his column at
jjcletters@thestreet.com.
Evening Update: VoiceStream Plunges After the Bell on Earnings Disappointment
By
Tara Murphy
Staff Reporter
5/8/00 7:24 PM ET
VoiceStream Wireless
(VSTR)
lost its signal after the company reported a first-quarter loss of $1.68 a share, wider than the nine-analyst expected loss of $1.14 and the year-ago loss of 81 cents. In post-market activity, the shares plunged to 96 1/4 from Monday's closing price of 105 1/4.
Bausch & Lomb
(BOL)
said its sweetened $667 bid for
Wesley Jessen
(WJCO)
was its best and final offer. Wesley Jessen turned down an earlier $34 a share offer from Bausch & Lomb, citing that Wesley Jessen stock traded as high as $40 in January. Bausch & Lomb also said that it upped Friday's deadline for its tender offer for Wesley Jessen to May 31.
In other postclose news (earnings estimates from
First Call/Thomson Financial
; earnings reported on a diluted basis unless otherwise specified):
Mergers, acquisitions and joint ventures
AGL Resources
(ATG)
said it entered a $500 million cash deal to acquire
Virginia Natural Gas
, a division of
Dominion Resources
(D) - Get Dominion Energy Inc Report
. According to the deal's terms, AGL would buy all the outstanding shares of Virginia Natural Gas, making it¿s a fully-owned unit of AGL. The acquisition would add to AGL's earnings no longer than a year after its close, which is set for Dec. 31.
History doesn't bode well for NTT Communications, the unit of Japanese telecommunications giant
Nippon Telegraph & Telephone
(NTT)
that offered to buy Colorado-based web company
Verio
(VRIO)
for a nearly 70% premium.
While Verio surged 22 3/8, or 62.3%, to 58 5/16, investors, perhaps remembering the unpleasant forays into Hollywood studios and pricey real estate by Japanese companies in the 1980s, sent NTT's U.S.-traded shares down 1/4 to 66.
NTT may be making a prudent expansion into a growing U.S. market for Web services and it may be able to export some of that know-how back to Asia, where it is a huge player. But Japanese investment in the U.S. has often proved problematic.
Trophy properties, like New York's
Rockefeller Center
, were sold by their Japanese buyers at far less than the acquisition price and integrating risk-averse Japanese managers with carefree American employees has often proved difficult. At least, says Alexander Muromcew, who manages Japanese shares in the team-managed Loomis Sayles International Equity Fund, the Japanese didn't buy at the very top of the market this time.
--
Andrew Morse
Earnings/revenue reports
Cais Internet
(CAIS)
reported a first-quarter loss of 91 cents a share, narrower than the three-analyst estimate of a $1.05 loss and wider than the year-ago report of a 45 cent-loss.
Guess
(GES) - Get Guess?, Inc. Report
reported a 13.4% increase in April same-store sales. The clothing maker also said that it sees its second-quarter earnings in line with the four-analyst estimate of 26 cents a share and the fiscal 2000 five-analyst estimate of $1.49 a share.
Kent Electronics
(KNT)
posted fourth-quarter earnings of 25 cents a share, beating the seven-analyst estimate of 23 cents and the year-ago 2 cents.
Nova
(NIS)
posted first-quarter earnings of 27 cents a share, in line with the seven-analyst estimate and up from the year-ago 19 cent-profit.
Triad Hospitals
(TRIH)
posted first-quarter earnings of 16 cents a share, beating the 14-analyst estimate of 10 cents and up from the year-ago $1.20 loss.
Unisys
(UIS) - Get Unisys Corporation Report
chairman and CEO Larry Weinbach disappointed analysts during a meeting after he restated for a second time that the computer services company's revenue growth would not return to double digits until the second half of fiscal 2000.
According to
Reuters
, Wall Street analyst who attended the meeting said they were hoping to hear of a quicker recovery, but received the same guidance that was given during Unysys' first-quarter earnings report.
US Oncology
(USON)
said it would report first-quarter earnings between 27 cents to 29 cents a share, including a onetime gain of 17 cents. The 10-analyst estimate forecasted the company to post a 10-cent profit.
Offerings and stock actions
3Com
(COMS)
, a computer networking company, raised its stock repurchasing plan by up to $1 billion.
Bond Focus: Short Treasury Yields Hit Multi-Year Highs
By
Elizabeth Roy Stanton
Senior Writer
5/8/00 5:39 PM ET
Treasury bond and note prices collapsed anew, lifting long-maturity yields to their highest levels in nearly three months and short-maturity yields to their highest levels in years.
There was no specific catalyst for the latest leg down in Treasury prices. The economic calendar was bare, there were no other market-moving events and
Nasdaq
stock prices fell -- which might have been expected to provide some support for the bond market.
Analysts attributed the selloff to enduring anxiety about the
Fed, which is widely expected to hike the
fed funds rate by 50 basis points next week, combined with the approach of the quarterly refunding, in which the Treasury Department issues new long-dated notes (and sometimes bonds). In the second-quarter refunding, the department plans to sell $12 billion of new five-year notes to dealers tomorrow, and $8 billion of new 10-year notes on Wednesday.
"It's mostly just a continuation of negative attitude, with the Fed going to be raising rates," said Joseph Shatz, government bond strategist at
Merrill Lynch
. But at the same time, in the days leading up to a quarterly refunding, when they'll have to buy the Treasury's new securities, bond dealers have no incentive to buy. They'd rather sell, so that they can buy the new issues at lower prices. "Lots of times dealers try to cheapen up securities ahead of time so they can bid at lower levels," Shatz said.
The benchmark 10-year Treasury note ended down 12/32 at 99 17/32, lifting its yield 5.3 basis points to 6.564%, the highest since Feb. 12. The 30-year Treasury bond fell 25/32 to 100 1/32, lifting its yield 5.6 basis points to 6.246%, the highest since Feb. 16.
Shorter-maturity yields inched up to new multi-year highs. The five-year note fell 7/32 to 96 12/32, lifting its yield 5.7 basis points to 6.823%, the highest since April 1997, and the two-year note sagged 3/32 to 99 2/32, lifting its yield 5.3 basis points to 6.881%, the highest since March 1995.
At the
Chicago Board of Trade
, the June
Treasury futures contract fell 22/32 to 92 28/32.
Uncertainty about how high the Fed will ultimately move the fed funds rate and how long-maturity yields will be affected by the moves is discouraging investment in the long end of the Treasury market, said Eric Cheung, a bond portfolio manager for
Wilmington Trust
. "Why buy the long bond if the rates subject to the Fed may go higher?" he said. Many investors would rather "wait for the dust to settle."
Low volume exacerbated the selloff,
IFR
managing analyst Ken Logan said. The big institutional investors who are the end users of Treasury securities are sidelined till the May 16
Federal Open Market Committee meeting, "leaving a very bearish and defensive Street to accommodate the price action," he said. And the Street "has no interest in supporting the market till the auction is out of the way."
The good news, Logan says, is that the Treasury market can be expected to rebound, if not once the refunding is done, then after the FOMC meeting, when investors may once again feel emboldened to buy. Assuming, that is, that the committee doesn't surprise the market with an aggressive statement on top of a 50-basis-point rate hike.
Currency and Commodities
The dollar gained against the yen and fell against the euro. It lately was worth 108.97 yen, up from 108.56. The euro was worth $0.8974, up from $0.8967. For more on currencies, see
TSC's
Currencies column.
Crude oil for June delivery at the
New York Mercantile Exchange
rose to $28.09 a barrel from $27.29.
The
Bridge Commodity Research Bureau Index
fell to 215.72 from 216.08.
Gold for June delivery at the
Comex
fell to $277.60 an ounce from $280.10.
TO VIEW TSC'S ECONOMIC DATABANK, SEE: http://www.thestreet.com/markets/databank/933086.html
Tuesday, May 9, 5 p.m.
James J. Cramer squares off with longtime short-seller Bill Fleckenstein on the plunging demand for corporate PCs and more. Join them for the first time on Yahoo! May 9 at 5:00 p.m. EDT. Register for Yahoo Chat at chat.yahoo.com. It's free!
Copyright 2000, TheStreet.com