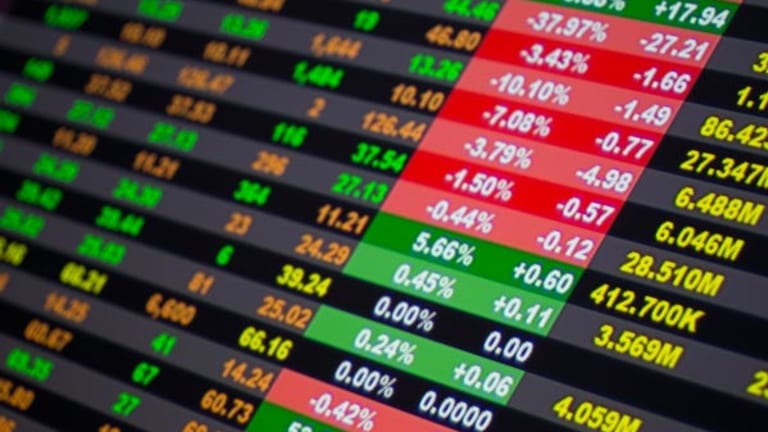 TheStreet.com's DAILY BULLETIN
May 8, 2000
http://www.thestreet.com
Market Data as of Close, 5/5/00:
o Dow Jones Industrial Average: 10,577.86 up 165.37, 1.59%
o Nasdaq Composite Index: 3,816.82 up 96.58, 2.60%
o S&P 500: 1,432.63 up 23.25, 1.65%
o TSC Internet: 897.76 up 8.19, 0.92%
o Russell 2000: 512.84 up 10.93, 2.18%
o 30-Year Treasury: 100 30/32 down 9/32, yield 6.192%
In Today's Bulletin:
o Editor's Letter: The Coming Week on TSC
o The Coming Week: The Debate Is On!
o The Coming Week in Europe: ECB's Governing Council Will Meet to Set Rates
o The Coming Week in Asia: The Chips Are Up
Also on TheStreet.com:
Wrong! Rear Echelon Revelations: State of the Web: It's All About Value-Added
If you really think nobody will ever pay for anything on the Web, think again.
http://www.thestreet.com/comment/wrongrear/934987.html
Jim Griffin: Don't Be a Hero
The economy is roaring and the Fed is behind the curve -- but it will catch up.
http://www.thestreet.com/comment/jamesgriffin/934739.html
Marc Chandler: This, Too, Shall Pass: The Case for Cyclical Factors in Euro Weakness
Conventional wisdom says it's structural, but a case can be made for cycles.
http://www.thestreet.com/comment/currency/934687.html
Editor's Letter: The Coming Week on
TSC
By
Dave Kansas
Editor-in-Chief
5/7/00 2:54 PM ET
As we grind toward May 16 and the anticipated
Federal Reserve
interest-rate increase, the markets are likely to become even more fidgety. Many economists now expect a 50-basis-point move, and practitioners of the Dismal Science are divided on how much more tightening is in store.
As our economist,
James Padinha
, has consistently
pointed out, growth remains very strong. Inflationary pressure is not lessening and concerns about imbalances in the economy are only growing. And the Fed doesn't like that.
On the bull side of the equation, some believe that the lagged impact of the Fed's work will start having an effect sooner rather than later -- supporting those who believe the Fed is about done with its work. Whatever the case, as
Justin Lahart
points out in
The Coming Week, the Fed will be the focus.
Sometimes they're surreal. But they're always instructive and entertaining. I am, of course, talking about
Buzz Gould
, a fictional portfolio manager at a go-go mutual fund, and his pal and head trader,
Batch
. These characters, creations of
James J. Cramer
, provide an interesting view of the market and the daily dynamics of trading. If you haven't yet read about
what they're up to, I encourage you to do so. Buzz, in particular, is quite a character.
Net stocks have provided both thrills and nightmares in the past several months. Right now, the going is decidedly tough.
Steve Harmon
, who is about to launch a fund focused on the Net sector, is our
Streetside Chat guest this week. I encourage you to read his comments about the sector.
On the go? We're there for you. Check out our wireless page at
www.thestreet.com/street/wireless.html, where you can use AvantGo to download stories into your wireless device so you can read them on the train or bus or in your living room. But try not to read and drive at the same time.
As a reminder, I encourage you to check out Personal Finance Focus, published each Saturday. This past Saturday
Jim Seymour
wrote about his
"straddle-buy" technique,
Tracy Byrnes
offered
tax tips and
David Edwards
wrote about
protecting the value of your stock options. Always a lot of good, useful stuff on Saturdays.
Finally, if you've got any concerns or comments, you can email me at
dkansas@thestreet.com or our customer support staff at
members@thestreet.com. Thanks for your support, and we'll keep hustling!
L'Etoile du Nord
Dave Kansas
Editor-in-Chief
Dave Kansas is editor-in-chief of TheStreet.com. In keeping with TSC's editorial policy, he doesn't own or short individual stocks, though he owns stock in TheStreet.com. He also doesn't invest in hedge funds or other private investment partnerships. He welcomes your feedback at
dkansas@thestreet.com.
The Coming Week: The Debate Is On!
By
Justin Lahart
Associate Editor
5/7/00 9:00 AM ET
In the coming week, you will likely hear a lot of debate about whether the
Federal Open Market Committee will hike rates by a quarter- or a half-point at its May 16 meeting.
One economist will get in up front of the camera and say 50 basis points, another strategist will say 25, a trader will murmur about the rumors of 75. It will all be great fun, and it's a shame to go and spoil the party before it's even started, but here goes: It is a near certainty that the FOMC will raise rates by a half-point, and to pretend that it won't borders on the ridiculous.
Don't believe it? The
fed funds futures, a very good indicator of where rates are going, have factored in an 82% chance of a half-point hike. Still don't believe it? In a poll on Friday, economists at 26 of the 29 primary dealers said they expected a 50-basis-point hike. There's never been a case when the FOMC has gone against the expectation of such an overwhelming majority.
"You have very strong demand, and the
Fed is going to do what's necessary to slow things down," said Mitchell Held, economist at
Salomon Smith Barney
. Held and his colleagues upped their rate-hike expectations to a half-point on Friday, in the wake of a week of strong economic data, and they now expect the fed funds target rate to reach 7.5% before
Greenspan & Co. are finished. (It's at 6% now.) This runs counter to an idea making the rounds in the stock market that the Fed will finish up hiking rates by July and then put on the brakes until after the presidential election.
"Oh, baloney!" is how Held reacted to this notion. "Greenspan has raised rates in election years. He raised on the eve of a Republican convention even when everyone thought he was a card-carrying, dyed-in-the-wool member of the party."
It should be noted that the Solly economists are some of the more hawkish on the Street; most of the dismal scientists don't think there will be anything as severe as another 150 basis points added to the
fed funds rate. But it's also hard to say with confidence
when
the FOMC is going to stop hiking, at what point the economy will slow to a point where the Fed governors feel that the inflation threat has been headed off. And that puts the stock market in a bit of a bind.
"The market has the same problem it had when the correction started," said Christine Callies, U.S. investment strategist at
Credit Suisse First Boston
. "Fed policy is putting pressure on market multiples. Until the Fed is satisfied that the economy has slowed below its speed limit, there just isn't going be much room for multiple expansion."
Callies reckons that this means that while stocks may be volatile on a day-to-day basis, they will remain bound in a pretty tight range. The market's giving some traders a similar message.
"I think it's going to be very slow going forward," said Kenneth Sheinberg, head of listed trading at
SG Cowen
. "The volume is going to dry up. You're just going to have this very boring market that I think probably ends up drifting lower."
It's the kind of environment, says Sheinberg, where investors will continue to sell into rallies, raising funds for more certain times. Which is a course of action he pretty much agrees with. "I'm still rather nervous on the market," he said. "I think that people just have to be very, very cautious."
It is also, thinks Callies, an environment in which highly valued stocks will struggle, and investors are better off looking for solid growth outside of technology.
"Tech never had a monopoly on good growth," she said. "You can find a lot of companies that are not very different from tech, and the market is treating these things like growth is going to slow to nothing or that a recession is around the corner."
There are a couple of big economic reports due out in the coming week --
retail sales
on Thursday and the
Producer Price Index
on Friday -- and there might be some people who are hoping that they will somehow come in weak and that that will somehow stay the Fed's hand.
That's pretty wishful thinking, thinks Salomon's Held: Just as two years ago the occasional strong economic report was thought of as an anomaly, now a weak report will be treated that way. Maybe the one thing in his estimation that would make the Fed ease back would be a big correction in the stock market.
Nobody wants that.
The Coming Week in Europe: ECB's Governing Council Will Meet to Set Rates
By
Marc Young
German Correspondent
5/7/00 12:35 AM ET
BERLIN -- The hordes of American tourists preparing to descend upon Europe this summer may be able to make it by on $20 a day instead of the $25 suggested by a popular guide book.
Callously indifferent to the fragile pride of Parisian waiters, they'll order at once horrendously overpriced and meager portions with giddy abandon, as the ailing euro makes everything a bit more affordable by continuing to test new lows against the U.S. dollar.
Of course, the lower prices paid by itinerant Americans are the inverse of the higher prices Europeans must now pay when importing U.S. products and internationally traded commodities -- like oil -- that are priced in dollars. Increasingly concerned over the inflationary dangers the euro's slump presents, the
European Central Bank's
Governing Council will meet on Thursday to set interest rates and possibly discuss the option of intervening directly in the foreign-exchange markets to keep the euro from sliding further. On Friday, after comments by ECB officials hoping to talk up the currency, the euro rose 0.0074 to $0.8969.
According to some traders, the ECB apparently tested the waters last week for a possible intervention in the foreign-exchange markets to keep the euro from slipping under $0.88. While many central bank watchers don't expect the ECB to hike rates only two weeks after raising its main refinancing rate by a quarter-point to 3.75%, ECB head Wim Duisenberg's scheduled press conference on Thursday could be an opportune time to explain any massive forex highjinks the bank could be up to in the coming week.
That's not to say eurozone rates won't be on the way up sooner rather than later. The ECB's main refinancing rate "is on course to hit 4.5% by year-end," says Catherine Lee, an economist for
Greenwich NatWest
. Should the "euro's decline or weakness not be reversed," interest rates could move even higher, says Lee.
However, likely to bolster the dollar over the midterm, it appears the
U.S. Federal Reserve
will probably continue to hike interest rates faster than will the ECB -- maybe by as much as a half-point at its next meeting on May 16.
For Yankee tourists then, things look set to remain affordable for the time being. But besides scooping up copious amounts of stinky French cheese and Italian grappa for Aunt Minnie back in Des Moines, holders of greenbacks might want to think about taking back some European equities as well. Since the euro's inception, shares of the 11 countries participating in the monetary union have become roughly one-fifth cheaper in dollar-denominated terms.
That means European blue companies such as
Deutsche Telekom
(DT) - Get Report
,
Siemens
(SMAWY)
and
Telefonica
(TEF) - Get Report
could be real bargains to those with bucks instead of euros.
Furthermore, shares of European stock markets have handily outperformed their U.S. counterparts this year. Whereas the
Dow Jones Industrial Average
is down almost 10% since January, Germany's
Dax
has climbed more than 30% and Spain's
Ibex
index is up around 20%.
"Looking at the long term, if this thing turns around and if you buy when it's cheap, you're going to see a windfall on a U.S.-based international fund" when the euro rises, says Oscar Castro, a lead portfolio manager for
Montgomery Asset Management's
international funds. Castro believes Europe, where almost two-thirds of the $4.2 billion he helps manage is invested, "will represent, for the next 12 months, a better alternative for global investors than the U.S."
But even if American investors decide to continue to favor Wall Street over, say, the Portuguese equity markets, they may still want to fly to Lisbon this summer and stock up on what used to be very expensive port wine.
The Coming Week in Asia: The Chips Are Up
By
Kaya Laterman
Japan Correspondent
5/7/00 12:30 AM ET
TOKYO -- With Japan's Golden Week holiday over and out, it's time to get back to basics. That means everyone in Tokyo will be doing what everyone in New York is doing -- trying to handicap whether the
U.S. Federal Reserve
will hike interest rates by 25 or 50 basis points at their mid-May meeting, and whether this hike will rock the already shaky
Nasdaq Composite Index
.
But for Tokyo traders, that's not all. More than 1,500 companies will be releasing their fiscal 1999 earnings over the next three weeks, no doubt taking the migraines and ulcers that went away during the long spring holiday out of remission.
Amid the earnings rush, many fund managers will be looking closely at the numbers for semiconductor companies, one sector in Japan that is expected to keep booming amid the global mobile phone bonanza. Leading liquid crystal display manufacturers such as
Matsushita Electric Industrial
(MC) - Get Report
,
Sharp
(SHCAY)
and
NEC
(NIPNY)
will be releasing their numbers starting Wednesday. Despite paltry profits -- or losses -- these LCD makers may post for the fiscal year ending March 31, their outlook for the following year is expected to be superb, as the demand for LCDs and other chips used in mobile phones outpaces existing supply.
Demand is not the only reason investors are looking at these stocks. All three are in the revamped
Nikkei 225
index, Matsushita having been added just a few weeks ago, which means it will be included in many of Japan's new mutual funds' portfolios.
Since the beginning of the year, mutual funds have been the main buyers of stocks in Japan, purchasing 1 trillion yen ($9.3 billion) worth of shares. That's more than double the total net purchases made during 1999. And even though recent market volatility has made some investors think twice before investing, Kathy Matsui, chief strategist at
Goldman Sachs
, says, "Japan's equity culture is just beginning to emerge among Japanese retail investors and their participation in the stock market is likely to increase over time."
Twelve new mutual funds will begin operations by the end of this month. Eight funds are targeting a mixture of growth and value stocks, two funds will pick up only technology shares, while the rest will dip into small-cap and other Asian shares, according to
Morningstar Japan
. So even if one conservatively estimates that half of these funds will pick up shares listed in the Nikkei 225 index, as well as the three chip makers, that's a whole lot of money heading into the market.
Listed below is a quick look at earnings estimates, stock price and recent movements for the three American depositary receipts.
Matsushita Electric Industrial
Group operating profit is estimated to fall 15% from the previous year, to 164 billion yen, with net profits jumping 600%, to 95 billion yen. Parent net profit is estimated at 43 billion yen, down 31% from the previous year.
Posted operating profit is expected to increase for the first time in nine quarters during the October-December quarter due to a rise in LCD sales.
Unlike its rival,
Sony
(SNE) - Get Report
, critics say the firm lacks a clear business strategy. However, the company has made headway in Europe, holding a 15% stake in
Open Interactive
, a U.K. firm that runs one of the most successful interactive television services in the world. It also holds a 9% stake in
Symbian
, a consortium whose software is one of the leading contenders to backup the third generation of mobile phones. These investments and their business strategies will likely be brought back to Japan.
ADRs are down 2% from the start of the year, last traded at 273 3/8.
NEC
Expects consolidated net loss of 10 billion yen for fiscal 1999, but estimates that profit will jump to 70 billion or 80 billion yen during fiscal 2000, which ends March 31, 2001.
Increase in income fueled by soaring profit from its Internet network operation and electronic devices, such as LCDs.
One of the few large-cap firms in Japan that has adopted stock options for its directors and senior executives.
ADRs up 17% from the start of the year, last traded at 142 15/16.
Sharp
Forecasts pretax profit to reach 43 billion yen, up from 15.7 billion yen the previous year.
One of the two companies in Japan making color LCDs. A recent survey by Nikkei Market Access, a unit of
Nikkei Business Publications
, said mobile phones using color LCDs will account for 48% of total phones in Japan this year.
ADRs down 24.1% since the beginning of the year, at 195. (These are very thinly traded.)
Copyright 2000, TheStreet.com