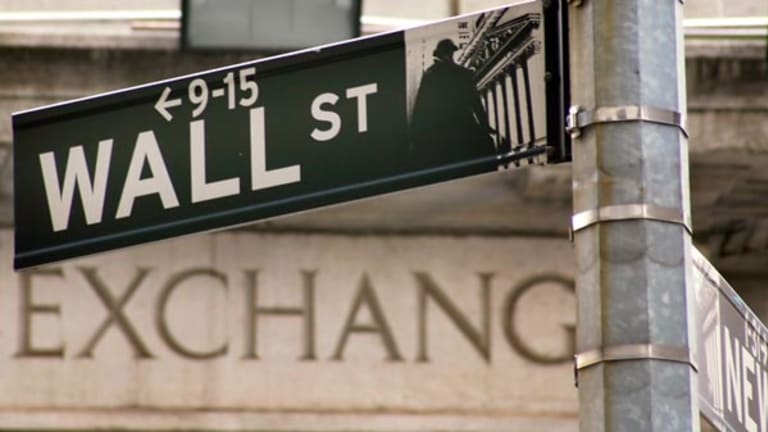 TheStreet.com's DAILY BULLETIN
May 5, 2000
http://www.thestreet.com
Market Data as of Close, 5/4/00:
o Dow Jones Industrial Average: 10,412.49 down 67.64, -0.65%
o Nasdaq Composite Index: 3,720.24 up 12.93, 0.35%
o S&P 500: 1,409.38 down 5.72, -0.40%
o TSC Internet: 889.57 up 20.35, 2.34%
o Russell 2000: 501.91 up 6.35, 1.28%
o 30-Year Treasury: 101 07/32 down 21/32, yield 6.174%
Companies in Today's Bulletin:
Bristol-Myers Squibb (BMY:NYSE)
Ames (AMES:Nasdaq)
J.D. Edwards (JDEC:Nasdaq)
Merck (MRK:NYSE)
Pfizer (PFE:NYSE)
Eli Lilly (LLY:NYSE)
In Today's Bulletin:
o Biotech/Pharmaceuticals: Bristol-Myers Wounded by Drug-Development Worries
o Wrong! Tactics and Strategies: Tomorrow's Strategy
o Evening Update: J.D. Edwards Warns of Second-Quarter Loss, Flat Revenue
o Bond Focus: Bonds End Lower After Data Fail to Inspire Confidence
Also on TheStreet.com:
Retail: Ames Sags as Weak April Sales Claim Another Retail Victim
A downgrade rocked the sector and the bad news continued at the discount chain.
http://www.thestreet.com/stocks/retail/933202.html
Consumer Products: New Theme For Shareholder Activism: Policing Genetically Modified Food
Some activists draw a parallel to the anti-apartheid shareholder resolution movement.
http://www.thestreet.com/brknews/consumer/933274.html
Mutual Funds: Double Trouble: Rydex Fights to Fend Off Upstart Copycat Funds
Rival ProFunds offers funds that resemble Rydex's offerings, and Rydex strikes back in kind.
http://www.thestreet.com/funds/funds/933140.html
Biotech/Pharmaceuticals: Bristol-Myers Wounded by Drug-Development Worries
By
Dane Hamilton
Staff Reporter
5/4/00 7:03 PM ET
So much for safe havens.
Bristol-Myers Squibb
(BMY) - Get Report
, maker of blockbusters like lipid-lowering Pravachol and cancer-killer Taxol, has for years rewarded shareholders with consistently strong earnings growth and dividends comparable with those of rivals like
Merck
(MRK) - Get Report
,
Pfizer
(PFE) - Get Report
and
Eli Lilly
(LLY) - Get Report
. And as tech highfliers have tumbled earthward in recent weeks, investors have been returning to the drug-stock fold en masse.
But one of the quintessential safe-haven stocks doesn't seem quite so safe anymore in the aftermath of a series of drug-development problems that have hammered its stock. The prospect of slowing earnings growth at the nation's third-biggest drugmaker is also worrying some investors, who are now wondering whether the company needs to make a big strategic change -- by shuffling management or setting a merger -- to reignite the stock. Bristol-Myers says it has no such plans.
"It's going to be difficult to make money in this stock this year," says Bob Rhodes, a fund manager at
SunTrust Banks
, an Atlanta fund that held about 5.8 million Bristol shares as of December. "We've been lightening up on it."
The Vanlev Shock
The most brutal shock came late last month when Vanlev -- a new kind of hypertension drug seen as a potential multibillion-dollar seller -- was yanked for more clinical testing just before the
Food and Drug Administration
was slated to formally review it.
Feeling the Pain
Recent slide puts Bristol-Myers near recent lows
Source: BigCharts
Bristol-Myers stock plunged 22% April 19, wiping nearly $30 billion off the company's market value -- now about $102.5 billion. The stock has recovered little since the selloff, even though it is cheaper than many rivals based on its price-to-earnings ratio, and analysts are divided as to whether the drug is dead or merely facing a delay. The company is conducting new clinical trials to find out.
The share crash over Vanlev could illustrate investor "nervousness," a recent
Lehman Brothers
report said. "Bristol has demonstrated an inability to seamlessly pull off a major, category leading drug launch," according to the brokerage firm, which hasn't done underwriting for Bristol-Myers in the past three years.
To Market, to Market
Adding to Bristol-Myers' pain, the Vanlev debacle marked its third such pitfall in as many months.
In April, the company suffered a legal defeat to Miami-based
Ivax
(IVX)
, a generic drugmaker, which allows Ivax to market Taxol -- a decision that Bristol-Myers is appealing. Bristol-Myers admits it may not succeed in blocking generic competition to the cancer drug, which generated revenue of $1.48 billion in 1999, making it the company's second-biggest seller.
That came a month after the company yanked its application for approval of Orzel, a new colorectal cancer treatment -- likely delaying approval for a drug that Lehman Brothers forecasts will generate $500 million a year in sales.
"These are all big setbacks," says Leonard Cohen, analyst with
AmeriCal Securities
, a brokerage with no formal rating on the stock and that does no underwriting for the company. "Vanlev in particular was going to be the blockbuster of the entire drug industry."
Big Expectations
It's not like other companies haven't had setbacks in the high-risk world of drug development. Rezulin, the
Warner-Lambert
(WLA)
diabetes drug that was pulled from pharmacy shelves in March, and Propulsid, a heartburn remedy from
Johnson & Johnson
(JNJ) - Get Report
that suffered the same fate, come to mind.
American Home Products
(AHP)
has probably the most unfortunate recent record of drug setbacks, including the withdrawal of diet drugs Pondimin and Redux, as well as the Rotashield vaccine and the painkiller, Duract.
But expectations for Bristol-Myers were higher, particularly for Vanlev. Without it, the company is lacking in potential blockbusters, although it is widely viewed as having a strong earlier-stage pipeline of development projects.
As a result, the Vanlev setback raised inevitable questions about whether Bristol-Myers will now seek a merger, a well-trod industry route to boost earnings through cost cutting, or force Charles Heimbold Jr., 65, chairman and chief executive, to resign. A company spokesman says Heimbold has no such plans.
"The setbacks put a lot of pressure on the company to move aggressively on the strategic front to boost earnings growth," says Barbara Ryan, an analyst with
Deutsche Bank
, which raised its rating on the company to strong buy from buy after the Vanlev setback and does no underwriting for the company. "Is it going to have to come from restructuring, asset sales or aggressive share purchases?"
Open to Opportunities
Richard J. Lane, president of Bristol-Myers worldwide medicines, says the company has no plans for any strategic or management changes, although he says the company is always "open to opportunities" to build its pipeline, such as increasing alliances with biotechnology companies. He says he is "not aware of any talks" over mergers it may be having now.
Lane says the company's health will be assured from three product launches it plans this year alone, including Glucophage XR and Glucovance, two modified versions of Glucophage, and Vaniqa, a product for excessive female facial hair co-developed with
Gillette
(G) - Get Report
. It also has a plethora of drugs in development to treat cancer and cardiovascular disease.
"We remain bullish on our prospects." says Lane.
Still, no bet in this sector is absolutely safe.
Wrong! Tactics and Strategies: Tomorrow's Strategy
By
James J. Cramer
5/4/00 5:39 PM ET
So a weak number tomorrow and we are off to the races. An in-line number and we are, well, in semi-rally mode. And a bad number and it confirms that we have to go back and retest and do some other awful things.
We at
Cramer Berkowitz
are split internally. I am thinking that if it is a strong number you can still buy tech, at least on weakness, because the reason tech really went down on the
CPI was because that was the day
Soros
blew out of tech. Tech didn't sell off on a strong
ECI.
Jeff Berkowitz
, my partner, thinks that is too glib and that we will have to retreat to our pillboxes -- literally and figuratively -- until we finally get a soft number. Or until we get a 50-
basis-point raise and the
Fed
takes the summer off. ***********************************************************************
James J. Cramer is manager of a hedge fund and co-founder of TheStreet.com. At time of publication, his fund had no positions in any stocks mentioned. His fund often buys and sells securities that are the subject of his columns, both before and after the columns are published, and the positions that his fund takes may change at any time. Under no circumstances does the information in this column represent a recommendation to buy or sell stocks. Cramer's writings provide insights into the dynamics of money management and are not a solicitation for transactions. While he cannot provide investment advice or recommendations, he invites you to comment on his column at
jjcletters@thestreet.com.
Evening Update: J.D. Edwards Warns of Second-Quarter Loss, Flat Revenue
By
Eileen Kinsella
Staff Reporter
5/4/00 8:11 PM ET
B2B software company
J.D. Edwards
(JDEC)
warned that it expects to report a second-quarter operating loss of $20 million to $25 million, mainly due to lower-than-anticipated margins on license fee revenues. The current 12-analyst
First Call/Thomson Financial
estimate calls for earnings of 2 cents a share. The company said it expects to report revenue in the range of $225 million to $235 million, in line with the company's prior second quarter, in what it called a "transitional quarter." Second-quarter results will be released May 24.
In other postclose news (
earnings estimates from First Call/Thomson Financial; earnings reported on a diluted basis unless otherwise specified
):
Earnings/revenue reports and previews
American Xtal
(AXTI) - Get Report
posted first-quarter earnings of 10 cents a share, a penny better than the six-analyst estimate and up from the year-ago loss of 5 cents. The company also said it named board member Don Tatzin acting CFO, replacing Guy Atwood, who is leaving the company to pursue those time-honored "other interests."
Amkor Technology
(AMKR) - Get Report
reported first-quarter earnings of 27 cents a share, a penny better than the 11-analyst estimate and up from the year-ago 16 cents. The company said earnings included $9.7 million in goodwill amortization related to acquisitions and investments and added it expects unusually strong demand in the second half of the year.
John Hancock Financial
(JHF)
posted first-quarter earnings of 65 cents a share, well above the eight-analyst estimate of 53 cents and the year-ago earnings of 46 cents.
Hollywood Entertainment
(HLYW)
posted first-quarter earnings of 25 cents, excluding its
Reel.com
unit, in line with the three-analyst estimate and down from the year-ago 31 cents.
Pixar Animation Studios
(PIXR)
posted first-quarter earnings of 53 cents a share, well above the six-analyst estimate of 45 cents and the year-ago 2 cents. Results for the latest quarter included income from discontinued operations of $50,000.
P-Com
(PCMS)
posted a first-quarter loss of 18 cents a share, wider than the nine-analyst expected loss of 4 cents but narrower than the year-ago loss of 27 cents.
Starbucks
(SBUX) - Get Report
said April
same-store sales rose 12%.
Electronic technologies maker
Symyx Technologies
(SMMX)
reported first-quarter earnings of 5 cents a share, better than the two-analyst estimate of 3 cents and the year-ago loss of 1 cent.
Mergers, acquisitions and joint ventures
Barnes & Noble
(BKS) - Get Report
and video game retailer
Funco
(FNCO)
said they have agreed to merge in a $161.5 million cash deal, putting an end to a month-long bidding war for Funco. Barnes & Noble said it would pay $24.75 a share in cash for all outstanding shares of Funco.
Danaher
(DHR) - Get Report
, a maker of mechanics' hand tools and auto specialty tools, said it agreed to acquire
Kollmorgen
(KOL) - Get Report
for about $240 million. Danaher will pay $23 a share in cash and take on about $85 million in debt. Kollmorgen provides electronic motion control equipment.
Offerings and stock actions
Orchid BioSciences
(ORCH)
said its IPO had been cut to 6 million shares of common stock from 8 million and the range was lowered to $8 to $9 each, down from $11 to $13. The company provides products, services and technologies for specific scoring and genetic diversity analysis.
QRS
(QRSI)
, which provides electronic data systems services to retailers, added a $5 million authorization to its existing stock buyback program.
Bond Focus: Bonds End Lower After Data Fail to Inspire Confidence
By
David A. Gaffen
Staff Reporter
5/4/00 3:52 PM ET
The bond market did a bit of bouncing around today before settling on a downward trend, mostly due to the less-than-favorable
productivity and unit labor costs
report.
After weakening this morning, when first-quarter productivity figures were worse than the market wanted, the bond market rebounded, mostly because
Federal Reserve
Chairman
Alan Greenspan
kept his trap shut.
However, the market turned back around again, as people continued to adjust to the notion that the Fed will ultimately kick the fed funds rate, currently 6%, up 50 basis points, rather than the usual 25, at the May 16
Federal Open Market Committee
meeting. With the April
employment report
due out tomorrow at 8:30 a.m. EDT, traders were playing it safe, however.
"Clearly, people are on the defensive ahead of tomorrow," said Anthony Karydakis, senior financial economist at
Banc One Capital Markets
. "People are becoming increasingly convinced the Fed will move 50 basis points, barring softness in tomorrow's data."
The benchmark 10-year bond was down 10/32 to 100 12/32, boosting the yield to 6.446%. The two-year note was up 1/32 to 99 9/32, yielding 6.758%.
Productivity rose at a 2.4% rate in the first quarter, compared with a 3.7% expected increase, according to
Reuters
. Unit labor costs, meanwhile, rose 1.8%, compared with expectations for a 1.0% increase. The previous quarter's productivity figure was revised upward to 6.9% from 6.4%; unit labor costs were revised down to a 2.9% drop from an original 2.5% decrease.
The year-over-year trend in productivity growth is actually favorable, however. On a year-over-year basis, productivity is up 3.7%, strongest since the fourth quarter 1992. Fourth-quarter 1999 was revised higher, to 3.7%. Similarly, labor costs are rising at a 0.7% rate on a year-over-year basis, slowest since the fourth quarter of 1996.
"Overall, the
productivity numbers were generally a bit bearish," said Mike McGlone, vice president of trading at
Aubrey G. Lanston
. "Even with the revision, this generally was not good news...the reason we bounced was because Alan Greenspan did not hint at 50 in this meeting. That was the fear this morning and we didn't get that."
Federal Reserve
Chairman
Alan Greenspan
spoke at the
Federal Reserve Bank of Chicago
today, but his speech did not address the economy or financial markets and neither did the question-and-answer session that followed.
It's not quite clockwork, but often the Fed will let the market know it's planning on getting aggressive, or plans to raise rates, through a Greenspan speech. The chairman did this in June 1999, before they started the cycle of tightening, and in late 1999, when many thought they were done raising the funds rate.
Currently, it's a given to the market that the Fed is going to raise the fed funds rate at least 25 basis points. But while many are talking up the idea of 50 basis points -- and the bond market has sold off in anticipation to extra aggressiveness from the Fed, Greenspan hasn't warned that the Fed is going to act as such.
Karydakis, however, still believes the Fed is going 50 basis points. He thinks the recent economic data support such a move, adding, "the reason the Fed has moved cautiously so far is because inflation has remained generally well-behaved, until recently."
The market is looking forward to tomorrow's
release of the April employment report. A total of 358,000 in new nonfarm payrolls is expected, and average hourly earnings are expected to rise 0.4%. The unemployment rate is forecast to drop to 4.0% from 4.1% in March.
Currency and Commodities
The dollar fell against the yen and rose against the euro, which continues to act like the Edsel of currencies. It lately was worth 108.14 yen, down from 109.08. The euro was worth $0.8905, down from $0.8951. For more on currencies, see
TSC's
Currencies column.
Crude oil for June delivery at the
New York Mercantile Exchange
rose to $26.95 a barrel from $26.75.
The
Bridge Commodity Research Bureau Index
rose to 216.65 from 215.19.
Gold for June delivery at the
Comex
rose to $281.2 an ounce from $279.1 yesterday.
TO VIEW TSC'S ECONOMIC DATABANK, SEE:
http://www.thestreet.com/markets/databank/933086.html
Copyright 2000, TheStreet.com