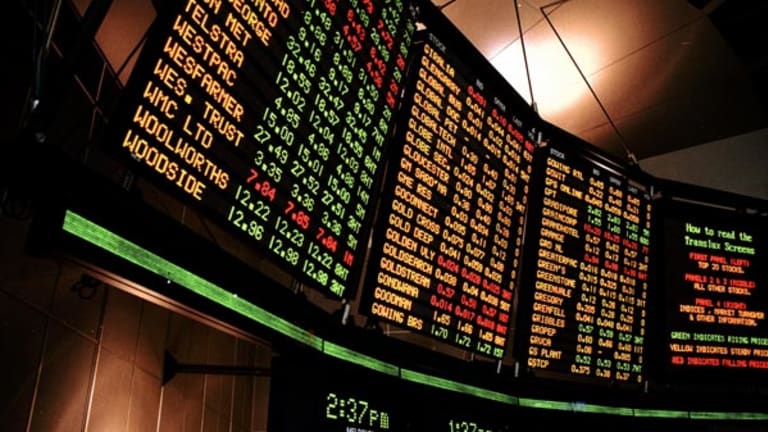 TheStreet.com's DAILY BULLETIN
May 4, 2000
http://www.thestreet.com
Market Data as of Close, 5/3/00:
o Dow Jones Industrial Average: 10,480.13 down 250.99, -2.34%
o Nasdaq Composite Index: 3,707.31 down 78.14, -2.06%
o S&P 500: 1,415.10 down 31.19, -2.16%
o TSC Internet: 869.22 down 1.84, -0.21%
o Russell 2000: 495.56 down 9.79, -1.94%
o 30-Year Treasury: 101 28/32 down 1 10/32, yield 6.110%
Companies in Today's Bulletin:
Sapient (SAPE:Nasdaq)
Reynolds Metals (RLM:NYSE)
Alcoa (AA:NYSE)
Disney (DIS:NYSE)
S1 (SONE:Nasdaq)
British Airways (BAB:NYSE ADR)
In Today's Bulletin:
o Aaron L. Task: Tom Galvin Wears 'King' of the Street Crown (For Now)
o Wrong! Tactics and Strategies: Singing the AT&T Blues
o Evening Update: Sapient to Join S&P 500; Microstrategy Revises 1999 Down
o Bond Focus: Nifty Fifty? After Beige Book, the Bond Market Sure Thinks So!
Also on TheStreet.com:
Banking: S1 Staggers as Investors Desert Onetime Net Finance Favorite
A shortfall provokes a steep selloff in the former highflier.
http://www.thestreet.com/stocks/banking/932693.html
Europe: The Anglo File: British Airways Has a New CEO
The airlines' stock could be ready for takeoff.
http://www.thestreet.com/int/euromarkets/932341.html
Market Features: Food Companies May Be a Healthy Repast for the Prudent Investor
The Bestfoods merger excitement is just one of the positive factors in the food biz.
http://www.thestreet.com/markets/marketfeatures/932629.html
Brokerages/Wall Street: TD Waterhouse to Buy Dealwise
The deal would make it the largest discount broker in the U.K.
http://www.thestreet.com/brknews/brokerages/932431.html
Aaron L. Task: Bullish Tom Galvin a Market Mover and Shaker
By
Aaron L. Task
Senior Writer
5/3/00 8:55 PM ET
SAN FRANCISCO -- If the head that wears a crown truly lies uneasy, to paraphrase Shakespeare, Tom Galvin, chief investment officer at
Donaldson Lufkin & Jenrette
, has some restless nights ahead of him.
In case you missed it, Galvin was all but coronated the new "king" of Wall Street by
CNBC
Wednesday. His bullish comments -- on the market in general and technology in specific -- made to DLJ's sales force, and repeated in a subsequent appearance on the network, were cited as the impetus for a late-day bounce that helped the
Nasdaq Composite Index
close well off its session low (around 3593), down 78.14, or 2.1%, to 3707.31.
Whether or not Galvin's comments really accounted for the Comp's spike, the fact his appearance coincided with the upturn rapidly went from coincidence to catalyst for a cadre of CNBC anchors (save Bob Pisani).
Some market players were less accepting of that scenario.
John Roque, senior analyst at
Arnhold and S. Bleichroeder
(and occasional contributor to this site), downplayed the so-called Galvin effect. He observed that short-sellers are "much less likely to hold positions overnight" in the current environment, because stocks can "ramp on little volume" if there's a positive news development.
That speaks to the
liquidity problems
Jim Cramer
, among many others, has been talking about.
But maybe Galvin does deserve credit. After all, the Nasdaq bounced further than the
Dow
, which closed down 2.3% to 10,480.13 after trading as low as 10,400, and the strategist was most bullish on growth names.
"We continue to believe that only margins for unit growers will be able to survive in an environment of rising costs of labor, material and capital," Galvin wrote in a report issued Monday, and said as much again Wednesday. "Therefore, we are overweighted in technology, health care and communications" and underweight financials, save brokerage institutions (can't bite the hand that feeds you) and insurers.
In addition to DLJ's clout, Galvin's bullishness "in the face of tremendous uncertainty" is what the mainstream press has seized upon, said another Wall Street strategist, noting the DLJ executive was the subject of a
profile by
The New York Times
. That followed Galvin's bold recommendation for 90% equity weighting in the wake of the Comp's mid-April swoon.
"Tom Galvin is the new star on Wall Street," the source said. "Plus, the press has already destroyed just about everyone else."
Indeed. Remember when
Ralph Acampora
could move markets with a mere twitch? Or -- for those who've been around the game a little longer -- Joe Granville? Or Michael Metz, etc., etc.
To his credit, Galvin eschewed the guru-king title.
"This market is way too big for any one person," he said Wednesday afternoon. "I would never want to be a daytrading strategist. I'm not there to say what will happen tomorrow. Hopefully, I can tell people where they should or should not be looking over the next three to six months."
That sounds pretty much like what a Wall Street strategist
traditionally
has done. The problem, it seems, is that there's such a focus on the here and now these days, that there's a ceaseless demand for instant analysis, if not a savior.
Goldman Sachs
' Abby Joseph Cohen has reigned so long on Wall Street because she almost never comments on short-term fluctuations.
Galvin would do well to follow her lead, or risk being sent to the media equivalent of the gallows, should he dare commit the cardinal sin of being wrong.
To err is human. To forgive, unlikely.
And Another Thing
Unfortunately, Galvin was pressed for time and I was unable to query him about the most controversial, and central, aspect of his call: that a 50-basis point rate hike by the
on May 16 would spark a "relief rally" on Wall Street.
The basis for that theory -- as he explained on
CNBC
-- is that a 50 basis-point hike would be a positive because it would signal the Fed is "vigilant and proactive" in fighting inflation. Galvin also suggested such a move would signal the central bank is close to ending its tightening cycle, noting the Fed followed several "gradual steps" with one large one during its 1994-95 tightening cycle. The stock market started rallying before the central bank's last rate hike, which occurred after the "big" one, he recalled.
With an assist from TSC's
James Padihna and
Justin Lahart
(props to the homies), I decided to do the old double-check.
What
really
happened is the Fed tightened by 25 basis points each in February, March and April 1994. So far, so familiar.
Greenspan
& Co. then raised rates by 50 basis points in May, but that was far from the beginning of the end. The central bank then hiked by another 50 basis points in August that year, another 75 basis points in November, followed by an
additional
50 basis points of tightening in February 1995.
If that history is indeed a guide, it doesn't sound like the end is near.
"There is complacency about the Fed," said Barry Hyman, chief market strategist at
Ehrenkrantz King Nussbaum
who is bullish long-term, but not short. (There's also "ignorance" about Fed history, according to Padihna.)
"It's not the May
hike that's disturbing," Hyman observed. "It's what comes after. Potentially, we're looking at an open-ended series of hikes."
Try as I might, I just don't see how that's "good" for stocks.
P.S.
I'm off for a few days of R&R. Back on Monday.
Aaron L. Task writes daily for TheStreet.com. In keeping with TSC's editorial policy, he doesn't own or short individual stocks, although he owns stock in TheStreet.com. He also doesn't invest in hedge funds or other private investment partnerships. He welcomes your feedback at
taskmaster@thestreet.com.
Wrong! Tactics and Strategies: Singing the AT&T Blues
By
James J. Cramer
5/3/00 12:46 PM ET
Why is the market acting so terribly? One reason has to be
AT&T
(T) - Get Free Report
. This is one of those stocks that people really own. It is one of those stocks that hits the market right in the kisser.
I ought to know. Last night we had a sitter and my wife and I went out to our favorite diner in Millburn, the town adjacent to where we live. As I was walking out after a very satisfying meal, the proprietor stopped me and asked me what he should do with his AT&T. I told him I was extremely disappointed with these guys and the near-term prognosis was terrible. I always hate to tell people something when I know it hurts, but let's face it, this company really screwed up and people are going to sell it because it is doing far worse than they thought.
Next it was off to
Walgreen
(WAG)
to get some birthday cards and a bag of Swedish fish for a nasty sweet tooth -- and wouldn't you know it, a guy in the aisle next to the housewares says he can't believe it is me and, "What do I do with my Telephone?"
I gave the gentleman the same prognosis. Ugh. It was received with total resignation.
On the way out toward the car, someone started walking toward me with his hand out. I waved him off and said, simply: "Telephone? Sell it."
And we got in the car and went home.
James J. Cramer is manager of a hedge fund and co-founder of TheStreet.com. At time of publication, his fund had no positions in any stocks mentioned. His fund often buys and sells securities that are the subject of his columns, both before and after the columns are published, and the positions that his fund takes may change at any time. Under no circumstances does the information in this column represent a recommendation to buy or sell stocks. Cramer's writings provide insights into the dynamics of money management and are not a solicitation for transactions. While he cannot provide investment advice or recommendations, he invites you to comment on his column at
jjcletters@thestreet.com.
Evening Update: Sapient to Join S&P 500; Microstrategy Revises 1999 Down
By
Eileen Kinsella
Staff Reporter
5/3/00 8:36 PM ET
Standard & Poor's
said
Sapient
(SAPE)
will replace
Reynolds Metals
(RLM) - Get Free Report
in the
S&P 500
. Reynolds is being acquired by
Alcoa
(AA) - Get Free Report
.
As reported earlier,
Disney
(DIS) - Get Free Report
posted second-quarter earnings of 18 cents a share, excluding its retained interest in
Go.com
(GO) - Get Free Report
, beating the 18-analyst estimate of 14 cents and the year-ago 11 cents. The company said its latest quarter was helped by the success of the
Who Wants To Be a Millionaire
television show and the Millennium Celebration at
Walt Disney World
. The entertainment company also said its second quarter benefited from strong results in the company's Media Networks unit and improvement in the
ABC News
unit, led by higher ratings for "Good Morning America."
For more on Disney's
earnings, see coverage from
TheStreet.com/NYTimes.com
joint newsroom.
In other postclose news (
earnings estimates from First Call/Thomson Financial; earnings reported on a diluted basis unless otherwise specified
):
Earnings/revenue reports and previews
Microstrategy
(MSTR) - Get Free Report
said it revised results downward for all four quarters of 1999, to conform with certain accounting practices. The Vienna, Md.-based company said all share and per share amounts have been adjusted to reflect its 2-for-1 stock split in January.
First-quarter 1999 earnings-per-share were cut to a loss of 5 cents from a profit of 2 cents and revenues were lowered to $29.3 million from $35.8 million. Second-quarter EPS was lowered to nil from a profit of 4 cents, third-quarter to a loss of 17 cents from a profit of 4 cents and fourth-quarter to a loss of 22 cents from a profit of 4 cents.
The company had said previously that it would revise results for certain quarters in the 1997, 1998 and 1999 fiscal years mainly to address certain software arrangements it had with customers that should have been accounted for.
American Eagle Outfitters
undefined
said April
same-store sales rose 5.8% over the year-ago period.
AMFM
(AFM)
posted a first-quarter loss of 75 cents a share, including items. Excluding the items, the company said after-tax cash flow was 36 cents a share compared with 22 cents a year ago. The single-analyst expected loss was 72 cents.
Acxiom
undefined
posted fourth-quarter earnings of 29 cents a share, in line with the 11-analyst estimate and up from the year-ago 22 cents.
Caremark
undefined
posted first-quarter earnings of 9 cents a share, a penny better than the eight-analyst estimate and the year-ago 6 cents.
Chiron
(CHIR) - Get Free Report
posted first-quarter earnings of 21 cents a share, well above the 12-analyst estimate of 16 cents and up from the year-ago 14 cents.
Crown Castle International
undefined
posted a first-quarter loss of 27 cents a share, narrower than the four-analyst expected loss of 30 cents a share, but wider than the year-ago loss of 21 cents.
Electronic Arts
undefined
posted fourth-quarter earnings of 16 cents a share, better than the 14-analyst estimate of 14 cents, but down from the year-ago 37 cents.
Gap
(GPS) - Get Free Report
said same-store sales for April 2000 rose 7% compared to a 1% increase in the year-ago period.
Geon
(GON)
reported first-quarter earnings of 57 cents, ahead of the five-analyst estimate of 55 cents and the year-ago 50 cents.
Homestore.com
undefined
posted a first-quarter pro forma loss of 14 cents a share, narrower than the eight-analyst expected loss of 16 cents and the year-ago loss of 31 cents.
Intermedia Communications
undefined
reported a first-quarter loss of $2.94 a share, narrower than the seven-analyst expected loss of $3.30, but wider than the year-ago loss of $2.73.
Jupiter Communications
(JPTR)
posted first-quarter earnings of less than 1 cent a share excluding a gain. That was above the five-analyst expected loss of 8 cents a share and better than the year-ago loss of 3 cents.
Oratec
(OTEC)
posted first-quarter pro forma earnings of 1 cent a share, better than three-analyst expected loss of 5 cents, and up from the year-ago pro forma loss of 19 cents.
Panamerican Beverage
(PB) - Get Free Report
said it set a company-wide reorganization plan which it said should produce cost saving of up to $100 million in 2001. The plan involves laying off about 6,750 jobs, or about 14% of its total workforce. The company said it would take a one-time charge of $85.3 million before taxes in the first quarter of 2000. Panamerican also posted a first-quarter net loss of 55 cents which includes 48 cents in items. The five-analyst expected loss was for five cents a share while the year-ago loss was 31 cents.
Trigon Healthcare
(TGH) - Get Free Report
said it expects to post first-quarter and fiscal-year results well above forecasts. The company said it expects first-quarter earnings of about 70 cents, compared with the current 15-analyst estimate of 57 cents. For the year, Trigon said it expects earnings between $3.00 and $3.10 compared with the eighteen-analyst estimate of $2.64.
ZDNet
undefined
posted pro forma earnings of 4 cents a share, better than the five-analyst expected loss of 4 cents and the year-ago pro forma earnings of 2 cents a share.
Mergers, acquisitions and joint ventures
Spanish Internet access and portals provider
Terra Networks
undefined
said it had acquired 100% of its assets in the U.S. from partner and telecom carrier
IDT
(IDTC)
.
Wesley Jessen
undefined
said it received regulatory clearance for its planned merger with
Ocular Sciences
(OCLR) - Get Free Report
.
Offerings and stock actions
Charles Schwab
(SCH)
set a 3-for-2 split.
Miscellany
Time Warner
(TWX)
unit
Time Warner Cable
said it will seek a further review of a
Federal Communications Commission
ruling that it violated federal rules by shutting down Disney's
ABC
television programming to cable viewers on Monday.
Bond Focus: Nifty Fifty? After Beige Book, the Bond Market Sure Thinks So!
By
David A. Gaffen
Staff Reporter
5/3/00 3:55 PM ET
The bond market sold off sharply this afternoon after a quiet morning, as the
Federal Reserve's
anecdotal economic survey, the
Beige Book, reported rising wage pressures and price pressures.
The report supports the growing sentiment that the Fed could increase the Fed funds rate by 50 basis points at its May 16 meeting, and that hurt the market this afternoon across the Treasury yield curve.
Lately, the benchmark 10-year Treasury was down 22/32 to 100 23/32, boosting the yield 9.3 basis points to 6.398%. The two-year note was down 2/32 to 99 11/32, yielding 6.732%.
"The afternoon selloff caught a lot of people off guard," said Mike Franzese, intermediate government trader at
Zions First National Bank
in Jersey City, N.J. "Nobody wanted to believe" that costs were increasing.
The market weakened after the 2 p.m. EDT release of the Beige Book, an anecdotal survey of nationwide economic conditions that comes out generally a few weeks before a Fed meeting. This report said that "there were more frequent reports of intensifying wage pressures as shortages of workers persisted in all Districts," the
Beige Book
said. "Increasing input prices were noted in nearly every region."
That wording is a bit more grave than previous Beige Books, which told of wage pressures and tight labor markets, and after last week's
Employment Cost Index
shocked the bond market, traders have been on guard.
"The problem is, this report reinforces the fears that grew out of the ECI," said Tony Crescenzi, chief bond market strategist at
Miller Tabak
. "Wage and cost inflation pressures are in the system now."
The market will add more evidence to the docket tomorrow, with the release of the first-quarter
productivity and unit labor costs report, and Friday, with the release of the April
employment report
.
The Beige Book weakened the short end of the yield curve in particular, which had held in strong after the
Treasury Department's
quarterly refunding announcement this morning. Treasury Undersecretary
Gary Gensler
said today that the Treasury was considering eliminating the one-year Treasury bill due to the government's reduced borrowing needs. He also said there are plans to reduce the size of two-year auctions and eventually reduce the frequency of two-year auctions, which are still held monthly.
This provided a bit of support for the short end of the curve, but the Beige Book took all that way. The reduction in 30-year supply has been a boon for the long bond -- many participants attribute the rapid rally this year in the long bond to supply concerns, rather than to economic concerns.
The Treasury will sell new five- and 10-year notes next Tuesday and Wednesday. A total of $12 billion in five-year notes will be sold, but if the note's yield is between 6.5%-6.624%, the five-year notes will be considered a reopening of the 6.5% 10-year notes sold May 15, 1995. The selloff put the yield on the five-year note out of that range by the end of the day, at 6.66%.
The 10-year note is certain to be a reopening. A total of $8 billion of the 6.5% notes sold in February, maturing in Feb. 2010, will be sold next Wednesday. In addition, buybacks of long-dated securities will now be conducted on a monthly basis, Gensler said.
Factory orders increased 2.2% in March, after a revised unchanged reading in February. On a year-over-year basis, factory orders were up 9.4%, compared with just a 4.8% year-over-year rate in March 1999.
The
National Association of Purchasing Management's
non-manufacturing index, a survey of the service sector nationwide, rose to 65 in April from 64 in March. The index is not widely followed, as the data are not yet seasonally adjusted.
Currency and Commodities
The dollar rose against both the yen and euro. It lately was worth 109.08 yen, up from 108.46. The euro was worth $0.8951, down from $0.9084. For more on currencies, see TSC's
Currencies column.
Crude oil for June delivery at the
New York Mercantile Exchange
fell to $26.75 a barrel from $26.89.
The
Bridge Commodity Research Bureau Index
fell to 215.53 from 216.85.
Gold for June delivery at the
Comex
rose to $279 an ounce from $277 yesterday.
TO VIEW TSC'S ECONOMIC DATABANK, SEE: http://www.thestreet.com/markets/databank/924208.html
Copyright 2000, TheStreet.com