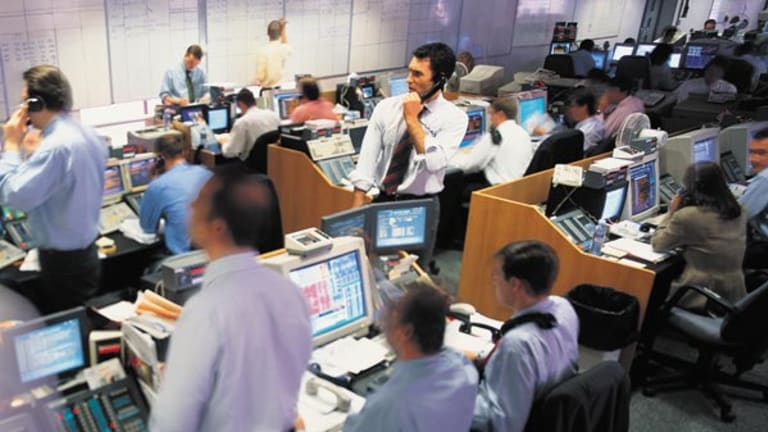 TheStreet.com's DAILY BULLETIN
May 2, 2000
http://www.thestreet.com
Market Data as of Close, 5/1/00:
o Dow Jones Industrial Average: 10,811.78 up 77.87, 0.73%
o Nasdaq Composite Index: 3,958.08 up 97.42, 2.52%
o S&P 500: 1,468.25 up 15.82, 1.09%
o TSC Internet: 919.42 up 24.31, 2.72%
o Russell 2000: 518.93 up 12.68, 2.50%
o 30-Year Treasury: 103 19/32 down 13/32, yield 5.976%
Companies in Today's Bulletin:AT&T (T:NYSE)
iVillage (IVIL:Nasdaq)
IBM (IBM:NYSE)
Hewlett-Packard (HWP:NYSE)
Compaq (CPQ:NYSE)
In Today's Bulletin:
o Telecom: A Lot Is Riding on Broadband as AT&T Prepares to Report Earnings
o Wrong! Rear Echelon Revelations: When the Dust Cleared, iVillage Was Still Standing
o Evening Update: IBM Planning New Online Market; Dallas Fed Head Talks Inflation
o Bond Focus: Bonds Slip Bit Lower in Placid May Day Action
Also on TheStreet.com:
Brokerages/Wall Street: Exchanges Are Pushing for Single-Stock Futures Plan
U.S. exchanges hope to end an almost 20-year ban on the products, staving off foreign competition.
http://www.thestreet.com/stocks/brokerages/930535.html
Earnings: Grand Opening: Most Earnings Calls Now Available to the Public
Reflecting regulators' efforts and the scant cost of Webcasting, the first quarter saw open calls jump.
http://www.thestreet.com/markets/earnings/930533.html
The Buysider: In Search of Warren Wisdom
Bronchick looks for some investible nuggets of wisdom at the Berkshire Hathaway annual meeting.
http://www.thestreet.com/comment/buysider/930830.html
Options Buzz: Free From Uncertainty, Microsoft Options Are Running
There's big play -- mostly of the bullish variety -- in Microsoft options.
http://www.thestreet.com/markets/optionsbuzzfree/930708.html
Telecom: A Lot Is Riding on Broadband as AT&T Prepares to Report Earnings
By
Scott Moritz
Staff Reporter
5/1/00 7:15 PM ET
When C. Michael Armstrong rolled into Basking Ridge, N.J., on his Harley-Davidson in 1997, he was billed as the
AT&T
(T) - Get Report
boss hog who would manage one of history's grandest corporate turnarounds.
Three years later, though, he's just trying to manage expectations.
As the company prepares to report first-quarter earnings Tuesday morning, investors are desperately searching for clues that Armstrong's ambitious, multibillion-dollar broadband plans haven't fallen by the wayside. AT&T's stock has stagnated in recent months amid reports that telephone customers haven't warmed to the new cable offering, and two top executives have left the division for greener pastures. So a failure to meet Wall Street's expectations (earnings are pegged at 53 cents a share) or to deliver rosy numbers in cable growth could chill the stock further.
Shaken, Not Stirred
"For a while, people were convinced of AT&T's broadband plans, but I think that conviction has been shaken," says
First American
equity research analyst Kevin Earley. "The big risk right now is that they may be falling behind on the broadband front.
"I'd like better color on how they're progressing with their cable rollout," says Earley, whose firm has a substantial position in AT&T.
Other shareholders worry that executive exits and the IPO of the wireless division, among other things, have distracted management. "I think people really want to see more detail about how the whole kit and kaboodle looks," says
Stein Roe
fund manager Ophelia Barsketis, whose firm controls $550 million in investments and has a significant position in AT&T.
Shrinkage
Shares of AT&T tickled the low 60s in late March, as enthusiasm surrounding the IPO of
AT&T Wireless
(AWE)
took hold. With April bringing a widespread tech selloff, however, and AT&T's $22 billion-a-year long-distance business continuing to shrink, the price has returned to the high 40s.
Judging by news reports, shareholder anxiety can only have spread in recent weeks. Several media outlets reported Friday that at the end of the first quarter, AT&T had signed up just 10% of its year-end subscriber target of 400,000 to 500,000 customers for phone service via cable. That news follows word last week that AT&T's head of cable telephony, Curt Hockenmeier, left the company to take an executive position at
Arbinet
, an Internet bandwidth exchange.
Hockenmeier is the second major departure from the AT&T Broadband division. Late last year, chief Leo Hindery quit to take the CEO job at upstart
Global Crossing
(GBLX)
.
AT&T downplayed the departures Monday and says it expects to hit its cable-telephony subscriber target this year.
Cheap, Cheap
Of course, all the bad news has some shareholders looking at the bright side, despite the steep challenges.
"They have some significant hurdles in terms of technology and the upgrade of their cable plant," says hedge fund manager Michael Kaufman of
K Capital Partners
. Kaufman's firm controls $500 million in investments and has a $10 million stake in AT&T.
"But AT&T is cheap in relation to the other big-cap telcos, and especially inexpensive compared to other highfliers in the sector," Kaufman says.
Wrong! Rear Echelon Revelations: When the Dust Cleared, iVillage Was Still Standing
By
James J. Cramer
5/1/00 7:27 PM ET
It is time to pull the file on
iVillage
(IVIL)
. I have watched this stock plummet like all of the other dot-coms. I have read the negative press and seen all of the back-stabbing and the bad-mouthing. I gather that every day at iVillage is kind of the indoor equivalent of Outward Bound.
But today I read a piece about iVillage in
The Wall Street Journal
that said, to summarize, these guys can't get it together -- they keep losing money and people as far as the eye can see.
And the stock barely budged. It's down a miserable, lousy quarter of a dollar. Twenty-five cents! Two bits! When a stock gets a full body slam like this article and it doesn't go down -- that seems like a bottom to me.
I'm going to quote
Matt "Flounder" Jacobs
-- "Flounder" 'cause he's a bottom-feeder (not someone who is lost or really funny in a frat house) -- saying, "There has to be something here worth buying. The news today is so negative that -- if this stock can't go down more than this -- we are at or near the bottom."
And all I know is that the site has some nifty self-help stuff that seems to have some appeal to somebody.
Sometimes all you need is a negative article and a virtually flat stock price to know what to do. This seems like one of those times.
********
James J. Cramer is manager of a hedge fund and co-founder of TheStreet.com. At time of publication, his fund had no positions in any stocks mentioned. His fund often buys and sells securities that are the subject of his columns, both before and after the columns are published, and the positions that his fund takes may change at any time. Under no circumstances does the information in this column represent a recommendation to buy or sell stocks. Cramer's writings provide insights into the dynamics of money management and are not a solicitation for transactions. While he cannot provide investment advice or recommendations, he invites you to comment on his column at
jjcletters@thestreet.com.
Evening Update: IBM Planning New Online Market; Dallas Fed Head Talks Inflation
By
Tara Murphy
Staff Reporter
5/1/00 8:23 PM ET
IBM
(IBM) - Get Report
said it signed up nine companies for an online marketplace to rival the
Hewlett-Packard
(HWP)
and
Compaq
(CPQ)
-led supply market.
IBM said the marketplace's technological structure could be developed through its current relations with
Ariba
(ARBA)
or
i2 Technologies
(ITWO)
. An IBM executive wouldn't say if IBM had entered any agreements,
Reuters
said. IBM said it would formally announce the plan within a month.
Keith Melbourne, general manager of H-P's trading community business, told
Reuters
that the two tech giants could still work together on the marketplace. "It's still possible for the marketplaces to inter-operate or potentially combine," he said.
Dallas Fed
President Robert McTeer told the
Washington Association of Money Managers
that "U.S. inflation is showing signs of resisting arrest," which could ignite investors' fears of a 50-basis-point rate hike at the May 16
Federal Open Market Committee meeting.
McTeer, who has held the principle that higher productivity growth enabled the economy to flourish with lower inflation, also called the stronger-than-expected March
Consumer Price Index figure a "terrible number," according to
Reuters
.
However, McTeer went on to say he thinks the overall U.S. inflation rate is likely to decline in coming months as energy prices ease.
In other postclose news (earnings estimates from
First Call/Thomson Financial
; earnings reported on a diluted basis unless otherwise specified):
Mergers, acquisitions and joint ventures
Global Crossing
(GBLX)
said it is considering a possible sale of the local phone business that came with last year's acquisition of
Frontier
. The long-distance carrier said it has retained
Chase Securities
and
Merrill Lynch
to review strategic alternatives for the incumbent local-exchange carrier.
Earnings/revenue reports and previews
Expedia
(EXPE) - Get Report
posted a third-quarter loss of 40 cents a share, narrower than the four-analyst estimate of a 57-cent loss. The company does not have a year-ago per share comparison because its IPO was held in November 1999. The Web travel service, which is 85%-owned by
Microsoft
(MSFT) - Get Report
, posted revenues of $31.9 million, greatly surpassing the year-ago report of $11.2 million. Expedia attributed the strong results to the success of its hotel room and tour package sales.
Offerings and stock actions
Beatnik
(BTNK)
, an online audio integration software maker, asked the
Securities and Exchange Commission
to pull its $63.25 million IPO, citing market volatility.
Separately,
Linuxcare
(LXCR)
is also asking the SEC to withdraw its $56.6 million IPO because of recent market conditions.
Miscellany
Nabisco Holdings
(NGH)
said it plans to close two Nabisco Food warehouses in Chicago and San Bernardino, Calif., eliminating 134 jobs, or less than 1% of its workforce. Nabisco said it was closing the factories because it could improve operations and customer service by integrating the functions of the facilities into existing distribution networks for those regions.
The
New York Stock Exchange
said
Kemet
(KEM) - Get Report
would not comment on its stock's recent climb. The shares finished the session up 8 9/16, or 11.4%, to 83 1/16.
Serena Software
(SRNA)
said it tapped Mark Woodward as its president and CEO. Woodward will replace Richard Doerr, who will continue to serve on the company's board. Serena also said it expects to post first-quarter earnings either in line with or better than the three-analyst estimate of 9 cents a share.
For a look into this evening's after-hours trading action, please check out
TheStreet.com's
The Night Watch.
Bond Focus: Bonds Slip Bit Lower in Placid May Day Action
By
David A. Gaffen
Staff Reporter
5/1/00 3:58 PM ET
The Treasury market had to struggle to stay awake today, as the market was extremely quiet. Bonds were slightly weaker in the morning, extending their losses in the afternoon as stocks steadily improved.
This morning's economic reports, which include the
National Association of Purchasing Management's
purchasing managers' manufacturing index, were reasonably strong, but did not cause much consternation in the Treasury market.
"The flows have been alarmingly dead," said John Canavan, Treasury market strategist at
Stone & McCarthy
in Princeton, N.J. "Bonds had a better tone at the open but found no follow-through."
Tracker
GovPX
reported volume was down 36% when compared with the average Monday during the past month, with just $17.4 billion shares changing hands.
The benchmark 10-year Treasury bond was lately down 13/32 to 101 19/32, moving the yield up to 6.276%. The two-year note performed slightly better, a reverse from last week, down just 2/32 to 99 10/32, yielding 6.736%. That's a slight change from last week, when the short end bore the brunt of increasingly negative market sentiment, which is gearing itself up for several more interest-rate increases from the
Federal Reserve
.
Short-dated securities react most strongly to expected changes in Fed monetary policy, and they were hurt last week after the release of Thursday's
Employment Cost Index and
Gross Domestic Product data. That was turned around a bit today by traders selling long-dated securities and buying back short-dated ones, but as stocks improved, the two-year note was sold.
The fortunes of the fixed income market have been chiefly linked with the performance in equities. With stocks stronger across the board, bonds are weak.
"There's a little money moving out of bonds into stocks," said Charlie Reinhard, chief market strategist at
ABN Amro
. "The NAPM report did not contain many surprises, but it's still likely that the Fed is going to raise rates -- we think they'll raise by 50 basis points."
The NAPM, a nationwide survey of manufacturing conditions, fell to 54.9 in April from 55.8 in March. A reading above 50 indicates expansion in the manufacturing sector, and this index has been above 50 for the last 15 months. While the index's prices-paid component is slowing, the employment and supplier deliveries components are still increasing, indicating still-tighter labor markets, and that suppliers cannot keep up with the incredible pace of consumer demand. The supplier deliveries component increased to 55.6 from 54.1.
Construction spending
rose 1.4% in March, the
Commerce Department
said this morning, after a revised 1.2% gain in February.
Currency and Commodities
With Europe closed for the May Day holiday, currency trading was light. The dollar rose against the yen and fell slightly against the euro. It lately was worth 108.74 yen, up from 106.41. The euro was worth $0.9169, up from $0.9120. For more on currencies, see TSC's
Currencies column.
Crude oil for June delivery at the
New York Mercantile Exchange
rose to $25.90 a barrel from $25.74.
The
Bridge Commodity Research Bureau Index
rose to 215.89 from 211.94.
Gold for June delivery at the
Comex
fell to $274 an ounce from $278.70 yesterday.
TO VIEW TSC'S ECONOMIC DATABANK, SEE:
http://www.thestreet.com/markets/databank/928268.html
Adam Lashinsky will be hosting ZDTV's Silicon Spin Tuesday, May 2 - Thursday, May 4. Please check your local listings for times.
Contributing Editor Christopher Edmonds and long-time Buffett watcher Robert Hagstrom, author of the book The Warren Buffett Portfolio, chat about Buffett's market outlook, his investment strategy and news from the Berkshire Hathaway annual meeting. Chat with Chris and Robert on Yahoo! Tuesday, May 2 at 5 p.m. EDT. Register for Yahoo Chat at http://chat.yahoo.com. It's free!
Copyright 2000, TheStreet.com