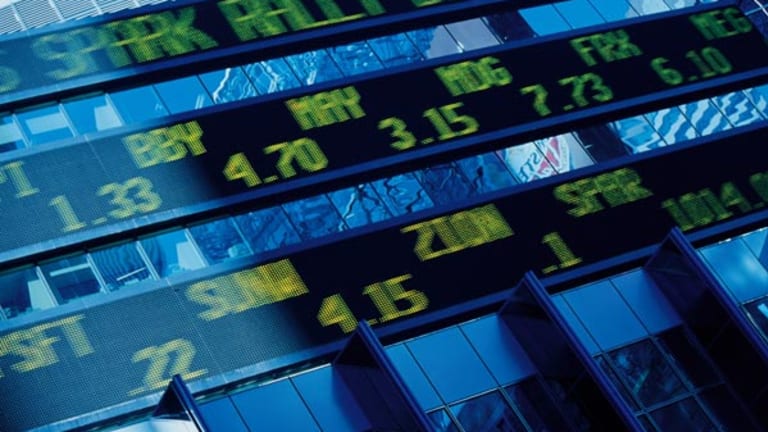 TheStreet.com's DAILY BULLETIN
April 28, 2000
http://www.thestreet.com
Market Data as of Close, 4/27/00:
o Dow Jones Industrial Average: 10,888.10 down 57.40, -0.52%
o Nasdaq Composite Index: 3,774.03 up 143.94, 3.97%
o S&P 500: 1,464.92 up 3.93, 0.27%
o TSC Internet: 856.97 up 53.08, 6.60%
o Russell 2000: 494.58 up 10.34, 2.14%
o 30-Year Treasury: 103 20/32 down 18/32, yield 5.993%
Companies in Today's Bulletin:
Amazon (AMZN:Nasdaq)
Starbucks (SBUX:Nasdaq)
Microsoft (MSFT:Nasdaq)
AT&T Wireless Group (AWE:NYSE)
In Today's Bulletin:
o Asia/Pacific: A Japanese Highflier Plummets, and Investors Can't Reach the Exits
o Wrong! Rear Echelon Revelations: Being Alan Greenspan
o Evening Update: Pour Yourself a Latte, Grab a Muffin and Soak Up Tonight's Earnings Numbers
o Bond Focus: Bond Market Selloff Delayed -- but Inevitable -- After Morning Data
Catch "TheStreet.com" on Fox News Channel Saturdays at 10 a.m. and 6 p.m. and Sundays at 10 a.m. (ET). Scott Bleier, Chief Investment Strategist at Prime Charter, will be our guest April 29, 30.
Also on TheStreet.com:
Telecom: Muted Market Reaction to Record-Sized AT&T Wireless Offering
AT&T Wireless raised $10.6 billion through an offering of 360 million shares.
http://www.thestreet.com/brknews/telecom/928359.html
Nothing but Net: A Self-Assured Nasdaq Climbs Nicely; DOT Jumps Nearly 7%
With inflation factored in, strong earnings and a nice AT&T Wireless IPO, there's some optimism.
http://www.thestreet.com/markets/techupdate/928661.html
General: Former Bank Executive Convicted of Giving Insider Trading Information to Porn Star
Co-defendant Anthony Pomponio was also found guilty of conspiracy and securities fraud.
http://www.thestreet.com/brknews/general/928505.html
Herb on TheStreet: More on the Bear Case for Amazon
Details raise questions over whether Amazon ever will be profitable, even if it is the 'Last Man Standing.'
http://www.thestreet.com/comment/herbonthestreet/928451.html
Asia/Pacific: A Japanese Highflier Plummets, and Investors Can't Reach the Exits
By
Justin Lahart
Associate Editor
4/27/00 7:42 PM ET
For a fund manager, there is nothing quite so demoralizing as seeing a big position on your book blow up.
Whether it is
Cendant
,
(CD)
Rite Aid
(RAD) - Get Report
or
Lucent
(LU)
, it all comes to the same thing. There will be the calls from clients and the meetings with your boss. There will be the long nights spent thinking about how the signs were there for you to see and of how you should have at least trimmed your position. And you'll do that thing you always do when disaster strikes, flipping back and forth between the before and the after: "Yesterday, I was up 13%, today I am down 4%..."
Yet, as awful as going through a blowup is, at least if you are a U.S. fund manager you can make the mote on your screen go away. You peel out the unwanted thing and plant what capital there is left in some better pasture. For many fund managers in Japan, who for four weeks have been unable to exit former highflier
Hikari Tsushin
, that is an enviable thing.
They Kill Bunnies, Don't They?
Even in last year's highflying Tokyo stock market, Hikari Tsushin shares stood out, rising in excess of 2,600% to close out 1999 at
207,000 ($1,953). Nor was the run over for the mobile-phone-seller-cum-Internet-incubator -- it would eventually top out at
241,000 on Feb. 15.
Then, disaster.
Rumors about the company, and a series of unfavorable business articles (one of which alleged that its president, Yasumitsu Shigeta, fed baby rabbits to his pet python) began to appear in March. By mid-month, Hikari shares had plunged to
88,500. Shigeta held a news conference where he denied rumors that the company was being investigated by regulators, that the company had cooked accounts to reach targets, and that his relationship with Internet giant
Softbank
, whose board he sat on, had soured. He also denied that he had died.
In addition, he said that sales and earnings were "proceeding smoothly" -- something that turned out not be true. On the evening of March 30, the company announced that it had posted an operating loss of
13 billion for the fiscal half-year ended Feb. 29, compared to expectations of a
6 billion profit.
"He broke faith with the people after announcing the loss," says Jim Bogin, portfolio manager of the
(MJFOX) - Get Report
Matthews Japan Fund. "He had always emphasized how profitable he was."
Bogin had owned Hikari, but cleared his position after the stock tripled to
43,000. As the stock more than quintupled from there, he felt pretty dumb. But selling Hikari turned out to be one of the smartest decisions he ever made.
There are daily price limits set on how far up or down Tokyo stocks can go. This is because -- according to the
Tokyo Stock Exchange
-- it is feared that distorted stock price formations might cause investors to make inappropriate investment judgements.
On March 31, Hikari fell by its daily limit of
5,000 to
73,800. Or rather, as the ask price for Hikari fell by its daily limit -- there were no takers. And it has fallen by its daily limit every day since then, with only sporadic buying. Last Monday was the only day in the past month when any actual trading got done. A pretty respectable 1.26 million shares changed hands before buying was exhausted, but even then many investors weren't able to exit their the stock.
"We have one account that has a little position that we're obviously trying to get out of at any price," says David Smith, a fund manager at
Newport Pacific
. Smith said he was able to sell about 40% of his
(NJOAX)
Liberty Newport Japan Opportunities Fund's Hikari stake on Monday. He hopes to clear the stock entirely from his books before the fund is opened to Japanese investors in a few weeks.
Smith wishes that he could have cleared out of Hikari when it first announced the shortfall and that he could have taken what money he could and put it to work someplace else. Instead, that capital is dead in the water and will be until Hikari reaches whatever level it needs to reach to trade actively again. He's wishing for a change in the rules.
"Hopefully, the authorities are going to look and say, 'Maybe we can adjust this system,' " he says, reckoning that individual investors -- the ones who are supposed to be protected by the rules -- are the ones getting hurt the most. "Think of all the people on margin. They can't do anything about liquidating their positions."
Margin is the practice of borrowing from a broker to buy a certain stock. If a stock goes down too much, the broker worries about protecting its principal and puts out a margin call, which requires the borrower to put up additional cash. If the borrower doesn't have the cash to put up, it will typically liquidate the borrower's position. In Hikari's case, however, that's not possible, so brokers are liquidating investors' other positions. After seeing individual investors hemmed in like that, a review of the rules seems appropriate.
Nothing happens quickly in Japan, though, and until the rules change, investors putting money into Japanese mutual funds -- particularly funds that invest in growth areas -- need to know that there is some additional risk. While funds with investments in Hikari probably cannot be hurt much more -- it has fallen by 94% from its all-time high, making what were formerly large positions small -- there are plenty of other highflying stocks trading in Tokyo. One can easily imagine more Hikari Tsushins in the future and more funds caught with stock on their books that they can't get out of.
"In Japan, the whole cycle for this Internet stuff was a lot more compressed," says Bogin. "Some of these things went far further in a smaller amount of time than in the U.S."
Wrong! Rear Echelon Revelations: Being Alan Greenspan
By
James J. Cramer
4/27/00 3:42 PM ET
Step into the mind of
Alan Greenspan
after reading the closing quotes of today's market. It's is a little convoluted and
Ayn Rand
-like in there, with a
Faulkner
-esque lack of editing, but I will give you the unvarnished, stream-of-consciousness look-see. As Barry Hertz from
Track Data
(TRAC)
would say, "You just can't make this stuff up!"
One would think that the individuals who are buying the Nasdaq would keep in mind the far less than modest, but not yet catastrophic leap in the ECI, which, heretofore, has been one of my more closely followed, if not, one would say, almost totemic indicator for my near-term, but not too-near-term decisions. The ineluctable conclusion that can be drawn, that must be drawn, from that number is that high-growth stocks, the so-called lottery tickets I have referenced in previous testimony, should be headed in a vertical direction downward and not be merely projectiles being hurled toward the inevitable 52-week high list. Furthermore, to wit, when I see the strength in the stocks of those capital equipment providers leveraged, or levered, to the so-called semiconductor industry, of which Intel (INTC) - Get Report comes to mind, I am saddened to see such capital gains not being taken by the so-called retail, that is, leveraged, or margined public. The only real conclusion that one must draw, that one can draw, is that stocks, those certificates or pieces of paper that are meant to reflect the earnings longer-term of companies, should not be going in a Northern direction, and in particular the telephony group, the stocks that are leveraged to the wireless industry of which there is explosive growth, should be more tempered in their superior returns if there is to be any hope, near-term, that the Federal Reserve could be less vigilant, less authoritative and perhaps less punitive in its style of execution of monetary policy. In short, the upshot of these terrible, but sanguine if not confusing situations of dramatically higher equity prices in the field of high technology, despite the intense, if not superior, productivity gains scored in the sector, lead me to conclude that a series of swift, but not overnight, perhaps intrameeting, or during-meeting ratcheting of the shorter end of the curve rates may somehow not be out of the question in light of the dramatic longfall in consumer spending triggered by these so-called super-superior returns, which, no doubt, will impact the portion of the economy that relies on cheaper, if not bountiful credit to continue its string of consecutively higher quarters.
Or in other words, translated, Greenspan is going to have to jack up rates, and wreck the real economy, because the Nazzdogs wouldn't stay down!!
James J. Cramer is manager of a hedge fund and co-founder of TheStreet.com. At time of publication, his fund was long Intel. His fund often buys and sells securities that are the subject of his columns, both before and after the columns are published, and the positions that his fund takes may change at any time. Under no circumstances does the information in this column represent a recommendation to buy or sell stocks. Cramer's writings provide insights into the dynamics of money management and are not a solicitation for transactions. While he cannot provide investment advice or recommendations, he invites you to comment on his column at
jjcletters@thestreet.com.
Evening Update: Pour Yourself a Latte, Grab a Muffin and Soak Up Tonight's Earnings Numbers
By
Tara Murphy
Staff Reporter
4/27/00 8:12 PM ET
Starbucks
(SBUX) - Get Report
lost its after-hours perk, despite reporting second-quarter earnings of 12 cents a share, in line with the 21-analyst estimate and up from the year-ago 10 cents. The coffee shop chain said same-store sakes were up 10% over the year-ago period, while revenues came in at $505 million, up 34% from the year-ago $376 million. Starbucks also upped its fiscal 2000 domestic licensed store opening goal to 200 from 100 and upped its international target to 150 from 100.
Electronic Data Systems
(EDS)
reported first-quarter earnings of 47 cents a share, in line with the 17-analyst estimate and up from the year-ago 36 cents. EDS said revenues in the first quarter increased 5% to $4.5 billion from the year-ago quarter. The company, which said it was comfortable with second-quarter and 2000 earnings estimates, attributed the strong earnings to successful restructuring in 1999 and its growing eSolutions unit.
In other postclose news (earnings estimates from
First Call/Thomson Financial
; earnings reported on a diluted basis unless otherwise specified):
Mergers, acquisitions and joint ventures
Edison International's
(EIX) - Get Report
Southern California Edison division said it entered a $550 million deal to sell its stakes in two power plants to
Pinnacle West
(PNW) - Get Report
. The terms call for Pinnacle West to buy SCE's 16% interest in the Arizona-based Palo Verde nuclear power plant and its 48% stake in two divisions at the Four Corners Generating Station in New Mexico.
Nike
(NKE) - Get Report
said it ended talks with the
University of Michigan
related to the renewal of its six-year contract to outfit the school's sports teams after the university (alma mater of two of
TSC's
brightest lights) demanded that Nike follow labor guidelines that it deemed too stringent.
Nike CEO Philip Knight said that this was the third time in a month that labor policies interfered in sponsorships for the athletic clothier. According to Nike, the deal would have been the largest, most lucrative one in college sports history.
Earnings/revenue reports
Western Digital
(WDC) - Get Report
, a data storage company, posted third-quarter loss of 17 cents a share, narrower than both the seven-analyst estimate of a 24-cent loss and the year-ago 68-cent loss.
Offerings and stock actions
Catalina Marketing
(POS)
set a 3-for-1 stock split.
Potomac Electric Power
(POM)
set a share repurchasing plan for up to $200 million.
For a look into this evening's after-hours trading action, please check out
TheStreet.com's
The Night Watch.
Bond Focus: Bond Market Selloff Delayed -- but Inevitable -- After Morning Data
By
David A. Gaffen
Staff Reporter
4/27/00 4:23 PM ETToday's economic data certainly wasn't favorable for the bond market. But the market took a little time before reacting to the news, thanks to the stock market futures.
Both this morning's 8:30 a.m. EDT
Employment Cost Index and
gross domestic product reports were much stronger than expected, but because the
S&P
and
Nasdaq
futures hit what's called "limit down" -- the farthest they could fall -- bonds held in reasonably well.
So all it took was a recovery in stocks to send bonds tumbling.
The ECI, an important measure of wage costs, rose 1.4% in the first quarter, bringing its year-over-year rate of increase to 4.3%, highest since the fourth quarter of 1991. Economists polled by
Reuters
were expecting a 0.9% increase. Benefit costs are up 5% year-over-year, highest since the third quarter of 1993.
GDP grew at a rate of 5.4% in the first quarter, lower than the
Reuters
consensus estimate for 5.9% growth. But more importantly, the implicit price deflator, the report's inflation component, was 2.7%, way ahead of the anticipated 2.2% increase.
Neither report was good news for bonds. These reports, which display growing wage and pricing pressures in the economy, makes it more likely that the
Federal Reserve
will raise the fed funds target by 50 basis points from its current 6% at the May 16 Fed meeting. And it took a recovery in the stock market for bonds to recognize that today.
"When stocks -- pre-9:30 -- were limit down, the Treasury
market didn't want to react as negatively as it was supposed to on today numbers," said Michael Krauss, chief technical analyst at
Chase Securities
.
It was the short-end of the curve that took the brunt of the impact, as short-dated securities react more forcefully to changes in Fed monetary policy. Once the stock market rebounded, the interest in safe-haven buying of long-dated securities eradicated, sending the entire market down.
Lately the benchmark 10-year Treasury was off 22/32 to 101 29/32, bumping the yield up 10.1 basis points to 6.232%. The two-year note, which reacts most harshly to changes in Fed policy, was down 8/32 to 99 17/32, yielding 6.625%, an increase of 12 basis points. The 30-year bond fell 21/32 to 103 17/32, yielding 5.995%, an increase of 7.6 basis points.
"Given other signs of higher wage and price inflation, including the Q1 Employment Cost Index, a 50-basis-point move on May 16 looks likely," said Henry Willmore, economist at
Barclays Capital
.
The May
fed funds futures
contract, traded on the
Chicago Board of Trade
sold off, reflecting increased chances of such a hike. They're currently factoring in a 57% chance of a rate hike, up from a 28% chance yesterday.
Just about the entire market believes that the Fed will raise rates at least a quarter point from the current 6%, and today some economists changed their forecasts for Fed policy in coming months. Fed Chairman
Alan Greenspan's
fears that the tightness in the labor market would eventually result in wage cost pressures seems to have come to fruition.
Diane Swonk, senior economist at
Bank One
, however, believes the Fed's had it right all along. While others were accusing the monetary policy committee of attacking growth and the stock market, the Fed was deliberately raising rates to quell the potential rise in inflation.
She said her forecast for May is for a 50-point hike, but believes, more importantly, that these reports send a message that the Fed won't be finished with its current course of tightening rates anytime soon, whether they hike 50 basis points or not.
"We've raised our end-of-year target to 7%," she said. "The message of these reports is that
May won't be the end of it."
The
Treasury Department
bought back $3 billion in long-dated Treasury securities today.
Currency and Commodities
The dollar rose against the yen and the euro. It lately was worth 106.40 yen, up from 106.25. The euro was worth $0.9098, down from $0.9233. For more on currencies, please take a look at
TSC's
Currencies column.
Crude oil for June delivery at the
New York Mercantile Exchange
rose to $25.40 a barrel from $24.65.
The
Bridge Commodity Research Bureau Index
fell to 210.39 from 210.54.
Gold for June delivery at the
Comex
rose to $278.2 an ounce from $277.10 yesterday.
To view the TSC Economic Databank, see: http://www.thestreet.com/markets/databank/924208.html
Copyright 2000, TheStreet.com