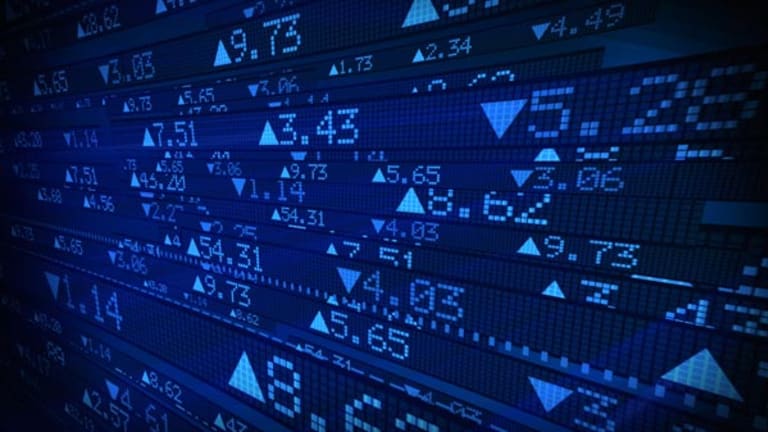 TheStreet.com's DAILY BULLETIN
April 21, 2000
http://www.thestreet.com
Market Data as of Close, 4/20/00:
o Dow Jones Industrial Average: 10,844.05 up 169.09, 1.58%
o Nasdaq Composite Index: 3,643.88 down 62.53, -1.69%
o S&P 500: 1,434.54 up 7.07, 0.50%
o TSC Internet: 791.13 down 15.73, -1.95%
o Russell 2000: 481.84 down 4.39, -0.90%
o 30-Year Treasury: 105 31/32 up 12/32, yield 5.825%
Companies in Today's Bulletin:
Microsoft (MSFT:Nasdaq)
McDonald's (MCD:NYSE)
Apple (AAPL:Nasdaq)
Ingersoll Rand (IR:NYSE)
In Today's Bulletin:
o The Coming Week: Past Microsoft, Big Economic Data Lurk
o Wrong! Tactics and Strategies: The Perpetual Allure of Old Tech
o Evening Update: Equity Mutual Funds Get $6 Billion in Inflows
o Bond Focus: Third Treasury Buyback Lifts Long Bond
Also on TheStreet.com:
Telecom: A Powertel Deal Is Probable
Analysts say this cellular-phone company's days are numbered, and that VoiceStream is the likely acquirer.
http://www.thestreet.com/tech/telecom/924328.html
Online Brokers: E-Commerce Researcher Gomez Advisors to Go Public
The firm, known for rating online brokers, will join 300-plus others in the IPO hunt.
http://www.thestreet.com/stocks/trading/924801.html
TSC
Tax Forum: E-Filing Glitches Compound the Stress of Tax Season
If the IRS has its way, someday we'll all e-file. But there's a lot of work that needs to be done first.
http://www.thestreet.com/funds/taxforum/923627.html
Tish on Tech: Those Swingin' Internet Singles
The days of CFO monogamy are over as Internet executives swing from boardroom to boardroom.
http://www.thestreet.com/comment/tish/924424.html
The Coming Week: Past Microsoft, Big Economic Data Lurk
By
Justin Lahart
Associate Editor
4/20/00 8:14 PM ET
One of the hard things to figure out about the recent bludgeoning the stock market underwent is how it could have happened in the midst of such a strong earnings season.
Company after company, from
McDonald's
(MCD) - Get McDonald's Corporation Report
to
Apple
(AAPL) - Get Apple Inc. Report
to
Ingersoll Rand
(IR) - Get Ingersoll Rand Inc. Report
, has posted strong results. (
Microsoft's
(MSFT) - Get Microsoft Corporation Report
Thursday report is one of the few real disappointments.) More than half of the companies in the
S&P 500
have reported so far, and they've been beating analyst estimates by an average of 6.4%, according to
First Call/Thomson Financial
. Year-over-year earnings growth is tracking at 28%.
But that phenomenal growth doesn't come from nothing. The economy was frightfully hot in the first quarter -- many economists have upped their
gross domestic product forecasts to near the 7% level -- raising the possibility that the
Federal Reserve will hike rates aggressively. Since the strong March inflation report, there has been a lot of debate on the Street over the possibility that the Fed may raise its target
fed funds rate by 50 basis points at its May 16 meeting.
This makes the coming week an important one. Microsoft's miss may dominate the early part of the week, but Thursday brings first-quarter GDP, the first-quarter
Employment Cost Index -- the final word on wage inflation -- and a speech by Fed Chairman
Alan Greenspan. By the time that day is over, the debate on what the Fed's going to do next might be pretty much over.
Is Greenspan Behind the Curve?
"What it's going to come down to is whether or not the Fed chairman believes he's behind the curve or not," said Mary Dennis, senior economist at
Merrill Lynch Government Securities
.
If he does, he's going to have to let the markets know that the Fed may hike by a half point, and soon. The Fed does not like to disrupt markets, and never less than in the present case. Maybe the biggest reason not to go 50 basis points is that, with the fragile state of the market, stocks could turn sharply lower. This could, in turn, basically tie the Fed's hands, precluding it from tightening further.
Worse, it would send a message to investors that Uncle Al will always protect them in the end. If there's a reason for the Fed to stick to gradualism, said Dennis, that's it.
A red-hot economy and a big debate on how far the Fed is going to go is not very favorable for stocks, particularly after all the recent volatility.
"Going forward, I think we have a tough environment here over the next three to six months," said Allen Ashcroft, a money manager with
Allied Investment Advisors
. Interest rates aren't the only problem, says Ashcroft. Seasonally, it's just not a very good time for stocks, particularly tech names.
The Tech Trader's Worrisome Prayer
And tech has other problems, too. Many players were hurt badly in the selloff, and many may exit the market if they see stocks come up to where they bought them. It's the familiar prayer: "I will sell my stocks and be kind to animals and visit Aunt Millie and go to church, God, if you just make me whole again."
This creates a sort of natural resistance in the market, and may mean that it will be sometime before tech stocks reach their old highs again. In the meantime, other stocks may come to the fore, but it will be a seesaw effect, with money shifting back and forth between New Economy and Old Economy stocks.
"We're going to have some more chop," said Brian Conroy, head of listed trading at
J.P. Morgan
. "It will be a rotational chop rather than a macro-direction chop, out of tech and banks and into some of the defensive names. It's going to be a little bit of a tug of war."
Ashcroft, though he believes that the rotation will continue into some of the old economy, and though he reckons that some of the highflying Internet and biotech issues will never reach their old highs, says that tech's long-term prospects are good.
"I still think tech is going to be where you're going to get your long-term growth," he said. "The fundamentals of some of these companies couldn't be better. That's why I think we're going to get through this."
That doesn't mean there won't be some scary moments. With the coming week's big economic reports, one can easily imagine stocks dipping back toward the lows they hit during the selloff. If that happens, the important thing will be for the old lows to hold -- dip below them, and people start to worry.
Laszlo Birinyi, president of
Birinyi Associates
, thinks that it will not. While some technicians have said that
April 14's selloff didn't include the kind of fear they usually associate with a bottom in the market, he notes that toward the end of the day it looked very much like capitulative selling, with institutions in particular shedding holdings at a rapid pace. Technology looks good to him right now, as do financials and selected drug companies.
Whether those things will still look good after Thursday's big economic reports -- well, that's what the coming week is all about.
Wrong! Tactics and Strategies: The Perpetual Allure of Old Tech
By
James J. Cramer
4/20/00 3:32 PM ET
The only thing that makes me want to buy a little stock here is that everyone is so negative. I can't find a soul who likes this market.
As for me, I like old tech plenty.
Intel
(INTC) - Get Intel Corporation Report
, well why don't they just slaughter the darn thing over a penny?.
Cisco
(CSCO) - Get Cisco Systems, Inc. Report
? Give me a break. So it is not cheap. It has never been cheap. Does somebody really have a problem with
Corning Glass
(GLW) - Get Corning Inc Report
or with the fiber or wireless stories?
So we buy a round of fives (5,000) just because it is so negative, I know it can't be right. Maybe we can't go back to where we were before last week's crash, or even to Tuesday's high, but stocks down two or three or four that I like --
Nortel
(NT)
for instance -- get bought here, not sold.
I just wish the drugs would come in. Those are for buying, too.
********
James J. Cramer is manager of a hedge fund and co-founder of TheStreet.com. At time of publication, his fund was long Cisco, Corning Glass, Intel and Nortel. His fund often buys and sells securities that are the subject of his columns, both before and after the columns are published, and the positions that his fund takes may change at any time. Under no circumstances does the information in this column represent a recommendation to buy or sell stocks. Cramer's writings provide insights into the dynamics of money management and are not a solicitation for transactions. While he cannot provide investment advice or recommendations, he invites you to comment on his column at
jjcletters@thestreet.com.
Evening Update: Equity Mutual Funds Get $6 Billion in Inflows
By
Eileen Kinsella
Staff Reporter
4/20/00 8:32 PM ET Inflows to equity funds totaled $6 billion for the week ended Wednesday, with 60% going to growth funds, according to
AMG Data Services
. International equity funds reported inflows to all regions except Latin America, while inflows to technology & Internet funds continued to slow. Redemptions returned to large-cap equity index funds, for the seventh time in nine weeks. Taxable bond funds reported outflows from all sectors, totaling $1.7 billion.
As reported earlier,
Microsoft
(MSFT) - Get Microsoft Corporation Report
posted third-quarter earnings of 43 cents a share, 2 cents ahead of the 24-analyst estimate and up from the year-ago 35 cents.
Revenue was $5.66 billion, up from $4.6 billion a year ago. In a statement, CFO John Connors said demand for business PCs was light in the most recent quarter and said the company was guarded about near-term growth. Connors said the company expects to post only single-digit profit growth in the fourth-quarter, saying the strong year-ago quarter will be tough to beat.
For more on Microsoft's
earnings, see coverage from
TheStreet.com/NYTimes.com
joint newsroom. And for a look at Microsoft's tumble in after-hours trading, see
The Night Watch.
In other postclose news (
earnings estimates from First Call/Thomson Financial; earnings reported on a diluted basis unless otherwise specified
):
Earnings/revenue reports and previews
Fleetwood
(FLE)
said fourth-quarter earnings will fall as much as 30% to 40% below estimates of 52 cents a share, due to weakness in the manufactured housing market. The current five-analyst estimate is for 55 cents a share.
SGI
(SGI)
posted a third-quarter loss of 9 cents a share, 2 cents wider than the 13-analyst estimate but narrower than the year-ago loss of 21 cents.
Xilinx
(XLNX) - Get Xilinx, Inc. Report
posted fourth-quarter earnings of 22 cents a share, a penny better than the 24-analyst estimate and up from the year-ago 12 cents which includes items.
Bond Focus: Third Treasury Buyback Lifts Long Bond
By
Elizabeth Roy
Senior Writer
4/20/00 4:17 PM ET
The Treasury market ended an abbreviated session narrowly mixed, as the third installment of the
Treasury Department's
bond buyback program failed to have a lasting impact on prices.
So did the day's economic news. The weekly count of
initial jobless claims hit a new generational low, indicating extreme tightness in the labor market. And the
Philadelphia Fed Index printed considerably higher than expected.
Traders now retreat for the long weekend to contemplate how next week's slate of economic reports may affect the monetary policy outlook, and how a changed monetary policy outlook may -- or may not -- affect the prices of Treasury securities. That slate includes a couple of biggies -- the first-quarter
Employment Cost Index and the first estimate of first-quarter
GDP, both on Thursday.
In today's trading, only the 30-year Treasury bond ended higher. The benchmark 10-year note was unchanged at 103 21/32, its yield 6.000%. Shorter-maturity issues lost a bit of ground. But the bond rallied 9/32 to 105 29/32, trimming its yield 1.8 basis points to 5.831%.
At the
Chicago Board of Trade
, the June
Treasury futures contract gained 2/32 to 98 2/32.
The market was uniformly stronger early in the session as traders anticipated Treasury's latest buyback. The department is using government surplus funds to pay down debt by buying old, high-interest bonds back from investors at market prices. In the latest operation, it accepted $2 billion of offers of 30-year bonds issued from 1990 to 1995. Dealers tendered a total of $8.525 billion. In the last buyback on
March 16, the department accepted $1 billion of offers, and dealers tendered a total of $6.446 billion.
There's no objective criteria for evaluating the buybacks, but market participants said the price action after offers were accepted at 11 a.m. EDT suggested that relatively few dealers had their offers accepted. Prices turned down because dealers whose offers weren't accepted were trying to sell some of the bonds they expected the Treasury to buy, they said.
"A couple of guys were more aggressive than most, leaving a lot of guys with stuff to sell," said Bill Kirby, head of government bond trading at
Prudential Securities
. "The average person involved in the sector didn't sell as much as they expected to."
But prices came off their lows after a key technical support level held, Kirby said.
The key question at this point is whether long-maturity Treasury yields can remain at relatively low levels even if next week's economic data give the Fed reason to envision hiking the
fed funds rate at least twice more in the coming months, said Jim Kochan, senior bond strategist at
Robert W. Baird
.
Investors in long-term Treasuries "don't seem to be very concerned that the funds rate is going higher, maybe significantly higher," Kochan said. The fact that long-term yields have stayed relatively low while the short-term rates determined by the Fed continue to rise, suggests that investors believe that falling stock prices will be sufficient to slow the economy. "It's an interesting experiment," he said. "Can there be enough tightening to slow the economy without producing much pain and suffering in bondland? That will be a first."
Economic Indicators
Initial jobless claims fell to 257,000 last week, the lowest total since December 1973. The four-week average of initial claims also hit a 26-year low.
Meanwhile, the Philly Fed Index rose to 27.2 in April, the highest since July 1996, from 25 in March. A sub-index measuring prices paid by Philadelphia-area manufacturers eased slightly from the five-year high of 33.6 it reached in March, to 33.5. But another sub-index measuring prices received by the manufacturers leapt to a five-year high of 18.2 from 8.7.
That's "alarming,"
Miller Tabak
bond strategist Tony Crescenzi opined in a research note, because "the prices that manufacturers receive are a reflection of their pricing power and the willingness of buyers of manufactured goods to pay those prices." If the trend continues, look for more big gains in the core
Consumer Price Index, Crescenzi said.
Finally, the
federal budget for March showed a larger-than-expected deficit for the month. The government ran a $35.380 billion deficit in March, compared to a $22.409 billion deficit last March. But six months into the fiscal year, the government is in a better position ($35.6 billion in the red) than it was at the same point last year (when it was $48.8 billion in the red). The government is expected to end the fiscal year with a $142.5 billion surplus.
Currency and Commodities
The dollar rose against the yen and the euro. It lately was worth 105.73 yen, up from 104.80. The euro was worth $0.9375, down from $0.9403. For more on currencies, please take a look at
TSC's
Currencies column.
Crude oil for May delivery at the
New York Mercantile Exchange
rose to $25.88 a barrel from $25.80.
The
Bridge Commodity Research Bureau Index
fell to 212.88 from 213.49.
Gold for June delivery at the
Comex
fell to $281.50 an ounce from $282.50.
TO VIEW TSC'S ECONOMIC DATABANK, SEE:
http://www.thestreet.com/markets/databank/920121.html
Street Sightings:
Vern Hayden will appear on CNBC beginning at 11:00 p.m. EDT, Friday, April 21.
Copyright 2000, TheStreet.com