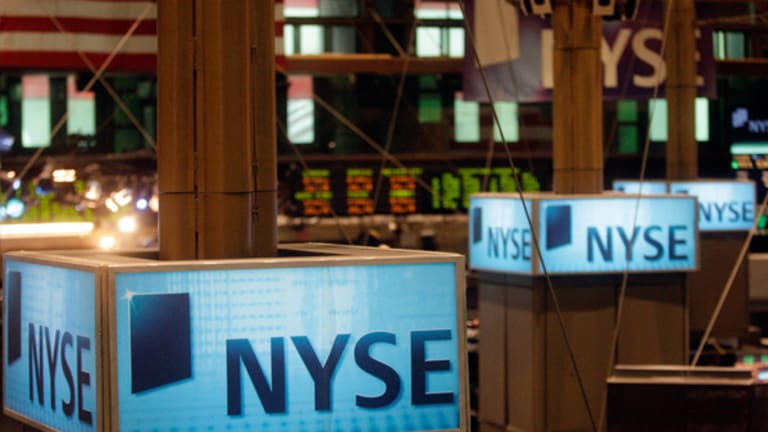 TheStreet.com's DAILY BULLETIN
April 14, 2000
http://www.thestreet.com
Market Data as of Close, 4/13/00:
o Dow Jones Industrial Average: 10,923.55 down 201.58, -1.81%
o Nasdaq Composite Index: 3,676.78 down 92.85, -2.46%
o S&P 500: 1,440.51 down 26.66, -1.82%
o TSC Internet: 813.02 down 34.22, -4.04%
o Russell 2000: 489.22 down 4.22, -0.86%
o 30-Year Treasury: 106 14/32 up 11/32, yield 5.803%
Companies in Today's Bulletin:
Ameritrade (AMTD:Nasdaq)
Altera (ALTR:Nasdaq)
Applied Materials (AMAT:Nasdaq)
Sun Microsystems (SUNW:Nasdaq)
In Today's Bulletin:
o Market Features: Online Brokers and Investors Caught in a Tightening Margin Squeeze
o Wrong! Dispatches from the Front: A Day When Cash Was King
o Evening Update: Sun Shines and Gateway Swings as Earnings Season Continues
o Bond Focus: Falling Stock Prices Rescue Treasuries
"Ask Cramer" on TSC on Fox News Channel
You have another chance to ask Cramer about your favorite stocks Friday. Call 1-888-TELL-FOX (1-888-835-5369) Friday, April 14, at 6:45 p.m. EDT during our taping to get your question in. Then tune in to watch the show at 10 a.m. and 6 p.m. ET Saturday and at 10 a.m. ET Sunday.
Also on TheStreet.com:
Brokerages/Wall Street: Judge Denies Injunction Sought to Block Vote on Nasdaq Sale
But another hearing on the lawsuit against the sale plan has been set for Monday.
http://www.thestreet.com/stocks/brokerages/919757.html
Asia/Pacific: The Man Japan Loves to Hate
Hikari's president has been accused of misleading investors, swiping ideas and feeding bunnies to a snake, but his company is still a favorite.
http://www.thestreet.com/int/asia/919473.html
Mutual Funds: For Investors Seeking Safety: Utilities Funds That Actually Invest in Utilities
Many funds in the category are telecom funds in disguise, but there are a few of the old-style ones left.
http://www.thestreet.com/funds/funds/919675.html
The TaskMaster: Fishing for a Bottom for the Nasdaq Composite
The new magic number is 3500, but nobody's betting the farm.
http://www.thestreet.com/comment/taskmaster/919768.html
Market Features: Online Brokers and Investors Caught in a Tightening Margin Squeeze
By
Caroline Humer
Senior Writer
4/13/00 9:24 PM ET
The record-breaking growth of the cyberbrokers last quarter is showing up just as a cloud called margin drifts toward their shining futures.
As the stock market has shifted into reverse, margin calls have suddenly become a household phrase for individual investors. In a margin call, investors have to add more money to their accounts as stock they bought on margin, or with a loan from the broker, falls in value. Rising margin calls could cause investors to cut back on borrowing to buy stocks, which in turn would eat into online broker revenue both by reducing interest income and trading levels.
At the same time, regulators, fretting over the high borrowing levels, are considering boosting margin requirements, which could further squeeze margin lending.
All this comes as online brokers are producing strong March quarter results, thanks in part to margin lending.
On Thursday,
Ameritrade
(AMTD) - Get TD Ameritrade Holding Corporation Report
said revenue soared 167%, with net interest income making up nearly a quarter of the total. (
TSC
wrote about the results earlier Thursday.)
E*Trade
(EGRP)
on Wednesday said its revenue jumped 152%, with interest income making up about the same percentage as at rival Ameritrade. (E*Trade's interest income also includes money it makes on investments in its banking business.
TSC
took a
look at E*Trade's earnings Wednesday.)
The potential fallout from increased margin calls is that customers' margin balances and asset balances would fall, says Matthew Vetto, an analyst at
Salomon Smith Barney
. That would reduce the interest income a broker earns. Then, with fewer assets and a less sunny market outlook, investors may be less likely to use margin and thus would reduce their transactions, hitting commissions. In addition, Vetto wrote in a Wednesday note that new account growth also could slow.
"We don't think that last week's drop is enough to upset the apple cart, but a protracted period of market stress may tip the scales," he wrote.
Whether customer behavior is actually changing so far is unclear. "It's difficult to measure that, and I think it's probably too early," Vetto says.
But in the past, Ameritrade and E*Trade have seen market swings change customer behavior. Kathy Levinson, E*Trade's president and chief operating officer, said during a conference call Wednesday that margin debt can narrow after big market swings. "What you see is intraday volatility and then the following day you see a contraction in the debt," she said.
Jack McDonnell, Ameritrade Brokerage's president, agreed Thursday during his company's conference call that downturns affect margin lending.
"When we see market corrections like this you tend to see slightly lower growth in margin activity than you do in a market heading upwards. We've been in this for a couple weeks, and we haven't seen any trends emerge," McDonnell said.
Greg Smith, an analyst at
Chase H&Q
, notes that over the past 25 years (since discount brokerages were created in 1975 with the deregulation of commissions) margin levels have remained a consistent source of interest income. And even if net interest income does fall during the next few months, the levels have risen so far that even a partial decline wouldn't hurt much, he says.
Of course now there's another factor out there that could affect margins. The
National Association of Securities Dealers
is reportedly set to discuss during its Friday board meeting raising the minimum maintenance requirement on margin loans to 30% from 25%.
Currently, the
Federal Reserve
has one basic margin rule: Broker-dealers can lend their customers 50% of the value of a stock to actually purchase shares. Then, the two major exchanges require that customers maintain margin of 25% of the market value of securities in the account.
Most broker-dealers though actually require at least 30% or 35% maintenance, so it's unclear how this would actually change anything. And the
New York Stock Exchange
, which generally acts in tandem with the NASD on all margin rules, at this time hasn't found anything to indicate that an increase in margin requirements would be appropriate, says a spokesman.
But investors may already be cutting back on their own. As one online trader wrote in an email earlier this week: "Only have one margin account, since I came off margin last week, haven't gone back on. Plan to wait a while, let the dust (blood) settle:)"
Wrong! Dispatches from the Front: A Day When Cash Was King
By
James J. Cramer
4/13/00 4:47 PM ET
Ouch! Still no good. Still no safety. Still terrible action. We even had to rescind the
Altera
(ALTR) - Get Altair Engineering Inc. Class A Report
high-fives at the end of the day because there was massive selling in the group. Even as I write there are two gigantic sellers in
Applied Materials
(AMAT) - Get Applied Materials, Inc. Report
and no rest for the weary in
Sun Micro
(SUNW) - Get Sunworks, Inc. Report
, despite the better-than-expected quarter.
Negativity building.
Another day we were glad not to be sucked in. Another day where they faded the opening rally. Another day when the
Investors Business Daily
mutual-fund index got hammered. Maybe this time to the 200-day moving average.
Another day where cash was ace, king, queen, jack and 10. And stocks cut your heart out.
*********
James J. Cramer is manager of a hedge fund and co-founder of TheStreet.com. At time of publication, his fund was long Altera, Applied Materials and Sun Microsystems. His fund often buys and sells securities that are the subject of his columns, both before and after the columns are published, and the positions that his fund takes may change at any time. Under no circumstances does the information in this column represent a recommendation to buy or sell stocks. Cramer's writings provide insights into the dynamics of money management and are not a solicitation for transactions. While he cannot provide investment advice or recommendations, he invites you to comment on his column at
jjcletters@thestreet.com.
Evening Update: Sun Shines and Gateway Swings as Earnings Season Continues
By
Tara Murphy
Staff Reporter
4/13/00 7:47 PM ET
Sun Microsystems
(SUNW) - Get Sunworks, Inc. Report
was beaming after it posted third-quarter earnings of 26 cents a share, topping the 20-analyst estimate of 23 cents and the year-ago report of an 18-cent profit. CEO Scott McNealy attributed the strong results to a boost in market share after cruising through Y2K woes to see an rise in business during its second quarter.
During the quarter, Sun saw revenue shoot up 35% to hit $4 billion. According to CFO Michael Lehman, the company holds over $5 billion in cash and securities.
Gateway
(GTW)
reported first-quarter earnings of 41 cents a share, in line with the 22-analyst estimate and up from the year-ago 31-cent profit. The PC seller said that a 27% increase sales in its consumer computer unit made up for slowness in its business division, which suffered a 19% loss in sales.
According to CFO John Todd, the business division's sales have shown progress every month since its January low. Todd told investors that he sees a seasonal drop in sales during the second quarter but assured that the Gateway is on track to post second-quarter earnings in line with the 21-analyst estimate of 36 cents a share and the fiscal 2000 22-analyst estimate of $1.83 a share.
In other postclose news (earnings estimates from
First Call/Thomson Financial
; earnings reported on a diluted basis unless otherwise specified):
Mergers, acquisitions and joint ventures
Citizens Utilities
(CZN)
said it would sell its Louisiana gas operations to
Atmos Energy
(ATO) - Get Atmos Energy Corporation Report
in a deal worth about $375 million including certain liabilities.
The online mall
Shopnow.com
(SPNW)
announced that it has acquired Freemerchant.com, a provider of e-commerce services to small- and medium-size businesses for $34 million, including $32 million in Shopnow.com common stock and $2 million in cash.
Earnings/revenue reports
ArthroCare
(ARTC)
posted first-quarter earnings of 36 cents a share, well above the five-analyst estimate of 27 cents and the year-ago 3 cents.
Foundry Networks
undefined
posted first-quarter pro forma earnings of 15 cents a share, beating the six-analyst estimate of 9 cents and up from the year-ago pro forma report of a 2-cent profit.
Harrah's Entertainment
(HET)
expects first-quarter earnings to be 24 cents to 26 cents a share, compared to the current analyst estimate of 29 cents and the year-ago 30 cents.
Juniper Networks
(JNPR) - Get Juniper Networks, Inc. Report
reported first-quarter earnings of 6 cents a share, beating the 14-analyst estimate of 3 cents a share and up from the year-ago loss of 13 cents. The company also announced a 2-for-1 stock split.
MotorVac Technologies
(MVAC)
said it expects to report income far below analyst estimates due to weak sales in the U.S. and Canada. The company said it expects to report earnings of 5 cents to 6 cents a share compared with 6 cents in the year-ago quarter. The lone-analyst estimate is for 11 cents..
RPM
(RPM) - Get RPM International Inc. Report
posted third-quarter earnings of 4 cents a share, in line with the nine-analyst estimate, but down from the year-ago 6 cents.
Safeco
(SAFC)
warned that it sees lower-than-expected first-quarter operating profits of about 5 cents a share.
Sonicwall
(SNWL)
posted first-quarter earnings of 13 cents, which excludes a stock compensation expense, up from the year-ago report of a penny profit. The five-analyst estimate expected the company to post a 7-cent profit.
Webvan
(WBVN)
posted a first-quarter loss of 12 cents a share, a penny narrower than the 10-analyst estimate but wider than the year-ago loss of 9 cents.
Offerings and stock actions
Breakaway Solutions
(BWAY) - Get Brainsway Ltd. Report
axed plans for a 3 million-share secondary offering because of volatile market conditions.
Genome Therapeutics
(GENE) - Get Genetic Technologies Ltd. Report
withdrew a 3 million-share secondary offering, citing the stock market's recent volatility.
Miscellany
American Home Products
(AHP)
said that it will move ahead with its proposed settlement with thousands of former users of diet suppressants taken in the "fen-phen" slimming cocktail. According to the New Jersey based drugmaker, more than 99 percent of the estimated 5.8 million users of anti-obesity drugs, Redux and Pondimin, will be covered by terms of the settlement.
Vical
(VICL)
said its president and CEO Alan Schreiber will retire in June.
For a look into this evening's after-hours trading action, please check out
TheStreet.com's
The Night Watch.
Bond Focus: Falling Stock Prices Rescue Treasuries
By
Elizabeth Roy
Senior Writer
4/13/00 5:35 PM ET
The Treasury market clawed its way back into positive territory today, breaking a two-day losing streak, as falling stock prices gave investors a reason to buy bonds.
Earlier in the session, Treasuries fell sharply after the release of economic data showing that consumer spending continues to run at a very strong pace in spite of five interest-rate hikes by the
Fed since June.
Other data also released this morning showed that prices at the wholesale level rose much more sharply than expected in March. But energy prices were almost entirely responsible for the gain, and energy prices have come down sharply over the last month.
The benchmark 10-year Treasury note dropped as much as 30/32 when the reports were released at 8:30 a.m. EDT. But it ended up 6/32 at 104 8/32, trimming its yield 2.5 basis points to 5.922%. The 30-year bond gained 7/32 to 106 12/32, cutting its yield 2 basis points to 5.799%.
At the
Chicago Board of Trade
, the June
Treasury futures contract gained 16/32 to 98 8/32.
The news that initially upset bond investors was in the
retail sales report for March. It showed that retail sales rose 0.4% overall, and 1.4% excluding autos. Both gains were much larger than expected. Economists polled by
Reuters
had forecast a 0.2% gain in overall sales and a 0.5% gain in ex-auto sales, on average.
Equally distressing, the
Census Bureau
, which compiles the report, revised sharply higher the figures for February. The gain in overall sales was restated as 1.8%, up from 1.1%. The gain in ex-auto sales was also revised to 1.8%, from 1.0%.
The year-on-year pace of retail sales growth in March, 11.2%, is down from February's 15.4% pace. But it is still the fastest pace since February 1996.
"The whole momentum of spending is stronger than previously reported and certainly than expected," said Kevin Logan, senior economist at
Dresdner Kleinwort Benson
. "The rate hikes so far seem to have had almost no effect on the growth of spending, or at least, not as much of an effect as might have been desired."
Consumer spending is the largest component of
GDP, and the Fed is trying to slow the economic growth rate because it believes the current pace of growth is likely to ignite inflation.
Based on today's report,
Barclays Capital
revised up its first-quarter GDP growth forecast from 4% to 5.5%. Even though higher gasoline prices boosted retail sales, which are not adjusted for inflation, "the 1.1% increase in nonauto, nongasoline sales in March shows that there is simply a great deal of consumer exuberance out there," senior economist Henry Willmore said in a research note.
The retail sales results made people reconsider their opinions about how much the Fed will raise interest rates in the months ahead, Logan said. Before today, many people believed that with the stock market on the rocks, the Fed would hike rates once more certainly, twice more possibly, Logan said. "Now they're thinking certainly two
hikes, maybe three."
Today's other major economic report, the
Producer Price Index, gained 1.0% in March for the second month in a row. The average forecast was for a 0.5% pop. The year-on-year growth rate rose to 4.5%, the fastest since December 1990.
But also for the second month in a row, energy prices were largely responsible. Energy prices rose 5.8% in March, following a 5.2% rise in February.
Excluding food and energy prices, the PPI rose just 0.1% in March, in line with expectations, and the year-on-year pace edged up to 1.2% from 1.0%, still well within its recent range.
More importantly, bond traders know they can expect the overall PPI to back off in future months. The price of oil, as measured by the front-month futures contract listed on the
New York Mercantile Exchange
, peaked at $31.26 a barrel on March 8. Yesterday, it closed at $25.41, its lowest level since early January.
Treasuries recovered in the final part of the session based on the belief that falling stock prices have the potential to slow the economy by curbing consumer spending, said Bernie Jensen, CEO of
Fuji Securities
.
Fed Chairman
Alan Greenspan testified before the Senate Banking Committee later this morning on changes in the equity market, and while his
prepared testimony didn't touch on monetary policy, the following Q&A elicited some comments on the wealth effect -- the positive influence of rising stock prices on consumer spending.
The wealth effect, Jensen noted, "goes both ways. It's being viewed by some, maybe rightfully so, that weakness particularly in the Nasdaq takes away some discretionary money, and may moderate the economy."
Economic Indicators
In other economic news, the weekly tally of
initial jobless claims edged up slightly to 264,000 from 261,000. But the labor market remains extraordinarily tight; 261,000 was a 27-year low.
Currency and Commodities
The dollar fell against the yen and gained against the euro. It lately was worth 105.75 yen, down from 105.78. The euro was worth $0.9542, down from $0.9586. For more on currencies, please take a look at
TSC's
new
Currencies column.
Crude oil for May delivery at the
New York Mercantile Exchange
fell to $25.38 a barrel from $25.41.
The
Bridge Commodity Research Bureau Index
rose to 212.07 from 210.75.
Gold for June delivery at the
Comex
fell to $283.20 an ounce from $283.50.
TO VIEW TSC'S ECONOMIC DATABANK, SEE:
http://www.thestreet.com/markets/databank/914426.html
Copyright 2000, TheStreet.com