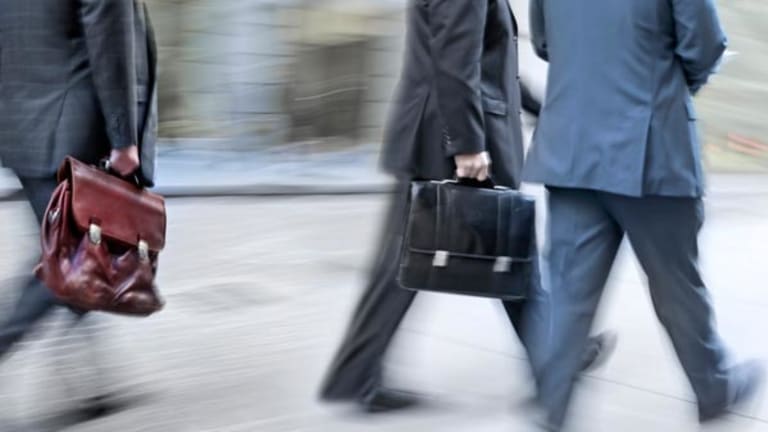 TheStreet.com's DAILY BULLETIN
April 13, 2000
http://www.thestreet.com
Market Data as of Close, 4/12/00:
o Dow Jones Industrial Average: 11,125.13 down 161.95, -1.43%
o Nasdaq Composite Index: 3,769.63 down 286.27, -7.06%
o S&P 500: 1,467.17 down 33.42, -2.23%
o TSC Internet: 847.24 down 58.60, -6.47%
o Russell 2000: 493.44 down 16.69, -3.27%
o 30-Year Treasury: 106 03/32 down 23/32, yield 5.848%
Companies in Today's Bulletin:
Microsoft (MSFT:Nasdaq)
Altera (ALTR:Nasdaq)
AMD (AMD:NYSE)
E*Trade (EGRP:Nasdaq)
In Today's Bulletin:
o Hardware & PCs: Microsoft News Shakes the PC Sector as Pivotal Earnings Reports Loom
o Wrong! Rear Echelon Revelations: A Wrenching Repricing of the Nasdaq
o Evening Update: Evening Update: Earnings Continue to Spice Up the Night
o Bond Focus: Treasury Yields Rise Again as Shift Back to Agencies Continues
"Ask Cramer" on TSC on Fox News Channel
You have another chance to ask Jim Cramer about your favorite stocks Friday. Call 1-888-TELL-FOX (1-888-835-5369) Friday, April 14, at 6:45 p.m. EDT during our taping to get your question in. Then tune in to watch the showat 10 a.m. and 6 p.m. ET Saturday and at 10 a.m. ET Sunday.
Also on TheStreet.com:
Semiconductors: AMD Roars Past Expectations, While Rambus Disappoints
AMD revenue for the quarter crosses the $1 billion mark for the first time. Rambus said it lost $166.8 million.
http://www.thestreet.com/brknews/semis/918621.html
Online Brokers: E*Trade Drives Past Expectations
Transactions on E*Trade's site more than tripled in its fiscal second quarter to 14.4 million.
http://www.thestreet.com/brknews/tradeonline/918383.html
Market Features: Have We Been Brought to Bear? Depends, but Pain's Real Anyway
The Nasdaq is well past the usual bear market threshold, but it's nowhere near early 1970s territory.
http://www.thestreet.com/markets/marketfeatures/918859.html
Media/Entertainment: Time Warner Tops Estimates
Its cable and publishing units boosted earnings.
http://www.thestreet.com/brknews/media/918144.html
Hardware & PCs: Microsoft News Shakes the PC Sector as Pivotal Earnings Reports Loom
By
Thomas Lepri
Staff Reporter
4/12/00 7:01 PM ET
Everybody knows that the growth of personal-computer sales is slowing over the long term. And most investors are pretty much OK with that, judging by the relative strength of the PC sector this year.
But investors harried by the recent volatility in tech are in no mood to entertain the possibility of any near-term glitches -- especially not with
Gateway
undefined
and
Sun Microsystems
(SUNW) - Get Free Report
ready to kick off first-quarter earnings season among the computer boxmakers Thursday night.
Witness the frenzy that
Goldman Sachs
analyst Rick Sherlund created Wednesday when he lowered his fiscal third-quarter revenue estimate on
Microsoft
(MSFT) - Get Free Report
. Citing unexpectedly sluggish PC demand between November and February, Sherlund's call knocked the stuffing out of a wide swath of computer boxmaker stocks: The
Philadelphia Stock Exchange Boxmaker Index
, or BMX, shed 2.5% amid heavy selling in components
Dell
(DELL) - Get Free Report
,
Hewlett-Packard
undefined
and
Apple
(AAPL) - Get Free Report
, the last of which fell 8.5% despite an afternoon upgrade by
Bank of America Securities
.
All in Check
With all that happening against the backdrop of another 7.1% drop in the tottering
Nasdaq Composite Index
, those long PC stocks are doing their best to keep perspective.
"I'm not tremendously worried," says Philip Treick, portfolio manager at
Aesop Capital Partners
. "I mean, of course I'm worried, but I'm not panicking. I'm not selling my Dell, that's for sure."
Treick can take comfort in the fact that Wall Street hardly would be shocked by a first-quarter slowdown. The fourth quarter is by far the strongest period for PC makers. First-quarter sales growth typically slows as year-end demand tapers off.
Recent data suggest that history will repeat itself again this year. The quarterly forecast from research firm
Dataquest
pegs worldwide PC sales growth at 18% this quarter, down from 21% in the fourth quarter.
Old News Is Good News
"We've been talking about this for months," contends
Robertson Stephens
analyst Dan Niles. "None of this is new news. It's like I'm standing in the rain, and you're telling me it's raining. Or, in this case, you're telling me it rained yesterday."
Still, some analysts are worried that Sherlund may be onto something.
"It's a logical call," says Daniel Kunstler, analyst at
J.P. Morgan
, who notes that he hasn't made any downward revisions in the sector lately. "We've been hearing that those selling through the channel" -- that is, through distributors and dealers, rather than directly to consumers -- "are not having a fun time of it. It appears they're selling a little toward the low end. There's definitely some Y2K hangover as well."
Like most industry analysts, Kunstler isn't very optimistic about the future of the PC industry. With sales projected to slow steadily over the next five years, he believes that the only successful companies will be those that can reduce their exposure to the desktop market. "I like PC companies that don't want to be PC companies," Kunstler says.
Gateway isn't one of those stocks. "Gateway is the most vulnerable," says Ashok Kumar, analyst at
Piper Jaffray
, which has done no underwriting on the stock. "First, it's focused on the consumer market, which is in even worse shape. And second, it's a desktop-only play."
The Thursday Thud
Coming on the heels of Sherlund's note on Microsoft, a miss by Gateway on Thursday could reverberate through the sector, though today's selling has gone a long way toward pricing that possibility in.
"Most of
the boxmakers will miss the March-quarter revenue numbers," concedes Niles. "The question is, have we already hit bottom, and should we be buying this stuff now? I think it'll be like Dell," which is up 26% since it warned on its third quarter in late January.
"That was it," Niles points out. "That was the bottom."
A wonderful sort of bottom that would be. Even after today, the BMX is still up 38% since Oct. 15.
Wrong! Rear Echelon Revelations: A Wrenching Repricing of the Nasdaq
By
James J. Cramer
4/12/00 4:33 PM ET
We are seeing a radical repricing of whole segments of the
Nasdaq
. We joke about the enforced splits and the drooping prices, but underneath is a recognition that the air is being let out of these prices.
Violently.
The irony is that what's good for the 401k account may be bad for the discretionary account. Many people, when they look at their statements, may be shocked to see their "conservative"
S&P
-like funds or funds with bonds doing quite well.
Bonds have had a big move up here. But when investors look at their trading accounts, the ones where they "play" the market, those will be getting marked down like you wouldn't believe.
That is if they are willing to look at it.
What changes things? More of what I just saw:
SciQuest
(SQST)
withdrawing an offering. Here is a stock virtually cut in half. Alas, that's the level where people finally won't sell. It is nice to know there is such a level.
But so much damage has been done in the high-octane world. Take Schemer, which is our name for
Sycamore
(SCMR)
. This stock is now down 80 straight points from a secondary done less than a month ago.
Oh man, that's just breath-taking.
James J. Cramer is manager of a hedge fund and co-founder of TheStreet.com. At time of publication, his fund had no positions in any stocks mentioned. His fund often buys and sells securities that are the subject of his columns, both before and after the columns are published, and the positions that his fund takes may change at any time. Under no circumstances does the information in this column represent a recommendation to buy or sell stocks. Cramer's writings provide insights into the dynamics of money management and are not a solicitation for transactions. While he cannot provide investment advice or recommendations, he invites you to comment on his column at
jjcletters@thestreet.com.
Evening Update: Evening Update: Earnings Continue to Spice Up the Night
By
Diane Gross and
Eileen Kinsella
Staff Reporters
4/12/00 8:25 PM ET
Advanced Micro Devices
(AMD) - Get Free Report
reported stronger-than-expected first-quarter earnings tonight of $1.15 a share, slaughtering the 17-analyst estimate of 58 cents and the year-ago loss of 81 cents.
The company said that sales soared by 73% versus the year-ago quarter due to demand for its Athlon and flash memory chips.
Mergers and acquisitions
Gene manipulation company
Maxygen
(MAXY)
reported that it will acquire Dutch
ProFound Pharma
, a company focused on the development of protein products, for $63 million in stock. Under terms of the agreement, Maxygen expects to issue 980,000 shares of its common stock and additional shares -- subject to put and call options -- with a value of $10 million.
Privately held media conglomerate
Hearst
will consider buying up to one million additional shares of
Women.com
(WOMN) - Get Free Report
. Hearst currently owns a 46.8% stake, or 21.8 million shares, of the Internet network for women.
Earnings/revenue reports and estimates
Actuate
(ACTU)
posted first-quarter pro forma earnings of 6 cents a share, beating the two-analyst estimate of four cents and the year-ago 3 cents.
Apex
(APEX) - Get Free Report
reported first-quarter earnings of 27 cents a share, in line with the five-analyst estimate and up from the year-ago 19 cents. The company attributed the nearly 50% increase in earnings in the latest first quarter to the strength of recently introduced network management and IT products.
Ariba
(ARBA)
posted a second-quarter loss of 6 cents a share, narrower than the two-analyst expected loss of 8 cents a share, and the year-ago 7 cents a share.
Claire's Stores
undefined
said disappointing sales will cause it to fall short of the six-analyst estimate of 27 cents for the first quarter. Claire's said it expects to earn 18 cents a share for the quarter.
Electronics for Imaging
(EFII) - Get Free Report
reported first-quarter earnings of 44 cents a share, better than the eight-analyst estimate of 42 cents and the year-ago 31 cents.
FileNET
undefined
posted first-quarter earnings of 18 cents a share, beating the five-analyst estimate of 15 cents and up from the year ago 6 cents a share.
Gasonix
undefined
posted second-quarter earnings of 23 cents, beating the four-analyst estimate of 18 cents and the year ago loss of 30 cents.
Bus company
Laidlaw
undefined
announced that it will delay the release of its second-quarter financial results until the end of April. The current four-analyst estimate calls for Laidlaw to come in at eight cents, compared with the year-ago 11 cents.
Redback Networks
undefined
reported pro forma earnings of five cents a share, ahead of the thirteen-analyst estimate of four cents a share and the year ago loss of four cents a share.
Sawtek
undefined
listed second-quarter earnings of 29 cents a share, in line with the three-analyst estimate and above the year-ago 17 cents.
Seagate Technology
undefined
posted pro forma earnings of 20 cents a share, beating the nine-analyst estimate of 15 cents, but down from the year-ago 49 cents.
Teleflex
(TFX) - Get Free Report
posted first-quarter earnings of 70 cents a share, beating the four-analyst estimate of 67 cents and the year-ago 60 cents.
Three-Five Systems
undefined
announced first-quarter earnings of 27 cents, beating the three-analyst estimate of 15 cents and the year-ago loss of seven cents a share.
Offerings and stock actions
MetLife
(MET) - Get Free Report
said that it has sold an additional 30.3 million shares in an extension of its initial public offering. The insurer, which listed shares on the
NYSE
for the first time last week, sold the extra shares through the over-allotment option granted to its IPO underwriters,
Credit Suisse First Boston
and
Goldman Sachs
.
SciQuest.com
(SQST)
said it plans to withdraw the registration statement it filed with the
Securities and Exchange Commission
for a secondary offering due to current market conditions.
Miscellany
Tyson Foods
(TSN) - Get Free Report
, the largest U.S. chicken processor, announced that chief executive Wayne Britt is retiring and that his duties will be assumed by chairman John Tyson.
Standard & Poor's
announced that it will replace
Atlantic Richfield
(ARC) - Get Free Report
with chip-maker
Altera
(ALTR) - Get Free Report
in its
S&P 500
index.
Bond Focus: Treasury Yields Rise Again as Shift Back to Agencies Continues
By
Elizabeth Roy
Senior Writer
4/12/00 5:41 PM ET
Treasury prices collapsed for a second consecutive day, lifting intermediate and long-term yields to their highest levels since the beginning of the month, as traders continued to unwind their bets that Treasuries would outperform agency securities.
Tough talk by
Fed Governor
Laurence Meyer
also weighed on the market. There were no market-moving economic releases.
The benchmark 10-year Treasury note ended down 13/32 at 104 4/32, lifting its yield 5.5 basis points to 5.939%, the highest since April 3. And the 30-year bond fell 22/32 to 106 5/32, raising its yield 4.7 basis points to 5.814%, the highest since March 30. Shorter-maturity yields rose by comparable amounts.
At the
Chicago Board of Trade
, the June
Treasury futures contract fell 20/32 to 97 24/32.
For much of the session, yield differentials between Treasury and agency securities appeared to be the Treasury market's focus.
Over the last several weeks, the yield differences between Treasuries and agencies have grown as Treasuries have outperformed agencies. Over that period, some traders profited from the spread widening by simultaneously owning Treasuries and being short agency securities. Now, they are taking profits on that trade by selling the Treasuries and buying back the agencies.
Throughout the trading session, the price movements of Treasury securities and Treasury futures closely tracked the Treasury agency spread, which rises when Treasuries are outperforming agencies and falls when agencies are outperforming. In other words, the fall in Treasury prices today was accompanied by, and possibly a function of, outperformance by agency securities.
Agency securities are bonds and notes issued by government-sponsored enterprises including
Fannie Mae
undefined
and
Freddie Mac
undefined
.
There was also a key technical aspect to today's trade in Treasuries, noted Walter Burke, chief technical analyst at
MCM Moneywatch
. Although Treasuries pared their losses as the major stock proxies spiraled lower in the last hour of trading, they have stopped going up in response to major weakness in the stock market for a technical reason, he said. The Treasury bond futures contract completed a so-called double-top yesterday, then broke through a key support level at 98 today.
In addition, Burke said, the fact that in yield terms the Treasury bond has retraced about 50% of the rise in yields from October 1998 to mid-January suggests that the low yields for the year, reached on
Monday , may not be seen again for "for the next several months."
Then there were the Meyer
remarks. Speaking to the
Toronto Association for Business and Economics
, Meyer outlined reasons why the Fed is likely to continue hiking interest rates, even in the absence of a marked acceleration in inflation. "
The balance of aggregate demand and sustainable supply today and the distinct possibility that labor and product markets will tighten further suggest an unacceptable risk of overheating and, therefore, higher inflation in the future," he said.
But at the same time, Meyer, who is widely regarded as one of the most hawkish
Fed officials, suggested that there is no immediate need for the Fed to hike rates more aggressively than it has been. "To the extent that incoming data only gradually alter perceptions of the appropriate policy stance, only gradual policy adjustments will be called for," he said.
Economic Indicators
Import and export prices rose in March, the
reported this morning. Import prices rose 0.3%, lifting the year-on-year pace to 9.4%, the fastest since the BLS began tracking them in the early 80s. Oil prices are largely responsible, though. Excluding oil products, import prices are rising at a rate of just 1.0%, the fastest since January 1996.
Export prices rose 0.4%, lifting the year-on-year pace to 2.2% from 1.4%.
The weekly
Mortgage Applications Survey detected increases in both refinancing and new mortgage activity. The Refinancing Index rose to 364.2 from 340.6, while the Purchase Index rose to 316.6 from 293.5.
Currency and Commodities
The dollar fell against the yen and gained against the euro. It was last worth 105.78 yen, down from 106.92. The euro was worth $0.9584, down from $0.9589. For more on currencies, please take a look at
TSC's
new
Currency Watch column.
Crude oil for May delivery at the
New York Mercantile Exchange
rose to $25.41 a barrel from $24.14.
The
Bridge Commodity Research Bureau Index
rose to 210.29 from 208.29.
Gold for June delivery at the
Comex
fell to $283.50 an ounce from $282.70.
To view the TSC Economic Databank, see: http://www.thestreet.com/markets/databank/914426.html
Copyright 2000, TheStreet.com