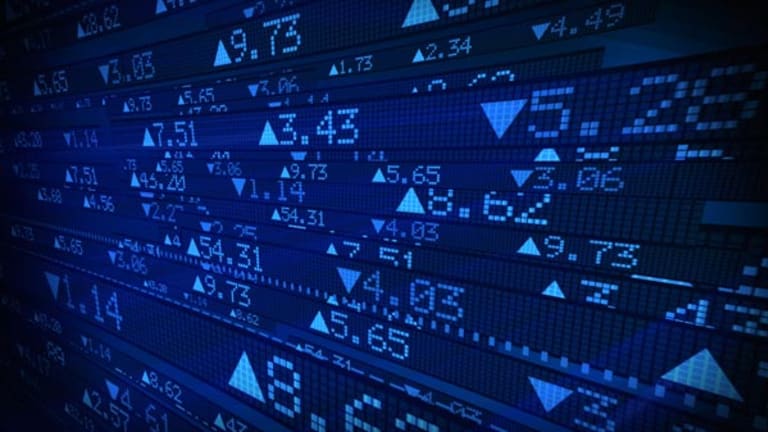 TheStreet.com's DAILY BULLETIN
April 11, 2000
http://www.thestreet.com
Market Data as of Close, 4/10/00:
o Dow Jones Industrial Average: 11,186.56 up 75.08, 0.68%
o Nasdaq Composite Index: 4,188.20 down 258.25, -5.81%
o S&P 500: 1,504.46 down 11.89, -0.78%
o TSC Internet: 960.05 down 92.52, -8.79%
o Russell 2000: 518.66 down 24.33, -4.48%
o 30-Year Treasury: 108 11/32 up 19/32, yield 5.683%
Companies in Today's Bulletin:
Biogen (BGEN: Nasdaq)
Celera (CRA: NYSE)
CMGI (CMGI: Nasdaq)
Conseco (CNC: NYSE)
Motorola (MOT: NYSE)
In Today's Bulletin:
o Internet: Netcentives Deal Pushes CMGI Toward Consumers' Consciousness
o Wrong! Tactics and Strategies: Sitting on His Hands
o Evening Update: Motorola Hits, Biogen Misses; Global Crossing Secondary Slashed
o Bond Focus: All Treasury Yields Make Lows for the Year
Also on TheStreet.com:
Nothing but Net: Tech Stocks Show Light Volume, Heavy Thud
Nasdaq sacked again as analysts grow bearish on tech.
http://www.thestreet.com/markets/techupdate/917053.html
Mutual Funds: Fund Openings, Closings, Manager Moves: Master's Select Readies Value Fund
No word yet on who the managers will be, though.
http://www.thestreet.com/funds/funds/917032.html
Market Roundup: Massive Tech Selloff Finds Traders Trying to Keep Cool
Most Wall Street pros looked at today's second-largest-ever Nasdaq point loss as mere volatility, but the action leaves some rattled.
http://www.thestreet.com/markets/marketroundup/917063.html
Brokerages/Wall Street: SEC Delays Move to Decimals
It will probably not be prepared to change the system before Labor Day.
http://www.thestreet.com/brknews/brokerages/916975.html
Internet: Netcentives Deal Pushes CMGI Toward Consumers' Consciousness
By
George Mannes
Senior Writer
4/10/00 7:37 PM ET
Companies such as
ABC
,
IBM
(IBM) - Get Report
and
GE
(GE) - Get Report
have embedded their names in America's consciousness. But is there room for
CMGI
(CMGI)
?
Yes, says the Andover, Mass.-based company that has investments in roughly 70 different Internet companies and has seen its stock price zoom sevenfold since December 1998. The company announced a deal Monday that's the first step in building CMGI as a consumer brand, not just a name that's well known among Internet businesses and investors, says CMGI Executive Vice President Bill White.
Investors weren't immediately impressed, slashing CMGI shares by a tenth amid another
Nasdaq
mini-meltdown. And one branding expert says reaching the consumer is no small
task for a company that isn't directly involved in making consumer products.
Frequent Highflier?
In the alliance announced Monday, CMGI is exchanging its stock for a 4.9% stake in
Netcentives
(NCNT)
, a company that operates loyalty programs -- sometimes referred to as frequent flyer programs -- for online firms such as
America Online
(AOL)
,
Go.com
(GO) - Get Report
and
Lycos
(LCOS)
. As part of the deal, CMGI is giving the nod to Netcentives to launch a new rewards program called "CMGI Points," which CMGI-affiliated companies will be able to dole out to customers as an encouragement to do business within the CMGI network of companies. CMGI, which has investments in such firms as
Furniture.com
and jewelry retailer
Mondera.com
, says it will launch the program in May, starting with the
AltaVista
site it controls.
CMGI stock fell more than 10% Monday, closing at 83 15/16, more than 48% off the stock's all-time high. Netcentives stock rose 16% to 27 1/4.
The primary goal of the Netcentives deal is to build traffic to CMGI companies by using the program to cross-promote the sites, says White. But by giving the online currency the CMGI name, White acknowledges that the company is making its first effort to promote CMGI as a consumer brand.
"What we're beginning to do is lay the groundwork for broader CMGI branding at the user and consumer level," White says. "Granted, it doesn't have the cachet today among end users that it does at the investor level, but we'd like to begin to extend it and build it in efficient ways like this."
Those Business Cards
CMGI is already trying to build its brand among firms that the company does business with, White says; the company has the firms point out the CMGI connection in business-to-business Web sites, in trade advertising and on business cards.
White says the company knows it can't build CMGI as a consumer brand just with a rewards program. But he won't say what other measures the company might take to popularize the CMGI name among consumers. He also says he doesn't want to suggest that the company is taking valuable money it could be spending on its companies for a consumer branding effort. "We don't have any interest in building a consumer brand for consumer brand's sake," he says.
CMGI's plan to build a consumer brand is a good idea, but it's a difficult thing to do, says David Placek, president of
Lexicon Branding
, a company that helps develop new brands for high-tech and consumer goods companies.
One company that failed in such an effort, says Placek, was the consumer-products firm
Beatrice
, which tried to establish the Beatrice brand among consumers several years ago. "Why do I care that some holding company is involved in making my orange juice?" Placek asks.
"The only way it can be done is to give consumers a reason why a CMGI endorsement is to their greater benefit," he says, so that the CMGI brand becomes something like the
Good Housekeeping
Seal of Approval. To do that, CMGI will have to have what he calls "conversations" with consumers -- through vehicles such as media coverage rather than corporate image advertising -- "to show what CMGI did to make Furniture.com more successful," he says.
Wrong! Tactics and Strategies: Sitting on His Hands
By
James J. Cramer
4/10/00 4:56 PM ET
These down-5%
Nasdaq
days don't make any friends among the traders out there. People got too bullish into last week's ramp and now we have to take it down again to see what happens.
If the pattern holds, we mount a half-hearted rally at the opening on Tuesday, which then fails, and we get a chance to buy them when they come in.
If they open lower we can just buy them. But that has not been the pattern.
Oh yeah, and at the opening they tend to look really great and fool a ton of people. The game is getting hard, to say the least.
Ultimately we are getting sick of a market where, even when we are lean, we can get hurt. Especially when some Big Board companies rally, making the
Dow
hold in. The Dow is now making the same mockery of the NDX that the NDX did of the Dow all last year.
Doesn't make the action very inviting, short-term, even as it makes things much better long-term. That's why we sat on our hands for the afternoon and may do the same tomorrow.
James J. Cramer is manager of a hedge fund and co-founder of TheStreet.com. At time of publication, his fund had no positions in any stocks mentioned. His fund often buys and sells securities that are the subject of his columns, both before and after the columns are published, and the positions that his fund takes may change at any time. Under no circumstances does the information in this column represent a recommendation to buy or sell stocks. Cramer's writings provide insights into the dynamics of money management and are not a solicitation for transactions. While he cannot provide investment advice or recommendations, he invites you to comment on his column at
jjcletters@thestreet.com.
Evening Update: Motorola Hits, Biogen Misses; Global Crossing Secondary Slashed
By
Patrick M. Fitzgibbons
Markets Editor
4/10/00 7:54 PM ET Today, the quarterly earnings jamboree kicked off with
Motorola
(MOT)
announcing better-than-expected results and
Biogen
(BGEN)
not quite up to analysts' expectations.
For Motorola, the quarterly results were a bit better than had been touted. The company announced earnings for the first quarter of 59 cents per share, a penny better than the 29-analyst estimate of 58 cents and sharply higher than last year's 28 cents. The company also announced that semiconductor unit sales had risen 24% and orders were up 21%.
Biogen
(BGEN)
posted first-quarter operating earnings of 41 cents a share, excluding a 36-cent gain. That's way up from last year's first-quarter results of 29 cents but missing the 23-analyst estimate of 43 cents.
One sign that traders are nervous has been the performance of
Global Crossing
(GBLX)
shares ahead of their secondary stock offering. This secondary, which was priced tonight at $33 a share, was originally slated to be a pig of a deal, 58 million shares; but that amount was reduced tonight to 43 million shares. What especially fueled the market's concern was that only half of the shares are being offered by the company itself; the rest are being sold off by company insiders, a bailout ratio that in the past has often meant trouble for the stock. With the shares off 28.5% since the filing of the secondary on March 20, the first round of voting is already in.
In other postclose news (
earnings estimates from First Call/Thomson Financial; earnings reported on a diluted basis unless otherwise specified
):
Stamps.com
(STMP) - Get Report
announced it lost 66 cents a share during the first quarter, better than the four-analyst estimate of a loss of 69 cents and the year-ago loss of $1.13.
Mergers, acquisitions and joint ventures
priceline.com
(PCLN)
and
Travelocity.com
(TVLY)
announced today that they have entered into a marketing alliance so consumers can find the lowest airfares available and bid for them in online auctions.
Getting to know you, getting to know more about you ...
Contact-lens maker
Wesley Jessen VisionCare
(WJCO)
agreed to hold exploratory talks with hostile bidder
Bausch & Lomb
(BOL)
, while formally rejecting Bausch & Lomb's $34-a-share offer.
Reuters
reported that the move toward talks could threaten Wesley Jessen's announced acquisition of
Ocular Sciences
(OCLR) - Get Report
.
Offerings and stock actions
ASM Lithography
(ASML) - Get Report
will split 3 for 1, according to
J.P. Morgan
.
Goldman Sachs
priced a 9.1 million-share IPO for biotech company
Exelixis
(EXEL) - Get Report
at $13 a share, above the expected range of $10 to $12.
Chase H&Q
priced a 3 million-share IPO for
Nova Measuring Instruments
(NVMI) - Get Report
at $18 a share, at the low end of the expected $18-to-$20 range.
Miscellany
The
American Stock Exchange
said Monday its board approved a pilot program to trade a small group of options on an entirely electronic platform.
Pressured by the impending launch of the electronic
International Securities Exchange
, all four existing options exchanges are working on broadening their electronic execution capabilities. This move by the Amex is along those lines.
An Amex spokeswoman did not release the group of options that will be traded under the plan or many other details. The Amex did say in a statement that the program will mark "the first time a domestic options exchange will automatically match customer orders."
The exchange said it will trade on April 14 a group of options on what it calls an "enhanced electronic basis," which it said will "augment" its "current automatic execution capability by electronically matching customer limit orders with incoming market and limit orders."
--
Brian Louis
Assistant Managing Editor
John J. Edwards III contributed to this story.
Bond Focus: All Treasury Yields Make Lows for the Year
By
Elizabeth Roy
Senior Writer
4/10/00 5:39 PM ET
Falling
Nasdaq Stock Market
prices gave the Treasury market a substantial boost today, cropping yields of all maturities to their lowest levels of the year.
Investors bought Treasuries in part because of the Nasdaq's extreme volatility lately, analysts said. The fact that last week, a 200-point decline in the
Nasdaq Composite Index
turned into a 500-point decline in a matter of minutes, causing a spike in Treasury prices, makes Treasuries that much more appealing,
Paribas Capital Markets
senior bond strategist Richard Gilhooly said.
The Treasury market has become "extremely sensitive to weakness in the Nasdaq because it's a hairsbreadth away from collapsing, particularly if the Fed hikes interest rates aggressively," Gilhooly said.
Also supporting the Treasury market today was the latest drop in oil prices, which took the price of the front-month crude contract to its lowest level of the year. And the dollar made a big move against the yen. There were no economic releases, and while
Fed Chairman
Alan Greenspan gave a
speech, he stuck to his mind-numbing topic: "Retail payment systems."
The benchmark 10-year Treasury note ended up 9/32 at 105 4/32, dropping its yield 4 basis points to 5.805%, the lowest since Sept. 24. The five-year note gained 14/32 to 99 8/32, lowering its yield 11.1 basis points to 6.063%, the lowest since Dec. 13. The two-year note fell rose 4/32 to 100 12/32, cutting its yield 6.9 basis points to 6.293%, the lowest since Dec. 31. And the 30-year bond added 12/32 to 108 10/32, cropping its yield 2.5 basis points to 5.570%, the lowest since May 3.
At the
Chicago Board of Trade
, the June
Treasury futures contract gained 6/32 to 99 11/32.
Treasuries also continue to benefit from very favorable supply-and-demand dynamics. With the Treasury Department using federal budget surplus funds to retire debt by buying long-maturity Treasury securities back from investors, the market is operating under the notion "that 10 years from now, there aren't going to be any Treasuries left," said Paul Kasriel, chief economist at
Northern Trust
.
And recently, traders have started discounting the possibility that heavy April tax receipts will prompt an acceleration of the buyback program, said Chris Conkey, chief investment officer for fixed income at
Evergreen Funds
.
Equally important, the impending debt shortage on the Treasury side hasn't yet stoked investor appetite for riskier types of debt. That's based in part on uncertainty, Kasriel said, over whether the Fed's recent interest-rate hikes are "starting to actually bite more than what's being reflected in the current economic statistics." As a result, yields on bonds from corporate and other private issuers remain relatively high.
Hardly any trading is taking place in that arena, Conkey added. He terms it a "quiet crisis." Liquidity in the risky bond markets "is as bad as it was in the fall of 1998," he said.
Currency and Commodities
The dollar rose mightily against the yen and weakened against the euro. It lately was worth 106.41 yen, up from 105.40. The euro was worth $0.9626, up from $0.9547. For more on currencies, please take a look at
TSC's
Currency Watch column.
Crude oil for May delivery at the
New York Mercantile Exchange
fell to $23.85 a barrel, its lowest since Nov. 8, from $25.04.
The
Bridge Commodity Research Bureau Index
fell to 208.60 from 209.91.
Gold for June delivery at the
Comex
rose to $284.00 an ounce from $282.50.
To view TSC's Economic Databank, see: http://www.thestreet.com/markets/databank/914426.html
Copyright 2000, TheStreet.com