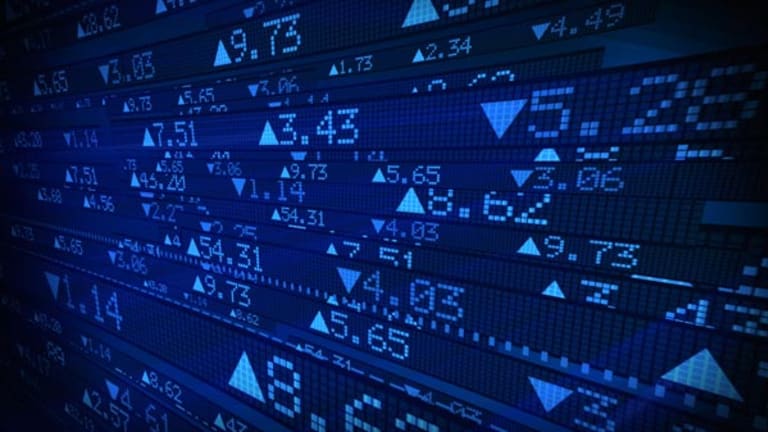 TheStreet.com's DAILY BULLETIN
April 5, 2000
http://www.thestreet.com
Market Data as of Close, 4/4/00:
o Dow Jones Industrial Average: 11,164.84 down 57.09, -0.51%
o Nasdaq Composite Index: 4,148.89 down 74.79, -1.77%
o S&P 500: 1,494.73 down 11.24, -0.75%
o TSC Internet: 970.80 down 27.61, -2.77%
o Russell 2000: 500.66 down 15.38, -2.98%
o 30-Year Treasury: 106 24/32 up 31/32, yield 5.737%
Companies in Today's Bulletin:
MetLife (MET:Nasdaq)
Coca-Cola (KO:NYSE)
Nabisco Group Holdings (NGH:NYSE)
Intel (INTC:Nasdaq)
FreeMarkets (FMKT:Nasdaq)
In Today's Bulletin:
o Market Roundup: Gut-Wrenching Collapse and Rebound on Record Volume Brings Talk of Bottom
o Wrong! Rear Echelon Revelations: Hoohah! What a Day!
o Evening Update: MetLife IPO Priced Mid-Range at $14.25 a Share
o Bond Focus: Bond Market Sops Up Outflows from Stocks
Also on TheStreet.com:
Consumer Products: Carl Icahn Increases Bid for Nabisco
This is Icahn's fourth attempt since 1995 to buy Nabisco.
http://www.thestreet.com/brknews/consumer/913540.html
Options Buzz: Options Traders Watching Puts, Volatility for Signs of a Bottom
The volatility index neared recent highs early Tuesday.
http://www.thestreet.com/stocks/optionsbuzz/913232.html
Market Features: Shorts Relishing Tech's Newfound Fragility
A bounce back Tuesday hasn't discouraged this often trod-upon group.
http://www.thestreet.com/markets/marketfeatures/913210.html
Mutual Funds: Buy and Hold or Buy and Sell? Trading Funds No Longer a Taboo
Even though the fund industry discourages it, investors pull the trigger more quickly than they used to.
http://www.thestreet.com/funds/funds/913606.html
Market Roundup: Gut-Wrenching Collapse and Rebound on Record Volume Brings Talk of Bottom
By
Aaron L. Task
Senior Writer
4/4/00 5:15 PM ET
SAN FRANCISCO -- From the closing levels of major market averages, today looked like just another day at the office. In truth, it would not be a stretch to say April 4, 2000, was among the most incredible sessions in the history of the U.S. stock market.
Early in the day, some used the term "crash" -- albeit in hushed tones -- to describe the action. "Bids wanted" was the motto of the brokerage community, market players noted, suggesting a level of panic not previously evident. Additionally, the
S&P 500
futures repeatedly hit
limit down levels early in the session, defensive stock groups rallied and bonds benefited from a "flight to quality" trade.
But at midday, investors again stepped into the breach of the downturn, leaving major averages well off the lows hit shortly after 1 p.m. EDT. The action generated talk of today being a climax or panic low for the
Nasdaq Composite Index
, even as some investors continued to suffer debilitating losses in certain tech names.
After trading as low as 3649.11 -- a shocking intraday decline of nearly 575 points, or 13.6% -- the Nasdaq rose sharply in the afternoon session, closing down a relatively tame 74.79, or 1.8%, to 4148.89. At its intraday nadir, the index was 27.7% below its all-time high of 5048.62, hit March 10; the index closed 17.8% below that level.
The afternoon bounce was not as important as the fact the Nasdaq "made that panic, screaming low and stopped going down," said John Bollinger, president of
EquityTrader.com
. "It's nice to get a meaningful bounce
but you want to have everybody's attention via the pain mechanism. I think we saw a little bit earlier a phase in which people just said, 'Sell it. I don't care what the price is, just sell it.'"
Indeed, the selling was all-encompassing within the tech sector early on. Bellwethers such as
Sun Microsystems
(SUNW)
and
Cisco
(CSCO)
, as well as newer tech favorites such as
JDS Uniphase
(JDSU)
and
Broadcom
undefined
, sported big declines at midday.
Chip Stocks Help to Lead Recovery
The afternoon recovery was focused on some of the same names and led -- in a general sense -- by semiconductor issues.
Intel
(INTC)
closed up 1.4% to 132 3/4 after trading as low as 119 while
Applied Micro Circuits
(AMCC)
rose 5.1% to 122 1/8 after trading as low as 87 3/8. The
Philadelphia Stock Exchange Semiconductor Index
lost 2.4% to 1068.89 but finished well off its intraday worst of 965.46.
Similarly, so-called highfliers rallied from intraday lows, including
Vignette
(VIGN)
, which closed up 21.7% to 153 1/4 after trading as low as 102.
TheStreet.com Internet Sector
index shed 27.61, or 2.8%, to 970.80, but finished way, way off its not-a-typo session low of 819.04.
Yahoo!
(YHOO)
closed up 5.7% to 167 1/2 after trading as low as 132 3/4.
'It's nice to get a meaningful bounce
but you want to have everybody's attention via the pain mechanism,' said EquityTrader.com's John Bollinger. 'I think we saw a little bit earlier a phase in which people just said, "Sell it. I don't care what the price is, just sell it."'
The
Dow Jones Industrial Average
, which
yesterday profited at the expense of the tech sector, declined as low as 10,717.78 after an initial rise as high as 11,418.24. But the blue-chip average rallied in concert with the Comp after 1 p.m., trading above break-even in the final hour of the session before closing off 57.09, or 0.5%, to 11,164.84.
American Express
(AXP)
and
J.P. Morgan
(JPM)
exerted the greatest drags on the Dow as financial stocks reversed from yesterday's big gains.
The
Philadelphia Stock Exchange/KBW Bank Index
fell 3.3% while the
American Stock Exchange Broker/Dealer Index
lost 9.3%.
Brokerage stocks -- notably online and discount trading firms such as
Charles Schwab
(SCH)
and
E*Trade
undefined
-- were harder-hit amid concerns that the recent selloff and accompanying margin calls will result in a drying-up of trading activity.
Speculators Learn a Lesson
"A lot of daytraders and short-term speculators learned the hard way that leverage works in both directions, and more quickly to the downside," said Bill Meehan, chief market analyst at
Cantor Fitzgerald
. "You probably carried out some individuals that were heavily margined and speculating. I think ultimately it will be healthy for the market."
After trading as low as 1416.41, the
S&P 500
fell 11.24, or 0.8%, to 1494.73, as the comeback by big-cap tech names and strength in drug makers buoyed the index.
The
American Stock Exchange Pharmaceutical Index
rose 3.5% as investors flocked to the relative safety of consumer staples. Food stocks such as
Kroger
(KR)
also benefited.
The big decline early in the day had the
Chicago Board Options Exchange Market Volatility Index
up as high as 35.43. But with major averages in recovery mode, the index came back down, closing at 27.90; still, that's an 8.7% rise for the VIX, which is one measure of investors' level of fear.
The
Russell 2000
closed down 9.92, or 1.9%, to 506.12 after trading as low as 464.08.
In
New York Stock Exchange
trading, 1.5 billion shares were exchanged -- the most ever -- while declining stocks led advancers 2,028 to 1,055. In
Nasdaq Stock Market
action 2.84 billion shares traded -- also the heaviest session in history -- while losers dominated 3,281 to 1,098. New 52-week lows bested new highs 75 to 49 on the Big Board and by 380 to 25 in over-the-counter trading.
Cautious Optimism
Despite the grossly negative market internals, there was a widespread belief among market players this afternoon that the market had seen its lows.
Shortly after the close,
Salomon Smith Barney
equity strategist John Manley upped the equity allocation in his model portfolio to 60% from 55% and lowered cash to 5% from 10%.
Meanwhile, Cantor's Meehan has been skeptical of tech stock valuations for some time and, thus, was not surprised at the extent of the downturn. The speed of the comeback, however, was an "eye-opener," he said.
While today's turnaround will "attract some buyers looking for a sign of capitulation, I don't think -- as we have in more recent times -- we'll see the Nasdaq go in leaps and bounds back to new highs immediately," he said.
The general consensus is the Nasdaq will continue the comeback begun this afternoon and move higher for the next few days (at least). But at some point in the next week or so, there will be a "retest" of today's low. Only if that level holds will institutional investors feel confident the rebound is sustainable.
Among other indices, the
Dow Jones Transportation Average
rose 11.97, or 0.4%, to 2718.07; the
Dow Jones Utility Average
fell 0.37, or 0.1%, to 292.81; and the
American Stock Exchange Composite Index
fell 35.48, or 3.6%, to 942.52.
The price of the 10-year Treasury note rose 14/32 to 104 12/32, its yield declining to 5.91%.
For coverage of today's top stocks in the news, see the Company Report, published separately
.
Wrong! Rear Echelon Revelations: Hoohah! What a Day!
By
James J. Cramer
4/4/00 5:41 PM ET
If you had to take a wager, I would think that many of the weakest hands got flushed out today and that's why we got a rally. Those who had no more capital to put up surrendered their shares to people who had capital.
I listened to Professor Jeremy Siegel go on about a "retest" and I had to laugh. A professor from
Wharton
talking technicals? Well, I guess I missed his reverse-
head-and-shoulders class. Give me a break!
If that guy is making market calls, I am going to run for the president of
Penn
. Stick to the long term, professor!
What else happened at the bottom? Some dope bought 10,000
Intel
(INTC)
and 5,000
Cisco
(CSCO)
puts. Hey, now
there's
a guy with a timing problem.
Somebody on TV talked about declining another 10%. That was wrong. I
wrote that institutions wouldn't defend the wackiest stuff, using
FreeMarkets
undefined
as an example, and it rallied 30 points right after! That will teach me to use
National Gift Wrap.com
next time.
Some joker told me that redemptions will be massive at mutual funds. Oh please, that's one cracked crystal ball.
People stopped haranguing me for my multitudinous "
take something off the table" calls.
The person who told me that New Hampshire's slogan should be changed to "Be Free or Die," during the great ramp up in
BeFree
(BFRE)
, probably died today.
Random musings:
So long, I'm taking my wife to the movies tonight. We got a sitter. I don't care what we see. It won't equal today in excitement. Might try to sneak in a piece later, but maybe I will let the TV jackals take over with their highlighting of the
just unfolding "margin problems."
Hoo-hah!
James J. Cramer is manager of a hedge fund and co-founder of TheStreet.com. At time of publication, his fund was long Cisco and Intel. His fund often buys and sells securities that are the subject of his columns, both before and after the columns are published, and the positions that his fund takes may change at any time. Under no circumstances does the information in this column represent a recommendation to buy or sell stocks. Cramer's writings provide insights into the dynamics of money management and are not a solicitation for transactions. While he cannot provide investment advice or recommendations, he invites you to comment on his column at
jjcletters@thestreet.com.
Evening Update: MetLife IPO Priced Mid-Range at $14.25 a Share
By
Eileen Kinsella
Staff Reporter
4/4/00 7:50 PM ET
Credit Suisse First Boston
priced 202 million shares of
MetLife
(MET)
at $14.25 each, within the expected range of $13 to $15. The company is in the process of converting to a publicly traded company from a mutual, owned by its policyholders. In addition to its IPO, MetLife is distributing 493.5 million shares to more than 9 million of its policyholders.
The offering is now expected to raise $2.5 billion, lower than the originally expected $6.1 billion based on a November filing in which the company had planned to sell 255 million shares at up to $24 each. The decision to reduce the offering came after early marketing research showed weaker-than-expected investor demand for life insurance issues, no matter how cute those
Snoopy ads are. (See "Offerings and stock actions" for more information on IPOs.)
Coca-Cola
(KO)
said it will take a $400 million charge in the first quarter related to its operations in India. But CFO Gary Fayard also pointed out that the company had lowered its estimate of a pretax restructuring to be taken later this year, to $725 million from an earlier estimate of $800 million.
Coke is also reducing the estimated number of jobs it will cut in its restructuring, to 5,200 from 6,000 originally forecast in January. The restructuring is expected to be completed by the end of the month. Fayard said worldwide sales volume in the first quarter had grown by 3%.
In other postclose news (
earnings estimates from First Call/Thomson Financial; earnings reported on a diluted basis unless otherwise specified
):
Earnings/revenue reports and previews
Safety-Kleen
(SK)
said it will indefinitely delay the release of its second-quarter results because of an ongoing investigation into accounting irregularities at the troubled waste management company.
Mergers, acquisitions and joint ventures
Century Aluminum
(CENX)
said it signed a letter of intent to acquire
Southwire's
Hawesville, Ky., aluminum reduction plant, which the company said will nearly double its size.
Creo Products
(CREO)
said it will acquire the digital preprint and print-on-demand assets of
Scitex
(SCIX)
in exchange for 13.25 million Creo shares, valued at about $551 million.
Offerings and stock actions
Arch Communications
(APGR)
said its shareholders approved an increase of the number of authorized shares of common stock to 150 million shares from 65 million.
Hibbett Sporting Goods
(HIBB)
set a buyback of up to 1 million shares.
J.P. Morgan
and
Deutsche Banc Alex. Brown
priced 3 million shares of doughnut maker
Krispy Kreme
undefined
at $21 each, above the estimated range of $18 to $20.
Navisite
(NAVI)
said it suspended a secondary offering due to market conditions.
Lehman Brothers
priced 4.25 million shares of
Ulticom
(ULCM)
at $13 a share, the low end of the expected $13 to $15 range. Ulticom, a subsidiary of
Comverse Technology
(CMVT)
, provides networking signaling software for wireless, wireline and Internet communications services.
Miscellany
Oracle
(ORCL)
CEO Larry Ellison said the company will enter the fast-growing market for caching Internet pages, adding to existing services that support e-commerce. Caching is the storing and handling of Web pages to improve speed and reliability.
U.S. Cellular
(USM)
said it named John Rooney, 57, as its new CEO and president, effective April 10. Rooney succeeds Don Nelson, 66, who previously announced his intention to retire.
Bond Focus: Bond Market Sops Up Outflows from Stocks
By
Elizabeth Roy
Senior Writer
4/4/00 5:13 PM ET
Where'd the money go? Mostly into the Treasury market.
As stocks got sold more or less indiscriminately, investors stuffed their money into the Treasury market, particularly into the shortest-maturity instruments, the most liquid part of the market.
At the same time, traders of
fed funds futures contracts at the
Chicago Board of Trade
downgraded to nil the chance that the
Fed will hike the interest rate by more than 25 basis points at its next meeting on May 16. At yesterday's close, the May fed funds contract was discounting a 40% chance that the Fed would hike the rate by 50 basis points for the first time since 1995.
At the height of the stock selloff, shortly after 1 p.m. EDT, the benchmark 10-year Treasury note was up nearly two points, and market participants were describing the action as reminiscent of the fall of 1998. In that episode, money surged into Treasuries after Russia defaulted on some of its bonds.
But while demand for Treasuries approached levels last seen in the fall of 1998, the profile of the situation was entirely different. In the fall of 1998, the entire financial system was perceived to be at risk because of excessive leverage in the fixed-income markets. That is, banks and brokerage houses were in trouble because they had lent investors too much money to invest in risky bonds, and everyone suddenly wanted out of risky bonds.
Today (and yesterday), the crisis was largely limited to the stock market. Risky bonds certainly haven't performed well. But they didn't experience panicked selling either, as they did in the fall of 1998.
"The leverage in the system is in the equity markets, not in the fixed-income markets," which are "much sounder than they were before," said Bill Cunningham, director of corporate bond strategy for
Chase Securities
.
Selling of stocks often lifts bond prices, for a variety of overlapping reasons. First, investors selling stocks may buy bonds as an alternative investment. Second, bonds hold their value more reliably than stocks do, so investors buy them when they think stock prices could drop even further. Third, falling stock prices are interpreted as a sign that economic growth is on the verge of slowing. When economic growth slows, bonds are likely to outperform stocks.
Today's action was motivated more by the first two considerations than the third, market analysts say. The proof is in the outperformance of the shortest-maturity issues. While the longest-maturity Treasury shed 15 basis points of yield at its high of the day, the shortest-maturity one shed about 32 basis points.
Money that's simply looking for a home, rather than making a macroeconomic bet, will tend to flow into the short-maturity sector of the Treasury market, lowering yields there by the largest amounts. That's because short-maturity Treasuries are the least volatile and most liquid. But long-term issues should outperform short-term ones in the event of an economic slowdown.
"When people sell equities, they go to the short end of the yield curve,"
Bear Stearns
Treasury market strategist Avram Altaras said.
But the fact that fed funds futures traders downgraded the likelihood of a 50-basis-point rate hike indicates that at least some of today's demand for Treasuries reflected a reassessment of the economic outlook.
"Both
sets of factors were operative without a doubt," said Bill Sullivan, chief money-market economist at
Morgan Stanley Dean Witter
. "The first wave was mainly flight to quality, flight to liquidity. When the
stock market slipped to its intraday lows, then I think another wave of Treasury buying kicked in, because it became apparent that these types of declines, if they persist, would erode the equity wealth effect that has been supporting the economy."
At the Treasury market's early afternoon highs today, the 10-year note was up 1 17/32, dropping its yield 24.1 basis points to 5.72%, a level it hasn't closed below since May 28, 1999.
The five-year note rose as much as 1 9/32, dropping its yield 30.8 basis points to 5.96%, a level it hasn't closed below since Nov. 16.
The two-year note gained as much as 19/32, dropping its yield 32.1 basis points to 6.09%, a level it hasn't closed below since Dec. 15.
And the 30-year Treasury bond was up 2 11/32 at its high, dropping its yield 15.6 basis points to 5.66%, the lowest since May 3, 1999.
But the major stock proxies ended well off their worst levels of the day, and the 10-year note finished up just 13/32 at 104 11/32, dropping its yield 5.4 basis points to 5.911%, its best close since Sept. 28. The five-year note gained 11/32 at 98 24/32, dropping its yield 8.7 basis points to 6.181%, its its best since Dec. 15. The two-year note was 3/32 higher at 100 8/32, lowering its yield 5.1 basis points to 6.363%, the lowest since Jan. 10. And the 30-year bond had gained 15/32 to 106 21/32, setting its yield 3.2 basis points lower at 5.780%, the best since May 5.
At the
Chicago Board of Trade
, the June
Treasury futures contract gained 28/32 to 98 22/32.
Economic Indicators
In today's economic news (which had no market impact), the
leading economic indicators index fell 0.3% in January, a tenth more than expected. It was the index's biggest decline since January 1996. Of the 10 indicators that go into the index, only two made positive contributions -- manufacturers' new orders for consumer goods and materials, and the average manufacturing workweek.
Meanwhile, the two weekly retail sales reports showed continuing weakness in the last week of March. The
BTM/Schroder Weekly Chain Store Sales Index fell 1.4%, its biggest drop since last May. The year-on-year pace dropped to -2.0%, a multiyear low. And the
Redbook Retail Average fell 0.3% in March from February. Year-on-year, it was up a scant 0.8% in March.
Currency and Commodities
The dollar gained against the yen and fell against the euro. It lately was worth 104.94 yen, up from 104.87. The euro was worth $0.9616, up from $0.9548. For more on currencies, please take a look at
TSC's
new
Currency Watch column.
Crude oil for May delivery at the
New York Mercantile Exchange
fell to $25.45 a barrel, nearly a three-month low, from $26.43
The
Bridge Commodity Research Bureau Index
fell to 211.37 from 212.48.
Gold for June delivery at the
Comex
rose to $286.6 an ounce from $280.4.
TO VIEW TSC'S ECONOMIC DATABANK, SEE: http://www.thestreet.com/markets/databank/908883.html
Copyright 2000, TheStreet.com