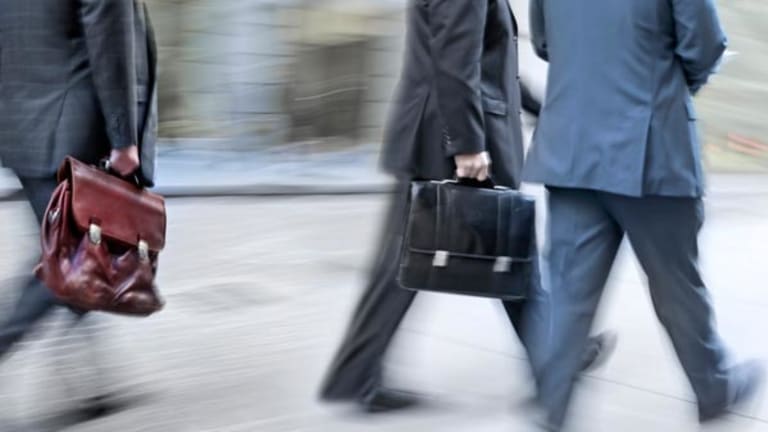 TheStreet.com's DAILY BULLETIN
March 30, 2000
http://www.thestreet.com
Market Data as of Close, 3/29/00:
o Dow Jones Industrial Average: 11,018.72 up 82.61, 0.76%
o Nasdaq Composite Index: 4,644.67 down 189.22, -3.91%
o S&P 500: 1,508.52 up 0.79, 0.05%
o TSC Internet: 1,124.08 down 93.01, -7.64%
o Russell 2000: 543.00 down 16.04, -2.87%
o 30-Year Treasury: 103 27/32 up 2/32, yield 5.962%
Companies in Today's Bulletin:
Chase (CMB:NYSE)
Seagate Technology (SEG:NYSE)
Veritas Software (VRTS:Nasdaq)
Pepsico (PEP:NYSE)
In Today's Bulletin:
o Banking: Tech-Stock Shakeout Threatens to Crunch Earnings at Chase
o Wrong! Rear Echelon Revelations: The Good News
o Evening Update: Pepsico Expects Earnings Boost From Frito-Lay Sales
o Bond Focus: Bond Market Turmoil Spares Treasuries
TheStreet.com Community:
You know TheStreet.com's the place for great market commentary, but did youknow it's also the place for intelligent investing discussion?
Join the discussion on our message boards and get a grip on the market.Check out Ben Holmes' IPOs board for discussion on the latest offeringshitting the market this week. Also, visit our Cramer's Latest, JimSeymour's Tech Savvy and Gary B. Smith's message boards for the hottest,most insightful Wall Street discussions on the Net.
TSC Message Boards:
http://www.thestreet.com/cap/browse/index.jhtml
Also on TheStreet.com:
Global Portfolio: Chinese WTO Drama Enters Act Three
Concerns that Congress may not grant China permanent trade status could spell an opportunity in Chinese shares.
http://www.thestreet.com/int/tradewinds/908931.html
IPOs: Next Wave of Linux IPOs Banking on New Approach
Linux stocks have gotten shellacked recently, so newcomers are looking to the applications business.
http://www.thestreet.com/stocks/ipos/908961.html
Tish on Tech: Where Did All the Underdogs Go?
When even B-school students win VC money, the hunt for the Valley's outcasts takes us into surreal territory.
http://www.thestreet.com/comment/tish/909031.html
Telecom: Despite Big Numbers, Some Aren't AWEd by AT&T Wireless Tracker
Growth is slow at the cash-hungry rival of Sprint PCS, investors note.
http://www.thestreet.com/tech/telecom/909029.html
Banking: Tech-Stock Shakeout Threatens to Crunch Earnings at Chase
By
Peter Eavis
Senior Writer
3/29/00 6:53 PM ET
Want to know which recent member of the New Economy Club may be fretting at the weakness in tech stocks? It's
Chase
undefined
, the New York-based financial services giant that has transformed itself into a New New Bank through a massive allocation of capital to its private equity unit,
Chase Capital Partners
.
Any declines or increases in the stock market can have a disproportionately large impact on Chase's bottom line, because market moves in Chase Capital's public companies are factored into profits. As a result, nasty drops in many of Chase Capital's tech-stock holdings could keep first-quarter earnings as much as 15% below expectations, according to a banks analyst and data from Chase Capital.
That possibility stands in stark contrast to last year, when Chase Capital's heavy bias toward New Economy companies made it hugely profitable. Chase Capital's gains totaled $2.52 billion in 1999, up 161% from 1998's $967 million. And the unit supplied nearly a quarter of the bank's 1999 operating earnings of $5.69 billion. Enthusiasm generated by the VC arm has helped drive Chase shares up 17% this year.
Capital Punishment?
So what's going on now? Well, 13 of the 18 Chase Capital-affiliated companies that held IPOs last year -- the stocks partly responsible for the bank's
blowout fourth quarter -- have seen their shares decline in the first quarter.
Chase declined to comment for this story, and the bank's public relations department refused to pass numbers used in this article to Chase Capital to be checked for accuracy. (Chase Capital Partners is an investor in
TheStreet.com Inc.
undefined
, the publisher of this Web site.)
Because, unlike more conservative banks, Chase factors Chase Capital companies' market gains (or losses) into its profit calculations, these big moves down likely will restrain earnings for the year's first quarter. Chase's first-quarter profits are expected to come in at $1.53 per share, according to analysts surveyed by
First Call/Thomson Financial
.
In fact, the market gain on Chase Capital's 68 public companies has dropped by an estimated $200 million since March 17, reducing the year-to-date market gain to around $50 million, according to Mike Mayo, banks analyst at
Credit Suisse First Boston
. (CSFB hasn't done any underwriting and rates Chase a sell.) That $200 million drop amounts to about 15% of the roughly $1.3 billion in operating earnings expected this quarter, or about 23 cents per share.
On Wednesday, concern about lower-than-expected gains for Chase Capital helped push Chase stock down 3 3/4, or 4%, to 90 1/2, compared with a 1.6% drop in the
KBW Banks Index
.
Swinging for the Fences?
For the first quarter through March 28, nearly half of the 18 IPOs done in 1999 by companies in the Chase Capital stable were down 20% or more (see table, above).
VitaminShoppe.com
undefined
was off 51%, for instance. VitaminShoppe.com and
Wesco
(WCC) - Get Free Report
, an electrical supplies distributor, appear to be trading at a level even below the pre-IPO price that Chase got into these companies, according to data from Chase Capital's
Web site.
"You don't pay a high multiple for that," says Jonathan Iseson, manager of Long Island, N.Y.-based
Bluewater Partners
, referring to the big drops. (Bluewater has no position in Chase shares.) Chase trades at 14 times analysts' 2000 earnings forecast, vs. 12 times for the KBW Banks Index.
If it's assumed that Chase didn't sell any shares in these companies during the period in question (though it may well have), then the overall mark-to-market gain for the 1999 IPOs can be estimated at $190 million for the first quarter. Sounds OK, until you realize that those gains and more came from just two companies:
Triton
(TPCS)
and
TeleCorp
undefined
, a pair of wireless telecommunications companies that showed estimated market gains to Chase's portfolio for the period of $230 million and $225 million, respectively.
Private-equity investing often relies on the theory that a couple of home runs make up for all the strikeouts. But when it comes to 1999 issues, Chase is perhaps relying on too few home runs, and it's not clear how long those will remain as a positive on the scoreboard. The reliance on Triton and TeleCorp "is a sign that there might be a time when they don't have enough big wins," says CSFB's Mayo.
And Triton and TeleCorp themselves easily could be headed for steep falls, because they are trading at an improbable 34 times and 46 times 1999
sales
, respectively.
Cash on the Barrel
Still, some analysts are advising investors not to worry about the effect of drooping tech stocks on Chase. David Berry, head of research at
Keefe Bruyette & Woods
, a New York-based bank stock brokerage, says that it's misleading to concentrate on the mark-to-market part of Chase's gains. For one, mark-to-market gains are only one source of earnings at Chase Capital. The bank may have sold shares (and thus pocketed cash) worth up to $300 million in this quarter, says Berry. (Keefe hasn't done any underwriting for Chase, and Berry rates Chase shares outperform.)
What's more, the vast majority of Chase Capital's investments in public companies are now worth many, many times the value of the original investment, Berry points out.
Wrong! Rear Echelon Revelations: The Good News
By
James J. Cramer
3/29/00 5:45 PM ET
Initial feedback postclose: Bullish.
Seagate
undefined
is going private and
Tech Data
(TECD) - Get Free Report
says tech business is strong. It's important, if there can be any sort of rally, that the fundamental news take a positive bent. We have two postclose pieces of news that make you bullish on the sector that really got slammed today: personal computers. I know we winced when we saw Meredith leaving
Dell
(DELL) - Get Free Report
, but smiled when he went to Dell Ventures. Dodged a bullet there.
Long day. Definitively a great day for the bears. Amazing, though, how many bears are here in my mailbox right now, dancing a jig saying that I was wrong to tell people to take money off the table; I should have told them to sell everything.
Oops, they miss the point. I'm not telling you what to do. I'm telling you what I'm doing. I took a lot off the table. A whole lot. I put a little of it to work today. Not a lot because of the margin/Robertson/Insana show problems. But you still have to buy them when you can, not when you have to. So we dipped into the kitty a tad. We did not sell everything. Period.
**********
James J. Cramer is manager of a hedge fund and co-founder of TheStreet.com. At time of publication, his fund was long Dell. His fund often buys and sells securities that are the subject of his columns, both before and after the columns are published, and the positions that his fund takes may change at any time. Under no circumstances does the information in this column represent a recommendation to buy or sell stocks. Cramer's writings provide insights into the dynamics of money management and are not a solicitation for transactions. While he cannot provide investment advice or recommendations, he invites you to comment on his column at
jjcletters@thestreet.com.
Evening Update: Pepsico Expects Earnings Boost From Frito-Lay Sales
By
Tara Murphy
Staff Reporter
3/29/00 7:57 PM ET
Pepsico
(PEP) - Get Free Report
said it sees its first-quarter earnings in line with the 13-analyst estimate of 28 cents a share. The company attributed the solid profit to strength in its
Frito-Lay
snack food division and its juice business, but added that high prices were problematic for its North American Pepsi-Cola unit.
Chairman and CEO Roger Enrico said he also expects fiscal 2000 earnings to meet the 16-analyst estimate of $1.38 a share. Enrico said the company's share repurchasing program is being exercised faster than expected.
Seagate Technology
undefined
, the leading maker of computer disk drives, said it would be acquired by an investor group, Silver Lake Partners, that includes its management in a complex deal that would sell its 33% stake in
Veritas Software
(VRTS) - Get Free Report
back to that company.
The Veritas stake accounts for most of Seagate's stock market value. The companies valued the stock and cash deal at $20.2 billion.
For more on Seagate's acquisition, check out
a story written this evening by
TheStreet.com-NYTimes.com Staff
.
Separately,
Standard & Poor's
said that Veritas would replace
Pep Boys
(PBY) - Get Free Report
(but what'll happen to Manny, Mo and Jack?) in the
S&P 500 Index
. S&P added that
Edwards Lifesciences
(EW) - Get Free Report
will fill Veritas' former spot in the
S&P Midcap 400 Index
and Pep Boys would take over 911 services provider
Rural/Metro
(RURL)
in the
S&P Smallcap 600 Index
.
In other postclose news (earnings estimates from
First Call/Thomson Financial
; earnings reported on a diluted basis unless otherwise specified):
Mergers, acquisitions and joint ventures
Telco AAPT
and
America Online
(AOL)
said they have entered a joint pact to run the AOL Australia unit. Both parties would hold a 50% interest in the venture, which would set up a Web portal using AOL wireless technologies to the domestic wireless consumer market. The financial terms of the deal not released.
Earnings/revenue reports
Cabletron
(CS) - Get Free Report
, a computer networking manufacturer, posted fourth-quarter pro forma earnings of 15 cents a share, a penny better than the 13-analyst estimate and up from the year-ago 2-cent profit.
Chairman and CEO Piyush Patel said the Cabletron is ready to covert itself into a holding company and four separate units which would concentrate on Internet infrastructure. Cabletron said it would spin off these four companies to shareholders.
4Front
(FFTI) - Get Free Report
, a information technology provider, reported fourth-quarter earnings of 11 cents a share, a penny better than the three-analyst estimate but down from the year-ago 16-cent profit. The company said it would assume a $15 million reorganization charge in the first half of fiscal 2001 to boost its e-business and consolidate operating expenses.
Finish Line
(FINL)
a sportswear retailer, reported fourth-quarter earnings of 26 cents a share, beating the six-analyst estimate of 20 cents a share but down from the year-ago 27-cent profit.
Offerings and stock actions
Micron Technology
(MU) - Get Free Report
set a 2-for-1 stock split.
For a look into this evening's after-hours trading action, please check out
TheStreet.com's
The Night Watch.
Bond Focus: Bond Market Turmoil Spares Treasuries
By
Elizabeth Roy
Senior Writer
3/29/00 5:14 PM ET
The Treasury market ought to have had a good day.
A stronger-than-expected
new home sales
report delivered an early blow. But the monthly auction of new two-year notes went well. Oil fell to a
two-month low after
OPEC
and Mexico announced production hikes. Riskier bonds -- especially agency securities -- got slammed. And the
Nasdaq Composite Index
fell hard.
"It's surprising we're not up more, especially with stocks down so much," said Matthew Kuhns, bond portfolio manager at
Transamerica
, late in the session.
But perhaps because the next two weeks bring key economic releases that are expected to show that the economy continues to grow too fast for the
Fed's
comfort, most Treasury prices fell.
The benchmark 10-year note shed 1/32 to 102 16/32, lifting its yield a fraction of a basis point to 6.157%. The 30-year bond also fell 1/32 to 103 25/32, raising its yield a fraction of a basis point to 5.977%.
At the
Chicago Board of Trade
, the June
Treasury futures contract fell 1/32 to 96 3/32.
The two-year note auction, at which $12 billion of securities were sold at a yield of 6.58%, produced a healthy bid-to-cover ratio of 2.57, which compares to an average of 2.21 for the 12 most recent two-year auctions. The bid-to-cover ratio compares the amount of securities bid to the amount offered for sale. A high bid-to-cover ratio indicates strong demand.
At the same time, agency securities -- bonds issued by government-sponsored enterprises
Fannie Mae
undefined
,
Freddie Mac
undefined
and
Federal Home Loan Banks
-- took a bit hit today on no real news. Swap spreads, which closely track the difference in yield between agency and Treasury securities, continued to widen, indicating that investors are demanding ever-higher yields on agency securities relative to Treasuries. The 10-year swap spread widened to nearly 127 basis points from 121 on Tuesday. Before last week, the latest peak was 108 basis points, in September 1999.
The agency market has been roiled in the last week by federal government initiatives to re-evaluate the advantages that the government-sponsored enterprises enjoy over other corporate borrowers. Selling of agency securities has typically been accompanied by buying of Treasuries, and that was the case for a while today. But the effect didn't last.
Perhaps bond investors are concerned about tomorrow's final revision to fourth-quarter
, which some economists think will print above 7% for the first time since 1987. Or about next week's March
employment report
, which is expected to show a big jump in nonfarm payrolls due in part to Census-related hiring.
"We're not very constructive on rates," Kuhns said. "Absent a significant stock market correction, the Fed's going to continue hiking two or three more times." The only reason to want to own bonds, Kuhns said, "is because you're really nervous about owning stocks," which, however, doesn't seem to speak for many people.
Nor should they be, says Ken Mayland, president of
ClearView Economics
. But nor should they steer clear of the bond market. Mayland says the downturn in oil prices means that the growth rate of the
Consumer Price Index
is on the verge of peaking. "As people come to the conclusion that the CPI has maxed out, it has been implications for the fixed-income markets, the equity market and Fed policy." The Fed will hike in May, possibly by 50 basis points instead of the usual 25, Mayland predicts. "But at that point people will start to raise the question, Are we at the end of the period of rising rates?"
Economic Indicators
New home sales edged down 0.5% in February, to 919,000 from 924,000 in January. A pace of 877,400 had been forecast by economists polled by
Reuters
.
Compounding the report's bearishness, the January pace was revised up quite sharply from an original estimate of 882,000.
Still, new home sales are down from an all-time high of 995,000 in November 1998.
At the same time, the weekly
Mortgage Applications Survey
detected increases in both refinancing and new mortgage activity. The Refinancing Index rose to 386.6, its highest level in seven weeks, from 346.2, while the Purchase Index rose to 312.2, its highest level since November, from 293.5.
Currency and Commodities
The dollar fell against the yen and gained against the euro. It lately was worth 105.70, down from 105.80. The euro was worth $0.9516, down from $0.9665. For more on currencies, please take a look at
TSC's
new
Currency Watch column.
Crude oil for May delivery at the
New York Mercantile Exchange
fell to $26.45 a barrel, the lowest since Jan. 12, from $27.09.
The
Bridge Commodity Research Bureau Index
fell to 210.98 from 211.90.
Gold for April delivery at the
Comex
fell to $278.70 an ounce, a six-month low, from $282.20.
TO VIEW TSC'S ECONOMIC DATABANK, SEE:
http://www.thestreet.com/markets/databank/905407.html
Copyright 2000, TheStreet.com