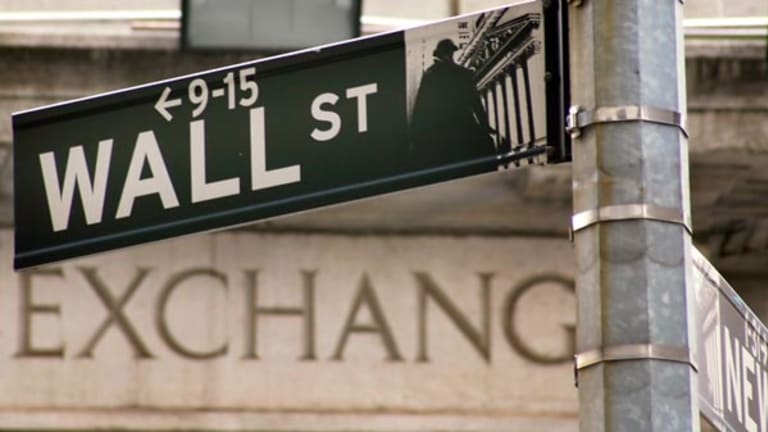 Publish date:
daily03-28-00
TheStreet.com's DAILY BULLETIN
March 29, 2000
http://www.thestreet.com
Market Data as of Close, 3/28/00:
o Dow Jones Industrial Average: 10,936.11 down 89.74, -0.81%
o Nasdaq Composite Index: 4,833.89 down 124.67, -2.51%
o S&P 500: 1,507.73 down 16.13, -1.06%
o TSC Internet: 1,217.09 down 43.88, -3.48%
o Russell 2000: 559.04 down 14.61, -2.55%
o 30-Year Treasury: 103 25/32 unchanged , yield 5.988%
Companies in Today's Bulletin:
Commerce One (CMRC:Nasdaq)
Palm (PALM:Nasdaq)
3Com (COMS:Nasdaq)
AT&T (T:NYSE)
Entergy (ETR:NYSE)
In Today's Bulletin:
o Internet: Commerce One Wins a Big Deal With Aerospace Exchange
o Wrong! Rear Echelon Revelations: Bloodied, but Not Broken
o Evening Update: Palm Beats Analysts' Estimates, Last Year's Quarter
o Bond Focus: Bond Market Contemplates the Pros and Cons of Lower Oil Prices
"TheStreet.com" on the Fox News Channel:
Don't miss "TheStreet.com" as guest Thomas Madden, executive vice presidentand chief investment officer at Federated Investors, joins our panel ofwriters for this week's show. "TheStreet.com" is on Fox News ChannelSaturdays at 10 a.m. and 6 p.m. ET and Sundays at 10 a.m. ET.
Also on TheStreet.com:
Telecom: AT&T's Planned IPO for Wireless Unit Would Be North America's Biggest
The company will sell 306 million shares at $26 to $32 per share.
http://www.thestreet.com/brknews/telecom/908442.html
Hardware/PCs: Xerox Likely to Unveil Restructuring Plan This Week
Plan expected to lead to layoffs and continued short-term losses with hopes for long-term gains.
http://www.thestreet.com/brknews/hardware/908382.html
Nothing but Net: Cohen's Move Away From Tech Ripples Through Market
Goldman analyst sets example and profit-takers follow, knocking Nasdaq for loss.
http://www.thestreet.com/markets/techupdate/908350.html
Off-Hours Trading: Off-Hours Trading: Lernout Soars on Dragon Deal; Futures Strong
The Belgian speech products company is getting a warm reception for its buy of Dragon Systems. Elsewhere, Microsoft edges higher.
http://www.thestreet.com/markets/offhourstrading/907860.html
Internet: Commerce One Wins a Big Deal With Aerospace Exchange
By
Joe Bousquin
Staff Reporter
3/28/00 7:41 PM ET
In the land grab that is business-to-business e-commerce,
Commerce One
(CMRC)
planted a red flag in a major piece of real estate Tuesday: the exchange of goods and services in the aerospace industry.
The announcement from the four largest aerospace companies that they will use Commerce One's technology for their forthcoming business-to-business exchange was a definite coup for the Walnut Creek, Calif.-based, software provider, analysts say. That becomes especially apparent when you consider that Commerce One beat out its two fiercest competitors,
Oracle
(ORCL) - Get Report
and
Ariba
(ARBA)
.
But what exactly Commerce One will get out of the deal in terms of cash up front -- or payment down the road -- is still unclear. Investors, perhaps echoing those concerns, sent Commerce One shares down 3.4% Tuesday on a weak day for technology stocks.
Big Win
Phil Condit, chairman and CEO of group leader
Boeing
(BA) - Get Report
, told
TheStreet.com
the aerospace companies considered both Ariba and Oracle for the deal, but decided on Commerce One for three reasons. "We looked at what you always look at in these deals: price, risk and technology," Condit said. "They met our needs."
The exchange, founded by Boeing,
Lockheed Martin
(LMT) - Get Report
,
BAE Systems
and
Raytheon
(RTN.A)
, will serve an industry with $400 billion in sales annually, a figure in keeping with the sector's tendency toward eye-popping, if meaningless, numbers. The four founding companies alone said they spend a combined $71 billion per year on goods and services that could run through that exchange.
It will be set up as a separate company, with the four aerospace firms each owning equal equity stakes and Commerce One receiving 5% of the new company. Notably, Commerce One CEO Mark Hoffman said Commerce One didn't give out any of its own stock to get the aerospace giants to use his company's software -- a practice the company has employed before. But he also didn't spell out in detail any licensing fees that Commerce One would receive up front, either. For that, analysts and investors will probably need to wait for Commerce One's April 19 earnings announcement.
Hoffman did say that the company would get a piece of the transaction fees that are charged when companies use the exchange, as has been typical of other deals the company has set up.
Everybody Wants You
Followers of the hot B2B sector were impressed. "Of course, this is definitely a deal that all the serious e-commerce technology providers would have wanted," says
J.P. Morgan
analyst Bill Epifanio, whose company hasn't underwritten for Commerce One.
Fair enough, and definitely something Commerce One can crow about: Alluding to its uncomfortable partnership with Oracle in a similar marketplace for the Big Three automakers, Commerce One CEO Hoffman said the company was "certainly pleased" to be the sole technology provider in this deal.
Still, Commerce One ended down 7 5/16, or 3.4%, at 206. Oracle slipped 1 7/8, or 2%, at 86 9/16, while Ariba jumped 6 7/16, or 2.6%, to 252 1/4 on news that its platform would be used in a new exchange serving the telecommunications industry. Boeing, Lockheed Martin and Raytheon all traded higher.
Other Deals
For their parts, Ariba and Oracle reacted with indifference to Commerce One's supposed coup. Ariba declined to comment on the announcement, though a spokeswoman said Ariba was working on its own initiatives in the aerospace industry. And analysts saw the deal as a victory for Commerce One, but just another deal in a deal-crazed industry.
"I think today it's a loss for Oracle, but I won't count them out," says Jeanette Sing, an analyst with
Wasserstein Perella
, in New York, which hasn't underwritten for Commerce One. "They're always very aggressive and they will capture additional industries, because they have the name and the sales force to do it. It's not going to be one exchange that dominates everything."
"There's no question that when one company like Commerce One gets a huge win -- which I think this is -- it's a huge loss for everyone else," says Epifanio. "But the good news is we're still in the early stages of B2B."
More Money
Kevin McGirk, VP of press and analyst relations at Oracle, points to his company's announcement earlier this week that it would launch an exchange for the global transportation freight industry, partnering with Hong Kong's
Hutchison Port Holdings
. In that deal, Oracle pegged the industry as having sales of $800 billion, which, if you're counting, is more than double the $400 billion that Commerce One cited as sales through the aerospace industry.
"The technology from Oracle is already out there, it's in use and saving our customers significant amounts of money today," McGirk says.
Or in other words, the Commerce One's competition has some real estate of its own.
Wrong! Rear Echelon Revelations: Bloodied, but Not Broken
By
James J. Cramer
3/28/00 5:08 PM ET
Look, it could have been a lot worse. When the most important guru in guru-dom takes some money off the table, you have to expect some bloodshed. Oddly, the bloodshed seemed to be centered on
Intel
(INTC) - Get Report
.
The stock was heavy all day and went out withered and spent.
As we are forever long Intel we spent the whole day trying to track down the rumors -- hmmm, could be Freudian, I wrote tumors first -- on the great semiconductor maker. Call them benign; we could come up with nothing that seemed life-threatening. The action in
Dell
(DELL) - Get Report
didn't make us feel too warm and fuzzy either.
Throw in the fact that some
TSC
readers (including myself) had trouble accessing the site due to technical problems and you can just about say that the afternoon was a real write-off.
The one thing that really surprised me is that the worst part of the day was the end, not the beginning. With instant information, Abby Joseph's take-it-off-the-table call should have had most of its impact right up front.
As few seemed to heed it initially, it became just a great excuse by those who haven't trimmed anything to do some trimming. Hence the down day. Nothing more than that, at least to these eyes and ears.
James J. Cramer is manager of a hedge fund and co-founder of TheStreet.com. At time of publication, his fund was long Intel and Dell. His fund often buys and sells securities that are the subject of his columns, both before and after the columns are published, and the positions that his fund takes may change at any time. Under no circumstances does the information in this column represent a recommendation to buy or sell stocks. Cramer's writings provide insights into the dynamics of money management and are not a solicitation for transactions. While he cannot provide investment advice or recommendations, he invites you to comment on his column at jjcletters@thestreet.com.
Evening Update: Palm Beats Analysts' Estimates, Last Year's Quarter
By
Tara Murphy
Staff Reporter
3/28/00 8:04 PM ET
Palm
(PALM)
, the handheld computer-maker, reported third-quarter earnings, excluding items, of 3 cents a share, ahead of the six-analyst estimate of a profit of a penny a share, and up from the year-ago pro forma 2 cents. Palm, which was formerly a wholly owned subsidiary of
3Com
(COMS)
, went public in March. 3Com owns the vast majority of Palm's common stock.
Palm also said it sees fourth-quarter sales of $280 million to $295 million but warned that gross margins should narrow in fiscal 2001 from fiscal 2000, citing component shortages and price reductions. According to
Reuters
, Palm CFO Judy Bruner said during a conference call that the company scaled down Palm's prices in February to jump-start sales and forecasted that gross margins would hit 35% to 40% over the next several years. Bruner said that demand from mobile-phone makers triggered a shortage of some Palm components, which could extend into the next several quarters.
AT&T
(T) - Get Report
plans to issue 360 million shares of
AT&T Wireless Group
tracking stock, with the price range running from $26 to $32 a share, which would raise from $936 million to $11.5 billion. The company said it may issue up to an additional 54 million shares if underwriters exercise their over-allotment option in full. The shares to be offered represent 15.6% of AT&T's interest in the AT&T Wireless Group, based on basic shares outstanding. That percentage could increase to 17.5% if the underwriter's over-allotment option is exercised in full. AT&T plans to list the tracking stock on the
New York Stock Exchange
under the ticker symbol AWE.
Goldman Sachs
,
Merrill Lynch
and
Salomon Smith Barney
are serving as global coordinators and joint book-running managers for the IPO.
-- Brian Louis
In other postclose news (earnings estimates from First Call/Thomson Financial; earnings reported on a diluted basis unless otherwise specified)
:
Mergers, acquisitions and joint ventures
The
New York Power Authority
said
Entergy's
(ETR) - Get Report
$967 million bid for two New York nuclear plants beat out a $947 million rival offer from
Dominion Resources
(D) - Get Report
. Entergy said it would pay $636 million for the plants, about $171 million for fuel, $92 million to secure a part of decommissioning costs and $68 million to commit NYPA to future purchases from one of the nuclear facilities.
Carbon dioxide supplier
NuCo2
said it has entered a dispensing agreement with
Coca-Cola
(KO) - Get Report
. According to the terms, NuCo2 would set up CO2 dispensing systems and services for Coca-Cola fountain customers. Last year, NuCo2 made a pact with
Darden Restaurants
(DRI) - Get Report
to supply its
Red Lobster
and
Olive Garden
restaurants with the CO2 systems.
Earnings/revenue reports
Armstrong World Indutries
(ACK)
warned investors that it would post first-quarter earnings between 65 cents to 75 cents a share, greatly missing the 11-analyst estimate of 97 cents a share and the year-ago report of a $1.20 profit. The company blamed the shortfall on slow European sales and increasing raw material expenses.
Offerings and stock actions
Merrill Lynch
priced an 11 million-share IPO for
Telocity
(TLCT)
at the top of its expected $10 to $12 price range at $12 a share.
Miscellany
Disney's
(DIS) - Get Report
ABC Television Network
president Patricia Fili-Krushel stepped down from her post at the company to become the president and CEO of
Healtheon/WebMD's
(HLTH)
consumer unit. Healtheon said Fili-Krushel would assume her new position on April 10.
Bond Focus: Bond Market Contemplates the Pros and Cons of Lower Oil Prices
By
Elizabeth Roy
Senior Writer
3/28/00 4:48 PM ET
The bond market meandered again today. With no market-moving economic indicators on the docket, traders waited for direction from the energy markets, which in turn waited for the outcome of the
OPEC
meeting in Vienna.
"It's just so dead. All eyes are on OPEC," said Kevin McKenna, head of taxable money-market funds at
Merrill Lynch Asset Management
.
The oil-producing countries reportedly drew close to an agreement to increase export limits by about 1.7 million barrels a day.
But while the bond market was anxious for a final outcome, hints over the last few weeks that the cartel would probably agree to increased export limits had already worked their magic on oil prices, returning the per-barrel price to the $27-$28 range, down from a nine-year high of $33-$34 during the first week of March. In other words, the expected production hike is already in the price of oil, and might not drop it any further.
The bond market often smiles on lower oil prices, which have positive implications for inflation. But at times like these, when bond investors are impatient to see economic growth slow down, rising oil prices have a silver lining. "There's a big piece of the fixed-income market that's looking at oil prices as an exogenous tax that could only slow consumer spending and help the
Fed
do its job," McKenna said. In an effort to bring the economic growth rate back into line with its historical average, the
Fed
has hiked the
fed funds rate
to 6% from 4.75% since June.
Stock prices provided clearer guidance for the bond market today. Early in the session, Treasury prices got a lift from the negative action in stocks after
Goldman Sachs
strategist
Abby Joseph Cohen
recommended trimming equity exposure in her model portfolio to 65% from 70%. Cohen also recommended increased exposure to short-term bonds at the expense of long-term ones, and (not surprisingly) investors appeared to take her advice.
The benchmark 10-year Treasury note gained 6/32 to 102 15/32, dropping its yield 2.5 basis points to 6.162%, and shorter-maturity issues followed suit. But the 30-year Treasury bond ended down 2/32 at 103 23/32, lifting its yield a fraction of a basis point to 5.982%.
At the
Chicago Board of Trade
, the June
Treasury futures contract gained 1/32 to 96 4/32.
Bond traders are awaiting an indication on whether the Fed, which is expected to continue to hike the fed funds rate, will keep moving in measured, 25-basis-point increments, or start making more aggressive, 50-basis-point moves. The only way a 50-basis-point move could be construed as positive is if the Fed indicated that no additional hikes were likely, McKenna said. And it's not likely to foreclose any options with stock prices still so high.
Traders are also looking forward to April 1,
Lehman Brothers
chief global fixed-income strategist Jack Malvey said. "It's been a tough quarter. Folks are winding down here."
Economic Indicators
The
Consumer Confidence Index
fell in March for the second month in a row, after reaching an all-time high in January. It slipped to 136.7, the lowest since October, from 140.8 in February. The January reading was 144.7. Economists polled by
Reuters
had forecast a smaller decline on average, to 139.9.
The two weekly retail sales reports showed continuing weakness in that sector. The
BTM/Schroder Weekly Chain Store Sales Index
rose 0.1%. The year-on-year growth rate fell to 0.3%, the lowest in nearly three years. This is due in part to the fact that Easter is late this year, which is delaying Easter sales from March to April.
The
Redbook Retail Average
showed March sales running 0.2% behind February through the first four weeks of the month. The year-on-year rate is 0.9%, the lowest number in the history of the series, which goes back to June 1996.
Currency and Commodities
The dollar fell against the yen and gained against the euro. It lately was worth 105.79 yen, down from 106.73 yesterday. The euro was worth $0.9603, down from $0.9665. For more on currencies, please take a look at
TSC's
new
Currency Watch column.
Crude oil for May delivery at the
New York Mercantile Exchange
fell to $27.09 a barrel from $27.79.
The
Bridge Commodity Research Bureau Index
fell to 211.98 from 212.26.
Gold for April delivery at the
Comex
fell to $279.50 from $280.50.
TO VIEW TSC'S ECONOMIC DATABASE, SEE: http://www.thestreet.com/markets/databank/905407.html
Copyright 2000, TheStreet.com