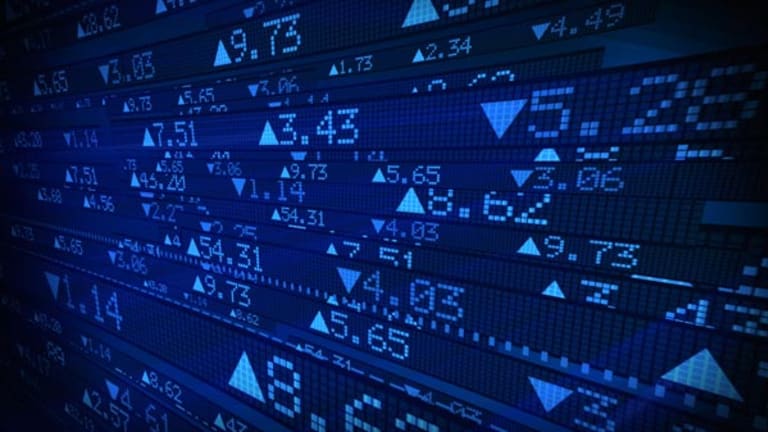 Publish date:
daily03-26-00
TheStreet.com's DAILY BULLETIN
March 27, 2000
http://www.thestreet.com
Market Data as of Close, 3/24/00:
o Dow Jones Industrial Average: 11,112.72 down 7.14, -0.06%
o Nasdaq Composite Index: 4,963.03 up 22.42, 0.45%
o S&P 500: 1,527.46 up 0.11, 0.01%
o TSC Internet: 1,272.53 up 19.26, 1.54%
o Russell 2000: 574.01 up 0.22, 0.04%
o 30-Year Treasury: 103 19/32 down 1 04/32, yield 5.984%
Companies in Today's Bulletin:
Mircosoft (MSFT:Nasdaq)
Procter & Gamble (PG:NYSE)
Kimberly-Clark (KMB:NYSE)
Colgate-Palmolive (CL:NYSE)
In Today's Bulletin:
o Editor's Letter: The Coming Week on TSC
o Software: Microsoft Talks Stall
o The Coming Week: Putting the Best Face on Bad News
o The Coming Week in Europe: The Continent's Central Bankers Go on Tour
Also on TheStreet.com:
Wrong! Rear Echelon Revelations: State of the Web: Competition Changes Everything
Stocks often become less attractive when other firms successfully enter their territory.
http://www.thestreet.com/comment/wrongrear/907153.html
Jim Griffin: Fed Pritikin Possibility
Are the wealthy living in a manner that is against their best long-term interests?
http://www.thestreet.com/comment/jamesgriffin/906949.html
Traveling with Wings: Where Is Dean Martin When We Need Him?
An American Airlines incident was reported without reference to actual facts, or even movie fiction.
http://www.thestreet.com/comment/wingtips2/906729.html
The Coming Week in Asia: Japanese Investors Get Tech-Shy
While shares of firms like Softbank have been declining, Oracle Japan could reinvigorate the sector.
http://www.thestreet.com/markets/comingweekasia/906558.html
Editor's Letter: The Coming Week on
TSC
By
Dave Kansas
Editor-in-Chief
3/26/00 3:45 PM ET
The
Dow
rockets up, down and all around. Now it's back above 11,000, giving us a little optimism as we head toward the warmer weather of late spring.
Despite the Dow's recent rally, the gyrations of the
Nasdaq
have only fed the angst on Wall Street. This bull market has had an amazing run, and more than a few professionals wonder just how long the good times can truly continue. As ever, we're focused on the latest twists and turns, hustling to decipher whether or not these movements portend horror or good times ahead. It's a very tense time, and we're more focused than ever on making sure that you have all the information you need to make wise investment decisions.
Among the most important investment decisions you'll make is choosing a broker. This week, we unveil the results of our enormous
Online Broker Survey 2000
, which many of you helped complete. We'll not only announce the winner, but we'll tell you which firms you call tops for the various services and features you say matter most.
And with tax day approaching, we'll continue to focus on issues of taxes and trading.
Tracy Byrnes
, our in-house tax expert, is furiously at work writing stories that will help you better handle the pending appointment with the tax collector. If you have questions about taxes, feel free to email Tracy at
tbyrnes@thestreet.com. To take a look at some recent questions, check out Tracy's recent
chat transcript.
I know that many of you, from time-to-time, have contacted our customer service staff. Unlike many outfits, we've hired and trained our own customer service staff, all of whom are focused on providing you with quick, intelligent answers to your questions. These folks are always working very hard to serve you. Though the experience is not always perfect, you should know that this group is extremely dedicated to making sure that your
TSC
experience is a good one. We're all lucky to have such a dedicated crew hustling on our behalf.
Finally, if you have any questions or concerns, feel free to ping me an email at
dkansas@thestreet.com. I'll make sure your issues get handled promptly. Meantime, get ready for another exciting week at
TheStreet.com!
L'Etoile du Nord
Dave Kansas
Editor-in-Chief
Dave Kansas is editor-in-chief of TheStreet.com. In keeping with TSC's editorial policy, he doesn't own or short individual stocks, though he owns stock in TheStreet.com. He also doesn't invest in hedge funds or other private investment partnerships. He welcomes your feedback at
dkansas@thestreet.com.
Software: Microsoft Talks Stall
By
TSC
STAFF
3/25/00 6:57 PM ET
Not so fast.
Just one day after
Microsoft
(MSFT) - Get Report
and the government appeared near a settlement in the antitrust suit against the software behemoth, government attorneys deemed Microsoft's proposal inadequate, according to
The New York Times
.
The newspaper
reported on its
Web site Saturday that Microsoft faxed a proposal to the government and the 19 attorneys general who are suing the company. But after digging through the technical information for hours, the government officials decided "it wasn't nearly enough."
Attempts by
TSC
to reach officials from Microsoft and the
Justice Department
were unsuccessful Saturday.
On
Friday, several news organizations reported that talks between the two sides were heating up after the judge in the case,
Thomas Jackson
, threatened to make a final ruling on Tuesday if Microsoft and the government didn't show progress toward a settlement. Jackson had issued a scathing description of Microsoft's business activities in his findings of facts in the case, saying the company had used its monopoly power with the
Windows
operating system to stifle its competition. The harsh words left little doubt that Jackson would rule against the company if a settlement couldn't be reached.
Under the mounting threat of such a ruling, Microsoft reportedly indicated earlier this week that it would be willing to accept some restrictions on its business to reach a settlement.
Dow Jones Newswires
reported, for instance, that the company offered to separate its Internet browser software from its Windows operating systems software.
The
Times
reported Saturday, however, that two officials said no new talks had been scheduled.
The Coming Week: Putting the Best Face on Bad News
By
Justin Lahart
Associate Editor
3/24/00 7:56 PM ET
The last week of the quarter is often a frightening one for investors.
It is the preannouncment season, the time when companies whose earnings are not up to snuff confess. Invariably, it is not their fault. The dollar is too weak or too strong against the
zloty
, or there was a problem in the widget pipeline, or some part of the country was too wet and cold while the other part was too hot and dry. No bones about, this problem must have hurt just about everybody in the business. Really. And so a whole sector gets tarred.
"The sooner we get out of it," said
Jefferies
strategist Art Hogan of the warning period, "the better off we're going to be."
Think of
Procter & Gamble
(PG) - Get Report
, which cited pulp costs as a core problem. Never mind that pulp prices, though up well off their lows, were severely depressed by the crises of 1997 and 1998.
"The upshot is that the plunge in materials costs during 1997-98 probably helped mask deteriorating results at companies who weren't minding their efficiency," wrote
Morgan Stanley Dean Witter
chief U.S. economist Richard Berner in a recent note. "The jump in such costs over the past year likely revealed their more fundamental problems."
Procter fell 32% on its warning, and its peers got caught in the downdraft. The
Morgan Stanley Consumer Cyclical Index
fell 5.3% on the day, and companies like
Kimberly-Clark
(KMB) - Get Report
and
Colgate-Palmolive
(CL) - Get Report
were quick to issue statements saying that they were comfortable with analysts' estimates. It took the group two weeks to recover.
The good news is that it looks as if the first quarter has been a good one for U.S. companies, and though there will undoubtedly be high-profile warnings over the next couple of weeks, there will probably be fewer than usual. Joseph Kalinowski, equity strategist at earnings tracker
I/B/E/S International
, notes that fewer than usual of the companies preannouncing results are saying that they will not meet analysts' estimates.
"What we normally see is that 80% of preannouncements are negative," he said. "Going into this season, only 60% are negative. We're also seeing a significantly larger number of analysts increasing their estimates overall." Typically, analysts are trimming numbers heading into reporting season.
Company
mea culpas
aren't the only worry in the coming week.
OPEC
will meet Monday in Vienna to determine new quota levels. Recent talk in the market is that it will increase production 1 million to 2 million barrels a day over the current quota of about 23 million barrels. Considering that, because of cheating, actual output is around 24 million barrels, that doesn't represent much of an increase. If the increase is not in the upper range of what the market is talking about, oil prices could head higher again. It could well happen -- though there has been heavy pressure from the U.S. and other oil importers for increased production, the OPEC ministers have other concerns.
"I don't think they want to forego the improvement in finances they've seen, and they don't want to look like they're caving in to the
Clinton
administration," said Bill Sullivan, chief money-market economist at
Morgan Stanley Dean Witter
. "We got as low as $27 a barrel, and I imagine that's the low. This sense that energy prices are rolling back may be over."
The Coming Week in Europe: The Continent's Central Bankers Go on Tour
By
Marc Young
German Correspondent
3/25/00 12:30 AM ETBERLIN -- Get ready, Europe! The
European Central Bank
is going on tour to bring the exciting world of monetary policy to a central bank near you!
Europe's monetary authorities will leave dreary Frankfurt behind next Thursday to head to sunny Madrid to discuss the current state of the Continent's interest rates, the first meeting of the bank to be held outside of Frankfurt. The bank is attempting to dispel the notion that the ECB's monetary policy is excessively Teutonic and not sufficiently pan-European.
Indeed, prior to the bank's quarter-point rate hike on March 16, many observers thought the ECB would raise rates at the Madrid outing. The increase would send a pan-European message by raising borrowing costs in a country that would most certainly have higher interest rates were it not part of the monetary union. However, now most ECB watchers contend another rate hike in the coming week would be too soon. Instead, the
Banco de Espana
field trip will most likely focus on regional issues that often get lost in the shuffle when the bank's Governing Council meets in Frankfurt.
However, now that the ECB has shown itself to have an activist and incremental penchant in raising interest rates, an outside chance remains ECB President
Wim Duisenberg
and his cohorts could choose to pop another small rate hike surprise on the markets.
The odds of such a move depend heavily on the eurozone February M3 money-supply figures, due to be released at some point next week. Should the data come in stronger than expected, interest-rate-sensitive stocks such as banks and insurers could be hit, since the ECB in the past has justified rate increases on money-supply movements.
"As ever, what matters about the M3 release is not just the number itself, but the way in which the ECB bankers choose to spin that number," says Alison Cottrell, an economist for
PaineWebber International
in London.
Still most eurozone analysts figure the bank won't be that gung-ho and ratchet up its current 3.5% main refinancing rate on Thursday, although in the following weeks all bets are off. According to
Deutsche Bank's
economic weekly: "The ECB should remain on hold at this week's meeting, with the next hike coming by early May at the latest."
The ECB broke tradition on March 16 by raising rates without holding a press conference to explain the move. The next hike could happen any time the Governing Council meets -- possibly as soon as next meeting on April 13. As for having an opportunity to make a monetary policy decision outside of Frankfurt, the ECB's next chance won't come until the autumn, when a Governing Council meeting has been scheduled for Paris. The ECB now plans to hold meetings in other European cities on an informal basis, most likely a couple of times a year.
The ECB sets monetary policy for Germany, France, Italy, Spain, Portugal, the Netherlands, Belgium, Finland, Luxembourg, Ireland and Austria.
Chat with John J. Edwards on AOL's MarketTalk, hosted by Sage Monday, March 27 at 3:30 p.m. ET. (Keyword: AOL Live)
Copyright 2000, TheStreet.com