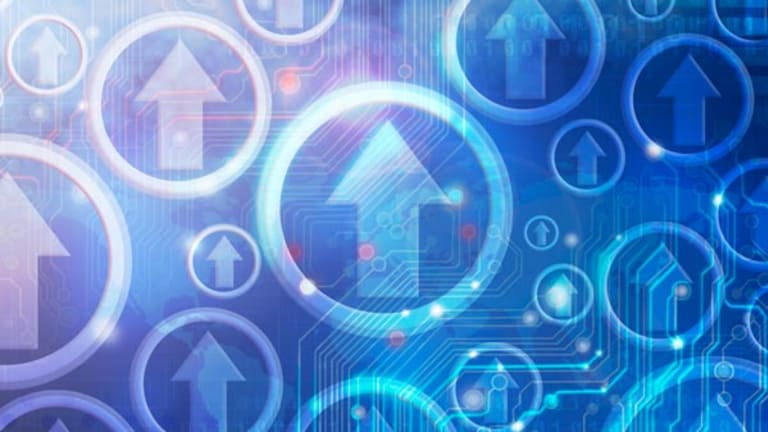 Publish date:
daily03-21-00
TheStreet.com's DAILY BULLETIN
March 22, 2000
http://www.thestreet.com
Market Data as of Close, 3/21/00:
o Dow Jones Industrial Average: 10,907.34 up 227.10, 2.13%
o Nasdaq Composite Index: 4,711.68 up 101.68, 2.21%
o S&P 500: 1,493.87 up 37.24, 2.56%
o TSC Internet: 1,230.79 up 45.96, 3.88%
o Russell 2000: 552.79 up 3.59, 0.65%
o 30-Year Treasury: 103 26/32 up 13/32, yield 5.966%
Companies in Today's Bulletin:
Micron Technology(MU:NYSE)
Incyte (INCY:Nasdaq)
Celera (CRA:NYSE)
Amgen (AMGN:Nasdaq)
Net.B@nk (NTBK:Nasdaq)
In Today's Bulletin:
o Biotech/Pharmaceuticals: Biotech Action Shows Maybe a Little Knowledge Isn't So Dangerous
o Wrong! Rear Echelon Revelations: Counter-Intuitive Lunacy: Buying a Market the Fed Wants Lower
o Evening Update: Alas, Poor Micron, and More Postclose News
o Bond Focus: Yield Curve Inverting to New Extremes
TheStreet.com Community:
You know TheStreet.com's the place for great market commentary, but did youknow it's also the place for intelligent investing discussion?
Join the discussion on our message boards and get a grip on this volatileMarch market. Check out Cramer's Latest for stock plays and strategies.Communicate with other TSC Investment Challenge participants on ourChallenge message board. And share your thoughts on Jim Seymour's TechSavvy, Gary B. Smith and Ben Holmes' IPOs.
TSC Message Boards:
http://www.thestreet.com/cap/browse/index.jhtml
Also on TheStreet.com:
Nothing but Net: Nasdaq Follows Dow, Shrugs Off Rate Hike
Despite the fifth Fed rate hike in less than a year, the Nasdaq closed up Tuesday.
http://www.thestreet.com/markets/techupdate/904624.html
James K. Galbraith: The Charge of the Fed Brigade
Hey, Greenspan, productivity is about aggregate
supply
, not income or stock prices or corporate earnings.
http://www.thestreet.com/comment/galbraith/904676.html
Semiconductors: Micron: Good, but Not Good Enough
Micron takes an after-hours plunge after reporting a mere sevenfold increase in earnings for its second fiscal quarter.
http://www.thestreet.com/brknews/semis/904682.html
Banking: Net.B@nk Takes a Hit as Analyst Predicts Steep Earnings Shortfall
The stock is now 80% off its 52-week high.
http://www.thestreet.com/stocks/banking/904656.html
Asia/Pacific: Sunevision, Hong Kong's Latest Premature Dot-Com Goes Public
Hong Kong investors have once again bought a technology company that lacks earnings, meaningful sales and a fully developed product.
http://www.thestreet.com/int/asia/904485.html
Biotech/Pharmaceuticals: Biotech Action Shows Maybe a Little Knowledge Isn't So Dangerous
By
Dane Hamilton
Staff Reporter
3/21/00 8:58 PM ET
For months, Wall Street has been trashing retail investors in biotech, depicting them as a bunch of rank amateurs who didn't know genes from genomes. When the bubble popped, investors who didn't know these companies would lose big-time, the reasoning went.
As always, though, the reality has proven to be a little more complicated. As the selling in biotech stocks slowed Tuesday, and a few leading names actually showed gains for the day, some much-maligned momentum players seem to have come out on top by selling at the lofty peaks. Of course, few would admit to being burned, but what was clear was that the legions of small traders took Wall Street by surprise.
"We knew what we were buying -- stuff that was going up," explains self-described momentum investor Joel Williams of Greenbelt, Md., who recently sold his biotech holdings in some
Janus
,
Rydex
and
Dresdner
funds. "When it began to go down, we sold. Something wrong with that? Personally, I think buying stuff that is going up and selling it when it begins to go down is called good trading."
No, Indeed
Now, with many biotech stocks well off their highs and many of the momentum players filtering out of the big names, Wall Streeters are crossing their fingers that maybe, just maybe, the biotech craze is past, and a return to traditional measures will follow.
After a 10% bath
Monday, the
Nasdaq Biotech Index
fell just 1.3% Tuesday, to 1101, with screens showing a bit of green after a tide of red ink in recent
days. The big biotech indices are now off some 30% from their highs of two weeks ago, though they remain substantially ahead for the year.
In Tuesday's action,
Incyte
(INCY) - Get Report
,
Celera
(CRA)
and
Amgen
(AMGN) - Get Report
all gained, recapturing some ground after recent losses. Still, the market continued to punish recent highfliers such as
Millennium
(MLNM)
,
Medarex
(MEDX)
and
Protein Design Labs
(PDLI) - Get Report
.
New Breed
Typical of a new breed of New Economy investors, Williams, 64, is a computer engineer who says he has holdings of less than $2 million. He admits to knowing nothing about the biotech industry, yet was smart enough to sell out of biotech this month when the market turned. He didn't even call his broker for advice.
"The idea that we're supposed to go to
Merrill Lynch
or someone like that is just bull----," scoffs Williams.
People like Williams have changed the face of investing, in tech and biotech and all the other sectors. And with online investing more accessible to millions through cheap trading accounts and more personal wealth, the change is likely to be permanent.
Take Steve Bolich, for instance. A 38-year-old Denver resident who trades from his home, Bolich almost never looks to Wall Street brokers or analysts for tips on what to buy. In fact, he tries to avoid it.
"I try to find stocks that don't have any analyst coverage," says Bolich, a former
Lockheed
computer analyst who claims about $4 million under management. Without analyst coverage, he says, a stock is likely to be undervalued and could be a gem waiting to be discovered.
Bolich favors stocks such as
Atrix Labs
(ATRX)
,
Alkermes
(ALKS) - Get Report
and
Emisphere Technologies
(EMIS)
, all of which have posted gains in recent months and were solidly in the black Tuesday.
Back to Basics?
With people like Bolich and Williams avoiding big-name stocks in the biotech sector, the formerly overheated sector may be flattening out, much to the relief of those who favor value investing, meaning assessing the management and product prospects.
"The amateurs have lost their shirts, but the professional investors are smiling," says Steve Delco, biotech analyst with
Miller Tabak
.
Like many analysts and investors, Delco watched the Nasdaq Biotech Index zoom to peak at about 1600 in early March with increasing unease. With momentum investors indiscriminately piling into biotech stocks, the market had to turn, he says. The question is, when do you advise clients to sell?
"This was the closest thing to gambling, and people were just losing their minds," says Delco. "It's like, when the shoeshine boy give you stock tips, you know it's time to get out of the market. Kids of friends of mine were picking biotech stocks for their friends."
With the great biotech craze perhaps over, Delco hopes investors will take a more sober view of biotech and value stocks on traditional means, such as discounted cash flows and net present value -- though that may be a challenge with companies that typically have no sales or earnings.
Unfortunately, that may work for analysts, but not for momentum traders. For Williams, momentum investing is a bit like sailing. And wind doesn't blow from dry analysis.
"You can't trade on fundamentals," says Williams. "I don't believe in them."
Wrong! Rear Echelon Revelations: Counter-Intuitive Lunacy: Buying a Market the Fed Wants Lower
By
James J. Cramer
3/21/00 5:36 PM ET
These days are getting totally jiggy now. I mean, think about it. What could be worse than a
Fed
rate hike? How about a
discount rate
hike? And then a
prime
boost right on top of it? Nothing but bad.
Yet you knew it had to rally. We sat there racking our brains about why in the heck we were buying anything, fully knowing that it would work simply because there was no other shoe to fall for a while.
We struggled with the sheer counter-intuitive lunacy of buying a market that the Fed wants lower. And then we said, so what, get the black tickets out like everyone else.
One thing you can't do in this tape is try to outthink or intellectualize things. You can't sit there and say, "That's a bad thing, so I will sell." You have to be thinking, "Was it in the market? If it was in the market, the bias is to buy, not sell."
Can you imagine trying to justify your purchases today in any theoretical construct? "Well, we bought stocks because the Fed is getting extremely vigilant about slowing down the economy and is determined to break the endless upward equity spiral."
OK. Sounds good. Makes sense. Well-done.
James J. Cramer is manager of a hedge fund and co-founder of TheStreet.com. At time of publication, his fund had no positions in any stocks mentioned. His fund often buys and sells securities that are the subject of his columns, both before and after the columns are published, and the positions that his fund takes may change at any time. Under no circumstances does the information in this column represent a recommendation to buy or sell stocks. Cramer's writings provide insights into the dynamics of money management and are not a solicitation for transactions. While he cannot provide investment advice or recommendations, he invites you to comment on his column at
jjcletters@thestreet.com.
Evening Update: Alas, Poor Micron, and More Postclose News
By
Eileen Kinsella
Staff Reporter
3/21/00 7:59 PM ET
Micron Technology
(MU) - Get Report
reported second-quarter earnings of 58 cents, including a loss of $7 million, far short of the 22-analyst estimate of 74 cents, but up from the year-ago 8 cents which also includes a charge. Micron said that average selling prices for its semiconductor memory products fell 20% in the second quarter from the first quarter. Gross margins of the company's semiconductor operations fell to 41% from 58% in the previous quarter. The stock was punished in after-hours trading, falling 11 1/4, or 8.6%, to 119 1/4 on 147,000 shares on
Instinet
.
For more on Micron's
results, see a separate story from
TheStreet.com/NYTimes.com
joint newsroom.
In other postclose news (
earnings estimates from First Call/Thomson Financial; earnings reported on a diluted basis unless otherwise specified
):
Earnings/revenue reports and previews
Arrow International
(ARRO)
posted second-quarter earnings of 54 cents a share, in line with the five-analyst estimate and up from the year-ago 47 cents.
CSK Auto
(CAO)
reported fourth-quarter earnings of 41 cents a share, a penny better than the 10-analyst estimate and up from the year-ago 31 cents.
H.B. Fuller
(FULL)
posted first-quarter earnings of 68 cents a share, a penny ahead of both the three-analyst estimate and the year-ago figure.
Herman Miller
(MLHR) - Get Report
posted third-quarter earnings of 40 cents a share, in line with the nine-analyst estimate and up from the year-ago 35 cents, which included a gain of 1 cent.
Liberate Technologies
(LBRT) - Get Report
posted a third-quarter pro forma loss of 14 cents a share, narrower than the six-analyst expected loss of 18 cents, but wider than the year-ago pro forma loss of 11 cents.
Movado
(MOVA)
warned it will miss expectations for the fourth quarter and full year, hurt partially by higher-than-anticipated operating costs. The five-analyst estimate is 46 cents for the quarter and $1.91 for the year. Movado said it expects to report a fourth-quarter net loss, before items, in the range of 21 cents to 25 cents a share on a diluted basis.
Oakley
(OO)
said it sees first-quarter earnings 2 cents ahead of expectations due to strong sales. The current two-analyst estimate calls for earnings of 3 cents a share.
Santa Cruz Operation
(SCOC)
said its second-quarter sales will be significantly lower than the company originally anticipated because of continuing Y2K-related delays and other effects. The company said it expects significant second-quarter losses and fiscal year results below the originally estimated 60 cents a share. Santa Cruz also said it is splitting into three independent divisions focused on e-business servers, Tarantella and Internet professional services.
Zebra Technologies
(ZBRA) - Get Report
said it expects sales of $95 million to $98 million for the first quarter, falling below analyst estimates. On average, analysts had been forecasting sales of $103.5 million. Zebra also set a buyback of up to 2 million common shares.
Offerings and stock actions
Chase Manhattan
(CMB)
set a 3-for-2 stock split.
Robertson Stephens
priced 3.5 million shares of
InSilicon
(INSN)
at $12 each, above the expected $9 to $11 range. InSilicon, which is a unit of
Phoenix Technologies
(PTEC)
, uses communications technology to design complex semiconductors for devices such as network routers and cell phones.
Miscellany
Heico
(HEI) - Get Report
will pay
United Technologies
unit
Pratt & Whitney
$3 million as part of a settlement of patent infringement and a trade secret misappropriation lawsuit, the companies said. The settlement ends a decade-long litigation between the companies.
New York Times
(NYT) - Get Report
said venture capital firms
Flatiron Partners
,
Highland Capital Partners
and
Chase Capital Partners
have bought $40 million of its three-year convertible debt for undisclosed terms.
Northwest Airlines
(NWAC)
said most of its afternoon and evening departures were delayed indefinitely after a construction crew severed a communications cable near the company's Minneapolis-St. Paul hub airport.
Warner-Lambert
(WLA)
is withdrawing its controversial diabetes drug Rezulin from the U.S. market. The
Food and Drug Administration
said that the company had agreed to an FDA request to pull the drug, which had been linked to fatal liver failure.
Bond Focus: Yield Curve Inverting to New Extremes
By
Elizabeth Roy
Senior Writer
3/21/00 12:22 PM ET
Long-term Treasury yields moved to new lows for the year today, extending their gains after the
Fed's
fully anticipated
decision to raise the
fed funds rate
to 6% from 5.75%.
But with the
Federal Open Market Committee
inclined to continue hiking the key short-term interest rate at future meetings, short-term Treasury yields continue to refuse to come down by any significant amount.
The divergent performance of long- and short-maturity Treasuries is once again inverting the Treasury yield curve to new extremes. A massive degree of yield-curve inversion occurred during the last few days of January and the first few of February, but then things stabilized. Now, the curve is getting even more inverted.
This strange order of things is due in part to the fact that the Treasury Department is reducing the supply of long-maturity debt, which has caused the prices of those issues to rise disproportionately, driving their yields below those of short-maturity issues.
But it also reflects confidence that the Fed's interest-rate hiking mission will succeed in keeping inflation from accelerating too much. Short-term yields are closely tied to the fed funds rate. But longer-term yields go up and down with inflation expectations. So the Fed's vigilance at the short end of the market makes investors willing to settle for lower yields at the long end.
The yield-curve inversion -- meaning long-term yields below short-term yields -- "started out as a supply story,"
Miller Tabak
chief bond market strategist Tony Crescenzi said. "Now I think it's transforming itself into something else."
The FOMC today decided to hike the fed funds rate for the fifth time in the last nine months. The action raises the rate to the highest level since July 1995. The Fed's rate-hiking mission is intended to slow the economy to a pace the Fed thinks it can sustain without threatening to ignite inflation -- something in the neighborhood of 3.5% to 3.75%. During the most recent quarter, the economy grew at a rate of 6.9%, according to the government's latest estimate.
In its statement announcing the move, the committee said it "remains concerned that increases in demand will continue to exceed the growth in potential supply, which could foster inflationary imbalances that would undermine the economy's record economic expansion." That suggests the committee will hike the fed funds rate further in the coming months.
There was little discernible market reaction because most Wall Street forecasters already held that opinion. Prior to today's announcement, the
fed funds futures
contracts listed on the
Chicago Board of Trade
were pricing in another 50 basis points of hiking by September. That did not change, meaning the markets continue to look for two more quarter-point rate hikes in the months ahead.
(The FOMC also hiked the less-important
discount rate
to 5.5% from 5.25%. The previous three fed funds hikes were also accompanied by discount rate hikes.)
The benchmark 10-year Treasury note ended up 12/32 at 102 20/32, dropping its yield 5.1 basis points to 6.141%, its best close since Dec. 13. The 30-year Treasury bond gained 17/32 to 103 30/32, dropping its yield 3.7 basis points to 5.966%, its best since Aug. 26. But the two-year note ended unchanged, its yield 6.514%, in the middle of the range it has occupied since mid-January.
With the 10-year and 30-year both rallying pretty hard, the difference between their yields moved further off its early-February low. But the differences in yield between the two- and 10-year notes, and between the two-year and the 30-year reached new extremes. The 30-year's yield is 54.8 basis points lower than the two-year's, the largest margin since March 1989. The 10-year's yield is 37.3 basis points lower than the two-year's, also the largest margin since March 1989.
At the
Chicago Board of Trade
, the June
Treasury futures contract gained 8/32 to 96 11/32.
Treasury prices gained in spite of another strong performance by stocks, which is seen as likely to quicken the economy's pulse.
Today's only major economic release had mixed implications for the bond market. The January
international trade
report revealed that the trade deficit widened to a new record of $28.0 billion from $24.6 billion in December. A growing trade deficit works to contain the economic growth rate, which the bond market likes. But the reason why the deficit widened -- imports rose 1.7% -- is indicative of very strong demand on the part of U.S. consumers.
Economic Indicators
Also today, the
BTM/Schroder Weekly Chain Store Sales Index
rose a scant 0.1%, while the year-on-year pace dropped from 2.4% to 2.0%, a new two-year low.
Meanwhile, the
Redbook Retail Average
fell 0.1% during the first three weeks of March compared to February. Its year-on-year pace of 1.1% is also a multiyear low.
Currency and Commodities
The dollar gained against the yen and the euro. It lately was worth 106.89 yen, up from 106.43 yesterday. The euro was worth $0.9640, down from $0.9730. For more on currencies, please take a look at
TSC's
new
Currency Watch column.
Crude oil for April delivery at the
New York Mercantile Exchange
fell to $28.00 a barrel, its lowest since early February, from $29.43.
The
Bridge Commodity Research Bureau Index
rose to 213.72 from 212.92.
Gold for April delivery at the
Comex
rose to $290.40 an ounce from $286.50.
TO VIEW TSC'S ECONOMIC DATABANK, SEE: http://www.thestreet.com/markets/databank/901994.html
Wednesday, March 22
Join TSC Tax reporter Tracy Byrnes and her guest Ted Tesser for a chat about taxes for traders on Yahoo! at 5 p.m. ET. Register for Yahoo! Chat at: chat.yahoo.com. It's free!
Copyright 2000, TheStreet.com