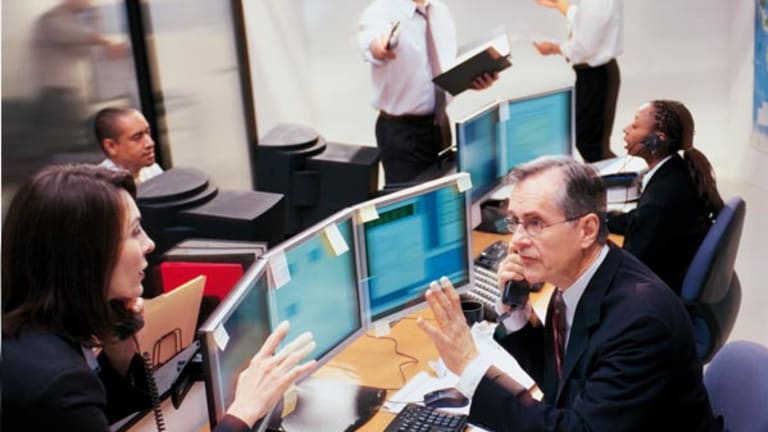 TheStreet.com's DAILY BULLETIN
March 21, 2000
http://www.thestreet.com
Market Data as of Close, 3/20/00:
o Dow Jones Industrial Average: 10,680.24 up 85.01, 0.80%
o Nasdaq Composite Index: 4,610.00 down 188.13, -3.92%
o S&P 500: 1,456.63 down 7.84, -0.54%
o TSC Internet: 1,184.83 down 87.78, -6.90%
o Russell 2000: 549.20 down 25.57, -4.45%
o 30-Year Treasury: 103 13/32 up 4/32, yield 5.988%
Companies in Today's Bulletin:
3Com (COMS:Nasdaq)
Caldera (CALD:Nasdaq)
Aether Systems(AETH:Nasdaq)
MicroStrategy (MSTR:Nasdaq)
In Today's Bulletin:
o Market Roundup: New Tech Gets Battered, Sends Nasdaq Whistling Down as Dow Gains
o Wrong! Dispatches from the Front: Cramer Might Sea a Change
o Evening Update: Caldera IPO Priced Above-Range; 3Com Reports
o Bond Focus: Long-Term Treasuries Cheer Lower Oil and Tech-Stock Prices
Also on TheStreet.com:
Telecom: Wireless Investors Breathing in Aether No More
The stock is a third off its highs, as valuations start to fade even for momentum favorites.
http://www.thestreet.com/tech/telecom/903895.html
Analyst Actions: Analyst Actions: Dell's Price Target, Tribune's Rating Hiked
http://www.thestreet.com/markets/upgrades/903420.html
Biotech/Pharmaceuticals: Biotech Investors Waving Bye-Bye as Another Selloff Unfolds
Shares get clipped for a third day over the span of a week despite a dearth of news.
http://www.thestreet.com/stocks/biotech/903888.html
View From the North: Canadian Biotechs Get Caught Up in Selloff Sparked by Genetic Announcement
Still, observers think there are solid biotech plays out there.
http://www.thestreet.com/int/viewnorth/903967.html
Market Features: Fed Meeting Preview: There's a Hike Coming, and It's Not the Last
Alan Greenspan and his Fed cohorts will keep laying on quarter-point rate hikes until the economy cools.
http://www.thestreet.com/markets/marketfeatures/903864.html
Market Roundup: New Tech Gets Battered, Sends Nasdaq Whistling Down as Dow Gains
By
Aaron L. Task
Senior Writer
3/20/00 5:16 PM ET SAN FRANCISCO -- Amid a lot of background noise, and a day ahead of an expected
Federal Reserve
rate hike, the bottom line is that the trend evident last week re-emerged today. That is, valuations matter.
It would be a gross oversimplification (as well as an increasingly tired trope) to say Old Economy stocks benefited at the expense of New Economy stocks. Still, the
Dow Jones Industrial Average
rose 85.01, or 0.8%, to 10,680.24 while the
Nasdaq Composite Index
shed 187.64, or 3.9%, to 4610.49 -- suffering the third-worst point decline in its history.
The final tallies set up the potential for deliciously cliched headline possibilities for tomorrow's newspapers and tonight's TV broadcasts. But -- as is often the case -- a casual glance does not tell the whole story.
Notably, the Dow's gains were inspired largely by technology components
Hewlett-Packard
(HWP)
,
Intel
(INTC) - Get Intel Corporation (INTC) Report
and
IBM
(IBM) - Get International Business Machines (IBM) Report
, rather than Old Economy cyclicals or consumer-focused names.
Other Dow movers included
AT&T
on the upside while
ExxonMobil
(XOM) - Get Exxon Mobil Corporation Report
was the biggest drag, falling 2.9% as crude prices declined.
Meanwhile, beyond tech bellwethers, the mood in the sector was depressed, if not worse.
A major catalyst for the Nasdaq's retreat was
MicroStrategy
(MSTR) - Get MicroStrategy Incorporated Class A Report
, which tumbled 61% after saying it would
restate its financial results for 1999. The Internet software developer said it was changing the way it recognized revenues for certain contracts following guidance by the
Securities and Exchange Commission
.
Concerns about revenue recognition go beyond MicroStrategy's specific case, but that firm's announcement heightened questions about using price to revenue as the "valuation standard" for Internet stocks, according to Barry Hyman, chief market strategist at
Ehrenkrantz King Nussbaum
.
It's the definition of standards here that
is very concerning," Hyman said. MicroStrategy's response to the SEC "changes the parameters. I don't look for a major Internet collapse, but we may have to go down somewhat more to wash out weaker ones."
Internet stocks were further saddled by an article in
Barron's
that questioned the ability of many names in the sector to maintain operations at current cash-burn rates.
TheStreet.com Internet Sector
index plummeted 87.78, or 6.9%, to 1184.83, although few DOT components were mentioned in the survey, which was contradicted and criticized by many.
Among big Net names in the news,
America Online
(AOL)
added 3.4% after inking a
joint venture with
PurchasePro
(PPRO)
, which fell 14.9%.
Also,
priceline.com
(PCLN)
fell 14.4% after (another)
Barron's
article suggested the company could face increasing competition from a proposed online venture by the hotel industry.
Other so-called highfliers in the tech and biotech sectors also got battered today as momentum continued to show its power to move stocks down as well as up.
"It's a potential rout on the Nasdaq," Hyman said. "Clearly the winners are blue-chips because they represent actual earnings."
The strategist noted a "flight to quality" within the tech sector, as evidenced by strong gains from bellwethers such as Intel and
Dell
(DELL) - Get Dell Technologies Inc Class C Report
-- which received positive comments from
Salomon Smith Barney
. Other notable tech gainers included
Micron Technology
(MU) - Get Micron Technology, Inc. (MU) Report
and
Motorola
(MOT)
. While the
Nasdaq 100
shed 4%, the older-tech
Morgan Stanley High Tech 35
slid just 1.2%.
Among big losers today were tech names such as
Infospace
(INSP) - Get Inspire Medical Systems, Inc. Report
,
Adaptive Broadband
(ADAP) - Get Adaptimmune Therapeutics PLC Sponsored ADR Report
and
Rambus
(RMBS) - Get Rambus Inc. Report
, as well as biotech plays such as
Abgenix
(ABGX)
and
Protein Design Labs
(PDLI) - Get PDL BioPharma, Inc. Report
. The
American Stock Exchange Biotech Index
shed 11.8%.
Few Alarm Bells Ring
Despite the Comp's big decline, most traders took a somewhat relaxed attitude about the session.
"These are the markets we've been in," said Sam Ginzburg, senior managing director of equity trading at
Gruntal
. "This is what the Comp does. It's not something that's alarming me."
Like many, Ginzburg noted trading volumes were down as many players chose to sit out the action ahead of tomorrow's Fed meeting.
In
New York Stock Exchange
trading, 917.7 million shares were exchanged while declining stocks led advancers 1,569 to 1,381. In
Nasdaq Stock Market
action 1.5 billion shares traded while losers led 3,029 to 1,293. New 52-week highs bested new lows 45 to 30 on the Big Board while new lows led 116 to 81 in over-the-counter trading.
"Tech is not going away but it's going to struggle here because it moved so far so fast," said Robert Harrington, co-head of block trading at
PaineWebber
. "Valuations are still out of whack."
Once the Fed meeting has passed, the focus will return to earnings and growth, the trader said. "Some highfliers will show good growth and revenue and will go up. Some will show things aren't so good" and will continue to suffer.
Finally, Harrington noted the Nasdaq is still struggling on a technical basis after having its "upside momentum" broken last week. Last
Thursday's intraday low around 4455 will be a short-term focus for market players, he said.
Among broader market averages, the
S&P 500
dipped 7.84, or 0.5%, to 1456.63 while the
Russell 2000
dumped 25.57, or 4.5%, to 549.20.
Among other stocks in the news,
Lehman Brothers
(LEH)
fell 4% despite reporting
earnings well in excess of expectations. The
American Stock Exchange Broker/Dealer Index
slid 4%
Among other indices, the
Dow Jones Transportation Average
fell 24.24, or 0.9%, to 2599.59, the
Dow Jones Utility Average
slid 1.88, or 0.7%, to 288.05; and the
American Stock Exchange Composite Index
shed 4.73, or 0.5%, to 1106.27.
For coverage of today's top stocks in the news, see the Company Report, published separately
.
Wrong! Dispatches from the Front: Cramer Might Sea a Change
By
James J. Cramer
3/20/00 3:28 PM ET
Ah, those fun-loving margin clerks. Are they having a good time of things. "With a snip, snip here and a chop, chop there and a couple of puts and calls, that's how they pass the day away..."
You get the picture.
We are debating buying some stuff back but I figure we wait until things get nastier. That little buy program makes things a little less attractive. We will probably add fives and 10s at the close so we can sell them into tomorrow's opening bounce.
Some of us think this is just an aftershock, a weakened wave that breaks the remaining dishes and glass. Me? I think it could be a sea change: out of soft into hard, out of concept into earnings, out of Net into iron.
The emphasis is on "could."
We are watching closely. Too early to draw a conclusion.
James J. Cramer is manager of a hedge fund and co-founder of TheStreet.com. At time of publication, his fund had no positions in any stocks mentioned. His fund often buys and sells securities that are the subject of his columns, both before and after the columns are published, and the positions that his fund takes may change at any time. Under no circumstances does the information in this column represent a recommendation to buy or sell stocks. Cramer's writings provide insights into the dynamics of money management and are not a solicitation for transactions. While he cannot provide investment advice or recommendations, he invites you to comment on his column at
jjcletters@thestreet.com.
Evening Update: Caldera IPO Priced Above-Range; 3Com Reports
By
Eileen Kinsella
Staff Reporter
3/20/00 8:06 PM ET
3Com
(COMS)
posted third-quarter earnings of 27 cents a share, ahead of the 24-analyst estimate of 25 cents, and the year-ago 24 cents which includes items. 3Com announced plans to exit the high-end networking business and sell its dial-up modem and its PC card businesses, as part of a series of moves intended to reignite growth. The company said it will narrow its focus on high-speed Internet access for the consumer market with DSL and cable modems.
3Com said the moves complete a reorganization that began with the sale of a 4% stake in its
Palm
(PALM)
unit. The company also announced plans to buy closely held
Call Technologies
for $90 million.
For more on this
story, check out coverage from
TheStreet.com/NYTimes.com
joint newsroom.
Robertson Stephens
priced 5 million shares of
Caldera
(CALD)
at $14 each, above the estimated $10-to-$12 range. The company develops software based on the Linux operating system.
In other postclose news (
earnings estimates from First Call/Thomson Financial; earnings reported on a diluted basis unless otherwise specified
):
Earnings/revenue reports and previews
Corel
(CORL)
reported a first-quarter loss of 19 cents a share, which included a gain of 10 cents a share. The lone-analyst estimate was for a loss of 16 cents a share, while the year-ago loss was 24 cents a share. Corel said it expects results in the next two quarters to mirror the first-quarter financials, based on its revenue and cost structures.
Micron Electronics
(MUEI)
reported second-quarter earnings of 6 cents a share, beating the 14-analyst estimate of 4 cents and the year-ago 4 cents. The company said it hired an investment banker to unlock the value of its Internet unit.
Tibco Software
(TIBX)
posted first-quarter earnings of 1 cent a share, ahead of the two-analyst expected loss of 1 cent and the year-ago loss of 4 cents a share.
Mergers, acquisitions and joint ventures
North Fork Bancorp
(NFB)
, which is battling for control of
Dime Bancorp
(DME)
, said Dime shareholders have voted enough proxies to defeat a proposed $1.4 billion merger with
Hudson United
(HU)
, according to a Delaware judge.
Xpedior
(XPDR)
said it entered a strategic relationship with
Gibraltar
(ROCK) - Get Gibraltar Industries, Inc. Report
to help Gibraltar develop an e-business strategy.
Offerings and stock actions
Hooper Holmes
(HH)
said its board declared a 2-for-1 stock split.
Analyst actions
Diamond Offshore Drilling
(DO) - Get Diamond Offshore Drilling, Inc. Report
;
Transocean Offshore
(RIG) - Get Transocean Ltd. Report
: both UP to buy from outperform at
ABN Amro
.
Miscellany
Digital Lightwave
(DIGL)
said a federal appeals court dismissed all parts of a settlement appeal that pertain to the company.
Integrated Electronics
(IEE)
said it appointed H. David Ramm as president, CEO and executive director, effective immediately. Ramm, who most recently was president of a subsidiary of
Enron
(ENE)
, succeeds Jim Wise, who was named vice chairman.
Bond Focus: Long-Term Treasuries Cheer Lower Oil and Tech-Stock Prices
By
Elizabeth Roy
Senior Writer
3/20/00 5:15 PM ET
Heartened by a steep drop in the price of oil and the retreating
Nasdaq Composite Index
, long-term Treasury prices improved for the sixth consecutive session today, dropping their yields to new lows for the year.
But volume was exceedingly light on the day before the
Federal Open Market Committee's
second meeting of the year, which is universally expected to produce a hike in the
fed funds rate
from 5.75% to 6%.
With no major economic indicators to give the Treasury market direction, just $18.1 billion of securities changed hands, according to tracker
GovPX
. That's 46.4% below average for a Monday over the past month.
Instead, long-term yields were guided by falling commodity prices. Commodity prices have been climbing for much of the last year, breeding worry among bond investors that prices in general will start rising at a faster rate. Long-term yields go up and down with inflation expectations.
The falling Nasdaq Comp also contributed to the long-maturity rally, by erasing some of the outsized gains that Fed Chairman
Alan Greenspan
thinks are fueling economic growth at an unsustainable rate by encouraging too fast a pace of consumer spending.
To the extent that the Fed hopes its interest-rate hikes rein in the stock market, the focus of its concern is "more likely the Nasdaq than the Dow,"
A.G. Edwards
bond market strategist Bill Hornbarger said.
But while long-maturity issues rallied, the short-maturity ones that reflect investors' near-term expectations about the Fed lost ground, indicating no change in the consensus that fed funds rate hikes (there have been four 25-basis-point moves since June) will keep coming until there is clear evidence that the economy is slowing.
Regarding tomorrow's FOMC meeting, the
fed funds futures
contracts listed on the
Chicago Board of Trade
were fully expecting a 25-basis-point rate hike, and put the odds of a 50-basis-point hike at 30.2%.
The benchmark 10-year Treasury note ended up 5/32 at 102 10/32, dropping its yield 2.1 basis points to 6.183%, its best close since Dec. 13. The 30-year bond rallied 7/32 to 103 19/32, cutting its yield to 5.990%, the lowest since Sept. 24. But the two-year note fell 2/32, lifting its yield 3.5 basis points to 6.532%.
The split performance of short- and long-term Treasuries drove the inversion of the Treasury yield curve to new extremes. The difference in yield between the two-year note and the 10-year note widened from 29.3 basis points to 34.9, while the difference between the two-year and 30-year yields went from 49.1 basis points to 54.2.
At the Chicago Board of Trade, the June
Treasury futures contract gained 4/32 to 95 11/32.
Economic Indicators
Today's only economic release, the
federal budget
report for February, showed a slightly larger deficit in that month than had been anticipated. Outlays exceeded revenues by $41.7 billion, vs. an average forecast among economists polled by
Reuters
of a $40.3 billion deficit. But the deficit was narrower than the February 1999 deficit of $42.3 billion. Through the first five months of fiscal 2000, the cumulative deficit is $188 million, compared to a cumulative deficit of $26.4 billion during the first five months of fiscal 1999.
Currency and Commodities
The dollar weakened against the yen and the euro. It lately was worth 106.36 yen, up from 106.72 Friday. The euro was worth $0.9728, up from $0.9720. For more on currencies, please take a look at
TSC's
new
Currency Watch column.
Crude oil for April delivery at the
New York Mercantile Exchange
sank 4.7% to $29.43 a barrel from $30.91 on optimism that next week's meeting of
OPEC
oil ministers will produce an agreement to boost output.
Weakness throughout the commodity complex dragged the
Bridge Commodity Research Bureau Index
down 1.8% to 212.99 from 216.88.
However, gold for April delivery at the
Comex
rose to $286.80 an ounce from $285.00.
TO VIEW TSC'S ECONOMIC DATABANK, SEE:
http://www.thestreet.com/markets/databank/901994.html
Copyright 2000, TheStreet.com