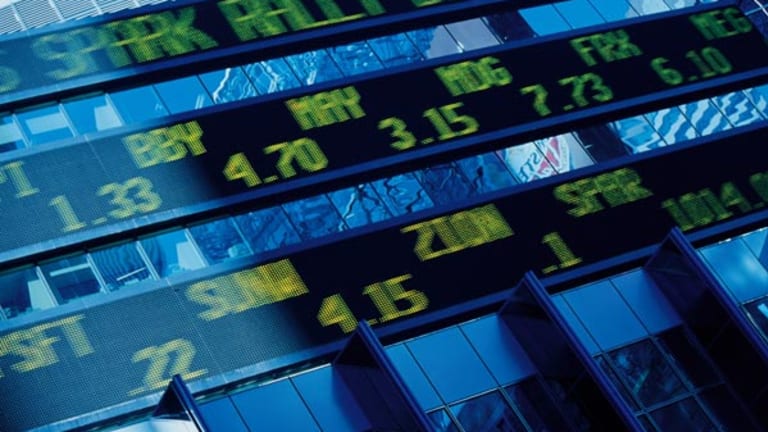 Publish date:
daily03-15-00
TheStreet.com's DAILY BULLETIN
March 16, 2000
http://www.thestreet.com
Market Data as of Close, 3/15/00:
o Dow Jones Industrial Average: 10,155.92 up 344.68, 3.51%
o Nasdaq Composite Index: 4,587.55 down 119.08, -2.53%
o S&P 500: 1,393.68 up 34.53, 2.54%
o TSC Internet: 1,199.77 down 73.66, -5.78%
o Russell 2000: 560.41 down 12.58, -2.20%
o 30-Year Treasury: 102 13/32 up 8/32, yield 0.200%
Companies in Today's Bulletin:
Merrill Lynch (MER:NYSE)
Colgate (CL:NYSE)
Coca-Cola (KO:NYSE)
In Today's Bulletin:
o Brokerages/Wall Street: Merrill Jumping Back Into Nasdaq Trading Game
o Wrong! Dispatches from the Front: Digging Graves in the S&P
o Evening Update: Phillips Buys Arco's Alaskan Biz for $7 Billion
o Bond Focus: Blue-Chip Romp Stalls Interest-Rate Rally
TheStreet.com Community
You know TheStreet.com's the place for great market commentary, but did youknow it's also the place for intelligent investing discussion?
Check out Cramer's Latest board for insightful stock plays. Also, join the conversation in Jim Seymour's Tech Savvy, Gary B. Smith, Ben Holmes' IPOs and other commentary boards and share your thoughts about various aspects of the market. As TSC's Investment Challenge began another round this week, share trading strategies with other competitors on the Investment Challenge message board.
TSC Message Boards:
http://www.thestreet.com/cap/browse/index.jhtml
*********************
"TheStreet.com" on the Fox News Channel
Don't miss "TheStreet.com" as guest Anthony Dwyer, chief market strategist at Kirlin Holdings, joins our panel of writers for this week's show. "TheStreet.com" is on Fox News Channel at 10 a.m. and 6 p.m. EST Saturday and at 10 a.m. EST Sunday.
For a taste of the show, check out the latest transcript:
March 11, 12: Guest Philip Dow
http://www.thestreet.com/talk/tvtranscripts/899369.html
*********************
As always, please feel free to send any comments or questions tochats@thestreet.com.
If you have questions or comments about TSC message boards, feel free todrop us a line at boards@thestreet.com.
Hope to see you there!
TSC Community Staff
Also on TheStreet.com:
Market Features: What Correction? People Are Still Buying!
Market players are finding it hard to be afraid of the Nasdaq's recent woes.
http://www.thestreet.com/markets/marketfeatures/901289.html
Mutual Funds: Tech Brain Drain Continues at Fidelity
The giant fund group is losing its third young tech manager in the past six weeks.
http://www.thestreet.com/funds/funds/901209.html
Global Portfolio: A Presidential Election That Matters
Political tensions in Taiwan knock the market down, but it's a good time to buy.
http://www.thestreet.com/int/tradewinds/900549.html
Brokerages/Wall Street: Volpe Execs Jump the Good Ship Prudential
The firm's post-merger future gets cloudy after a wave of defections.
http://www.thestreet.com/stocks/brokerages/901225.html
Brokerages/Wall Street: Merrill Jumping Back Into Nasdaq Trading Game
By
Caroline Humer
Senior Writer
3/15/00 7:21 PM ET
A few months after taking on the online brokers, retail giant
Merrill Lynch
(MER)
is now plotting to take back some of the increasingly lucrative
Nasdaq
trade-execution turf.
In the past couple of years, firms such as
Knight/Trimark Group
(NITE)
and
Charles Schwab's
(SCH)
Capital Markets L.P.
(formerly
Mayer & Schweitzer
) have benefited from the surge in Nasdaq trading.
Merrill and other major securities firms, meanwhile, have trimmed their efforts in over-the-counter-stock market making as new order-handling rules narrowed spreads and began cutting into trading profits in 1997. (Market makers are firms that maintain firm prices on stocks, sometimes committing their own capital to execute trades.)
But now, Merrill will challenge those Nasdaq firms for their share of that pot of gold. The firm plans to trade about 1,500 new Nasdaq stocks by early next year on a new technology platform, and it will continue to trade the 550 stocks it now makes markets in on a separate floor.
Traditionally, these firms have profited from playing the spread between what they buy the stock for and what they can sell it for, but as those spreads have narrowed, the firms have turned to volume to boost the bottom line. Knight, in particular, has played this game successfully, to the tune of a $5.3 billion market capitalization. Because Merrill is one of Knight's top five customers, that could mean fewer trades on certain stocks.
"It's not good news
for Knight. I'm actually surprised that Merrill is doing that," says Rich Sokol, an analyst for Denver-based
Westcore Funds
. (His fund owns Knight.) "If Merrill is doing this, that would be bucking the trend. If you look at most of the other market makers, they have all scaled back their activity."
Knight and Merrill, however, are less concerned, saying that the plan will have no effect on their current ties, including Merrill's agreement to clear trades for Knight. The unit, which hasn't yet been named, is expected to be located in New Jersey, not in Merrill's New York headquarters.
Ken Pasternak, president and chief executive officer of Knight, says, "We actually see ourselves having the potential to increase our volume with
Merrill." He cites growing overall securities volume and the fact that Merrill will be trading only 1,500 stocks, while online trading customers may want to trade thousands of other stocks, as reasons Knight won't be affected. Knight makes markets in 8,800 stocks.
So while some of Merrill's business no longer will be going to Knight or other market makers, the firm still will need to send order flow to outside market makers for stocks it doesn't make markets in.
Sokol suggests that with the order flow Merrill has from its customers alone, it has a better shot at being able to get enough liquidity for success than some of its competitors.
In fact, the Merrill Lynch unit will have enough volume just from executing orders from Merrill's retail and institutional customers to get started, in part due to explosive trading volume and the growth of self-directed online trading, Merrill executives say. New technology also means trading will be more efficient than it was a few years ago when Merrill began slimming down, and that's likely to result in lower trading costs for its clients.
"Here it is two-and-one-half to three years later and the conditions of the market are such, and the order flow our customers are sending us is such, that we think it's time to expand our market-making capabilities," says Tom Joyce, Merrill's head of equity market structures.
The market is ripe. In 1999, the value of shares traded on the Nasdaq rose to $11 trillion, up from $5.8 trillion in 1998. At the same time, average daily share volume on the Nasdaq reached more than 1.08 billion shares in 1999, up from 802 million shares in 1998.
New technology and liquidity are what's needed to compete with firms such as Knight, and the fast and cheap electronic order-matching systems that have sprung up in recent years. Because of the broker-dealer's obligation to get the best execution for the customer, orders naturally flow to the most liquid markets with the best prices, creating a circular effect that in turn makes that market more attractive to outside orders.
As financial markets change -- highlighted by the
Pacific Exchange's
recent
news that it will team up with electronic communications network
Archipelago
to make its exchange entirely electronic -- customers are increasingly going to demand the cheapest, fastest trades.
It's up to Merrill to deliver.
Wrong! Dispatches from the Front: Digging Graves in the S&P
By
James J. Cramer
3/15/00 4:38 PM ET
We are seeing the fruits of a failed strategy that many hedge funds put on. Unwilling to sell their highflying tech, they hedged it by shorting the
S&P
. (They couldn't short the
NDX
because it was too volatile). That's how
Colgate
(CL) - Get Report
could rally viciously. That's how the drugs zoomed. That's the rally behind
Coke
(KO) - Get Report
.
Here's how it works. People sell S&P calls when they are rich, or have a lot of premium, to hedge their exposure to the market.
Many of the hedgers use that index because it is the most liquid.
But the hedge didn't work. The collapse came in tech. The S&P hedge had to be brought in or covered. When the hedgers came in to cover, their frantic buying was so powerful it moved the underlying stocks that make up the index. Sellers didn't even have time to register their sales, the move was so fast.
That's why it was totally logical that the
SPX
would rally and the NDX would fail. They went in tandem. And the higher that the S&P went up the more urgent it was to take the short off before it wiped out your tech gains.
A recipe for disaster for new tech holders that served to put some life in the old stocks and out a nifty floor on the
Dow Jones Average
. And we wonder why I keep stressing that you have to take something off the table.
Random musings
: Join me at 5:00 p.m., when I will discuss this and other issues on my
Yahoo!
(YHOO)
chat.
********
James J. Cramer is manager of a hedge fund and co-founder of TheStreet.com. At time of publication, his fund had no positions in any stocks mentioned. His fund often buys and sells securities that are the subject of his columns, both before and after the columns are published, and the positions that his fund takes may change at any time. Under no circumstances does the information in this column represent a recommendation to buy or sell stocks. Cramer's writings provide insights into the dynamics of money management and are not a solicitation for transactions. While he cannot provide investment advice or recommendations, he invites you to comment on his column at
jjcletters@thestreet.com.
Evening Update: Phillips Buys Arco's Alaskan Biz for $7 Billion
By
Tara Murphy
Staff Reporter
3/15/00 7:13 PM ET
Phillips Petroleum
(P)
agreed to buy Atlantic Richfield's
(ARC) - Get Report
oil and gas assets in Alaska for $7 billion.
The deal, which is set to close in the second quarter, calls for Phillips to retain all of Arco's workers in Alaska. Phillips said the acquisition would tack on $1.28 a share to its fiscal 2000 earnings. Before the announcement, the 24-analyst estimate expected the company to post earnings of $3.27 a share.
In other postclose news (earnings estimates from
First Call/Thomson Financial
; earnings reported on a diluted basis unless otherwise specified):
Mergers, acquisitions and joint ventures
Zions Bancorp
(ZION) - Get Report
said it did not infringe upon terms of its merger agreement with
First Security
and said that it has not abandoned its recommendation urging investors to favor the deal. First Security charged Zions broke certain terms of their planned merger.
Goldman Sachs
scratched a fairness opinion on the deal two days ago because of its hefty price tag. Based on Wednesday's closing prices, the deal now values First Security at $3.4 billion, or $17.13 a share, below the initial figure of $5.9 billion announced in June.
Earnings/revenue reports
Electro Scientific
(ESIO) - Get Report
posted third-quarter earnings of 43 cents a share, beating the eight-analyst estimate of 40 cents and up from the year-ago 26 cents.
MacDermid
(MRD)
said it would most likely miss the fourth-quarter five-analyst estimate of 52 cents a share. The company cited slowness in its surface finishing business as the culprit for the shortfall.
Mark IV
(IV)
reported fourth-quarter earnings of 38 cents a share, a penny better than the three-analyst estimate and up from the year-ago 28 cents. The company said it could meet the fiscal 2001 three-analyst estimate of $1.90 a share while oil and mining activity regain strength. Mark IV said it has retained
Bear Stearns
to examine strategic alternatives for the company, which could include a possible sale or merger.
7-Eleven
(SVEV)
said February same-store sales increased 10.7%.
Offerings and stock actions
Moden Media Poppe Tyson
(MMPT)
filed a 4.5 million-share secondary offering.
Credit Suisse First Boston
,
Robertson Stephens
,
Thomas Weisel Partners
and
First Union Securities
are serving as the deal's lead underwriters.
Miscellany
Marketwatch.com
(MKTW)
said Philip Hotchkiss has stepped down as president. Marketwatch.com said Chairman and CEO Larry Kramer will fill the position in the interim until a new president is tapped.
The
New York Stock Exchange
asked
W.W. Grainger
(GWW) - Get Report
to explain why its shares were so heavily traded during today's session. The stock, which closed up 1 7/16 to 46 15/16, saw volume of 1.1 million shares, more than twice the average daily volume.
For a look into this evening's after-hours trading action, please check out
TheStreet.com's
The Night Watch.
Bond Focus: Blue-Chip Romp Stalls Interest-Rate Rally
By
Elizabeth Roy
Senior Writer
3/15/00 5:40 PM ET
Treasury prices ended little changed, shedding earlier gains as the blue-chip stock proxies rallied. Only the 30-year bond rallied in advance of tomorrow's buyback by the Treasury Department of $1 billion of long-maturity issues.
"You may see it give back the gains tomorrow after that takes place," said Bill Kirby, head of government bond trading at
Prudential Securities
. The buyback, which will be the second in as many weeks, will target 30-year bonds issued between 1988 and 1991. It's one of the ways the Treasury Department is dealing with the federal budget surplus, which reduces its need for outstanding debt. By buying back old Treasury securities while continuing to issue some new ones, it maintains liquidity better than if it completely ceased new issuance.
The benchmark 10-year Treasury note ended up 2/32 at 101 18/32, trimming its yield a fraction of a basis point to 6.285%. The erstwhile benchmark 30-year Treasury bond rose 8/32 to 102 13/32, trimming its yield by 1.8 basis points to 6.074%.
At the
Chicago Board of Trade
, the June
Treasury futures contract rose 14/32 to 95 15/32.
For part of the session all Treasuries rallied as oil retreated to its lowest level in over two weeks. But as the
Dow Jones Industrial Average
and the
S&P 500
went into overdrive, the gains faded.
"If you watch the Dow, stocks are doing better, so the bond market's been going down," said Patrick Kennedy, portfolio manager at
Pitcairn Trust
in Jenkintown, Penn. "We probably won't start trading more on fundamentals till the PPI comes out tomorrow." The
Producer Price Index
for February is slated for release at 8:30 a.m. EST on Thursday. "Till we get some really strong numbers or some really weak numbers, I'd expect the bond market to trade inversely with the stock market."
At the same time though, the stock market's recent vulnerability makes bond investors afraid to be short, Kennedy said. "On the one hand the bond market looks high, but what if the Dow drops another 250, 300 points tomorrow? The stock market is so tenuous right now I'm not willing to make that bet, and I don't think many people are."
"It's interesting, heady stuff," Prudential's Kirby said. "Oil's been grinding a bit lower, and there's probably some asset allocation taking place, moving from fixed-income to equities and vice versa. More of the latter recently." But while the economy's shows only tentative signs of slowing, there have been no alarming signs of inflation either, he noted.
Today, the bond market clutched a mixed bag of second-tier economic indicators. The most important was friendlier than expected.
Industrial production
increased a bit less than expected in February -- 0.3% vs. an average forecast of 0.5% by economists polled by
Reuters
. Manufacturing output rose 0.3%, while the report's other two components offset each other. Mining output fell 0.7% while utilities output gained 0.7%.
And the capacity utilization rate, which measures anti-inflationary slack in the industrial economy, held steady at 81.7%. It had been forecast to rise to 81.8%.
The results were bond-market friendly because they show part of the economy growing at a slower-than-expected pace.
On the other hand, another, less important economic report detected the biggest increase in import prices in nearly 10 years. The
Import Price Index
rose 1.9%, its biggest increase since October 1990. Import prices are only a small piece of the total inflation picture, but they are now rising at the fastest pace -- 9.0% -- since October 1990.
Of course, oil accounts for the bulk of it. The price of petroleum imports rose 13.9% in January, and excluding oil, import prices are barely changed from a year ago.
Economic Indicators
Also today,
business inventories
rose 0.5% in January, two tenths more than expected. The pace of inventory growth rose from 4.7% to 5.1%, while the pace of sales growth accelerated from 9.3% to 10.3%.
The
Housing Market Index
fell sharply, from 69 in February to 61 in March, the lowest since January 1998.
And the weekly
Mortgage Applications Survey
detected slight decreases in both refinancing and new mortgage activity. The Refinancing Index slipped to 361.8 from 377.5, while the Purchase Index fell to 290.0 from 291.7.
Currency and Commodities
The dollar gained against the yen and the euro. It lately was worth 105.61 yen, up from 105.23 yesterday. The euro was worth $0.9667, down from $0.9680. For more on currencies, please take a look at
TSC's
new
Currency Watch column.
Crude oil for April delivery at the
New York Mercantile Exchange
fell to $30.72 a barrel from $31.69.
The
Bridge Commodity Research Bureau Index
rose to 216.31 from 215.26.
Gold for April delivery at the
Comex
rose to $289.90 an ounce from $289.70.
Copyright 2000, TheStreet.com