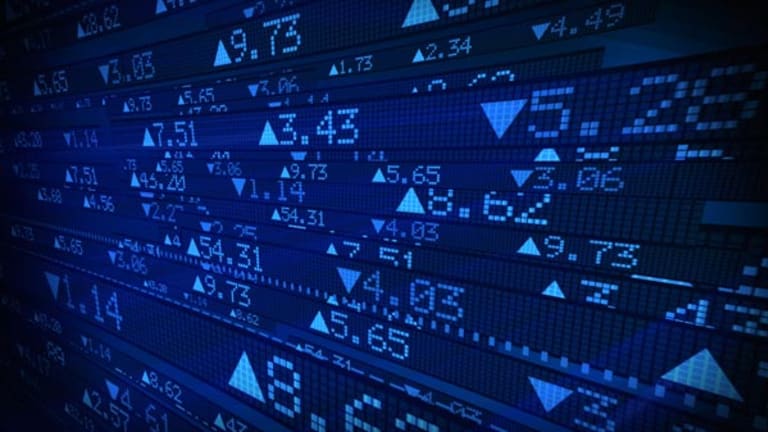 Publish date:
daily03-13-00
TheStreet.com's DAILY BULLETIN
March 14, 2000
http://www.thestreet.com
Market Data as of Close, 3/13/00:
o Dow Jones Industrial Average: 9,947.13 up 18.31, 0.18%
o Nasdaq Composite Index: 4,907.24 down 141.38, -2.80%
o S&P 500: 1,383.62 down 11.45, -0.82%
o TSC Internet: 1,292.97 down 27.34, -2.07%
o Russell 2000: 590.14 down 13.67, -2.26%
o 30-Year Treasury: 101 03/32 up 3/32, yield 6.162%
Companies in Today's Bulletin:Dell (DELL:Nasdaq)
Ariba (ARBA:Nasdaq)
Aetna (AET:NYSE)
Safety-Kleen (SK:NYSE)
Qwest (Q:NYSE)
US West (USW:NYSE)
Deutsche Telekom(DT:NYSE ADR)
In Today's Bulletin:
o Biotech/Pharmaceuticals: Biotechs Continue Weeklong Retreat but Investors Aren't Fazed
o Wrong! Tactics and Strategies: Friends and Family Nothing but Trouble
o Evening Update: Dell and Ariba Ink B2B Pact and IPOs Priced in Evening Action
o Bond Focus: After Extraordinary Morning, Treasuries Settle for Ordinary Gains
Also on TheStreet.com:
Health Care: Aetna Says It's Not Seeking a Buyer
The announcement comes a day after a joint bid from Wellpoint and ING Group was rejected.
http://www.thestreet.com/brknews/healthcare/899472.html
Internet: Infosys' Quiet President Lets Stock Speak for Itself
But the company's not shy about India's strengths when it comes to information technology.
http://www.thestreet.com/tech/internet/899672.html
General: Investigation Finds Accounting Irregularities at Safety-Kleen
The waste-management company is down in the dumps while undergoing two investigations on its financial practices.
http://www.thestreet.com/brknews/general/899813.html
Tech Savvy: A Qwest-US West Postmortem: Gaming Men Who Behave Badly
Seymour gives his insight into the whole seamy tale -- and offers advice for investors.
http://www.thestreet.com/comment/techsavvy/899527.html
Biotech/Pharmaceuticals: Biotechs Continue Weeklong Retreat but Investors Aren't Fazed
By
Dane Hamilton
Staff Reporter
3/13/00 8:30 PM ET
Is the biotech sizzle fizzling?
Investors' insatiable demand for biotech stocks may be thinning, judging by the last week's 20%-plus decline in the
Amex Biotech Index
and Monday's broad biotech selloff. But few observers are willing to call a top on the mini-bull market in biotech shares, and it appears the only worriers for now are company executives who fear they see the funding floodgates closing on their cash-hungry outfits.
Shares in dozens of biotechs declined Monday, along with the main indices. Biotechs taking a beating included
Chiron
(CHIR) - Get Report
, down 14 3/16, or 24%, to 45 3/4;
Repligen
(RGEN) - Get Report
, down 2 13/16, or 19%, at 11 5/8; and
Human Genome Sciences
(HGSI)
, down 19 15/16, or 12%, at 152 9/16. The
Nasdaq Biotech Index
fell 7.6%.
Yet most investors in the sector remain positively sanguine, saying one might expect a selloff after the wild buying spree that ensues after a long-languishing sector is rediscovered.
Glass Half-Full
"If shares move up too quickly, you tend to get random buying of the sector. It's quite natural to see a pullback," says Michael Bourne, fund manager with
Finsbury Asset Management
in London, which has some $500 million invested in biotech and other technology stocks. "We view today's setback as positive. It may carry on for a few weeks."
Upstairs, Downstairs
Nasdaq Biotech Index's volatile 2000
Source: BigCharts
Like many biotech fund managers and analysts, Bourne reiterates the mantra of the biotech bulls: Many of the 300 or so public U.S. biotechnology companies are getting better at what they are doing. And the
Food and Drug Administration
is approving more biotechnology industry-invented drugs than ever before, while big drug companies, which often finance the expensive and time-consuming drug-development process, need the products more than ever to bolster their giant and less productive research-and-development complexes.
Bourne, who holds U.K. stocks such as
Celltech
and
Cambridge Antibody Technology
and U.S. companies such as
Creative BioMolecules
(CBMI)
,
Genzyme
(GENZ)
and
Geltex
(GELX)
, says biotechnology investing is "never going to be a straight line to the moon."
Remember the Run-Up
Casual observers may be forgiven for believing some biotech companies recently had discovered the secret to eternal youth. Shares in Cambridge Antibody, for instance, traded near 1999 lows of 1.65 British pounds for much of last year. They suddenly climbed to a high of 52.50 pounds last month, with little news to back up the rise. The shares closed Monday at 38.50.
Steven Delco, biotechnology analyst with
Miller Tabak
, attributes Monday's declines to natural profit-taking following months of momentum investing that sent shares to all-time highs. For companies such as
Medarex
(MEDX)
, which fell 10 5/16, or 7.2%, to 132 11/16, "there's just a lot of profit-taking" to be done.
"Biotechnology has become a speculator sport in the last six months," Delco continues. "There's just a lot of indiscriminate investing and now there is indiscriminate selling."
Delco has a long-term buy rating on Medarex, which competes with
Abgenix
(ABGX)
, Cambridge Antibody, Germany's
MorphoSys
and others in making genetically engineered proteins that big drug companies use to make new drugs. Shares in all four companies have surged in recent months.
Feed Bag
The recent gains in biotechnology, which some investors attributed to a spillover of funds from technology investing, came after a long hiatus of sluggish demand for biotech stocks. The new sizzle brought dozens of companies to market to seek funds.
CV Therapeutics
(CVTX)
, a Palo Alto, Calif., developer of cardiovascular drugs, recently raised $175 million in a convertible bond issue to continue its research, eliminating its need to seek funds from big drug companies -- for now.
"If we hadn't
raised the money, I would be concerned," says Louis Laing, CV's chairman and chief executive, who said the company currently has about $250 million in cash on its books.
Laing said recent fundraisings have provided a welcome relief for many biotechnology companies, which previously might have been forced to turn over a larger percentage of profits to drug company partners in return for rights to promising drugs.
"Biotech companies don't need big pharma companies as much as they did a year ago," says Laing. "Pharma had driven some very one-sided deals. Now we see a rebalancing of that equation. Biotech coffers are much more full now."
Wrong! Tactics and Strategies: Friends and Family Nothing but Trouble
By
James J. Cramer
3/13/00 6:13 PM ET
Could this friends and family stock issue be more misunderstood? An incredible number of you e-mailed me and said that my position --
that F&F must go -- would hurt the little guy.
The little guy? Oh, please! That is just plain ridiculous. The little guy would benefit much more from a lottery that allowed him in than from friends and family. Funny thing, but the people who get this stock tend to be wealthy people and they give the stock to other wealthy people or to people who would help the business.
Another group of critics said that F&F stock rewards some people who took risks in doing business with you. Hold it, that's just business. And the rewards belong to the companies the people work for, not the people themselves, especially if the companies are public.
When it comes to matters like this, I always default to a simple standard: what would it look like if you disclosed the recipients. Would it be embarrassing? I think in most cases it would be. So at a minimum, if we can't ban F&F we should at least demand that the handout/kickback be disclosed so we can find out what kinds of deals may have been made to further a company's growth. That would be a simple but positive change.
Random musings:
Speaking of F&F,
Fortune
's Melanie Warner is not the only one who deserves credit for bringing this issue to light. Back in October of last year, Scott Thurm of
The Wall Street Journal
penned a very hard-hitting piece looking at this issue, breaking a ton of ground on the subject. I regret that I didn't remember that piece -- which talked about
Redback Networks
(RBAK)
-- when I wrote my praise this weekend.
James J. Cramer is manager of a hedge fund and co-founder of TheStreet.com. At time of publication, his fund had no positions in any stocks mentioned. His fund often buys and sells securities that are the subject of his columns, both before and after the columns are published, and the positions that his fund takes may change at any time. Under no circumstances does the information in this column represent a recommendation to buy or sell stocks. Cramer's writings provide insights into the dynamics of money management and are not a solicitation for transactions. While he cannot provide investment advice or recommendations, he invites you to comment on his column at
jjcletters@thestreet.com.
Evening Update: Dell and Ariba Ink B2B Pact and IPOs Priced in Evening Action
By
Tara Murphy
Staff Reporter
3/13/00 7:11 PM ET
Dell
(DELL) - Get Report
and
Ariba
(ARBA)
have agreed to a B2B e-commerce pact which will target small- and mid-sized businesses. Dell said it plans to set up a B2B marketplace, which would be supported by Ariba technology. The marketplace would try to cut costs by consolidating purchases. The companies said the e-commerce site would be launched in the U.S. during the third quarter.
Four IPOs are set to make their debuts during tomorrow's trading session. For more on their pricing and underwriting information, check out
TheStreet.com's
Offerings and stock action coverage.
In other postclose news (earnings estimates from
First Call/Thomson Financial
; earnings reported on a diluted basis unless otherwise specified):
Mergers, acquisitions and joint ventures
Pinnacle West Capital
(PNW) - Get Report
unit
Pinnacle West Energy
said it has entered a deal with
Reliant Energy
(REI) - Get Report
to create more than 2,500 megawatts of electrical generation in Arizona and Nevada.
Shaw Group
(SGR)
said it has agreed to a $380 million deal with an undisclosed power developer to construct a power plant in Texas. Shaw said it would break ground immediately and expects the project to be completed in fiscal 2002.
Earnings/revenue reports
Antigentics
(AGEN) - Get Report
CEO Garo Armen told Reuters that he expects the company to see revenues by fiscal 2003, the same year it will launch its kidney cancer drug, Oncophage. Armen said that the drug is also being tested to remedy colorectal and pancreatic cancer. The company also said it would increase its workforce by roughly 40%, to 130-140 jobs by the end of this year.
Equant
(ENT) - Get Report
reported fourth-quarter earnings of 8 cents a share, beating the two-analyst estimate of 5 cents and up from the year-ago 4 cents.
Station Casinos
(STN) - Get Report
said it expects its first-quarter earnings to beat the 16-analyst estimate of 33 cents a share. The company attributed the strong results to its profitable operations in Nevada and Missouri. Station said its first-quarter net income would more than double the year-ago report.
J.P. Morgan
(JPM) - Get Report
, at an investor briefing, said "continued momentum in a robust business environment produced strong performance in the first two months of 2000." In a statement, J.P. Morgan Chairman Douglas Warner III, said: "Earnings so far this year have been excellent. Results in January and February were significantly ahead of the average monthly pace of last year's fourth quarter. The strength was broad-based across equities, fixed income, investment banking, and asset management, with proprietary investing and trading activities also profitable."
Zany Brainy
(ZANY)
posted fourth-quarter earnings of 55 cents a share, a penny better than the seven-analyst estimate but down from the year-ago $1.09 profit.
Offerings and stock actions
Geltex Pharmaceuticals
(GELX)
said it priced a 1.75 million-share secondary offering at $20 a share.
Nabisco Group
(NGH)
said it has set a shareholder rights plan which is triggered when an investor purchases 10% of the company's stock.
Serena Software
(SRNA)
said it set a 3-for-2 stock split.
Miscellany
Itron
(ITRI) - Get Report
said that its chairman, CEO and president Michael Chesser will step down on April 1 to become the CEO and president of
GPU Energy
, a division of
GPU
(GPU)
. Itron COO LeRoy Nosbaum has been tapped to replace Chesser as CEO and president.
For a look into this evening's after-hours trading action, please check out
TheStreet.com's
The Night Watch.
Bond Focus: After Extraordinary Morning, Treasuries Settle for Ordinary Gains
By
Elizabeth Roy
Senior Writer
3/13/00 4:27 PM ET
The morning bloodbath in the stock market sent money flowing into Treasuries, dropping yields to their lowest levels in weeks. But like clockwork, as the major equity proxies clawed their way back to a semblance of normalcy, the Treasury market surrendered most of its gains to end only moderately higher.
There were no economic releases and no other market-moving events, and despite the big price swings, volume was pretty pathetic. Tracker
GovPX
saw just $28.4 billion change hands through 3 p.m. EST, 19.9% less than average for a Monday over the last month.
Following
last night's swoon in the Asian equity markets, which severely depressed U.S. stock futures before the open, the Treasury benchmarks rocketed to levels not seen in at least several weeks.
The 10-year note traded up as much as 26/32, dropping its yield as low as 6.277%, a level it hasn't closed below since Dec. 15. The five- and two-year notes and the 30-year bond saw yields they haven't seen in a little over two weeks.
But by the end of the day the gains had largely evaporated. The 10-year note ended up 6/32 at 101, trimming its yield 2.5 basis points to 6.362%. The shorter-maturity issues outperformed, as they typically do in a rally driven by stock-market losses. And the 30-year bond was up 5/32 at 101 5/32, lowering its yield 1.2 basis points to 6.164%.
At the
Chicago Board of Trade
, the June
Treasury futures contract gained 4/32 to 94 11/32.
"It's just a stock trade," said Ken Fan, bond strategist at
Paribas Capital Markets
. "In the morning, Treasuries were better because overnight Asian stocks really collapsed."
The effect was compounded, Fan said, by a sharp move out in swap spreads. A swap spread is the premium over a Treasury yield that that the payor of a fixed interest rate has to pay in order to swap it for a floating interest rate, and it is broadly indicative of willingness to take credit risk. Widening swap spreads mean less appetite for credit risk.
This morning, the benchmark 10-year swap spread widened to 110 basis points, its widest level since last summer, when the corporate bond market was flooded with new supply. "That was obviously a little bit of a concern, because swap spreads affect other fixed-income sectors and have been correlated to equity market performance," Fan said. "People sell swaps and credit products and put money into Treasuries."
By the end of the day, swap spreads had retreated back into their range. The 10-year spread was 4.75 basis points wider on the day at 108.75 basis points.
Economic Indicators
There were no economic releases today. This week's highlights are February
retail sales
tomorrow, the February
Producer Price Index
on Thursday and the February
Consumer Price Index
on Friday.
Currency and Commodities
The dollar weakened against the yen and the euro. It lately was worth 105.61 yen, down from 106.27 on Friday. The euro was worth $0.9641, up from $0.9628 on Friday. For more on currencies, please take a look at
TSC's
new
Currency Watch column.
Crude oil for April delivery at the
New York Mercantile Exchange
rose to $32.02 a barrel from $31.76 on Friday.
The
Bridge Commodity Research Bureau Index
rose to 215.91 from 214.06.
Gold for April delivery at the
Comex
rose to $291.50 an ounce from $290.00.
To view TSC's economic databank, see: http://www.thestreet.com/markets/databank/897636.html
Copyright 2000, TheStreet.com