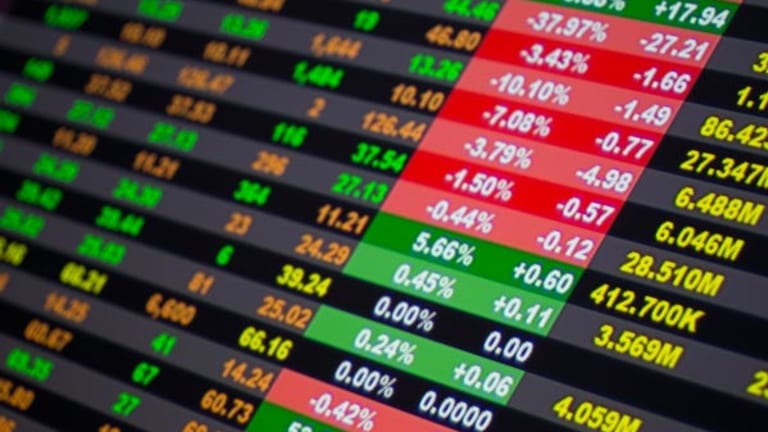 Publish date:
daily03-12-00
TheStreet.com's DAILY BULLETIN
March 13, 2000
http://www.thestreet.com
Market Data as of Close, 3/10/00:
o Dow Jones Industrial Average: 9,928.82 down 81.91, -0.82%
o Nasdaq Composite Index: 5,048.62 up 1.76, 0.03%
o S&P 500: 1,395.07 down 6.62, -0.47%
o TSC Internet: 1,320.31 down 12.91, -0.97%
o Russell 2000: 603.81 down 2.24, -0.37%
o 30-Year Treasury: 101 00/32 down 8/32, yield 6.189%
Companies in Today's Bulletin:
ING American Insurance Holdings (ING:NYSE)
WellPoint Health Networks (WLP:NYSE)
Aetna (AET:NYSE)
In Today's Bulletin:
o Editor's Letter: The Coming Week on TSC
o Weekend Report: Aetna to Split After Nixing Takeover Bid
o The Coming Week: Polls Separate the Bulls From the Bears
o The Coming Week in Europe: Infineon IPO Likely To Be a Milestone
"The Street.com" on Fox News Channel
Wall Street stripped
Procter & Gamble
of a third of its market cap in a single day after it warned of an earnings shortfall. With stalwarts like this acting more like volatile dot-coms, is there anywhere investors can go to escape the pain? And, is an Internet firm on the brink of profitability necessarily a good investment? You need to hear what guest
Phil Dow
of
Dain Rauscher Wessels
thinks. He likes shares in three firms that are cashing in on their Web technology. We'll get the "Word on TheStreet."
We'll also talk to the CEO of
StockJungle.com
about his
Community Intelligence
fund. It's a sizzler -- up more than 50% since its November inception. But the "hot hands" on this fund are not the managers. All the stock ideas for the fund come from visitors to the firm's Web site.
There will be plenty of money-saving tax tips and, of course, predictions, all on "TheStreet.com" on Fox News Channel Saturday at 10 a.m. and 6 p.m.and Sunday at 10 a.m. EST.
Also on TheStreet.com:
Wrong! Rear Echelon Revelations: State of the Web: Another Word for Kickback
Cramer praises
Fortune's
criticism of the "friends and family" practice.
http://www.thestreet.com/comment/wrongrear/899107.html
This Week in IPOs: Whiners and Quitters Need Not Apply
Wall Street is all about work -- do yours before you blame Ben.
http://www.thestreet.com/comment/ipoweek/899073.html
The Coming Week in Asia: Again, Recession Beckons in Japan
An expected negative GDP may exacerbate an already tense political and economic climate in Japan.
http://www.thestreet.com/markets/comingweekasia/898202.html
Jim Griffin: On the Couch, and Flat on Our Backs
The market's so crazy, it's become material for Sigmund Freud.
http://www.thestreet.com/comment/jamesgriffin/898919.html
Editor's Letter: The Coming Week on
TSC
By
Dave Kansas
Editor-in-Chief
3/12/00 2:33 PM ET
Sure, technology is all the rage these days. Dot-coms, optics, networkers, software and wireless companies dominate our thinking. But there's intensity in other quadrants, too.
For instance, biotechnology is making all kinds of noise. (OK, so it's a kind of technology, but at least it starts with a different syllable.) After a rollicking start earlier this year, the sector has been reeling. We know you're eager for more information, and that's why we've added to our biotech coverage. Recent arrival
Dane Hamilton
is already weighing in on the sector. As with other important sectors, we're focused on giving you an information edge: scoops, analysis and insight.
Also, I'd like to point out a couple of things from the weekend that you might have overlooked. First, there's an excellent interview with
J.P. Morgan
strategist
Doug Cliggott
. It's an in-depth look at what Cliggott is thinking about these days, including his favorite stocks and his views on the market. In addition, you should take time to check out the stories from our Personal Finance Saturday section, including a tax deduction guide from our in-house tax expert,
Tracy Byrnes
.
Herb Greenberg's
"Tips for the Timid" is another winner.
You should also check out
James J. Cramer's
rewrite of "The Trading Goddess' 10 Commandments." It's one more sign that Cramer gives you the real dope from the trading turret like nobody else. He's been firing on all cylinders lately, and we at
TheStreet.com
salute him for his recent honor as one of the 100 most influential financial journalists of the century as recognized by
TJFR
, an organization that covers the financial media. This week you can get up close and personal with Cramer when he chats on
Yahoo!
(YHOO)
. At 5 p.m. ET on Wednesday he'll take questions from all comers. It's free, but you have to register at
chat.yahoo.com.
As ever, if you've got issues or concerns, feel free to shoot me an email at
dkansas@thestreet.com or contact our able customer support staff at
members@thestreet.com. We'll make sure your issues get addressed.
Have a great week!
L'Etoile du Nord
Dave Kansas
Editor-in-Chief
Dave Kansas is editor-in-chief of TheStreet.com. In keeping with TSC's editorial policy, he doesn't own or short individual stocks, though he owns stock in TheStreet.com. He also doesn't invest in hedge funds or other private investment partnerships. He welcomes your feedback at
dkansas@thestreet.com.
Weekend Report: Aetna to Split After Nixing Takeover Bid
By
David Rheingold
Special to TheStreet.com
3/12/00 7:42 PM ET
When
ING American Insurance Holdings
(ING) - Get Report
and
WellPoint Health Networks
(WLP)
offered to buy
Aetna
(AET)
for $10 billion last month, the two envisioned dividing up the company's global financial services and health care divisions.
On Sunday, Aetna said no to the offer but yes to the plan.
The Hartford-based company announced that it had rejected the takeover bid and instead decided to split itself into two publicly traded companies.
Aetna said it planned to separate its finance and health care businesses "as soon as an orderly separation can be achieved." The company also plans to sell off international assets that do not fit the strategy of either resulting company.
Aetna called the offer from ING, a unit of ING Groep, and WellPoint, too low.
"The financial consideration mentioned in the ING/WellPoint letter, even if taken at face value, significantly understates the value of our company and does not reflect the current value or future potential of our core businesses," Aetna Chairman and CEO William H. Donaldson said in a statement.
Donaldson's predecessor, Richard Huber, resigned just two weeks ago amid investor dissatisfaction over the company's plunging stock price.
Donaldson is a co-founder of investment bank
Donaldson, Lufkin & Jenrette
(DLJ)
. He had served on Aetna's board since 1977 before being appointed to the top post.
In Other News
GM
(GM) - Get Report
and Italy's
Fiat
are reportedly close to reaching an alliance. Citing an unnamed source,
Reuters
reported Sunday that the two automakers are negotiating a stock swap that could give GM as much as a 20% stake in Fiat.
Tommy Hilfiger
(TOM)
is believed to be in talks to buy all or part of privately owned
Calvin Klein
,
The Sunday Telegraph
in London reported. Calvin Klein could be valued at $1 billion, the newspaper said.
Finnish telecom
Sonera
(SNRA)
denied a report in
The Sunday Times
of London that it was in talks to sell a 25% stake to the U.K.'s
Vodafone Airtouch
(VOD) - Get Report
for about 10 billion pounds, or $15.8 billion. The newspaper said other prospective buyers included
MCI WorldCom
(WCOM)
,
Deutsche Telekom
(DT) - Get Report
and
France Telecom
(FTE)
.
The Sunday Times
also said industry sources expect Ireland's
Fyffes
to buy or merge with
Dole
(DOL) - Get Report
, which suffered enormous losses last year when Hurricane Mitch hit Central America.
In the Papers
Barron's
leads off with its annual ranking of online brokers. The top five making the list this year were:
National Discount Brokers
(NDB)
,
DLJ Direct
(DLJ)
,
Merrill Lynch
(MER)
,
American Express
(AXP) - Get Report
and
Morgan Stanley Dean Witter
(MWD)
.
Mattel
(MAT) - Get Report
could become the target of a takeover, according to a report in
Barron's
. The toymaker's stock has plunged amid its troubled takeover of the
Learning Co.
, but
Barron's
describes Mattel's problems as "by no means insolvable." The magazine speculates that
Disney
(DIS) - Get Report
could be among those interested in the company.
Also in
Barron's
is an interview with Larry Jeddeloh, chief of Minneapolis'
TIS Group
. His stock picks include Germany's
Commerzbank
,
Federated Department Stores
,
ATS Medical
(ATSI)
, South Africa's
Harmony Gold Mining
(HGMCY)
,
Hitachi
(HIT)
, Japan's
Trans Cosmos
, Japan's
Jafco
,
Evotec
,
Imclone Systems
(IMCL)
,
Geron
(GERN) - Get Report
and
Qiagen
(QGENF)
.
The mainstays of corporate America are no longer the only companies losing employees to the Internet gold rush.
The Washington Post
reports that many dot-coms themselves are seeing their workers leave for online start-ups. The exodus has gotten so bad at
Netscape
(AOL)
, the newspaper reports, that ex-employees now have their own nickname: "Netscapees."
David Rheingold is a New York-based freelance writer. At the time of publication he was long Disney, although holdings can change at any time.
The Coming Week: Polls Separate the Bulls From the Bears
By
Justin Lahart
Associate Editor
3/10/00 8:36 PM ET
With the
Nasdaq Composite
up 24% on the year and the
Dow Jones Industrial Average
down 13.6%, it probably shouldn't come as a surprise that tech investors are a happy lot and industrial types are not.
This difference in feeling is reflected in some popular sentiment polls. The
American Association of Individual Investors'
poll has shown a pretty high level of optimism for the last few months. Its latest reading showed 58% of respondents were bullish on stocks for the next six months vs. 16% bearish (the remaining 26% were neutral).
Meanwhile, the
Market Vane
poll of stock-futures advisers shows a different story. Only about 33% of them are bullish. Going into the July peak last year, over 50% were bullish.
"The sentiment indicator reflects what group of people you're looking at," says Tim Hayes, senior equity strategist at
Ned Davis Research
. And so the divergence in the polls makes sense. A lot of individual investors have been watching their portfolios surge along with the Nasdaq. Meanwhile, futures traders mostly deal in the
S&P 500
-- which, like the Dow, is down on the year.
Sentiment is considered a contrary indicator. The idea is that when everybody is negative on stocks, then the bad news is out there, and it's time to go long. Conversely, when everybody is bullish, all of the good news is priced into the market. Time to get out.
It doesn't always work out, though. Depressed investors can get even more depressed; euphoric investors, even more euphoric. But there are other reasons for thinking the Nasdaq's surge will at least taper off a bit, while other areas of the market play catch-up.
Peter Canelo,
Morgan Stanley Dean Witter's
bullish equity strategist (the other two are not), points out that lately there has been a bit of a rotation in technology. Some dot-com issues have stopped running higher. At the same time, some old tech names are catching bids:
Dell
(DELL) - Get Report
, for example, is up near its old highs, and
Microsoft
(MSFT) - Get Report
has, after a month below 100, finally risen back above parity with the
benjamins.
"My guess is that once all the rotation is through, we'll be in for a pause," Canelo says.
What happened in the Nasdaq, Canelo reckons, is that "the analysts were way too cautious going into Y2K and they totally missed the post-Y2K boom." The surge in tech-stock prices is a "coming to terms" with how much better than expected tech has done. The rotation is a sign that tech stocks' good fourth and first quarters are getting integrated into the market and that the sprint's about to end.
"That," says Canelo, "could provide an opportunity for the rest of the market."
There are a few big economic reports due out in the coming week, and they may pose a bit of a problem for the market -- all of them look like they'll come in strong. First is
retail sales
on Tuesday, then the
Producer Price Index
on Thursday and the
Consumer Price Index
on Friday.
"There's a lot of things that could have a real negative tone," says Mike Cloherty, senior market economist at
Credit Suisse First Boston
. "The retail sales are going to be extraordinarily strong -- the consensus is looking for a gain of more than 1%. And there's a pattern where you tend to see January retail sales get revised up significantly. That puts the first quarter off to a strong start."
The recent surge in energy prices will play a hand in both the PPI and CPI. "The CPI is going to go up over 3% for the first time since Feb. 1997," says Cloherty -- a whiff of inflation.
The Coming Week in Europe: Infineon IPO Likely To Be a Milestone
By
Marc Young
German Correspondent
3/11/00 12:30 AM ET
BERLIN -- Some stocks are born great. Some have greatness thrust upon them. And some achieve greatness. And in this manic age of initial public offerings, the birth and the thrusting of greatness can happen at the same time. Case in point: next week's IPO in Germany of
Infineon
, a semiconductors subsidiary of electronics giant
Siemens
(SMAWY)
.
But whether it can achieve greatness over the long term is another question.
As Europe's third-largest chipmaker, expectations for Infineon's IPO have been high, especially after the successful floatation of another Siemens unit,
Epcos
(EPC) - Get Report
, last fall. But as Infineon's shares are priced Sunday and begin trading in Frankfurt and New York on Monday, those expectations would appear to have been more than exceeded.
Although the stock is expected to price at 35 euros ($33.80) -- the top of its range -- it's already being traded on the gray market for triple that. The 6 billion-euro offering is reportedly 30 times oversubscribed. It would seem that everyone in Germany, from graying pensioners to unemployed students, is convinced of Infineon's -- or rather the stock's -- success.
The enthusiasm stems partly from Infineon already being touted as a possible candidate for the
Dax
, Germany's blue-chip stock index, despite the rather cyclical nature of the computer chip business. Infineon's market capitalization, initially 20 billion euros, will likely become larger than that of many of Germany's best-known companies after the stock soars Monday. It could even surpass that of Epcos, which joined the Dax last month.
Equity-hungry pensioners might be on to something if Epcos' experience on the bourse is any guide. The maker of transistors and other electronic components listed in Frankfurt and New York back in October. Since then, the stock has shot up more than 400%. Even the shares of the stodgy parent company have tripled in the past 12 months. On Friday, Epcos closed down 0.4% at 141.50 euros and Siemens finished 2.2% higher, at 186.50 euros.
Those kinds of returns have generated such a surge in demand for the Infineon IPO that it might become a milestone in the development of Germany's blossoming equity culture, much as the original
Deutsche Telekom
(DT) - Get Report
offering did three years ago. Indeed, this correspondent has been hectored with queries from acquaintances who are complete equity novices. Not to ask about what Infineon does or how its fundamentals look, mind you, but rather to inquire as to the ins and outs of getting their greedy little mitts on a piece of the company.
However, investors fortunate enough to obtain shares in the coming week may rue their luck down the road, given the nature of Infineon's business. Analysts stress the cyclical and volatile aspect of chip making, about which some neophyte investors are certainly oblivious. "Although we expect growth to be solid throughout this year ... a correction may begin to affect the semiconductor stocks in the third quarter," says Stuart Adrian, an analyst for
Morgan Stanley Dean Witter
, which has an investment banking relationship with Siemens.
The risks that come with investing in stocks likely won't stop Germans from throwing cash at two more premium IPOs later this year. If they miss out on Infineon, as soon as April 3 they'll be able to buy shares in Deutsche Telekom's Internet unit,
T-Online
, and some months later DT will float its mobile phone operator,
T-Mobil
.
While all the enthusiasm surrounding Infineon may very well make it a milestone, investors might not celebrate: The volatility of the company's business could eventually teach many of Germany's new investors that stock prices don't just go up.
Chat with John J. Edwards on AOL's MarketTalk, hosted by Sage, Monday, March 13 at 3:30 p.m. ET. (Keyword: AOL Live)
Copyright 2000, TheStreet.com