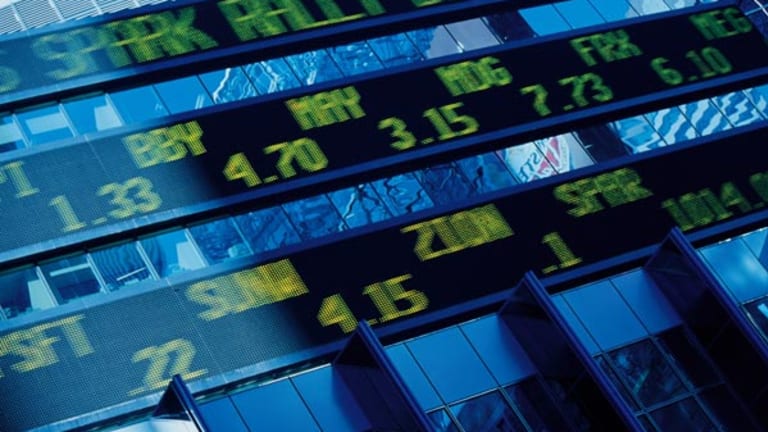 TheStreet.com's DAILY BULLETIN
March 10, 2000
http://www.thestreet.com
Market Data as of Close, 3/9/00:
o Dow Jones Industrial Average: 10,010.73 up 154.20, 1.56%
o Nasdaq Composite Index: 5,046.86 up 149.60, 3.05%
o S&P 500: 1,401.69 up 34.99, 2.56%
o TSC Internet: 1,333.22 up 45.21, 3.51%
o Russell 2000: 606.05 up 11.37, 1.91%
o 30-Year Treasury: 101 08/32 up 2/32, yield 6.148%
Companies in Today's Bulletin:
Investment Advisers
CNet Networks (CNET:Nasdaq)
Metropolitan Life (MET:NYSE)
British Telecom (BTY:NYSE ADR)
In Today's Bulletin:
o SiliconStreet.com: Minor Change, Major Impact: CNet Head Leaves to Form Net Incubator
o Wrong! Dispatches from the Front: Getting Hammered
o Evening Update: MetLife Slashes Shares in Planned IPO; HomeGrocer.com Prices Top-Range
o Bond Focus: No Favors for Sellers in Treasury's First Buyback in 70 Years
TheStreet.com Community:
You know TheStreet.com's the place for great market commentary, but did you know it's also the place for intelligent investing discussion?
Check out the conversations on our Commentary boards, including Cramer's Latest, Jim Seymour's Tech Savvy, Gary B. Smith, Ben Holmes' IPOs, and others.
If you're part of TSC's Investment Challenge, we also have a board for youto share strategies and ideas with other competitors.
Also, make sure to check out our stock boards for insightful equities-based discussion on the Web. Don't see a board listed for your favorite stock? Start the board yourself. Simply type the symbol into the "jump to stock board" field and be the first to make a post. You can access our stockboards from all TSC features by clicking on the "boards" link after eachstock name: (CSCO:Nasdaq - news - boards).
TSC Message Boards:
http://www.thestreet.com/cap/browse/index.jhtml
Also on TheStreet.com:
Mutual Funds: Barclays Close to Launching Its Lineup of Exchange-Traded Indices
The first of as many as 47 offerings could be out this month.
http://www.thestreet.com/funds/funds/897676.html
Biotech/Pharmaceuticals: OraPharma Jumps in IPO as Biotechs Keep Sizzling
The prospect of a big payday has biotech firms lining up at the trough.
http://www.thestreet.com/stocks/biotech/897936.html
Europe: The Anglo File: British Telecom Fights Back
The U.K. telco has announced a series of initiatives to take its mobile Internet service global.
http://www.thestreet.com/int/euromarkets/897943.html
Internet: Snowbird Dispatch: Some Concerned About Cash Flows Into Internet Firms
Internet firms are attracting an amazing amount of money. Is it too much? Also, cracking local advertising.
http://www.thestreet.com/tech/internet/897562.html
SiliconStreet.com: Minor Change, Major Impact: CNet Head Leaves to Form Net Incubator
By
Adam Lashinsky
Silicon Valley Columnist
3/9/00 8:04 PM ET
CNet Networks
(CNET) - Get Report
Chairman and CEO Halsey Minor plans to leave the company he founded seven years ago to start -- what else? -- an Internet incubator, several sources close to Minor say. He'll join Eric Greenberg, founder of Web consultants
Viant
(VIAN)
and
Scient
(SCNT)
, to form
Twelve
, a services firm that will help entrepreneurs get their new businesses off the ground.
Benchmark Capital
, the high-powered venture firm that was an early backer of
eBay
(EBAY) - Get Report
and
Ariba
(ARBA)
, is an investor in Twelve, which has yet to publicly announce its plans.
Minor and Greenberg, both 35, are two of the most successful entrepreneurs in the Internet industry. But Minor's departure from CNet, a "destination" Web site for all kinds of technology-oriented information, would be a considerable blow to investors and to the young company, even as it branches out into new services.
These include the recent $700 million acquisition of shopping "bot" Web site
MySimon
, as well as a new unit that provides data services to other businesses. As the founder and constant public face for CNet, Minor has risen in lock step with his company.
"He is key," said one Wall Street analyst who has followed the company in the past. "He's the centerpiece. If I were an investor, I would read this as his saying he doesn't think CNet is a very good place to grow young companies. If I were a hedge fund manager," the analyst said Thursday, "I'd be putting you on hold to short the stock."
Shares of CNet have been holding up rather well, at least for an Internet
company focused on consumers. At Thursday's close of 68 7/8, up 7% for the day, CNet's shares are up 21% year to date, giving the company a market capitalization of $5 billion. CNet also has the distinction of having been profitable, at least before embarking last year on a $100 million marketing campaign to attract more traffic to its sites, which include the tech information site
computers.com
and
news.com
, an authoritative source of tech industry news. Gross profits in the fourth quarter amounted to 61% of CNet's $38.3 million in revenue. The ad blitz gave CNet $39.2 million of operating losses in the fourth quarter.
Minor hasn't officially left the company yet, and CNet declined to comment. But several sources close to Minor confirmed that he is leaving the company. Those sources are unsure, however, who will succeed him at CNet. Shelby Bonnie, CNet's former chief financial officer, remains the company's vice chairman and frequently represents the company on Wall Street. Also, last year, CNet hired publishing industry veteran Richard Marino as president. No source was certain if Marino will succeed Minor.
Meanwhile, word of Minor's departure is beginning to spread through the venture capital community in Silicon Valley, which seems to spend as much time these days chattering about those upstart incubators as it does about who's backing what deal.
Greenberg, who recently stepped down as chairman of Scient, confirmed that he is launching a new company to nurture start-ups, but declined to identify his partner in the venture. And he's not wild about the term "incubator." "This is not an incubator," said Greenberg. "We build businesses. We do not incubate them."
You can understand why he might want to distance Twelve from the incubator fad, which has taken on
Pokemon
-like proportions in high-tech finance. "There's enough noise out there right now," Greenberg said. "Most of the other people have never built businesses."
Indeed, the tech world is getting crowded with business incubators. On Thursday, a group of
Microsoft
(MSFT) - Get Report
alumni
unveiled
Ignition
, an incubator focused on wireless Internet technologies. Other new and existing incubators include
eCompanies
, started by
EarthLink
(ELNK)
founder Sky Dayton and ex-
Disney
(DIS) - Get Report
Internet chief Jake Weinbaum;
divine interVentures
, begun by software executive Andrew "Flip" Filipowski; and
idealab!
, headed by entrepreneur Bill Gross.
Greenberg and Minor clearly have high hopes for their venture, however. According to a source close to the company, they chose the name Twelve for two reasons. "First, it sounds cool," he said. "And also, on a scale of one to 10, their companies will be 12s."
Adam Lashinsky's column appears Tuesdays, Wednesdays and Fridays. In keeping with TSC's editorial policy, he doesn't own or short individual stocks, although he owns stock in TheStreet.com. He also doesn't invest in hedge funds or other private investment partnerships. Lashinsky writes a column for Fortune called the Wired Investor, and is a frequent commentator on public radio's Marketplace program. He welcomes your feedback at
alashinsky@thestreet.com.
Wrong! Dispatches from the Front: Getting Hammered
By
James J. Cramer
3/9/00 4:00 PM ET
It is no break to be waiting in various hospitals in Philadelphia and New York, but I confess to finding no surprises on my screen after these two days.
The
Nasdaq
ramps and listed lists. What else is new?
Sure, divergences should be corrected. Certainly one part of the market is out of whack with the other. But you know what I find surprising? The few Old Economy stocks we have keep getting hammered. As a lark I called in from the hospital to ask what was down the most, thinking it might be one of
Matt "Volatility" Jacobs'
stocks.
Not!
Dial
(DL) - Get Report
! It was Dial. The same stock that, when it was 24, I wrote that I wanted to be short stocks that move in quarter-points and long stocks that move in 2- and 3-point increments. Boy, was that right! Dial has now been cut in half. When the
Aribas
(ARBA)
and the
Sevenexes
(
724 Solutions
(SVNX)
) continue to ramp.
Oh yeah, and to those of you who sent me email about how I was going to get clubbed in
VeriSign
(VRSN) - Get Report
, I have bad news for you. That's where I thought it would be, too.
Random musings:
Looks like my wife will be setting off a few metal detectors. A plate and seven screws later, and she still isn't up from the recovery room. And the doctor gave me the heads-up to use the pain killers.
Poor
Trading Goddess.
And get this! My dad just got discharged. Laser surgery, just amazing!
******
James J. Cramer is manager of a hedge fund and co-founder of TheStreet.com. At time of publication, his fund was long VeriSign, Ariba and 724 Solutions. His fund often buys and sells securities that are the subject of his columns, both before and after the columns are published, and the positions that his fund takes may change at any time. Under no circumstances does the information in this column represent a recommendation to buy or sell stocks. Cramer's writings provide insights into the dynamics of money management and are not a solicitation for transactions. While he cannot provide investment advice or recommendations, he invites you to comment on his column at
jjcletters@thestreet.com.
Evening Update: MetLife Slashes Shares in Planned IPO; HomeGrocer.com Prices Top-Range
By
Eileen Kinsella
Staff Reporter
3/9/00 8:20 PM ET
In a sign that clouds are lingering over Old Economy stocks,
Metropolitan Life
(MET) - Get Report
cut the number of shares in its IPO to 179 million from 255 million and reduced the estimated price range to $13 to $15 a share, from $14 to $19. The new terms were revealed in an amended filing with the
Securities and Exchange Commission
.
MetLife now will sell 73 million shares of common stock in a concurrent private placement to
Banco Santander Central Hispano
(STD)
and
Credit Suisse Group
at the IPO price. The company plans to net about $3.4 billion from the IPO and the private stock sales, based on a $14-per-share initial price. Originally, MetLife had intended to raise as much as $6.5 billion in its public offering.
Back in dot-com IPO land,
Morgan Stanley Dean Witter
priced 22 million shares of
HomeGrocer.com
(HOMG)
at $12 each, the top of the estimated $10-to-$12 range. The Kirkland, Wash.-based company delivers grocery items through its own distribution system, one day after they are ordered online.
But despite its tech moniker, some analysts doubt the company will post big IPO gains, saying its stock is more of a retailing than a technology issue. Other online grocers, including
Webvan
(WBVN)
and
Peapod
(PPOD)
, have seen their stocks struggle of late. After a much-hyped debut in November at $15 a share, Webvan hit a high of about 25, and has lately been trading near 12.
Inflows to equity funds totaled $5.4 billion for the week ended yesterday, according to
AMG Data Services
. The gains were largest in the technology, aggressive growth, small-cap and health care/biotech sectors. International equity funds reported outflows from all regions except Latin America. Taxable bond outflows totaled $387 million, though high quality and investment grade corporate bond funds reported inflows. Money market funds reported inflows of $23.2 billion.
In other postclose news (
earnings estimates from First Call/Thomson Financial; earnings reported on a diluted basis unless otherwise specified
):
Earnings/revenue reports and previews
AEP Industries
(AEPI)
posted a first-quarter loss of 15 cents a share, in line with the single-analyst estimate but lower than the year-ago earnings of 25 cents.
Palm Harbor Homes
(PHHM)
said it sees fourth-quarter earnings below the two-analyst estimate of 43 cents a share, citing difficult business conditions. The company also said it sees 2000 results slightly below the previous year's $1.69 a share. The current two-analyst estimate calls for earnings of $1.76. Palm Harbor also cited competition from other manufacturers and retailers against the backdrop of tighter financing and more difficult credit conditions, as reasons behind the results.
Pantry
(PTRY)
said it will post a second-quarter loss, falling well below the three-analyst estimate of earnings of 7 cents a share. The company said it sees a loss of 14 cents to 16 cents a share, citing increased gasoline prices, which had a negative effect on gasoline margin and volume.
QAD
(QADI)
reported fourth-quarter earnings of 6 cents a share, beating the single-analyst expected loss of 2 cents and the year-ago loss of 16 cents.
Wendy's
(WEN) - Get Report
said February same-store sales rose 4.1% compared with 1.6% in January, when severe weather hurt traffic.
Mergers, acquisitions and joint ventures
Dime Bancorp
(DME)
postponed a March 15 shareholder vote on its pending $1.3 billion merger with
Hudson United Bancorp
(HU)
, saying it needed to provide investors with more information following the emergence of a rival bid from
North Fork Bancorp
(NFB)
. Dime, which rejected the unsolicited $1.8 billion from North Fork, said a new meeting would be held March 24.
Ogden
(OG)
signed a definitive agreement with Greece's
Alfa Alfa Holdings
to sell its theme and water-parks- related unit for about $148 million. The deal consists of cash and the assumption of about $80 million of associated debt.
U S West
(USW)
said any new merger deal it agreed to must be better than or consistent with its existing $36 billion merger pact with
Qwest Communications
(Q)
.
Deutsche Telekom
(DT) - Get Report
has been in talks to acquire merger partners Qwest and U S West, sources familiar with the situation told
Reuters
.
Offerings and stock actions
CMGI
(CMGI)
said it expects an IPO for its
AltaVista
portal unit in early April due to SEC delays. CMGI also said its revenue will increase at a rate of 20% on a quarter-over-quarter basis through 2000.
Goldman Sachs
priced 18 million shares of
GT Group
(GTTL)
at $14 each, the top of the estimated $12-to-$14 range.
Credit Suisse First Boston
priced 5 million shares of
OTG Software
(OTGS)
at $19 each, above the expected $16-to-$18 range. The company provides online data storage and management services.
Miscellany
Federal and state regulators settled complaints against
Bell Atlantic
(BEL)
, following charges that the dominant regional carrier has lost thousands of orders from competing carriers. Bell Atlantic agreed to pay $3 million to the
Treasury Department
and another $10 million to various competitors under agreements reached with the
Federal Communications Commission
and New York regulators.
Bond Focus: No Favors for Sellers in Treasury's First Buyback in 70 Years
By
Elizabeth Roy
Senior Writer
3/9/00 5:26 PM ET
Treasuries posted modest gains in a session dominated by the first buyback of Treasury securities in 70 years and a very heavy corporate new-issue calendar. Late-day rallies in oil and stocks tamped priced down from higher levels.
Early in the session, Treasury notes and bonds popped higher in sympathy with European government bonds, which were reacting principally to
yesterday's big retreat by oil prices.
With no major economic releases to tug them in either direction, they hung onto the gains until the 11 a.m. EST offering deadline for the buyback.
In the buyback, the Treasury Department accepted from dealers offers to sell $1 billion of 30-year bonds issued from 1985 to 1990. All that was as-expected. On Tuesday, the department had announced that the buyback -- the first of many expected this year -- would seek up to $1 billion of 30-year bonds in that maturity range.
The outcome is tricky to interpret. In a standard Treasury auction, when new bonds or notes are sold to dealers, just one issue is involved and the yield at which it is sold can be compared to the market's level at the time of sale.
By contrast, in today's reverse auction, numerous issues were involved and the Treasury didn't disclose how much it paid for them individually. Still, people involved in the process and other market analysts said the department had no difficulty getting its bonds from among the $8.6 billion offered at prices at or below where comparable securities were trading at the time.
"You had to be fairly aggressive for your offerings to be accepted," said a trader at a primary dealership.
The morning rally foiled the government to an extent, by forcing prices higher. "But the Treasury wasn't doing us any favors by buying at expensive prices," the trader said. "They only had to take offers that were cheap to fairly cheap at the time of the operation."
Dealers "had to be aggressive with pricing to have anything executed," concurred Ken Logan, managing analyst at
Thomson Global Markets
in Boston. The proof, he said, lay in the fact that the market maintained its bid after the results were announced at around 11:30 a.m.
The buyback program, which the Treasury has said will take up to $30 billion of long-maturity issues out of circulation this year, is one of the ways it is dealing with the federal budget surplus, which reduces its need to borrow. By buying back old issues while continuing to issue new ones, the department helps maintain the liquidity of its securities.
But the Treasury market also benefited from demand related to corporate new issuance, Logan said. Hedging strategies for new corporate bonds can involve purchasing of Treasuries, either before or after the bonds are priced.
This week's corporate calendar is "monstrous," said John Atkins, market analyst at
IDEAglobal.com
. Investment-grade issuance since Monday exceeds $10 billion, and the total for the week could wind up exceeding $14 billion, he said. That would be the heaviest corporate calendar in nearly a year. "It looks as if people are trying to get in ahead of the Fed," Atkins said, referring to the next scheduled meeting of the
Federal Open Market Committee
on March 21, which is expected to produce another hike in the
fed funds rate
The benchmark 10-year Treasury note, up as much as 21/32 this morning, ended up 10/32 at 101 3/32, trimming its yield 4.3 basis points to 6.359%. It outperformed shorter-maturity issues. The erstwhile benchmark 30-year Treasury bond, up as much as 26/32 earlier, ended up 1/32 at 101 7/32, dropping its yield a fraction of a basis point to 6.160%.
At the
Chicago Board of Trade
, the June
Treasury futures contract finished up 3/32 at 94 24/32.
Economic Indicators
The weekly tally of
initial jobless claims
rose slightly, to 280,000 from 275,000. Meanwhile, the four-week average fell to 277,250, the lowest level in nearly 30 years.
Currency and Commodities
The dollar weakened against the yen and the euro. It lately was worth 106.61 yen, down from 107.23 yesterday. The euro was worth $0.9663, up from $0.9605 yesterday. For more on currencies, please take a look at
TSC's
new
Currency Watch column.
Crude oil for April delivery at the
New York Mercantile Exchange
rose to $31.69 a barrel from $31.26 yesterday.
The
Bridge Commodity Research Bureau Index
rose to 214.71 from 213.61 yesterday
Gold for April delivery at the
Comex
rose to $292.70 an ounce from $290.40 yesterday.
TO VIEW TSC'S ECONOMIC DATABANK, SEE:
http://www.thestreet.com/markets/databank/893093.html
Copyright 2000, TheStreet.com