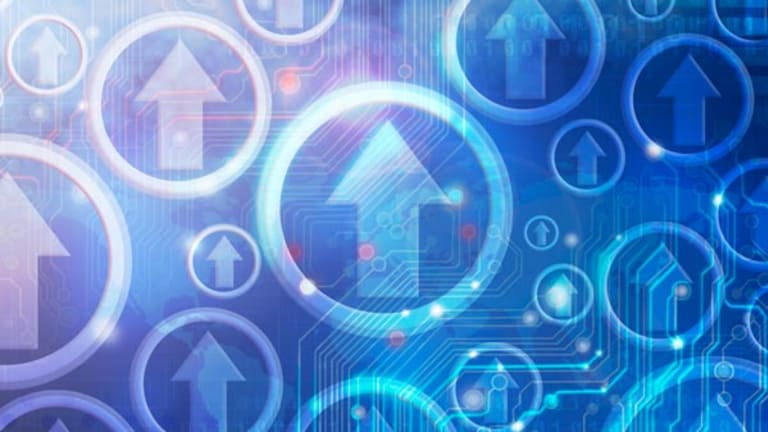 TheStreet.com's DAILY BULLETIN
March 9, 2000
http://www.thestreet.com
Market Data as of Close, 3/8/00:
o Dow Jones Industrial Average: 9,856.53 up 60.50, 0.62%
o Nasdaq Composite Index: 4,897.26 up 49.42, 1.02%
o S&P 500: 1,366.70 up 11.08, 0.82%
o TSC Internet: 1,288.01 up 38.71, 3.10%
o Russell 2000: 594.68 down 0.79, -0.13%
o 30-Year Treasury: 101 06/32 down 4/32, yield 6.160%
Companies in Today's Bulletin:
Compaq (CPQ:NYSE)
PictureTel (PCTL:Nasdaq)
E*Trade (EGRP:Nasdaq)
Ameritrade (AMTD:Nasdaq)
Procter & Gamble (PG:NYSE)
In Today's Bulletin:
o Internet: Investors Looking to Rob the Cradle With Incubator Boom
o Wrong! Rear Echelon Revelations: No Penny for Your Thoughts
o Evening Update: PictureTel Gains on IBM News; Sabre in S&P 500, Service Corp. Out
o Bond Focus: Bonds Caught Between Rising Stocks and Falling Oil
TheStreet.com Community:
You know TheStreet.com's the place for great market commentary, but did youknow it's also the place for intelligent investing discussion?
Check out the conversations on our Commentary boards, including Cramer'sLatest, Jim Seymour's Tech Savvy, Gary B. Smith, Ben Holmes' IPOs, and others.
If you're part of TSC's Investment Challenge, we also have a board for youto share strategies and ideas with other competitors.
Also, make sure to check out our stock boards for insightful equities-baseddiscussion on the Web. Don't see a board listed for your favorite stock?Start the board yourself. Simply type the symbol into the "jump to stockboard" field and be the first to make a post. You can access our stockboards from all TSC features by clicking on the "boards" link after eachstock name: (CSCO:Nasdaq - news - boards).
TSC Message Boards:
http://www.thestreet.com/cap/browse/index.jhtml
Also on TheStreet.com:
Online Brokers: Ameritrade Denies It's on Block, Counter to Online Broker Trend
But the holdout could be temporary, as consolidation looms in the industry.
http://www.thestreet.com/stocks/trading/897239.html
IPOs: E*Offering Providing More IPO Info, but Others Aren't Yet Following
The road to open roadshows is still a long one.
http://www.thestreet.com/stocks/ipos/897197.html
Europe: German Corporate Marriages Look to Be on the Rise
Government changes and restructuring could spark greater efficiency.
http://www.thestreet.com/int/euromarkets/897229.html
The TaskMaster: Earnings Drive Money-Losing Small-Caps' Growth
Also, when will Lehman's Michael Stanek move to Garage.com?
http://www.thestreet.com/comment/taskmaster/897273.html
Internet: Investors Looking to Rob the Cradle With Incubator Boom
By
Adam Lashinsky
Silicon Valley Columnist
3/8/00 10:39 PM ET
Parents want to get their newborn out of the incubator as quickly as possible, but Internet entrepreneurs can't seem to stop jumping in. Gambling-machine operator
Jackpot Enterprises
(J)
sent its shares soaring 49% Wednesday simply by announcing it is becoming an Internet incubator.
On Thursday, a high-powered group led by ex-
Microsoft
(MSFT) - Get Microsoft Corporation Report
executive Brad Silverberg will unveil the formation of
Ignition
, a new-company incubator focused exclusively on wireless Internet applications and services that will launch with an initial funding of $140 million.
The new incubator -- the term of the moment for firms that invest in and then nurture to maturity a portfolio of companies -- is modeling its capital structure directly on
Internet Capital Group
(ICGE)
. ICG, in turn, followed in the footsteps of Net holding giant
CMGI
(CMGI)
in developing a new twist on venture investing -- launching a publicly traded investment company, rather than relying on money from a few big institutions as VCs usually do.
In its pre-IPO stage, Ignition will have an all-star lineup of backers. Wireless platform technology juggernaut
Qualcomm
(QCOM) - Get Qualcomm Inc Report
is an investor, and its consumer products division president, Paul Jacobs, is joining the board.
Another investor is
Softbank Technology Ventures
, the U.S. venture arm of the Japanese company that was an early investor in
Yahoo!
(YHOO)
and scores of other Internet successes, which will give Ignition a ready-made distribution network for its portfolio companies' products.
Madrona Venture Group
, an early investor in
Amazon.com
(AMZN) - Get Amazon.com, Inc. Report
, also is a founding investor in Ignition.
So-called incubators are all the rage of late, largely due to the success of ICG, which has focused on business-to-business e-commerce, and CMGI, an older firm that leveraged a presence in the college-oriented direct-marketing business into early consumer-oriented Internet successes.
Beyond their capital structures, however, there isn't a huge difference between incubators and venture capital firms -- despite claims of superior company nurturing by incubator execs. VC firms and incubators both make early stage investments in a team of entrepreneurs with a hot idea.
Incubators, the newer life form, emphasize the holistic approach of providing for all the needs of a young company under one roof, including executive recruiting, legal, financial and design services.
Idealab!,
an incubator started by entrepreneur Bill Gross, is perhaps the best pure example of this business model. Its progeny include toy retailer
eToys
(ETYS)
, online vendor and information site
Tickemaster Online-CitySearch
(TMCS)
and free Internet access provider
Netzero
(NZRO)
.
There is one key difference. VC firms typically are partnerships. General partners take a management fee and percentage of the profits and distribute investment gains to limited partners. Newfangled incubators, on the other hand, typically are constituting themselves as corporations that can go public and reap huge stock-market gains.
Ignition arguably has chosen the hottest combination in the markets today -- the incubator structure and a focus on wireless Internet technology. According to Gary Rieschel, Softbank's executive managing partner, who will join the Ignition board, the new company will aim to invest in private companies that could evolve into highfliers such as
Phone.com
(PHCM)
or
Puma Technology
(PUMA)
. Both are providers of wireless technology that provide new services to users of cell phones and other wireless devices.
"We'll be investing in and partnering with companies that will make the wireless Internet a reality," said Jonathan Roberts, a former protege of Silverberg's at Microsoft and an Ignition managing director.
Silverberg, who will be chairman and CEO, is one of Microsoft's most respected alumni. He headed the group that developed Windows 95, as well as the Internet Explorer team, which did so well against
Netscape Communications
in the browser wars that it triggered the
Justice Department
antitrust suit.
Other Microsoft refugees at Ignition include John Ludwig, an expert in network connectivity; Richard Tong, a past vice president of applications product management; and former Microsoft developer-relations chief Cameron Myhrvold (brother of dinosaur-hunting Microsoft brainiac Nathan Myhrvold).
The start-up also has ties to the wireless empire of Craig McCaw. Steven Hooper, a vice chairman of telephone-service provider
Nextlink Communications
(NXLK)
and a former CEO of
McCaw Cellular
, is a founding investor and board member of Ignition.
It all adds up to a new Internet baby that's a born heavyweight.
Wrong! Rear Echelon Revelations: No Penny for Your Thoughts
By
James J. Cramer
3/8/00 4:14 PM ET
I usually cringe when I go to public places these days. It's not because people ask me about stocks -- frankly, I love that -- but because people ask me about penny stocks.
If you want to trade penny stocks, why don't you set up an account with
Tony Soprano's
brokerage? Then, at least, you can get in a little early.
That's why it was a pleasure, during the five hours of waiting for my dad's successful bladder-stone surgery, to be asked about nothing but
Compaq
(CPQ)
and
RF Micro
(RFMD)
. Looks like this Philadelphia crowd is into big-cap tech and the New Economy.
When I first got asked about stocks by people I didn't know, I used to try to please whoever asked me.
Philip Morris
(MO) - Get Altria Group Inc Report
? Excellent long-term hold.
Iomega
(IOM)
? Fabulous, great for multiyear even though the next two or three years are going to be awful.
Or, Gee, yeah, you hang onto that
Boston Chicken
(BOSTQ)
long enough, it has to come back.
Now though I am brutal, which is why it was a pleasure. I love RF Micro, although it is a rocket ship. And Compaq, heck, if
Dell
(DELL) - Get Dell Technologies Inc Class C Report
weren't our fave, I hear it's a good thing.
So I told them both to hang on. And, get this, the RF Micro guy? He had a couple of good ones for me. I will tell you what I do with a tip later in the week.
Random musings:
One down, one to go! Dad's bladder stone could be headed to the
Smithsonian
it was so big. And this Jefferson Hospital in Philadelphia, what can I say? If you have to go, this is the place. Dad was smiling and asked only one thing: "Hey, when are you getting back on 'Squawk Box'?" Oh, man. Can't let him down.
*****
James J. Cramer is manager of a hedge fund and co-founder of TheStreet.com. At time of publication, his fund had no positions in any stocks mentioned. His fund often buys and sells securities that are the subject of his columns, both before and after the columns are published, and the positions that his fund takes may change at any time. Under no circumstances does the information in this column represent a recommendation to buy or sell stocks. Cramer's writings provide insights into the dynamics of money management and are not a solicitation for transactions. While he cannot provide investment advice or recommendations, he invites you to comment on his column at
jjcletters@thestreet.com.
Evening Update: PictureTel Gains on IBM News; Sabre in S&P 500, Service Corp. Out
By
Eileen Kinsella
Staff Reporter
3/8/00 8:20 PM ET
PictureTel
(PCTL)
was popping in after-hours trading after it said it was selected by
IBM
(IBM) - Get International Business Machines Corporation Report
to provide a pan-Europe, Middle East and Africa videoconferencing service.
PictureTel said it will help IBM in its attempts to cut business travel, by making videoconferencing cost effective and user-friendly. The stock climbed as high as 15 in after-market trading after closing at 10 3/8. (For more on PictureTel and other postclose actives, see
The Night Watch.)
Standard & Poor's
said
Sabre Holdings
(TSG) - Get Stars Group Inc Report
will replace
Service Corp.
(SRV) - Get The Cushing MLP & Infrastructure Total Return Fund Report
in the
S&P 500
index, effective March 15.
In other postclose news (
earnings estimates from First Call/Thomson Financial; earnings reported on a diluted basis unless otherwise specified
):
Earnings/revenue reports and previews
Hanover Compressor
(HC)
reported fourth-quarter earnings of 42 cents a share, a penny better than the three-analyst estimate and up from 30 cents a year ago.
NaviSite
(NAVI) - Get Navient Corp Report
posted a second-quarter loss of 41 cents a share, much narrower than the three-analyst expected loss of 63 cents. The company also said its board approved a 2-for-1 stock split.
Newpark Resources
(NR) - Get Newpark Resources, Inc. Report
reported a fourth-quarter loss of 6 cents a share, a penny wider than the five-analyst expected loss. The year-ago loss of 12 cents includes items.
Sunbeam
(SOC)
reported a fourth-quarter loss of $1.43 a share. The three-analyst expected loss was for 41 cents, while the year-ago loss was $2.98. The company said fourth-quarter earnings were negatively affected by unusual and largely noncash charges totaling $93 million related to write-downs of noncore assets, Y2K remediation and reserve adjustments to non-operating liabilities.
Sunrise Assisted Living
(SNRZ)
reported fourth-quarter earnings of 21 cents a share, well above the 16-analyst estimate of 14 cents, but down from the year-ago 36 cents. The company said it authorized a $30 million share buyback program and also said its board authorized the sale of 20 properties per year.
Value America
(VUSA)
reported a fourth-quarter loss of 91 cents a share, narrower than the four-analyst expected loss of $1.02 and the year-ago loss of $1.26 which includes items.
Mergers, acquisitions and joint ventures
Quintiles
(QTRN)
said it will give
Healtheon/WebMD
(HLTH)
$100 million over 18 months to develop Internet products and services in three areas: drug development, physician detailing and direct-to-consumer information delivery. Quintiles also warned it sees a one-time charge of $55 million in the first quarter, and significantly lower earnings per share in the first half of 2000 as well as lower-than-expected revenues.
SDL
(SDLI)
announced plans to acquire U.K.-based
Queensgate Instrument
for up to $210 million in cash and stock as it seeks to diversify product lines.
Offerings and stock actions
Robertson Stephens
priced 4 million shares of
Orapharma
(OPHM)
at $18 each, above the estimated $15-to-$17 range. Orapharma develops pharmaceutical products to treat oral diseases and disorders.
Redback Networks
(RBAK)
set a 2-for-1 stock split.
Westwood One
(WON)
approved a 2-for-1 stock split.
Bond Focus: Bonds Caught Between Rising Stocks and Falling Oil
By
Elizabeth Roy
Senior Writer
3/8/00 4:39 PM ET
The Treasury market ended a humdrum session slightly lower, giving up some of the ground it gained
yesterday when blue-chip stocks went into free-fall. A sharp retreat by oil helped stem the losses.
Fed
Chairman
Alan Greenspan
gave a
speech in the morning, but didn't say anything about monetary policy. He addressed the Independent Community Bankers of America in San Antonio and warned them against being lulled into a sense that the economy will rock 'n roll forever.
"We have seen growing evidence of credit granted solely on the expectation that current robust conditions will continue indefinitely, with little thought as to how borrowers might perform under more stressful conditions," he said.
The only major economic release, the
Beige Book
, had a bearish tone but contained no real surprises. It
described "appreciable expansion of economic activity during late January and February," accompanied by "tight supplies and upward wage pressures for various types of labor," but "limited ... increases in the prices of final goods and services."
So bonds defaulted to their inverse trade with the stock market, taking heart from weakness in stocks, which is seen as the key to slowing the economy's growth, and retreating when stocks rally.
The pattern strengthened in yesterday's session, when a profit warning by
Procter & Gamble
(PG) - Get Procter & Gamble Company Report
sent the
Dow Jones Industrial Average
reeling, and it will benefit bonds in the months ahead, predicted Gerald Thunelius, head of investment-grade taxable fixed income at
Dreyfus
.
"Earnings are starting to react to what bonds have been fearing for the last year," he said -- rising commodity prices. "It's coming home to roost and people are starting to pay attention."
Additional gains by oil and other commodities may hurt bond prices, but not as much as they'll hurt the prices of stocks and other assets, Thunelius is betting. "I think the picture for bonds is that this is not the time or place to be short," he said. Yields could still go higher, but if they do, "there's probably going to be even more pain for the other markets."
The benchmark 10-year Treasury note finished down 1/32 at 100 29/32, lifting its yield a fraction of a basis point to 6.375%. Shorter-maturity issues were likewise little changed. The erstwhile benchmark 30-year bond ended down 5/32 at 101 8/32, lifting its yield 1.2 basis points to 6.158%.
At the
Chicago Board of Trade
, the June
Treasury futures contract closed down 7/32 at 94 18/32.
Meanwhile, the Treasury issues that the government is planning to buy back from investors for the first time in 70 years tomorrow were underperforming at midsession.
Tomorrow the Treasury Department will solicit offers from dealers for up to $1 billion of thirteen 30-year bonds issued between 1985 and 1990. The issues have final maturities between February 2015 and February 2020.
"It's classic buy the rumor, sell the fact,"
Merrill Lynch
Treasury market strategist Jerry Lucas said. "On a day when the market has done nothing, a bond in the buyback sector cheapened by one and a half basis points" relative to the most recently issued 30-year bond.
The buyback program, which the department has said aims to take up to $30 billion of long-maturity Treasuries out of circulation this year, is one of the ways it is dealing with the federal budget surplus, which reduces its need to borrow. By buying back old issues while continuing to issue new ones, the department helps maintain the liquidity of its securities.
Economic Indicators
The weekly
Mortgage Applicaations Survey
detected slight increases in both refinancing and new mortgage activity. The Refinancing Index rose to 377.5 from 346.6, while the Purchase Index rose to 291.7 from 278.4.
Currency and Commodities
The dollar gained against the yen and weakened against the euro. It lately was worth 107.16 yen, up from 106.11 yesterday. The euro was worth $0.9607, up from $0.9592 yesterday. For more on currencies, please take a look at
TSC's
new
Currency Watch column.
Crude oil for April delivery at the
New York Mercantile Exchange
retreated to $31.26 a barrel from yesterday's multi-year high of $34.13 on indications Iran will go along with
OPEC's
production hikes slated for April 1.
The
Bridge Commodity Research Bureau Index
fell to 213.70 from 215.66.
Gold for April delivery at the
Comex
fell to $290.00 an ounce from $293.70.
TO VIEW TSC'S ECONOMIC DATABANK, SEE:
http://www.thestreet.com/markets/keynumbers/897143.html
Copyright 2000, TheStreet.com