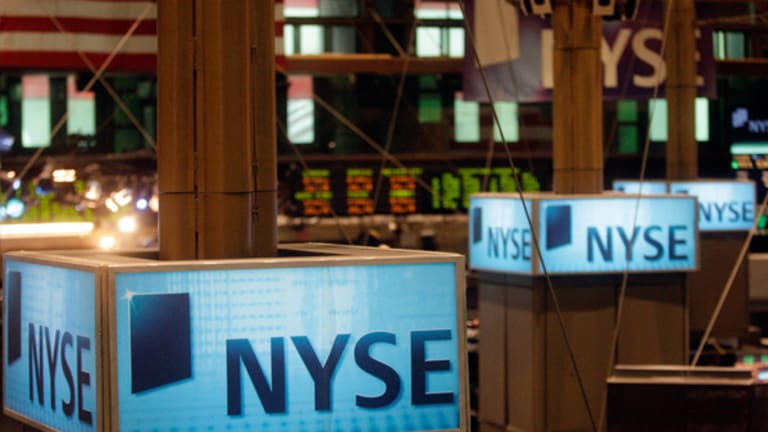 TheStreet.com's DAILY BULLETIN
March 7, 2000
http://www.thestreet.com
Market Data as of Close, 3/6/00:
o Dow Jones Industrial Average: 10,170.50 down 196.70, -1.90%
o Nasdaq Composite Index: 4,904.85 down 9.94, -0.20%
o S&P 500: 1,391.28 down 17.89, -1.27%
o TSC Internet: 1,252.74 up 31.64, 2.59%
o Russell 2000: 601.64 up 3.76, 0.63%
o 30-Year Treasury: 101 13/32 down 7/32, yield 6.144%
Companies in Today's Bulletin:
Crayfish (CRFH:Nasdaq)
Benchmark Capital
Yahoo! (YHOO:Nasdaq)
AOL(AOL:NYSE)
In Today's Bulletin:
o Brokerages/Wall Street: Benchmark Crosses the Ocean
o Wrong! Tactics and Strategies: Making Sense of a Two-Tiered Market
o Evening Update: Crayfish, Net2000 IPOs Get Rich Valuations
o Bond Focus: Greenspan Rehashes Humphrey-Hawkins
TheStreet.com Community:
You know TheStreet.com's the place for great market commentary, but did youknow it's also the place for intelligent investing discussion?
Check out the conversations on our Commentary boards, including Cramer'sLatest, Jim Seymour's Tech Savvy, Gary B. Smith, Ben Holmes' IPOs, and others.
If you're part of TSC's Investment Challenge, we also have a board for youto share strategies and ideas with other competitors.
Also, make sure to check out our stock boards for insightful equities-baseddiscussion on the Web. Don't see a board listed for your favorite stock?Start the board yourself. Simply type the symbol into the "jump to stockboard" field and be the first to make a post. You can access our stockboards from all TSC features by clicking on the "boards" link after eachstock name: (CSCO:Nasdaq - news - boards).
TSC Message Boards:
http://www.thestreet.com/cap/browse/index.jhtml
Also on TheStreet.com:
IPOs: Biotech Is the New Flavor of the Month
Two dozen companies are ready to go public following the footsteps of biotech firm Sequenom.
http://www.thestreet.com/stocks/ipos/895330.html
Biotech/Pharmaceuticals: European Biotech Firms Beating a Path to U.S. IPO Trough
As domestic biotech plays grow more richly valued, investors here look across the pond.
http://www.thestreet.com/stocks/biotech/895337.html
Mutual Funds: Funds Notebook: PBHG Fund Returning 800%, Turning Away New Investors
Also, Internet fund ads tout past success, more than 400 funds crowd the triple-digit club, and more.
http://www.thestreet.com/funds/funds/895723.html
The TaskMaster: Small-Caps Keep Chugging, Thanks to Wellspring of Financing
As the Russell 2000 hits a record, Task sees the small fry narrowing the capital spreads with the blue-chips.
http://www.thestreet.com/comment/taskmaster/895901.html
Brokerages/Wall Street: Benchmark Crosses the Ocean
By
Adam Lashinsky
Silicon Valley Columnist
3/6/00 8:56 PM ET
Europe has plenty to gloat about in technology these days, from state-of-the-art cell phones to higher growth opportunities for Internet entrepreneurs and investors. Next up for the Old World is a venture fund run by
Benchmark Capital
, one of the most prominent -- and newest -- of the New World's VC community.
Benchmark said Monday it has formed a $500 million fund headquartered in London that will focus on European start-ups, particularly in wireless technologies. Benchmark general partner Robert Kagle said the new fund has hired two London-based general partners, each experienced in European investments. Kagle declined to name the new partners, however, presumably because they haven't officially left their current jobs.
The move into Europe is a first for Benchmark and a relatively unusual move for a Silicon Valley firm. Like most VC funds based on or near Sand Hill Road in Menlo Park, Calif., many of Benchmark's portfolio companies are within a morning's drive of the partners' conference room. Some of its more successful investments in the neighborhood have included online auction house
eBay
(EBAY) - Get Report
in San Jose, business software provider
Ariba
(ARBA)
in Mountain View and Web consultant
Scient
(SCNT)
in San Francisco.
But the European opportunity appears to be worth the trip. Kagle said Benchmark has been investigating opportunities in Europe for about six to nine months. He personally became exposed to the German market through eBay's 1999 acquisition of German online auctioneer
Alando
and the subsequent launch of the eBay Germany auction site. He said Israeli technology companies are not specifically a target of the new European fund, though Israeli start-ups increasingly are appearing on Benchmark's radar screen.
The new fund doesn't compare in size to the
billion-dollar fund Benchmark raised last year, primarily from U.S. institutional investors. Kagle said, however, that $500 million -- which he suggested was extremely easy to raise -- would be more than enough to occupy the two initial European partners and a third to join the firm shortly. Kagle also noted that he and his five partners -- Bruce Dunlevie, Dave Beirne, Bill Gurley, Andy Rachleff and Kevin Harvey -- are contributing a total of $40 million to the new European fund. Although one of the most successful to exploit the Internet, Benchmark is one of Silicon Valley's newest. It will turn 5 years old in May.
Wrong! Tactics and Strategies: Making Sense of a Two-Tiered Market
By
James J. Cramer
3/6/00 9:24 PM ET
When you have giant pools of capital competing for a handful of stocks with a very small float, you get monstrous moves, irrespective of what the
Dow Jones
or
S&P 500
do. On days like today we have to fight to keep some names on because the natural tendency is to believe that, eventually, they have to come for everything.
We own a stock that was up 30 points today right into the chaos that was a pretty ugly day. We wanted to sell it because we figured, "What right does that stock have to be up so much on a day like today?"
But we then put ourselves in the heads of the buyers. They saw "the story" last week at
Robbie Stephens
. They did the work on the stock. And they probably run billions of dollars each. If they were to buy only 5,000 or 10,000 shares of this company, it would mean nothing to them. It would be a bad use of their time and resources. They can only justify a minimum position of 100,000 shares. That's where the fireworks come in.
These managers know that they cannot possibly stop buying a stock once they buy it. Someone else will buy it and take it up if they don't. We all like the same stories. We all know that these stocks are headed higher because the demand is so great for them.
So they queue up with a broker and they give him a working order to get 100,000 shares in. Every day they re-enter the order and every day they buy a little more. The order has nothing to do with the Dow Jones or the S&P -- it has to do with the company they are buying. They are impervious to the selling going on around them. All they are supposed to do is get the stock in.
Now, I am not impervious to the selling. I see it. I am not immune to the pain of the market even if I may, from time to time, be immune to the pain of a stock. So, my first reaction had historically been to say: Those buyers ought to look at their screens; don't they see the carnage? And I would hit them with stock.
But that's not how it works anymore. These giant pools of capital can't keep one eye on the macro or one eye on the Dow. Their mantra is to "get it in." So days like today, hard days for the S&P, are just like any other days. They are just days to buy.
And that's how you get this ridiculous two-tiered market.
*****
James J. Cramer is manager of a hedge fund and co-founder of TheStreet.com. At time of publication, his fund had no positions in any stocks mentioned. His fund often buys and sells securities that are the subject of his columns, both before and after the columns are published, and the positions that his fund takes may change at any time. Under no circumstances does the information in this column represent a recommendation to buy or sell stocks. Cramer's writings provide insights into the dynamics of money management and are not a solicitation for transactions. While he cannot provide investment advice or recommendations, he invites you to comment on his column at
jjcletters@thestreet.com.
Evening Update: Crayfish, Net2000 IPOs Get Rich Valuations
By
Patrick M. Fitzgibbons
Markets Editor
3/6/00 8:44 PM ETA couple of new issues got ready to take their bows on the market stage, pricing at or above the top end of their respective ranges.
Morgan Stanley Dean Witter
priced a 4.35 million-ADR IPO for Japanese email provider
Crayfish
(CRFH)
at $24.50 an ADR, above the expected range of $22 to $24.
Goldman Sachs
priced a 10-million share IPO for
Net2000 Communications
(NTKK)
at $20 a share, the top end of the $18-to-$20 range. Net2000 provides broadband telecom services to businesses in the Northeast and Mid-Atlantic states.
In other postclose news (earnings estimates from
First Call/Thomson Financial
; earnings reported on a diluted basis unless otherwise specified):
Earnings/revenue reports and previews
Standard Motors
(SMP) - Get Report
reported a fourth-quarter loss of $1.36 a share, down from an 11-cent profit in the year-ago period. The company had been estimated by one analyst to lose 85 cents during the quarter.
Teligent
(TGNT)
announced it lost $2.89 a share during the fourth quarter as opposed to $2.00 last year. The two-analyst estimate for the quarter called for a loss of $2.91.
Terayon Communications
(TERN)
announced that it expects to exceed analysts' first-quarter earnings and revenue expectations. Currently, eight analysts estimate the company will post earnings of 1 cent a share during the quarter.
Voicestream
(VSTR)
announced it lost $1.54 a share in the fourth quarter as compared with a 75-cent loss in the year-ago period. The five-analyst estimate for the period was for a loss of $1.49.
Offerings and stock actions
Breakaway Solutions
(BWAY) - Get Report
set a 2-for-1 stock split for shareholders of record by the end of trading Tuesday.
CT Communications
(CTCI)
set a 2-for-1 stock split.
Kohl's
(KSS) - Get Report
set a 2-for-1 stock split.
Lam Research
(LRCX) - Get Report
approved a 3-for-1 stock split, effective Tuesday.
Staples
(SPLS)
said it would buy back $250 million of common stock this year, which the company said it would use for its employee benefits programs.
Miscellany
Laser-eye surgery products manufacturer
Visx
(VISX)
announced this afternoon that the
International Trade Commission
ruled that Japanese competitor
Nidek
did not infringe on Visx's patents.
Bond Focus: Greenspan Rehashes Humphrey-Hawkins
By
Elizabeth Roy
Senior Writer
3/6/00 1:29 PM ET
Fed
Chairman
Alan Greenspan
merely revisited territory he had already staked out in his latest public remarks today, and the Treasury market took them in stride.
In a
speech at Boston College, Greenspan reiterated the warning he issued in his Feb. 17
Humphrey-Hawkins
testimony: That the
Federal Open Market Committee
is on a rate-hiking mission that will last till the economy stops displaying signs that it is growing at an unsustainable pace.
Greenspan said: "Until market forces, assisted by a vigilant Federal Reserve, effect the necessary alignment of the growth of aggregate demand with the growth of potential aggregate supply, the full benefits of innovative productivity acceleration are at risk of being undermined by financial and economic instability."
(In the Humphrey-Hawkins testimony last week, the Fed chairman said: "
With the assistance of a monetary policy vigilant against emerging macroeconomic imbalances, real long-term rates will at some point be high enough to finally balance demand with supply at the economy's potential in both the financial and product markets.")
In the speech, entitled "The revolution in information technology," Greenspan drew heavily on previous speeches, as he often does. His discussion of the ways in which computers and the Internet have vastly improved the productivity of American companies was well-worn, having appeared most recently in
testimony before the congressional
Joint Economic Committee
on June 14. And his discussion of how rising productivity has a dark side, encouraging consumer spending in excess of what the economy can currently produce, was taken word for word from his Humphrey-Hawkins testimony.
And so, the Treasury market barely reacted to Greenspan. It sustained early losses triggered by weekend comments by Fed Governor
Laurence Meyer
, and then pared them as the day wore on and the stock market sold off.
Meyer, the second-most influential
Fed official after Greenspan, talked tough at a conference at San Franciso Friday evening. In a
speech to a group of economists, large portions of which are totally incomprehensible to the layperson, Meyer advocated an aggressive approach to curbing economic growth.
"A final component of
the Fed's monetary policy strategy should be that policy should tighten further -- above and beyond what is presumed to be necessary to slow the economy to trend -- to the extent that efforts to stabilize the output gap fall short," he said. In other words, if the Fed doesn't succeed in stabilizing the unemployment rate, which sits near a 30-year low, it should keep hiking, even if the economic growth rate has moderated.
Early in the session, the expectation that any day now, the Treasury Department will announce the details of its plan to buy some Treasury securities back from investors prevented even bigger losses,
Dresdner Kleinwort Benson
senior economist Kevin Logan said. "People are finding it hard to be short in this market," he said.
The buyback program is one of the ways the government is dealing with the fact that because it is running a surplus, it no longer needs to have so much debt outstanding. So far, Treasury officials have said that they will buy back up to $30 billion of securities this year in increments of $1 billion, and that they will start during the first quarter. The market is awaiting information on which securities they want, and when.
After trading down as much as 13/32, the benchmark 10-year Treasury ended down 7/32 at 100 21/32, lifting its yield 3 basis points to 6.409%. The erstwhile benchmark 30-year Treasury bond, whose value has been inflated by the presumption that long-maturity issues will be buyback targets, fell 6/32 to 101 14/32, lifting its yield 1.4 basis points to 6.144%.
At the
Chicago Board of Trade
, the June
Treasury futures contract fell 12/32 to 94 27/32.
Economic Indicators
There were no economic releases today, and apart from tomorrow's revision to the fourth-quarter
productivity and unit labor costs
report, there is nothing major this week.
Currency and Commodities
The dollar weakened against the yen and gained against the euro. It lately was worth 107.48 yen, down from 107.76 Friday. The euro was worth $0.9591, down from $0.9597 Friday. For more on currencies, please take a look at
TSC's
new
Currency Watch column.
Crude oil for April delivery at the
New York Mercantile Exchange
rose to a new multi-year high of $32.18 a barrel from $31.51 Friday.
The
Bridge Commodity Research Bureau Index
rose to 214.44 from 213.56 Friday.
Gold for April delivery at the
Comex
fell to $289.40 an ounce from $290.30 Friday.
TO VIEW TSC'S ECONOMIC DATABANK, SEE:
http://www.thestreet.com/markets/databank/893093.html
Copyright 2000, TheStreet.com