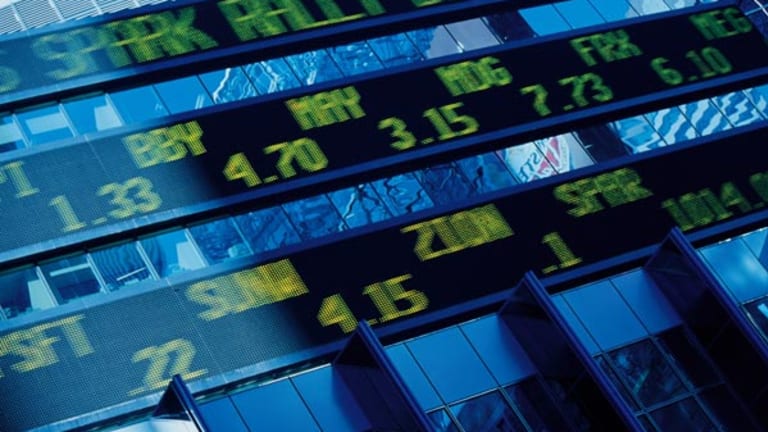 Publish date:
daily03-01-00
TheStreet.com's DAILY BULLETIN
March 2, 2000
http://www.thestreet.com
Market Data as of Close, 3/1/00:
o Dow Jones Industrial Average: 10,137.93 up 9.62, 0.09%
o Nasdaq Composite Index: 4,784.08 up 87.39, 1.86%
o S&P 500: 1,379.19 up 12.77, 0.93%
o TSC Internet: 1,199.53 up 16.67, 1.41%
o Russell 2000: 588.35 up 10.64, 1.84%
o 30-Year Treasury: 101 08/32 down 8/32, yield 6.151%
In Today's Bulletin:
o Mutual Funds: Early Wireless Fund Investors Get a Palm Present
o Wing Tips: Tower Air Takes a Tumble
o Evening Update: Palm IPO Priced at $38 a Share; Aetna Takeover Details Released
o Bond Focus: Against All Odds, Treasuries (Except Bond) Rally
Looking for the latest sports scores? They're right here on TheStreet.com! Follow your favorite teams at the new TSC Sports Center.
http://www.thestreet.com/sports/Leagues.jhtml
Also on TheStreet.com:
IPOs: February Sees Another Record in IPO-Land
New offerings draw $7.56 billion for the month, and the beat goes on.
http://www.thestreet.com/stocks/ipos/892975.html
Wrong! Tactics and Strategies: Chaos at the Close
Last-minute shenanigans are distorting the close daily, and the trader's calling for that to stop.
http://www.thestreet.com/comment/wrongtactics/893039.html
Mutual Funds: Where Janus' Decker Might Be Spending His $1 Billion
The manager of Janus' new value fund likes Apple and stocks that are cheap on a cash-flow basis.
http://www.thestreet.com/funds/funds/893095.html
The Risk Arb: How to Be a Risk Arb, 101
Here they are: the books that should fill an arb's bookshelf.
http://www.thestreet.com/comment/riskarb/892813.html
Game Plan: Your Estate Can Live On Through a Living Trust
Unlike other trusts, this one isn't for tax avoidance. It's to avoid the expense of probate.
http://www.thestreet.com/funds/hayden/893003.html
Futures Shock: European Destinations Waiting for Continental Harmony
The flight-to-quality question hangs on the U.K. tough economic policy.
http://www.thestreet.com/comment/futures/892847.html
Mutual Funds: Early Wireless Fund Investors Get a Palm Present
By
Ian McDonald
Senior Writer
3/1/00 9:11 PM ET
It's just about impossible for you to get your hands on offering-price shares of
Palm
, the Palm Pilot-making
3Com
(COMS)
unit set for a
much anticipated initial public offering Thursday. But a startup mutual fund was quietly offering a piece of the action all week.
The $6.5 million
Investec Guinness Wireless World
, a new all-wireless sector fund,
launched Monday to little fanfare and modest sales. The new fund doesn't have a ticker symbol or much money, but it has what many investors covet -- an allocation of Palm shares at the offering price. If you bought shares of Wireless World before Wednesday's market close, you'll be in on the IPO and probably see a hefty return tomorrow.
What's the big deal? Individual investors typically get less than 20% of the average IPO's shares and an even smaller portion of deals that draw heavy interest. Demand for Palm was so high that 3Com
doubled the offering price this week (and it
priced even higher, at $38 a share, Wednesday night). The IPO shares could still triple or rocket even higher on Thursday. That could translate to a big boost for the tiny fund, depending on how many shares it gets.
Alistair Blevins, a fund marketer at Investec's U.S. office, says the fund is "confident" it will have an allocation, but won't know its exact size until Thursday. London-based portfolio manager Nigel Dutson wasn't available for comment.
The coy Blevins admits the IPO could "certainly be advantageous" for the fund. How advantageous?
If 5% of the fund is invested in the IPO -- not an outlandish estimate given the fund's modest size -- and Palm shares triple on their first day, the fund could see a 10% bump from the IPO alone, says Jonas Max Ferris, co-founder of
Maxfunds.com
, a
new Web site that focuses on new and small funds.
And when it comes to flipping Palm shares -- selling them on IPO day for a big profit -- holders of Wireless World fund shares have more flexibility than many Wall Street heavyweights who may have agreed to hold on to their shares.
Institutional investors "might not be able to flip, but you can just sell your fund shares at the end of the day," says Ferris. "Even if it's only 5% of your money, it's more than you'd ever get otherwise, and it's a lot safer than trying to buy shares in the aftermarket."
Unfortunately, the window for taking advantage of this opportunity slammed shut Wednesday night. If you buy shares of the fund on Thursday, they'll be priced at the close of trading -- after the IPO.
If you're kicking yourself, get in line. Investec's Blevins says the fund's portfolio -- currently just 20 stocks -- was posted to the firm's
Web site on Monday. Those holdings included Palm.
"It was a much better story yesterday," Ferris said Wednesday.
We'll try to report the size of the fund's Palm allocation and its one-day bump on Thursday -- if masochists are interested.
If it's any consolation, Ferris says this isn't a one-time event. Many fund shops give IPO shares to their new funds to ensure a solid track record out of the gate.
Wing Tips: Tower Air Takes a Tumble
By
Holly Hegeman
Special to TheStreet.com
3/1/00 7:11 PM ET
Funny thing about airlines.
Those that provide poor passenger service, fly aging and high-maintenance aircraft and have lousy employee/management relations more often than not will see revenue start to decline and costs rise. That's exactly what happened at
Tower Air
(TOWR) - Get Report
. Declining revenue and rising costs forced the carrier to file for Chapter 11 bankruptcy protection Tuesday.
At the same time, the airline announced it had received an $18 million loan from one of its largest creditors,
GMAC Business Credit
. We understand that
General Electric
(GE) - Get Report
, which Tower owes some $36 million, had been crawling all over the airline of late. Apparently GE told Tower Air CEO Morris Nachtomi
no mas
last week. Then GMAC, which already is owed about $28 million by Tower, apparently was convinced to pony up the additional $18 million.
Tower, which listed about $380 million in assets and about $357 million in debt in its filing, claims that business will continue as usual, and that the airline will return to profitability once about 300 jobs are cut from the payroll.
My take? First of all, $18 million just ain't going to make a rat's bit of difference here. Tower Air routinely provides abysmal service, its aircraft are old, expensive maintenance hogs and the airline has seen competition increase on its bread-and-butter route between
John F. Kennedy International Airport
and Tel Aviv to the point where no number of cheap seats are going to cover the lease payments. (
Continental Airlines
(CAL) - Get Report
has done very well flying the JFK-Tel Aviv routes, which it began doing last August.)
As for Tower's aging and dilapidated fleet, much of which is in parts at JFK, one industry wag quipped: "The best advertisement for the quality of workmanship and durability of
Boeing
(BA) - Get Report
747s is Tower Air."
No, that is not a compliment.
In addition to regularly scheduled passenger service and charter work, Tower routinely made a fair amount of money providing airlift services to the
Department of Defense
. However, two months ago, the DOD removed Tower from its list of approved carriers, citing "performance issues."
Morris Nachtomi and members of his family own about 76% of the airline. As long as the airline is flying, Nachtomi is making money, by virtue of Tower's service contracts with other companies he controls.
Shares of Tower, which had been trading at about 1, shot up 56% Monday, on about 13 times normal volume, to close at 1 9/16, as speculation centered around a possible "white-knight" situation. We didn't take those rumors seriously. We figured the airline was headed for the protection of bankruptcy court.
Trading was halted in the stock early Tuesday pending the airline's response to
Nasdaq's
request for more information on the bankruptcy filing.
Will the airline emerge from bankruptcy protection and fly into profitable skies? No. We think this merely delays the inevitable. And allows Nachtomi to make some money in the meantime. As one Tower Air captain, who was off to interview with
Polar Air Cargo
, emailed us today, "I assume that we are to believe this $18 million is a bridge to something else. To me, it seems to serve only as a way to perpetuate the agony."
Much thanks to the
TheStreet.com
readers who stopped by and said hello when I spoke last week at the Aero Club in Washington, D.C. I had a great time, it was a great crowd and, as a result, I will be speaking at the
Regional Airline Association
convention in San Antonio in May. Hey, a triple-bagger. We can't complain.
Holly Hegeman, based in Barrington, R.I., pilots the Wing Tips column for TheStreet.com. At time of publication, Hegeman held no positions in any securities mentioned in this column, although holdings can change at any time. Under no circumstances does the information in this column represent a recommendation to buy or sell stocks. You can usually find Hegeman, publisher of PlaneBusiness Banter, buzzing around her airline industry Web site at
www.planebusiness.com. While she cannot provide investment advice or recommendations, she welcomes your feedback at
hhegeman@planebusiness.com.
Evening Update: Palm IPO Priced at $38 a Share; Aetna Takeover Details Released
By
Tara Murphy
Staff Reporter
3/1/00 8:01 PM ET
Goldman Sachs
priced a 23 million-share IPO for
3Com's
(COMS)
Palm
(PALM)
unit at $38 a share, above the expected range of $30 to $32.
3Com will receive 532 million shares from the offering and will divest the shares within six months by handing them over to its stockholders. (
TheStreet.com
looked at a fund offering its lucky investors a piece of the Palm IPO in a separate
story.)
America Online
(AOL)
,
Nokia
(NOK) - Get Report
and
Motorola
(MOT)
are set to buy the $225 million worth of the
Palm Pilot
maker's stock at its IPO price.
In other postclose news (earnings estimates from
First Call/Thomson Financial
; earnings reported on a diluted basis unless otherwise specified):
Mergers, acquisitions and joint ventures
Aetna
(AET)
said
WellPoint Health Networks
(WLP)
and
ING America Insurance Holdings
, a unit of
ING Groep
(ING) - Get Report
launched a $10.2 billion takeover bid for Aetna, one day before Aetna ousted its CEO and began examining its operations.
Aetna said WellPoint and ING America Insurance Holdings made a $70-a-share offer, which included $44 in cash and $26 in WellPoint stock. According to
CNBC
, the deal would divide Aetna into two units, with WellPoint taking on the global health insurance business and ING managing the financial services operations.
For more on Aetna's day, take a look at the
story written this evening by
TheStreet.com/NYTimes.com
joint newsroom.
Lee Enterprises
(LEE) - Get Report
said it would sell its TV and broadcasting stations to focus on publishing and Internet services. Chairman and CEO Richard Gottlieb said the company would immediately begin talks with possible buyers and that the unit, which consists of nine network affiliate stations and seven satellite stations, would be sold within three months. During fiscal 1999, its stations represented $122.5 million of its $536.3 million total revenues.
Players International
(PLAY) - Get Report
said it would still be bought by
Harrah's Entertainment
(HET)
and would not exercise its option to ax the deal if it is not closed by March 10. The companies are waiting to receive approval from the
Illinois Gaming Board
, which pushed back its decision on the merger since a new statute allowing several casino licenses has been challenged. The board will meet on March 10.
Radiant
(RADS)
and
Microsoft
(MSFT) - Get Report
said they have entered a deal to set up e-commerce marketplaces for retailers. The deal calls for Microsoft to take an undisclosed equity stake in Radiant and support product development. The venture would help small and mid-sized retailers buy supplies for their businesses.
Reliant Energy
(REI) - Get Report
said it now owns 100% of the Dutch power firm
N.V. UNA
, after it bought the remaining 48% of the company for roughly $975 million. Reliant said the total acquisition, which includes a $426 million promissory note, carried a $2.2 billion price tag. Reliant purchased 40% of UNA for $775 million in October and bought an additional 12% in December.
Earnings/revenue reports and previews
Adobe Systems
(ADBE) - Get Report
said it was poised to post "a solid first-quarter in fiscal 2000." The 12-analyst estimate expects the company to post first-quarter earnings of 43 cents a share.
Burlington Coat Factory Warehouse
reported a 7% increase in third-quarter same-store sales.
Hearst-Argyle
(HTV)
posted fourth-quarter earnings of 17 cents a share, in line with the three-analyst estimate and down from the year-ago 40 cents.
Kimco Realty
(KIM) - Get Report
posted fourth-quarter funds from operations of 97 cents a share, a penny better than the 12-analyst estimate and up from the year-ago 81 cents.
Michael Stores
(MIKE)
reported fourth-quarter earnings of $1.41 a share, greatly beating the 11-analyst estimate of $1.25 and up from the year-ago 99 cents. The retailer posted an 8% increase in February same-store sales.
Net2Phone
(NTOP)
reported a second-quarter loss of 17 cents a share, a penny narrower than the seven-analyst estimate but wider than the year-ago 3-cents loss.
Pacific Gateway
(PGEX)
reported fourth-quarter earnings of 5 cents a share, in line with the four-analyst estimate but down from the year-ago 25 cent-profit.
Verio
(VRIO)
posted a fourth-quarter loss of 71 cents a share, narrower than the 23-analyst estimate of a 75-cent loss but wider than the year-ago 51-cent loss.
Offerings and stock actions
Abgenix
(ABGX)
set a 2-for-1 stock split.
ViaLink
(IQIQ)
set a 2-for-1 stock split.
Analyst actions
SG Cowen
raised its price target on
JDS Uniphase
(JDSU)
to 300 from a range of 250 to 275. The firm also upped its price target on
Ciena
(CIEN) - Get Report
to 200 from 130. Both stock are tagged with buy ratings.
Miscellany
Intergraph
(INGR) - Get Report
said it has tapped Jim Taylor as its new CEO. Intergraph would replace the company's current CEO Jim Meadlock.
Parametric Technology
(PMTC)
said it selected C. Richard Harrison as its new president and CEO.
Wal-Mart's
(WMT) - Get Report
e-commerce site
Wal-Mart.com
said it has tapped the former head of
Banana Republic
, Jeanne Jackson, as its CEO. Separately,
Gap
(GPS) - Get Report
, Banana Republic's parent, announced Jackson's departure from her roles at the retailer.
Separately, Gap posted a 4% increase in February same-store sales.
For a look into this evening's after-hours trading action, please check out
TheStreet.com's
The Night Watch.
Bond Focus: Against All Odds, Treasuries (Except Bond) Rally
By
Elizabeth Roy
Senior Writer
3/1/00 11:08 AM ET
Treasuries diverged today, with the benchmark 10-year note and shorter-maturity issues rising in price while the 30-year bond fell. Bewilderment was widespread about why most of the market did well on a day when economic data was hotter than expected; oil, commodity and stocks rallied smartly; the dollar tanked against the yen and carmakers reported strong results for February.
It appears that curve trading accounted for some of the movement: The difference in yield between the 30-year bond and shorter maturities fell sharply
yesterday; if you profited from that trade, maybe you sold the bond and bought shorter-maturity instruments to unwind it today.
At the same time, market watchers noted heavy demand for Treasuries on the part of various foreign central banks, not always the most price-sensitive of buyers. That prompted one to call today's action "flow-driven, not fundamentally driven."
It wasn't fundamentally driven because today's economic data revealed continued strength in the manufacturing and construction sectors.
The key manufacturing indicator, the
Purchasing Managers' Index
, rose to 56.9 in February from 56.3 in January. Economists polled by
Reuters
had forecast a slightly smaller gain, to 56.6, on average.
But it was none-too-impressive in the scheme of things. The PMI remains below its most recent peak of 57.8 in September.
And there were no terribly ugly surprises in the sub-components of the
National Association of Purchasing Management's
monthly report. An index measuring prices paid by manufacturers rose again, to 74.1, the highest since April 1995, from 72.6. But the supplier deliveries index, which measures inflationary bottlenecks in the sector, eased for the second month in a row, dropping to 55.0 from 55.2 in January.
Meanwhile, the
construction spending
report for January blew away expectations with a 2.7% gain, the largest since February 1998. The consensus forecast was for a 0.2% drop. However, the year-on-year pace of construction spending, at 8.7%, remains well below its March 1999 peak of 12.7%.
Still, if the economic data weren't sufficient to keep most Treasuries from rallying, other factors ought to have been. Oil closed at a new nine-year high on data showing that inventories remain at low levels. Rising energy and cotton prices powered a key commodity price index to its highest level in over a week. The dollar sank to a one-month low against the yen. And carmakers reported February results that put the month on pace to set a new record.
"The fundamentals are overwhelmingly bearish for the market,"
Thomson Global Markets
managing analyst Ken Logan said.
The market didn't care. The benchmark 10-year Treasury note ended up 6/32 at 100 15/32, lowering its yield 2.5 basis points to 6.384%. Shorter-maturity note yields fell by smaller amounts. Meanwhile the 30-year bond fell 9/32 to 101 9/32, lifting its yield 2 basis points to 6.155%.
At the
Chicago Board of Trade
, the June
Treasury futures contract finished down 6/32 at 94 16/32.
Economic Indicators
Also today, the weekly
Mortgage Applications Survey
detected increases in both refinancing and new mortgage activity. The Refinancing Index rose from 335.6 to 346.6, and the Purchase Index rose from 262.4 to 278.4.
Currency and Commodities
The dollar fell against the yen and the euro. It was lately worth 107.15 yen, down from 110.23 yesterday. The euro was worth $0.9735, up from $0.9646 yesterday. For more on currencies, please take a look at
TSC's
new
Currency Watch column.
Crude oil for April delivery at the
New York Mercantile Exchange
rose sharply in spite of this morning's news that leading oil producers will propose that
OPEC
boost output by 1.2 million barrels a day starting next month. It ended at $31.77 a barrel, up from $30.43 yesterday.
The
Bridge Commodity Research Bureau Index
rose to 211.97 from 208.78 yesterday.
Gold for April delivery at the
Comex
fell to $293.8 an ounce from $294.2 yesterday.
TheStreet.com Community:
You know TheStreet.com's the place for great market commentary, but didyou know it's also the place for intelligent investing discussion? Checkout our message boards with new and improved forums and formats.
Submit your picks for Jim Cramer and Melissa "Genome" Kasper's biotechrotisserie league. Also, don't miss the conversations on our Commentaryboards, including Cramer's Latest, Jim Seymour's Tech Savvy, Gary B. Smith,Ben Holmes' IPOs and others.
Also, send your suggestions for TSC's Post of the Week and help ushighlight posts you think stand out from the rest. Tell us which ones youthink are best and we'll give the winner a TSC prize.
TSC Message Boards:
http://www.thestreet.com/cap/browse/index.jhtml
Also, Cramer will discuss his favorite stock picks Thursday as well ashis views of upcoming deals in areas such as telecom, financial servicesand the Internet. Join Cramer for a chat Thursday, March 2, at 5 p.m. ESTon America Online (Keyword: Live).
Copyright 2000, TheStreet.com