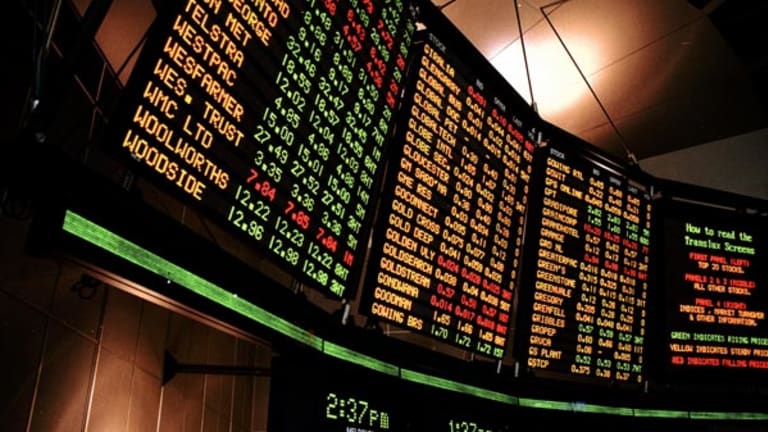 Publish date:
daily02-29-00
TheStreet.com's DAILY BULLETIN
March 1, 2000
http://www.thestreet.com
Market Data as of Close, 2/29/00:
o Dow Jones Industrial Average: 10,128.31 up 89.66, 0.89%
o Nasdaq Composite Index: 4,696.69 up 118.84, 2.60%
o S&P 500: 1,366.42 up 18.37, 1.36%
o TSC Internet: 1,182.86 up 28.31, 2.45%
o Russell 2000: 577.71 up 20.03, 3.59%
o 30-Year Treasury: 101 16/32 up 22/32, yield 6.133%
In Today's Bulletin:
o Mutual Funds: Investors Pour $1 Billion Into Janus Value Fund
o Wrong! Rear Echelon Revelations: Motorola Reaction Sends Bullish Signals
o Evening Update: Mirage Turns Down $3.4 Billion and priceline.com Readies for Expansion
o Bond Focus: Index Buyers Lift Long Bond
How's your online broker doing? Let us know in our Online Broker Survey2000. Fill it out now, and get a chance to win a TSC T-Shirt. Fill out thesurvey here!
http://survey.informative.com/sb/survey?s=57680&hdr=1
Looking for the latest sports scores? They're right here on TheStreet.com!Follow your favorite teams at the new TSC Sports Center.
http://www.thestreet.com/sports/Leagues.jhtml
Also on TheStreet.com:
Banking: First Tennessee Loan Woes Spur Talk that Regulators Are Tightening Screws
Discussion focuses on whether Wells Fargo could be next.
http://www.thestreet.com/stocks/banking/892132.html
Internet: Court Throws Out Suit Against Stock Message Board Posters
But ZiaSun says it will refile the defamation suit and prevail.
http://www.thestreet.com/tech/internet/892283.html
The Speculator's Corner: Of Declines and Divergences
The divergence created by the Nasdaq's gain and the Dow's decline is a rare trading opportunity.
http://www.thestreet.com/comment/thespeculatorscorner/892381.html
Semiconductors: SOX Heights Leave Some Fearing Bubble
Investors are knocking each other over in their rush to buy semi stocks, a practice that scares one analyst.
http://www.thestreet.com/tech/semis/892432.html
Internet: 24/7 Buy Gives Online Ad-Sellers a Shove Toward Consolidation
The industry is expected to shake out in a big way in coming months.
http://www.thestreet.com/tech/internet/892126.html
Mutual Funds: Investors Pour $1 Billion Into Janus Value Fund
By
Ian McDonald
Senior Writer
2/29/00 8:31 PM ET
Only
Nixon
could go to China, and only
Janus
, undisputed champ of growth investing, could sell a value fund while the investment style sputters.
Janus Strategic Value
emerged from a monthlong subscription period on Tuesday with more than $1 billion in assets. The fund launches Wednesday.
"Right now, any fund with the Janus moniker will draw a huge amount of money," says Dave Haywood of Boston fund consultant
Financial Research
. He says clients have jokingly told him that investors are so high on Janus that they'd wrap their arms around a new
Janus Joplin
fund.
Janus raised $388 million through online broker
Charles Schwab
(SCH)
and the rest on its own. No final subscription total was available Tuesday evening, but Janus confirmed it would be at least $1 billion and probably more.
The Janus value fund even outsold
Baron iOpportunity
, a new Internet fund that raised $150 million through Schwab and about $50 million on its own during a six-week subscription that also ended Tuesday.
During a subscription period, investors can reserve shares of a new fund at a fixed price, in this case $10. At the end of the subscription period, Tuesday in this case, investors' money is pooled and used to launch the fund's portfolio.
The Denver shop is coming off an
incredible 1999 in which the firm's 14 stock funds
averaged
more than 80% returns.
The brand has become so synonymous with hot performance that investors appear to be using the new value fund to slake their thirst for Janus shares -- even though the fund's chosen style is way, way out of favor. Last year, large-cap growth funds outreturned large-cap value funds, 36% to 1%. Investors pulled an estimated $51.2 billion out of value funds in 1999, according to Haywood.
At the same time, they have been practically throwing money at Janus. More than $35 billion gushed into its funds last year, and in the fourth quarter, nearly 25% of all stock-fund investments went to Janus.
Where will Janus Strategic Value's thirtysomething manager David Decker put this money to work?
Decker, who also runs Janus'
(JASSX)
Special Situations fund,
told
TSC
last year that he would look for undervalued stocks, but prefers free cash flow and return on capital to the strict price-to-earnings yardstick used by value purists.
He also said he might pick stocks similar to those in the Special Situations fund, but buy them when they're cheaper and lock in profits sooner. That fund's portfolio doesn't have the hallmarks of a value fund. On Jan. 31, its top three sectors were cable television, cellular telecommunications and computers, according to Janus'
Web site.
With that kind of portfolio, investors should expect a flexible approach to value, rather than a stricter strategy that leads to high stakes in more traditional value sectors such as financials and cyclicals. It should resemble the approach Bill Miller employs on his
(LMVTX) - Get Report
Legg Mason Value Trust.
You might not call the approach value -- fund classifiers like
Morningstar
and
Lipper
might not either -- but you would have to call it successful. Using a fairly price-sensitive approach (value, Janus-style), Decker's Special Situations fund has posted an 41.4% average annual return over the past three years, beating 65% of the fund's mid-cap-growth peers, according to Morningstar.
Even if the value fund matches that performance, it won't be easy for Decker to keep investors happy. Morningstar has reported that even with such solid performance, in 1999, Special Situations often lost more money to redemptions than it took in as investors chased even hotter Janus funds. Now that Janus' name is synonymous with outsize returns, investors may not be patient with this fund if they feel its returns don't meet their inflated expectations.
"It will be hard to match the record they've put together over the past five years. There will be a sizable percentage of people that buy shares who aren't hungry for value shares, but are hungry for a Janus rocket," says Burt Greenwald, a Philadelphia-based mutual fund consultant.
Before Decker can face those expectations, he has the pleasant problem of putting more than $1 billion to work. A Janus spokeswoman said Decker wouldn't be available for interviews for at least a week.
Wrong! Rear Echelon Revelations: Motorola Reaction Sends Bullish Signals
By
James J. Cramer
2/29/00 6:01 PM ET
How do you know you are in a super-bullish environment? I think you just have to look at the action in
Motorola's
(MOT)
stock. This stock was up 6 intraday when news came out that it announced a 3-for-1 stock split.
The stock stopped trading and gapped up a buck. For the next two hours, every time
CNBC
mentioned that Motorola was splitting its stock, the shares went up again! No matter how many times this news came out, it still was not discounted in the price!
Do you know how remarkable -- and inefficient -- this market is? Do you realize how much buying power is pent up that it gets put to work every time this piece of news is reiterated?
Now here's the real topper: A split doesn't even matter. A 3-for-1 split doesn't even matter. And we all expected it anyway! That's what I call animal-spirited!
When you see activity like that, you have to remember that the bull has tremendous strength here. And let it ride a little bit longer than you would otherwise.
Random musings:
Veritas Software
(VRTS) - Get Report
to buy
Seagate
(SEG)
? Someone is spreading that ridiculous rumor. Seagate owns a big slug of Veritas. I put that rumor in the "no way, no clue" category.
James J. Cramer is manager of a hedge fund and co-founder of TheStreet.com. At time of publication, his fund was long Motorola and Veritas Software. His fund often buys and sells securities that are the subject of his columns, both before and after the columns are published, and the positions that his fund takes may change at any time. Under no circumstances does the information in this column represent a recommendation to buy or sell stocks. Cramer's writings provide insights into the dynamics of money management and are not a solicitation for transactions. While he cannot provide investment advice or recommendations, he invites you to comment on his column at
jjcletters@thestreet.com.
Evening Update: Mirage Turns Down $3.4 Billion and priceline.com Readies for Expansion
By
Eileen Kinsella
Staff Reporter
2/29/00 7:57 PM ET
Mirage Resorts
(MIR)
rejected
MGM Grand's
(MGG)
$3.4 billion takeover offer as inadequate but said it was willing to discuss a transaction recognizing the company's real value. Mirage said it adopted a shareholder purchase rights plan to assure that its board was in a position to best represent the interests of all its stockholders.
priceline.com
(PCLN)
said it will create a new company to expand its service to Australia and New Zealand. The new firm, which will be called
MyPrice
will be led by two top executives of Australia's biggest telecommunications company
Telstra
(TLS) - Get Report
.
In other postclose news (
Earnings estimates from First Call/Thomson Financial; earnings reported on a diluted basis unless otherwise specified.
):
Earnings/revenue reports and previews
American Eagle Outfitters
(AEOS)
reported fourth-quarter earnings of 76 cents a share including depreciation and amortization, above the 14-analyst estimate of 70 cents and the year-ago 52 cents which also included items.
Galileo Technology
(GALT) - Get Report
warned it sees first-quarter revenues and profits below analysts' expectations. The company said it sees revenues between $19.5 million and $21 million, a 15% to 20% decline from the record $24.3 million it registered in the fourth-quarter. Galileo also said it would take a onetime charge of $2.5 million to increase inventory and write off investments.
Hooper Holmes
(HH)
posted fourth-quarter earnings of 20 cents a share, beating the seven-analyst estimate of 17 cents and the year-ago 14 cents.
Meditrust
(MT) - Get Report
posted fourth-quarter funds from operations of 37 cents, a penny better than the seven-analyst estimate, but down from the year-ago 43 cents.
Pacific Sunwear
(PSUN)
reported fourth-quarter earnings of 36 cents a share, ahead of the 18-analyst estimate of 34 cents, and the year-ago 24 cents. The company said the figures were adjusted to reflect a 3-for-2 stock split in June.
Ptek Holdings
(PTEK)
reported a loss of 68 cents a share, narrower than the two-analyst expected loss of 78 cents. The year-ago loss of 79 cents a share includes a charge.
Henry Schein
(HSIC) - Get Report
reported fourth-quarter earnings of 38 cents a share, in line with the nine-analyst estimate but lower than the year-ago adjusted 46 cents.
Snyder Communications
(SNC)
posted fourth-quarter pro forma earnings of 15 cents a share, a penny ahead of the six-analyst estimate, but lower than the year-ago 20 cents.
Mergers, acquisitions and joint ventures
PC-Tel
(PCTI) - Get Report
said it plans to acquire wireless networker
Voyager Technology
. Terms were not disclosed.
SDL
(SDLI)
said it plans to acquire privately held
Veritech Microwave
for about $590 million in stock.
Williams Communications
(WCG) - Get Report
said it would acquire the long-distance telephone network assets from
SBC Communications
(SBC)
in a move to expand the reach of its fiber optic communications network.
Offerings and stock actions
Ariel
(ADSP)
said it had raised $8.6 million through the private placement of 2.15 million shares.
Art Technology
(ARTG)
approved a 2-for-1 stock split.
Goldman Sachs
priced a 5 million-share IPO for
MatrixOne
(MONE)
at $25 a share, above the expected $20-$22 range.
McLeodUSA
(MCLD)
approved a 3-for-1 stock split.
Oxford Health Plans
(OXHP)
said it repurchased preferred stock for a total of $130 million. The company said the repurchase would add 14 cents a share to its annual earnings.
Semitool
(SMTL)
set a 2-for-1 stock split.
Analyst Actions
Warburg Dillon Read
cut
DaimlerChrysler
(DCX)
to hold from buy. Analyst Saul Rubin cited concerns about the company's small-car strategy.
Miscellany
Starbucks
(SBUX) - Get Report
said it will open coffee shops in Hong Kong by the end of June as part of a massive push to build its overseas presence to some 12,000 sites over time from 359 now.
Bond Focus: Index Buyers Lift Long Bond
By
Elizabeth Roy
Senior Writer
2/29/00 3:43 PM ET
Except for the 30-year bond -- which had the calendar to thank -- there was little interest in Treasuries today, even though the day's economic numbers fell on the soft side of expectations.
With bigger fish to fry tomorrow and Friday in the form of February's
Purchasing Managers' Index
and the
employment report
, Treasuries mostly idled. The benchmark 10-year note ended unchanged at 100 19/32, its yield 6.418%. Shorter-maturity issues fell, with the five-year note, this year's sorriest excuse for an investment, once again putting on the worst show.
But the 30-year Treasury bond gained 19/32 to 101 13/32, dropping its yield 4.3 basis points to 6.146%. More than half of the gain came during the last 45 minutes of the session, and it was no surprise.
Of course, lately, it's almost never a surprise to see the long bond ramping. Ever since the government announced plans to curtail the supply of the issue last month, it does it all the time.
But the rally was particularly routine today. On the last day of each month, the various indices that track the bond market get reconfigured. Newly issued securities get added in, and the shortest-maturity issues fall out. The effect is especially pronounced in the four months in which the
Treasury Department
issues new long-maturity notes and bonds -- February, May, August and November.
At the end of the last day of those months, a whole bunch of new long-dated securities get added to bond indices. That prompts buying of the securities by portfolio managers who try to mimic the performance of the indices. Hence the run-up in the long bond's price in the final minutes of the trading day.
On the economic front, there was mildly supportive news. The
Chicago Purchasing Managers' Index
and the
Consumer Confidence Index
, both for February, were both weaker than expected. The Chicago PMI rose to 56.7 from 55.6 in January. Economists polled by
Reuters
had forecast a rise to 57.5, on average.
A sub-index of the Chicago report that measures prices paid by Midwest manufacturers was likewise friendly. It rose just a tad, to 68.9 from 67.8.
The Consumer Confidence Index, for its part, fell to 141.8, from January's record high of 144.7. A smaller decline, to 143.0, had been forecast. The decline offered a bit of hope that consumer confidence, which drives consumer spending, which drives the economy, still depends more on the
Dow Jones Industrial Average
, which has been struggling, than on the
Nasdaq Composite Index
, which has not.
Ian Shepherdson, chief U.S. economist at
High Frequency Economics
in Valhalla, N.Y., said in a research note today that the Fed "dearly hopes that the Dow is more important. If it is not, then confidence will remain robust and consumer will continue to drive the economy forward at an unsustainably fast pace."
Otherwise, today's activity mostly revolved around the shifting differences between short- and long-term Treasury yields, rather than the market's general direction, said Michael Pianin, a trader at
Fuji Securities
.
"It's all curves here, he said. And it's tricky. "You never know when this bond bid is going to reappear. Or disappear, for that matter."
Also of interest to traders today was a heavy slate of bond issuance outside the Treasury arena. The biggest of the deals was $2 billion of two-year notes from the
World Bank
, which helped keep pressure on short-maturity Treasuries, Pianin said.
At the
Chicago Board of Trade
, the June
Treasury futures contract finished up 20/32 at 94 22/32.
Economic Indicators
Also today, the
BTM/Schroder Weekly Chain Store Sales Index
rose 0.2%, but the year-on-year pace fell from 3.6% to 2.6%, the lowest since December 1997. The
Redbook Retail Average
rose 0.8% during the first three weeks of February, compared to January.
Currency and Commodities
The dollar gained against the yen and the euro. It lately was worth 110.13 yen, up from 109.50 yesterday. The euro was worth $0.9653, down from $0.9717 yesterday.
Crude oil for April delivery at the
New York Mercantile Exchange
rose to $30.45 a barrel up from $30.13 yesterday.
The
Bridge Commodity Research Bureau Index
rose to 208.74 from 207.24 yesterday.
Gold for April delivery at the
Comex
fell to $294.1 an ounce from $294.2 yesterday.
Copyright 2000, TheStreet.com