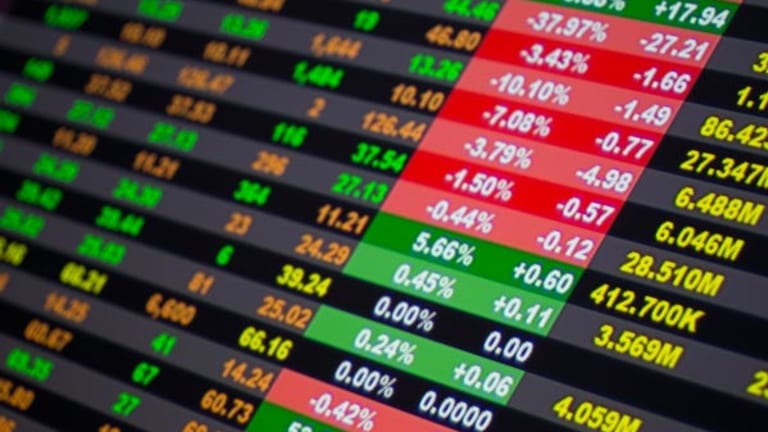 TheStreet.com's DAILY BULLETIN
February 26, 2000
http://www.thestreet.com
Market Data as of Close, 2/25/00:
o Dow Jones Industrial Average: 9,862.12 down 230.51, -2.28%
o Nasdaq Composite Index: 4,590.50 down 27.15, -0.59%
o S&P 500: 1,333.36 down 20.07, -1.48%
o TSC Internet: 1,176.11 down 8.45, -0.71%
o Russell 2000: 556.74 up 2.70, 0.49%
o 30-Year Treasury: 101 13/32 down 4/32, yield 6.153%
In Today's Bulletin:
o The Coming Week: Rattled Market Weighs the Fear Factor
o Wrong! Dispatches from the Front: Hit by a BUD Beer Truck
o Evening Update: Carnival, Fairfield Call Whole Thing Off; VA Linux Revises Results
o Bond Focus: Despite Monster GDP Revision, Bonds Rally Off Stocks
How's your online broker doing? Let us know in our Online Broker Survey2000. Fill it out now, and get a chance to win a TSC T-Shirt. Fill out thesurvey here!
http://survey.informative.com/sb/survey?s=57680&hdr=1
Looking for the latest sports scores? They're right here on TheStreet.com!Follow your favorite teams at the new TSC Sports Center.
http://www.thestreet.com/sports/Leagues.jhtml
Also on TheStreet.com:
Market Features: Turning Point? Dow 10,000 -- TSC's Coverage
http://www.thestreet.com/markets/marketfeatures/890292.html
Internet: Intuit Shares Slide, but Analysts Aren't Shaken
Discounting and an acquisition tax the software firm's shares.
http://www.thestreet.com/tech/internet/890354.html
The Night Watch: The Night Watch: i2, 3Com Bounce Back After Rough Days
Smith Corona, dreaming of the typewriter's glory days, surges after hours on takeover speculation.
http://www.thestreet.com/markets/nightwatch/890505.html
Tech Savvy: More Microsoft Madness
Seymour discusses the political side of the Justice Department's case, the friend-of-court's comments and more.
http://www.thestreet.com/comment/techsavvy/890285.html
Internet: Carmakers Drive Another B2B Rally, as Investors Display Insatiable Demand
Analysts and investors expect the shares to keep booming.
http://www.thestreet.com/tech/internet/890306.html
The New Fundamentals: Seeing Beyond Visx: Part 2
Visx's mystery competitior in the laser eye-surgery device market is revealed!
http://www.thestreet.com/comment/thenewfundamentals/890236.html
Vegas Vice: There's No Place Like Home
A college basketball team's road record can help you determine its potential success in tournaments.
http://www.thestreet.com/comment/vegas/890093.html
The Coming Week: The Coming Week: Rattled Market Weighs the Fear Factor
By
Justin Lahart
Associate Editor
2/25/00 7:56 PM ET
There is nothing new in saying that the
Dow Jones Industrial Average
has been in trouble. Loaded with old-economy components, it is representative of the wide swath of American companies whose stocks have suffered for the last half-year and more.
But the Dow's drop below 10,000
Friday, to its lowest close since April 6, brings home the trouble with the U.S. stock market. Although technology stocks continue to put in strong performances, most other sectors have done woefully. Drugs, banks, consumer cyclicals -- all are at levels not seen since the market got taken apart in October 1998.
And 10,000 does other things, too. Big round numbers can carry psychological importance in the market, and that the index bounced off this one last fall brings more weight to it. As does commentators' constant carping on it (including this right here).
Funny, considering how easily the Dow blew through 10K last spring.
"We forgot to give 10,000 its due attention on the way up, so now it's demanding attention on the way down," said John Bollinger, president of
EquityTrader.com
. "These milestones, they always assert undue influence. And the Dow, despite its denigration by many analysts, is still the stock market for most of the people in America."
It may be that the way the Dow fell through 10,000 Friday portends a turn in the market. There was a feeling of capitulation in the selloff, and that sometimes signals a reversal. If the market is not scared yet, a little time with a four-digit handle may awaken a little fear, setting stocks up for a rebound.
Whether that happens is question No. 1 for the coming week. Question No. 2 is whether tech can continue to perform well despite the rest of the market having fallen apart around it. Rightly or wrongly, the idea that tech is well insulated from the effects of further rate cuts has caught hold on Wall Street. The Dow is more than 14% down on the year. The
Nasdaq Composite Index
is up nearly 13%, having touched a new high
Thursday. Not everyone thinks that divergence can continue much longer.
"The risk is that to the extent the
Fed
engineers a slowdown, maybe the technology sector's customer base slows, and thereby tech revenues begin to feel the pinch," said Tom Van Leuven, stock strategist at
J.P. Morgan
.
That thought is at odds with what seems like the market consensus, which reckons companies will need to continue to invest heavily in tech to remain competitive -- never mind the bottom line. Perhaps that's true, but only up to a point -- at some point rate hikes will force companies to cut even tech spending. Whether the Fed will end up raising rates that much, however, will depend a lot on whether the economy begins to cool off a bit. And whether the economy starts cooling off? That may depend a lot on whether tech stocks, whose surge has helped spur consumer confidence, slow down.
"The stock market plays a big role here," said Josh Feinman, chief economist
Deutsche Asset Management Americas
. "It is likely to take some combination of higher interest rates and a cooler stock market to control the economy."
There's little doubt that the economy continues to move at a pace too quick for the Fed's liking, and that rates will be raised another quarter-point when the
Federal Open Market Committee
meets again in March. And the economic data due out in the coming week seem unlikely to do anything to detract from that sense. The big reports will be the February
Purchasing Managers' Index
on Wednesday and, most important, the February
jobs report
on Friday.
"I think that the underlying trend is that the economy has a lot of momentum," said Feinman. "Everything is still looking very, very strong. You have to think the Fed is tilted toward tightening for the foreseeable future."
Wrong! Dispatches from the Front: Hit by a BUD Beer Truck
By
James J. Cramer
2/25/00 3:28 PM ET
We ran into a
BUD
(BUD) - Get Anheuser-Busch InBev SA/NV Report
beer truck going $60 earlier in the week. Others of you might have overdosed on
Bristol-Myers
(BMY) - Get Bristol-Myers Squibb Company Report
5 points ago or drank a little
Clorox
(CLX) - Get Clorox Company Report
cocktail at $45. In each of these cases, supposedly safe stocks slaughtered anybody who sampled the merchandise.
This was a week where people got killed in safety, where they thought how much lower could
Coke
(KO) - Get Coca-Cola Company Report
or
McDonald's
(MCD) - Get McDonald's Corporation Report
or
Pfizer
(PFE) - Get Pfizer Inc. Report
go and they discovered that the answer was: much.
Of course, you could say that all this was more than compensated for by the billions in market cap tacked on by an
InfoSpace
(INSP) - Get Inspire Medical Systems, Inc. Report
or a
Commerce One
(CMRC)
. But stocks aren't meant to be zero sum games. It seems that the whole world, indexing, growth and value, has decided en masse to use any good news from "plain old stocks" -- POS?! -- like a buy back or a great quarter, to exit.
The effect is extremely debilitating. When we got hit by Anheuser Busch going $60, then braking to $57, we hardly knew what had hit us. It happened in an instant. We barely got the license plate number.
It's one thing to own a stock and have it do nothing or underperform on a weekly basis. But to be in a Blue Chip and discover that it trades like a White Chip -- forget Red -- is shocking. We now bear bruises from buying POS even as we parade around proudly with our
Nokias
and
Oracles
(ORCL) - Get Oracle Corporation Report
.
It's enough to make you stay away from anything that you've ever owned before and embrace only the most speculative of securities because the speculative stuff doesn't fall as fast as BUD!
What a weird era. What a relief it's Friday. How about a betting pool for where the
Dow
goes out today? In the office pool I have 9900.
Random musings:
Don't forget to call in and ask me about stocks on our show. I don't use any of that "long-term hold" stuff, either. Much stronger brew served here.
James J. Cramer is manager of a hedge fund and co-founder of TheStreet.com. At time of publication, his fund was long InfoSpace, Nokia and Oracle. His fund often buys and sells securities that are the subject of his columns, both before and after the columns are published, and the positions that his fund takes may change at any time. Under no circumstances does the information in this column represent a recommendation to buy or sell stocks. Cramer's writings provide insights into the dynamics of money management and are not a solicitation for transactions. While he cannot provide investment advice or recommendations, he invites you to comment on his column at
jjcletters@thestreet.com.
Evening Update: Carnival, Fairfield Call Whole Thing Off; VA Linux Revises Results
By
Eileen Kinsella
Staff Reporter
2/25/00 8:40 PM ET
Carnival
(CCL) - Get Carnival Corporation Report
and
Fairfield Communities
(FFD)
canceled a month-old planned merger due to a steep drop in Carnival's stock price that eroded the deal's value by about 45%. Originally valued at $725 million in stock, the proposed deal was worth about $400 million based on Carnival's current stock price.
In other postclose news (
earnings estimates from First Call/Thomson Financial; earnings reported on a diluted basis unless otherwise specified
):
Earnings/revenue reports and previews
VA Linux
(LNUX)
revised its second-quarter results, released yesterday. The company posted a revised loss of 20 cents a share, a penny narrower than the four-analyst estimate and smaller than the year-ago pro forma loss of 26 cents. VA Linux said the original figure it posted included deferred compensation charges and other noncash charges. The earlier news sent the stock down 11 3/4, or 9.4%, to 113 in regular trading today.
Mergers, acquisitions and joint ventures
Keyspan Energy
(KSE)
said it will retain its equity position in
Houston Exploration
(THX)
for the foreseeable future. Keyspan had reviewed available alternatives including a possible sale of all or part of its stake in Houston Exploration.
Offerings and stock actions
Hasbro
(HAS) - Get Hasbro, Inc. Report
, which makes G.I. Joe action figures, Monopoly and the oh-so-cute
Furby creature, said it would buy back 17.25 million common shares, making it the latest in a slew of companies that have recently announced buybacks.
ResMed
(RMD) - Get ResMed Inc. Report
set a 2-for-1 stock split.
Bond Focus: Despite Monster GDP Revision, Bonds Rally Off Stocks
By
David A. Gaffen
Staff Reporter
2/25/00 4:00 PM ET
The
Dow Jones Industrial Average
found itself on the business end of 10,000 today, allowing the bond market a modest move higher today. This, in spite of a nearly inconceivable revision to
GDP
that put the fourth-quarter growth rate at 6.9%.
Equity weakness allowed the market to shrug off the GDP revision, but more interest rate hikes from the
Federal Reserve
threaten, and a few straight weeks of important economic data beckon, so the upside seems limited, strategists reckon.
What resulted today was a bit of a reversal of the yield curve's ongoing trend: two- and five-year notes rallied for a change, while the long end lagged. (Including the 30-year's wild downturn, which reminds one of
Pluto
, habitually overcorrecting its orbital irregularity.)
Lately, the benchmark 10-year note was up 4/32 to 101 3/32, dropping the yield 1.7 basis points to 6.35%. The two-year note gained 6/32 to 100 5/32, the yield dropping 10.2 basis points to 6.415%. The 30-year bond, trading more like a commodity due to expectations for diminished supply, fell 8/32 to 101 9/32, pushing the yield up 1.8 basis points to 6.155%.
The fourth-quarter rate of GDP was revised upward to 6.9% from an original 5.8%. The revision was due to stronger-than-expected government and consumer spending, as well as higher exports in the December trade figures. This is the strongest rate of GDP since the second quarter of 1996, when GDP grew at a similar rate. Economists were looking for a 6.4% rate, according to
Reuters
.
The market was able to shrug off today's figure for a couple of reasons -- the inflation component, the implicit price deflator, was unchanged at 2%. The personal consumption deflator, a figure Fed Chairman
Alan Greenspan
is
now looking at an inflation barometer, was unchanged at 2.5% for the quarter. Secondly, the market regards the figure as old news, as the first quarter is one month from completion.
But strategists believe the stock market's support is fleeting, unless it crashes. Consumers won't stop spending because of the Dow's recent downturn -- it generally takes several quarters of stock market gains for consumers to change their habits. In addition, there are other factors that boost consumer demand, such as job security and gains in home equity. In other words, heed this GDP report -- there may be more like it to come.
"It's a reminder that the economy began the year with a tremendous amount of momentum," said Jim Kochan, senior fixed income strategist at
Robert W. Baird
in Milwaukee. "You're not going to see 6.9% GDP in the first quarter, but we could see 4% to 5% again. Stocks are finally buckling, and that's one element in the things
the Fed is watching, but it's only one factor propelling spending at a stronger pace, and not the most important."
He thinks the bond market could return to earth next week, with both the
National Association of Purchasing Management's
Purchasing Managers' Index
and the
unemployment report
due out. "You may undo this rally in the front end of the curve," said Kochan.
Richard Schwartz, senior vice president at
New York Life Asset Management
, said the rally, which reverses recent gains in the long end, is mostly technical, as participants take the opportunity to take profits on recent trades on a quiet day. He thinks the trend of lower long-term rates and higher short-term rates will reassert itself due to current market fundamentals.
"I would still be a believer that the dominant themes in fixed income are going to be continued monetary tightening and a lack of supply on the long end," Schwartz said.
The threat of diminished supply boosted this bond within striking distance of 6% in recent days -- but the Treasury's proposed buyback of long-dated securities hasn't materialized yet, perhaps a disappointment to bonds today. (
Treasury
Secretary
Lawrence Summers
didn't say anything about the program to reporters today.)
The March bond futures contract, traded on the
Chicago Board of Trade
, fell 19/32 to 94 29/32.
Economic Indicators
Real GDP increased 4.1% in 1999, higher with the first estimate of 4%, and less than 1998's 4.3% rate. Positive revisions in all components of GDP -- consumer spending, government spending, inventory investment, and exports -- were responsible for the staggering quarterly figure, the
Commerce Department
said.
"It was a strong and broad advance, and so I don't think the surprises were in any one category," said Joe Carson, chief U.S. economist at
Warburg Dillon Read
. "The breadth of the advance was impressive."
Personal consumption expenditures, which accounts for about two-thirds of GDP, increased 5.9% in the fourth quarter, compared with an increase of 4.9% in the third quarter, and an original estimate of 5.3%. Government purchases rose 9.6% in the fourth quarter, compared with an original 8.4% estimate.
Businesses increased inventories $68.7 billion in the fourth quarter, following an increase of $38.0 billion in the third quarter. The trade deficit continues to be a drag on GDP, but exports did increase in December, which added to the gains in GDP. For the quarter, exports rose 8.7%, compared with an original 6.9% estimate, and imports decreased.
Sales of
existing homes
fell to a seasonally adjusted annual rate of 4.59 million in January, down from a revised 5.14 million rate in December. The rate is the lowest since November 1997. Economists polled by
Reuters
were looking for the rate to decline to 5.04 milion.
Currencies and Commodities
The dollar was weaker against the yen and stronger against the euro this morning. Of late, dollar/yen was traded at 110.14, down from 111.31 yesterday. The euro continues its horrid performance since inception, lately at $0.9735 from $0.9929 yesterday.
Crude oil for April delivery on the
New York Mercantile Exchange
closed above the $30 a barrel mark again, which isn't supportive for bonds. It ended the day at $30.28, up from a $29.97 close yesterday.
The
Bridge Commodity Research Bureau Index
closed at 207.22, down from 210.30 yesterday.
Gold for April delivery on the
COMEX
closed down to $294.7 per ounce from $300.9 yesterday.
"The Street.com" on the Fox News Channel
You've got questions about your favorite stocks? Jim Cramer's got answers.Call him this Friday, Feb. 25, at 6:45 p.m. EST at 1-888-TELLFOX(1-888-835-5369). Your stock questions will be asked and answered on"TheStreet.com" show on the Fox News Channel this weekend, but you have tocall during our taping Friday to take part.
Also this week on "TheStreet.com," we'll be talking about the Dow freefall, the Net sector and more with Jim Cramer, Adam Lashinsky, Dave Kansasand guest Scott Reamer, managing director of Internet research at SG Cowen.
"TheStreet.com" on Fox News Channel airs Saturdays at 10 a.m. and 6 p.m. ETand Sundays at 10 a.m. ET. FNC is Fox's 24-hour cable news channel. To findFox News Channel in your area, call your local cable operator or see our"TSC on Fox TV" page at http://www.thestreet.com/tv.
Copyright 2000, TheStreet.com