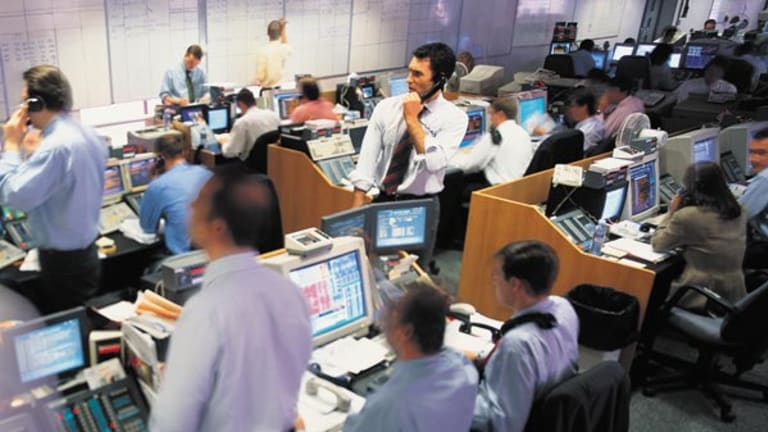 TheStreet.com's DAILY BULLETIN
February 25, 2000
http://www.thestreet.com
Market Data as of Close, 2/24/00:
o Dow Jones Industrial Average: 10,092.63 down 133.10, -1.30%
o Nasdaq Composite Index: 4,617.65 up 67.32, 1.48%
o S&P 500: 1,353.43 down 7.26, -0.53%
o TSC Internet: 1,184.56 up 17.08, 1.46%
o Russell 2000: 554.04 up 4.13, 0.75%
o 30-Year Treasury: 101 17/32 down 6/32, yield 6.126%
In Today's Bulletin:
o Wrong! Rear Echelon Revelations: Internet Capital Group Is Not an Earnings Story
o Retail: Abercrombie Report Endangers American Eagle
o Evening Update: Intuit Meets Estimates but Suffers; VA Linux Misses
o Bond Focus: Bonds Forge Ahead, Trample Equities
How's your online broker doing? Let us know in our Online Broker Survey2000. Fill it out now, and get a chance to win a TSC T-Shirt. Fill out thesurvey here!
http://survey.informative.com/sb/survey?s=57680&hdr=1
Looking for the latest sports scores? They're right here on TheStreet.com!Follow your favorite teams at the new TSC Sports Center.
http://www.thestreet.com/sports/Leagues.jhtml
Also on TheStreet.com:
Smarter Money: Your Voice Counts
Tell us what you think about your online broker. There's a lot of ways we can help one another here.
http://www.thestreet.com/funds/smarter/889547.html
The Speculator's Corner: We Thought We'd Heard It All
Until Alan trotted out his 'excessive productivity' indicator, thus tanking the market on Thursday.
http://www.thestreet.com/comment/thespeculatorscorner/889553.html
General: Market Watchers Ponder a Sub-10,000 Dow
Many feel the index's recent slump won't disrupt the market unless the Dow pulls the Nasdaq down with it.
http://www.thestreet.com/brknews/general/889629.html
Tish on Tech: Go.com's Loose Living Sullies the Disney Name
A top exec turns in his mouse ears to head to the Playboy dot-com empire.
http://www.thestreet.com/comment/tish/889140.html
Asia/Pacific: Cart Before Horse: Tom.com Goes Public With Nothing to Sell
Tom.com in Hong Kong will be the first dot-com firm to come out with an IPO before the launch of its main product.
http://www.thestreet.com/int/asia/889479.html
Wrong! Rear Echelon Revelations: Internet Capital Group Is Not an Earnings Story
By
James J. Cramer
2/24/00 6:33 PM ET
Call me a sucker, but I am trying to buy some
Internet Capital Group
(ICGE)
, which was down 12 points after they announced --
oh heavens!!
-- that they will have big losses in the future.
Forgive me, but when did earnings matter with these stories? I find it almost amusing that someone is selling this stock so hard when
nobody
is looking for a profit here. People want this company to build an empire and building an empire doesn¿t necessarily mean near-term profits.
These after-hours markets remain tricky as ever but I simply don't think that ICGE will be down 12 points tomorrow when the analysts talk about all of the nifty deals in the company's pipeline.
It is true that this stock has been a one-way ticket down since the dizzying heights scaled 100 points ago. Maybe the darn thing is still overvalued. I certainly wouldn't doubt it. But let's be realistic, ICGE is not an earnings story. And if you are buying it for earnings per share, you will be sorely disappointed.
James J. Cramer is manager of a hedge fund and co-founder of TheStreet.com. At time of publication, his fund was long ICGE. His fund often buys and sells securities that are the subject of his columns, both before and after the columns are published, and the positions that his fund takes may change at any time. Under no circumstances does the information in this column represent a recommendation to buy or sell stocks. Cramer's writings provide insights into the dynamics of money management and are not a solicitation for transactions. While he cannot provide investment advice or recommendations, he invites you to comment on his column at
jjcletters@thestreet.com.
Retail: Abercrombie Report Endangers American Eagle
By
Katherine Hobson
Staff Reporter
2/24/00 5:45 PM ET
Investors hate retailers more than Darva hates Rick. Just ask
American Eagle Outfitters
undefined
.
The favorite of teens who want to look cool without spending a small fortune on a new pair of jeans has seen its shares plunge 25% since rival
Abercrombie & Fitch
(ANF)
reported slower-than-expected fourth-quarter sales growth.
It's not that American Eagle has done anything wrong itself. In fact, in early February it said it would beat Wall Street's expectations for fourth-quarter earnings, and on Thursday the company authorized a share buyback. But these days investors, worried about interest rates, are salivating for any excuse to yank money from retail and shove it into tech stocks. "Retailers are a source of funds, not a place to put funds," says Richard Jaffe, an analyst with
PaineWebber
. And despite their own strong numbers, American Eagle and other specialty retail favorites such as
Pacific Sunwear
undefined
have paid a particularly steep price.
Less Twinkling
Here's how American Eagle was grounded. Everyone is now worried about higher interest rates and tough sales comparisons with the previous year. Yeah, everyone knew both were coming, but investors freaked out when they actually arrived. Even retail superstars like
Home Depot
(HD)
and
Wal-Mart
(WMT)
are down more than 20% this year so far.
Downtrend
Once-hot retailers hit the skids
Source: BigCharts
And specialty retailers -- many of which posted pretty incredible monthly sales figures recently, attracting some of the mo players -- were particularly vulnerable to investor unease. When Abercrombie disappointed, investors started looking around to see who else was posting stellar sales gains that might not be sustainable.
Not surprisingly, their gaze landed on American Eagle. Comps rose 15% in fiscal 1997, 32% in 1998 and 22% in 1999. This year, American Eagle comps will rise more like 6% to 8%, analysts estimate. Sure, the company remains highly profitable. But again, investors are given to pitching tizzy fits when single-digit sales gains actually materialize, no matter how prepared they should be.
Acknowledging that penchant for tizzies,
Morgan Stanley Dean Witter
analyst Sharon Pearson lowered her rating on American Eagle from outperform to neutral last week. It's not that she thinks the company is foundering: She predicts EPS growth of 20% over the next few years, and says the company will continue to steal market share and will continue to open new stores. No, the downgrade was "specific to the valuation impact of a potential slowing in the pace of momentum, not a concern regarding the strategic initiatives of the company or the strength of its brand," she wrote in a research note. (Her firm hasn't done recent underwriting for the company.)
That Other Problem
American Eagle shares may also have taken a hit for another, seemingly legitimate reason. Abercrombie ended its fourth quarter with high levels of inventories, and many analysts fear a round of price-cutting will be necessary to clear out those extra goods. If Abercrombie discounts, so the thinking goes, it will compete more directly with lower-priced American Eagle goods. American Eagle might then be forced to cut its own prices, which could hit margins.
But that's nonsense, says Lee Backus, analyst with
Buckingham Research
. "Abercrombie was being very promotional in the fourth quarter, and at the same time American Eagle had better margins," he says. It also posted 13% comp growth during the quarter. "They got right through it with no problems," he continues. (His firm hasn't done banking for either company.)
Also note that Abercrombie and American Eagle's price points are miles apart. For example, Abercrombie is talking about reducing the price of its T-shirts to $24.50 from $29.50. But graphic T-shirts at American Eagle are on special for $12.50, says Marcia Aaron, an analyst with
Deutsche Banc Alex. Brown
, who rates American Eagle and Pacific Sunwear shares strong buy and says they're her best picks in specialty retail these days. (Her firm hasn't done recent banking for either company.)
So everyone is screaming that American Eagle, PacSun and the like are now ridiculously cheap, considering they're profitable as heck and have been bullied for doing not a thing wrong. But how investors will react when lower comps and further interest-rate hikes actually materialize: a rally as people load up on undervalued retailers, or more selloffs?
"That's the $64,000 question," says Aaron.
Make it the multimillion-dollar question.
Evening Update: Intuit Meets Estimates but Suffers; VA Linux Misses
By
Eileen Kinsella
Staff Reporter
2/24/00 7:48 PM ET
Intuit
(INTU)
reported second-quarter earnings of 44 cents a share excluding charges, in line with the 15-analyst estimate but a penny lower than the year-ago earnings. Intuit, which makes personal finance software, said U.S. tax returns filed via the Web were up fivefold from last year and also said it was on track for 20% operating income growth over fiscal 1999. Despite the results, Intuit was sliding in after-hours trading, lately off 8 3/4 to 63 1/2 on
Island
.
VA Linux
undefined
posted a second-quarter pro forma loss of 36 cents a share, wider than the four-analyst expected loss of 21 cents and the year ago loss of 26 cents. The company went public in December with a record-setting first-day percentage gain of almost 700%. Despite the increased loss, revenues rose more than sixfold to $20.2 million from $3.17 million, the company said.
CVS
(CVS)
is near an agreement to buy the pharmacy benefits management business of ailing rival
Rite Aid
(RAD)
for up to $1 billion,
Reuters
reported, citing sources close to the situation.
Inflows to equity funds totaled $3.8 billion for the week ended yesterday, according to
AMG Data Services
. Technology funds reported inflows of $1.6 billion, health care & biotech $1.2 billion, and aggressive growth funds $1 billion. Meanwhile, large-cap equity index funds reported the largest outflows since Aug. 4. International equity funds reported inflows of about $1.2 billion. Taxable bond fund outflows totaled $903 million.
In other postclose news (
earnings estimates from First Call/Thomson Financial; earnings reported on a diluted basis unless otherwise specified
):
Earnings/revenue reports and previews
Autodesk
(ADSK)
posted fourth-quarter earnings of 48 cents a share, beating the eight-analyst estimate of 41 cents and matching the year-ago figure.
Bebe Stores
(BEBE)
said it expects same-store sales growth to be slightly negative to flat for the March quarter. The retailer said it had a 2.5% negative sales same-store growth for January and flat February sales to date.
W.R. Berkeley
undefined
reported a fourth-quarter loss of $1.50 a share, wider than the single-analyst expected loss of $1.48 and the year-ago loss of 43 cents.
Fila Holding
undefined
reported a fourth-quarter loss of 86 cents a share, narrower than the single-analyst expected loss of 95 cents and the year-ago loss of $2.56.
Internet Capital Group
(ICGE)
reported a fourth-quarter loss of 9 cents a share, compared with year-ago earnings of 2 cents. The stock was getting hit in after-hours trading following remarks by the company that it sees losses in many quarters for the foreseeable future, and volatility in quarterly results based on e-commerce interests. Shares lost 12 5/8 to 106 1/2 on Island.
Puma Technology
undefined
reported second-quarter pro forma earnings of 3 cents a share, excluding amortization of goodwill and other acquisition-related charges. Including the items, the company reported a loss of 2 cents a share. Both numbers beat the three-analyst expected loss of 7 cents and the year-ago pro forma loss of 14 cents.
Quanex
(NX)
reported first-quarter earnings of 29 cents a share, in line with the six-analyst estimate and up from the year-ago 27 cents.
Semtech
(SMTC)
posted fourth-quarter earnings of 29 cents, edging out the seven-analyst estimate of 27 cents and the year-ago 12 cents.
Startec
(STGC)
reported a fourth-quarter net loss of $1.15 a share, narrower than the four-analyst expected loss of $1.18 and even with the year-ago loss.
Tandy Brands
(TBAC)
said it sees third-quarter sales and earnings below last year's levels. The company said it expects earnings in the range of 5 cents to 12 cents a share, well below the four-analyst estimate of 30 cents.
Miscellany
Compaq
undefined
said it has appointed
Ernst & Young
as its independent accountants, replacing
PricewaterhouseCoopers
. Compaq said the change was related to an investigation by the
Securities and Exchange Commission
of PricewaterhouseCoopers' independence violations.
Piedmont Natural Gas
(PNY)
said its CEO will retire.
Warner-Lambert
undefined
denied a media report that its controversial diabetes drug Rezulin is being pulled from the market. The statement came in response to a
CBS News
report yesterday that cited unnamed sources and said several scientists from the
Food and Drug Administration
believe the drug's risks outweigh its benefits.
Wausau-Mosinee Paper
undefined
said Daniel Olvey, its president and CEO has resigned. San Orr Jr., the company's chairman, will assume the duties of CEO until a successor is found. Olvey also resigned from his position as director of the company.
Bond Focus: Bonds Forge Ahead, Trample Equities
By
David A. Gaffen
Staff Reporter
2/24/00 4:38 PM ET
Thanks to another walloping in the equity market, Treasuries stormed ahead, with most parts of the yield curve posting impressive gains in a reasonably light session. A late rebound in stocks eroded some of the gains in Treasuries, but bonds still made up for
yesterday's losses.
The market's been doing a two-step with the stock market for about a week now. Equities have faltered since
Alan Greenspan
first delivered his
Humphrey-Hawkins
testimony Feb. 17, improving the fortunes of the bond market. The
Fed
seems hellbent on slowing the economy to head off inflation, and with officials increasingly linking consumer-spending fortunes to gains in equities, the stock market's been slumping.
A slowdown in the economy would be a positive for the bond market, as it would almost certainly mean inflation had been contained, and the Fed would remove its foot from the brakes (some would suggest putting it in its mouth). Looking at today's
durable goods
report, though, the slowdown isn't imminent. Oh, durables fell 1.3% in January, but non-defense capital goods orders, excluding aircraft, seen as a good barometer of manufacturing strength, rose 7.4%.
The ever-resilient economy has kept a lid on this rally, no matter how much of a sucking chest wound the
Dow
resembles. The 10-year note, at one point up 21/32, finished up 15/32 to 101 1/32 today, dropping the yield 5.2 basis points to 6.358%. The two-year note ended the day up 5/32 to 99 31/32, yielding 6.516%. The 30-year bond, formerly a benchmark, now trades more like a
drunk schitzo. Up 26/32 at one point, the bond was lately down 4/32 to 101 18/32, boosting the yield 1.1 basis points to 6.135%.
"We've returned to being held hostage by the stock market," said Maryann Hurley, vice president in trading at
D.A. Davidson
. "But Greenspan's comments indicate there are more rate rises to come, and it's certainly going to put an upside on any price improvement."
Strategists believe the 10-year note, which has rallied 21 basis points in the last week, is running into resistance at these levels. The market's certainly factored in a rate hike of 25 basis points at the March 21
Federal Open Market Committee
meeting, but the threat of more hikes limits the potential rally. The recent trend has confirmed this -- the 10-year fell yesterday after a Tuesday rally, and Larry Berman, fixed-income strategist at
CIBC World Markets
, expects the note to trade in a range as the market awaits important economic news beginning next week.
"Either the market breaks out and continues to rally or it fails and consolidates, and I think it consolidates for the next week or two," Berman said. "We've already rallied pretty good here."
That doesn't account for the bond, which, due to expectations for severely diminished supply, has traded more like a commodity for more than a month now. The 30-year has outrun the rest of the market during this rally, but after forging ahead early, was tripped up late in the day. Mark Sauvigne, government bond trader at
Chase Securities
, had a typically blase explanation for the action.
"The bond has entered a world of its own, and it trades thinly," said Sauvigne. "Just like when there are days with no sellers, there are other days where nobody wants to buy them."
The March bond futures contract, traded on the
Chicago Board of Trade
, closed up 10/32 to 95 16/32.
Economic Indicators
This morning's figure was in line with expectations, so despite strength in the underlying components, the bond market slapped the report aside like a pesky mosquito. The 1.3% decrease comes after an upwardly revised 6.3% increase in December, the
Commerce Department
said this morning. Economists polled by
Reuters
were looking for a 1.4% decline. Excluding transportation orders, durable orders fell 0.5% compared with December's 1.5% increase.
The figures are volatile on a month-to-month basis, but the strength in underlying components can't be denied. The 7.5% increase in non-defense capital goods orders, excluding aircraft (because ordering a few planes can skew the data), follows a 4.7% increase in December. Shipments increased 8.3%, the largest increase on record, the Commerce Department said. Industrial machinery orders rose 12.3% in January, the largest increase since February 1985.
On the other hand, orders for electronic and electrical equipment fell 13.2%. Transportation orders were down 3.6%.
Initial jobless claims
fell to 278,000 last week compared with a revised 285,000 the previous week. The four-week, moving average rose to 286,500 from the previous week's revised figure of 283,500. Economists had expected claims to rise to 286,000, according to
Reuters
.
The
Conference Board's
Help-Wanted Index
rose to 89 in January from 86 in December.
Tomorrow morning, the market gets the Commerce Department's first revision to fourth-quarter
. A huge revision is expected to a 6.4% rate of growth from an initial estimate of 5.8%.
Currencies and Commodities
So much for parity. The euro breached the hard deck today, lately trading at $0.9930 from $1.0029 yesterday. Dollar/yen was lower, lately at 111.12, down from yesterday's 111.23 close.
Crude oil for April delivery on the
New York Mercantile Exchange
surpassed the $30 a barrel mark today but closed at $29.97, up from yesterday's $29.39 close.
The
Bridge Commodity Research Bureau Index
fell to 210.30 from 211.87 yesterday.
Gold for April delivery on the
COMEX
closed at $300.9 per ounce, down from $302.4 yesterday.
"The Street.com" on the Fox News Channel
You've got questions about your favorite stocks? Jim Cramer's got answers.Call him this Friday, Feb. 25, at 6:45 p.m. EST at 1-888-TELLFOX(1-888-835-5369). Your stock questions will be asked and answered on"TheStreet.com" show on the Fox News Channel this weekend, but you have tocall during our taping Friday to take part.
Also this week on "TheStreet.com," we'll be talking about the Dow freefall, the Net sector and more with Jim Cramer, Adam Lashinsky, Dave Kansasand guest Scott Reamer, managing director of Internet research at SG Cowen.
"TheStreet.com" on Fox News Channel airs Saturdays at 10 a.m. and 6 p.m. ETand Sundays at 10 a.m. ET. FNC is Fox's 24-hour cable news channel. To findFox News Channel in your area, call your local cable operator or see our"TSC on Fox TV" page at http://www.thestreet.com/tv.
Copyright 2000, TheStreet.com