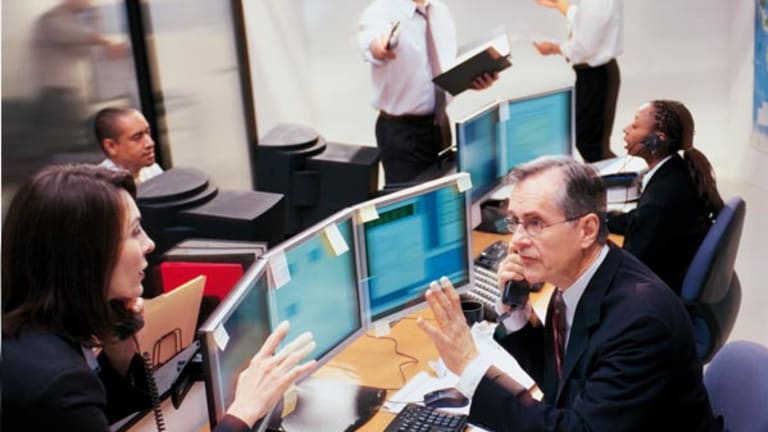 TheStreet.com's DAILY BULLETIN
February 22, 2000
http://www.thestreet.com
Market Data as of Close, 2/18/00:
o Dow Jones Industrial Average: 10,219.52 down 295.05, -2.81%
o Nasdaq Composite Index: 4,411.74 down 137.18, -3.02%
o S&P 500: 1,346.09 down 42.16, -3.04%
o TSC Internet: 1,096.62 down 47.87, -4.18%
o Russell 2000: 545.68 down 12.74, -2.28%
o 30-Year Treasury: 101 08/32 up 29/32, yield 6.148%
In Today's Bulletin:
o Banking: NextCard Faces Growth Questions as Rivals' Online Efforts Take Off
o European Markets Update: Tech Stocks Take Beating, Leaving FTSE in Pain
o Asian Markets Update: Japanese Stocks Fall as Institutions Lock in Profits
o Brokerages/Wall Street: Insiders Are Primary in Next Wave of Secondary Offerings
Also on TheStreet.com:
This Week in IPOs: For IPOs, a Week to Kick Back
Ben Holmes looks at this week's eight deals.
http://www.thestreet.com/comment/ipoweek/887443.html
Networking: Takeover Speculation Sends Fiber-Optic Stocks Sky High
But the bidding on these still-developing companies may be misguided.
http://www.thestreet.com/tech/networking/886496.html
Technician's Take: May the Most Popular Stocks Win
After being deluged with email, Chartman picks the top 10 stocks in his sentiment-driven index.
http://www.thestreet.com/comment/techtake/885256.html
Online Investing: Momentum Trading: Dumpers, Gainers, News Stories and Publication Stocks
Make high-percentage trades by recognizing these common trading patterns.
http://www.thestreet.com/funds/onlineinvesting/887356.html
Banking: NextCard Faces Growth Questions as Rivals' Online Efforts Take Off
By
Peter Eavis
Senior Writer
2/21/00 1:30 PM ET
NextCard
(NXCD)
, the online credit card lender and flagship e-finance company, is taking some big swipes.
Despite showing robust customer growth and narrower-than-expected losses, some observers are starting to criticize the San Francisco company's growth model. They say the Internet efforts of established credit card companies -- particularly
Providian
(PVN)
-- are starting to show growth that is outpacing that of NextCard. Skeptics also point out that rivals are spending less to acquire online customers than NextCard, even though NextCard is richly valued by comparison. In addition, there are worries about the firm's push to gain customers with riskier credit profiles.
Meanwhile, NextCard may have sparked some mistrust in the market after it announced an important stock-boosting deal with online merchant
Amazon.com
(AMZN) - Get Amazon.com, Inc. Report
on the day its IPO lockup period ended. When lockup periods end, company employees are allowed to sell shares, and if enough do, stock prices can sag.
NextCard says it's unconcerned by its rivals' Internet operations. It also rejects concerns about its intention to acquire more subprime customers and denies that it timed the announcement of the Amazon deal to coincide with the end of the lockup.
Gaudy Numbers
Set up in 1996, NextCard is a credit card lender that uses the Internet to attract customers. Its Web-only strategy has generated gaudy account growth: The firm had 220,000 accounts at the end of 1999, up 300% from 55,000 at the end of the first quarter. Additionally, after posting a narrower-than-expected loss in the fourth quarter, the company in January brought forward the point at which it thinks it will make a profit, to the first quarter of 2002 from the last quarter of that year.
Judging by its valuation, investors still believe in NextCard. The company trades at around 17 times projected 2000 revenue, vs. 12 times for e-finance companies in general, according to
Dain Rauscher Wessels
. Meanwhile, the average credit card company is trading at around 16 times
earnings
.
Ups and Downs
The year in NextCard shares
Source: BigCharts
But NextCard's achievements don't look so impressive next to competitors'. The company's accounts grew by 165,000 from end-March to end-December 1999. But from end-May 1999 to mid-February this year -- a slightly shorter period -- Providian signed up 220,000 new credit card accounts over its Internet channel. "Providian only started doing credit cards over the Internet nine months ago, and it's already doing better than NextCard," says the manager of a financial-services hedge fund who requested anonymity, and is short NextCard shares and has no position in Providian.
Coupon Clipping
What's more, other companies are managing to expand more cheaply than NextCard, says Meredith Whitney, credit card analyst at
First Union Securities
, which rates NextCard a hold and has done investment banking for the company. NextCard says its per-customer acquisition cost (marketing expenses divided by net new customers) was $80 to $90 in the fourth quarter.
CompuCredit
(CCRT)
, a credit card company, says it currently has an online customer acquisition cost of $37, while Whitney calculates that Providian's is around $60. (First Union rates Providian and CompuCredit a strong buy and has done investment banking for the latter, but not the former.)
Greg Pacheco, a senior manager in Providian's online operations, declined to confirm this number but said that NextCard's costs "are quite a bit higher than our marketing costs."
NextCard's marketing chief, Dan Springer, concedes that acquisition costs at his firm may be higher, but he expects them to come down in the first quarter of this year. He adds that NextCard is attracting higher-quality, more profitable customers than its rivals, including Providian. This, he says, can be seen in the fact that NextCard customers have an average balance of $2,000. The higher the balance, the more fees the card company receives.
"I can't believe that anyone at Providian wouldn't trade our portfolio for theirs," Springer says. Providian declined to say what its average balance is for online customers.
Reserving Judgment
Whitney believes that NextCard's chase after more subprime customers could hurt profitability, since it could force the company to keep higher bad-loan reserves, which have to be subtracted from earnings in the income statement. And she points out that annualized fourth-quarter charge-offs were 4.92% of second-quarter average loans, a rate she calls "somewhat high" for young lenders such as NextCard. (She uses a two-quarter lag to account for the fact that loans don't go bad immediately.)
Moreover, Whitney argues that the company will be forced to increase its approval rate and take on more subprime customers in order to meet the expectations of high-profile partners such as Amazon.com and
priceline.com
(PCLN)
, which let NextCard market from their sites.
But "it's just not true" that the partnerships will force NextCard to make a foray into subprime, says Springer. He argues that NextCard has sophisticated credit-quality analysis that allows it to spot borrowers whose credit quality is actually a lot higher than it might appear.
Jeff Runnfeldt, e-finance analyst at Dain Rauscher, says NextCard has something big over rivals: A facility that allows customers to bid for the best rates and conditions. (Runnfeldt rates NextCard a buy and Dain Rauscher hasn't done any underwriting for the company.) But Pacheco responds: "We are going to have something like that very soon."
Bagels and Lockups
The viability of NextCard's model will become apparent over time. But, according to the hedge fund manager, the perception of NextCard's management didn't improve when it announced the Amazon.com partnership on Nov. 10, 1999, the day of the lockup expiration. It looked as if the company was putting out positive news to offset any downward pressure on its stock price that could have resulted from possible insider selling. In fact, NextCard stock soared a massive 30% on Nov. 10, a Wednesday, then dropped 14% to 35 7/16 by the following Friday.
Springer explains that the Amazon deal was inked on that Monday, but wasn't released publicly until Wednesday because NextCard didn't want its news to get drowned out by Amazon.com's announcement Tuesday that it was starting sites dedicated to home improvement, software, video games and gift ideas.
"Forty-eight hours is clearly not sitting on a press release," says Springer.
European Markets Update: European Closing Update: Tech Stocks Take Beating, Leaving FTSE in Pain
By
Nick Watson
Senior European Correspondent
2/21/00 2:25 PM ET
LONDON -- The
FTSE 100
dropped 83 points during a painful trading session today. Overall, the index suffered a 1.4% loss, finishing at 6081.6.
Among the stocks that filled the lines of the walking wounded were tech names such as
Affinity Internet
, down 600p, or 8.1%, to 74 pounds,
Staffware
, 500p, or 10.8%, lower at 41.50 pounds and
Baltimore Technology
, which closed 450p down, or 3.6%, at 120.50 pounds. The
TechMARK
closed 90.74 points, or 1.83%, lower at 4874.15.
Merger mania turned into merger apathy.
Norwich Union
and insurer
CGU
confirmed they will unite, but investors were left in tears. NU ended 39p, or 9%, lower at 396, and CGU had the smile wiped off its face with a loss of 22p, or 1.4%, to 774.5. Despite the somber mood,
Legal & General
refused to roll over and gained 1.75p, or 1.2%, to 151.75 amid speculation that it is the next takeover victim.
With the U.S. off on holiday, the Continent's stock markets were never able to get out from under the shadow of Wall Street's steep slide Friday. The
Xetra Dax
in Frankfurt eked out a gain of 16.75, or 0.2%, to 7590.53, and the
CAC 40
in Paris finished 95.44, or 1.6%, lower at 5967.28.
Although most stocks were in the red the entire session, some specific issues were able to buck the downward trend. Luxury automaker
BMW
was able to build on gains made last week amid new speculation of a possible deal with
GM
(GM) - Get General Motors Company Report
to help out BMW's troubled
Land Rover
unit. BMW shares ended up 1.35 euros, or 5.2%, at 27.55.
And
Deutsche Bank
(DTBKY)
and
Preussag
both surged as they tapped into Internet investor hype. Deutsche Bank ended up 4.67 euros, or 5.8%, at 85.22, after it announced an alliance with software giant
SAP
(SAP) - Get SAP SE Report
and
AOL Europe
(AOL)
for e-commerce and other Internet financial services. SAP was near unchanged at 870.10 euros. Preussag jumped 2.63 euros, or 6%, to 46.60, after the company said it plans to spin off its stuffy non-tourism business as well as develop an e-commerce unit.
Other stocks weren't so lucky.
Vivendi
finished down 2.30 euros, or 1.9%, to 117.20, erasing early gains on a report it was selling 40 power plants to a subsidiary of
Reliant Energy
(REI) - Get Ring Energy, Inc. Report
.
Deutsche Telekom
(DT) - Get Dynatrace, Inc. Report
dropped 1.51 euros, or 1.7%, to 87.49, and
France Telecom
(FTE)
closed 4.90 euros lower, or 3%, at 159.10.
Asian Markets Update: Asian Markets Update: Japanese Stocks Fall as Institutions Lock in Profits
By
Kaya Laterman
Japan Correspondent
2/21/00 3:54 AM ET
TOKYO -- Japanese stocks as well as the yen fell Monday, as investors sold their long positions in large blue chips, investment technology shares and the currency, in an effort to book profits ahead of the March 31 fiscal year end.
The benchmark
Nikkei 225
index fell 245.28, or 1.2%, to 19,543.75, while the
Topix
index, comprised of shares listed on the
Tokyo Stock Exchange's
first section, tumbled 39.05, or 2.3%, to 1680.72. The
Jasdaq
small cap index rose 1.48, or 1.2%, to 128.99, while the Nikkei's
over-the-counter
shares climbed 56.55, or 2.1%, to 2713.67.
Large tech stocks mostly closed lower, partly affected by Nasdaq's fall in the U.S. on Friday.
NEC
(NIPNY)
tumbled 60, or 2.5%, to 2380, while
Fujitsu
undefined
fell 60, or 1.7%, to 3470.
Bank shares continued their fall, with investors worried about the likely adoption of a new tax on large banks in the Tokyo metropolitan area within a couple of weeks.
Mazda Motor
plunged 80, or 18.3%, to 358 after the firm announced late Friday that it will slash it group net profit forecast for fiscal 1999 to 25 billion yen, from 40 billion yen.
The premieres of seven new mutual funds this week had investors chasing biotech, small-cap IT and Internet shares, in the hope that fund managers would be making similar purchases.
Takara Shuzo
rose 65, or 2.5%, to 2690, while
Trans Cosmos
climbed 3050, or 6.4%, to 51,000.
Anticipation of blockbuster sales for the PlayStation 2 games machine on its March 4 debut lifted
Sony
2000, or 6.8%, to 31,650.
The U.S. dollar weakened slightly to 110.65 yen after investors unwound their long dollar positions, currency dealers said. Although Japanese investors are waiting to pick up the dollar when it hits 110.15 to 110.20 yen, the dollar is expected to continue falling during London trading as well.
Hong Kong's
Hang Seng
index tumbled 276.79, or 1.7%, to 16,322.37, as interest rate worries in the U.S. crossed the Pacific. Due to Hong Kong's currency peg to the dollar, rises in U.S. rates usually mean higher rates in the territory too. Bank shares, which are among the worst affected by higher rates, fell, with
HSBC
(HBC)
down 1.75, or 1.9%, to 89.50 and its subsidiary
Hang Seng Bank
(HSNGY)
down 0.75, or 1.0%, to 71.00.
Nothing new emerged from
Pacific Century Cyberworks
and its bid for
Cable & Wireless HKT
(HKT)
, which is already in merger talks with
Singapore Telecommunications
. The market is intently focused on how much PCCW can offer for C&W HKT, given the former's expected dependence on offering either shares or recruiting partners to help with its bid. PCCW fell 1.20, or 4.7%, to 24.20, while HKT fell 0.05 to 25.70.
Meanwhile, seven U.S. companies will list on the Hong Kong Stock exchange this month in a pilot program to co-list shares between the two jurisdictions. The selected shares are
Microsoft
(MSFT) - Get Microsoft Corporation Report
,
Intel
(INTC) - Get Intel Corporation Report
,
Cisco Systems
(CSCO) - Get Cisco Systems, Inc. Report
,
Dell Computer
(DELL) - Get Dell Technologies Inc Class C Report
,
Amgen
(AMGN) - Get Amgen Inc. Report
,
Applied Materials
(AMAT) - Get Applied Materials, Inc. Report
and
Starbucks
(SBUX) - Get Starbucks Corporation Report
. The Hong Kong firms to be listed on Nasdaq have yet to be announced.
Brokerages/Wall Street: Insiders Are Primary in Next Wave of Secondary Offerings
By
Gregg Wirth
Staff Reporter
2/21/00 5:00 PM ET
Investors, who may not have gotten their fill of last year's hot IPOs, can feast on a buffet of follow-on offerings courtesy of insider shareholders eager to cash in at least a portion of their bounty.
Such investors, however, should be careful their appetite for these offerings doesn't lead them to indigestion.
IPO insiders -- company executives and venture capitalists -- are driving their charges back to market at an increasing rate, often before the 180-day ban on selling shares, known as the lockup period, ends, says one investment banker.
A company that went public in 1999 would consider returning to the market "if it can, primarily because selling shareholders want to put some of the cash in their pockets," says Frank Maturo, an investment banker at
Merrill Lynch
(MER)
. On average, shares to be sold by insiders make up about 25% to 35% of recent follow-on offerings.
Red Hat Not Red Hot
About 30% of Red Hat's recent secondary offering came from selling shareholders such as company insiders and venture capitalists.
The number of these offerings is increasing. There have been 33 follow-on stock offerings that had selling shareholders so far this year, compared with 20 at this point in 1999. And the continuing bull market, which sent many an IPO into the stratosphere, attracts investors to these offerings.
It is unclear if the offerings are a bad thing for the average individual investor who holds some of these stocks. The common belief is that follow-on offerings tramp down the price of the shares outstanding because of dilution, and that such offerings imply a lack of confidence in the company when insiders sell their stock so soon after an IPO.
Indeed, a look at the performance of these offerings proves one sure thing: There is a wide disparity among these stocks' reactions to the announcement of a follow-on offering. In 10 of the most recent follow-on stock offerings that had selling shareholders, the average stock involved actually climbed 25% between the time the company filed to sell shares and the time it actually sold them, usually a period of less than one month.
That average is somewhat skewed by the top three stocks in the sample, all of which returned better than 50%. Without them, the average return of the remaining seven stocks -- four of which were up, three were down -- was only 8%.
And
Red Hat
(RHAT)
is a prime example of the negative turn after a secondary. The company priced its follow-on offering on Feb. 3. Red Hat, which has been public only since Aug. 11, sold 4 million shares, increasing its outstanding shares by one-third, to 16 million. Of the shares in the offering about 30% were sold by a group of insiders that included its two co-founders.
Red Hat shares, which started to fall after the filing and have continued downward, have dropped more than 40% to the mid-70s since the company filed the offering on Jan. 14, when the stock closed at 132 1/4. Not helping matters was that in addition to the follow-on, Red Hat's lockup expired Feb. 11. A Red Hat spokeswoman declined to comment on the stock price.
Wade Woodsen, of the venture capital firm
Sigma Partners
, says the follow-on offerings let shareholders sell stock in a more orderly manner than if everyone headed for the exits en masse when the lockup expires.
"That locked-up stock is going to come out sooner or later," Woodsen says. "It just depends how you want it to come, in a managed process or in a haphazard one." Sigma has not sold shares in any follow-on stock offering in the past six months.
The latest company to take a hit on a follow-on offering is smart-search site
Ask Jeeves
(ASKJ)
, which saw its stock plunge almost 15% in the two days since filing Wednesday to hold a follow-on offering of $150 million worth of stock. About one-third of that total is being sold by insiders.
Merrill's Maturo is uncertain how the market is going to react in the long run to this continuing flow of selling-shareholder offerings. "The companies want to push this more than the bankers do," he says. "I think investors will be discriminating on these things."
Copyright 2000, TheStreet.com