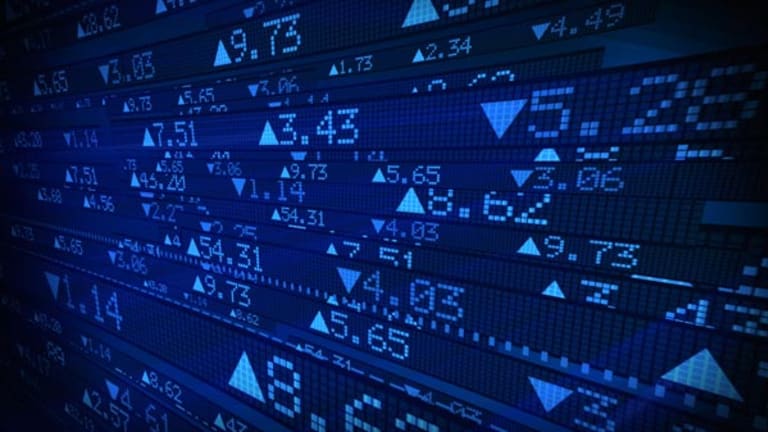 TheStreet.com's DAILY BULLETIN
February 18, 2000
http://www.thestreet.com
Market Data as of Close, 2/17/00:
o Dow Jones Industrial Average: 10,514.57 down 46.84, -0.44%
o Nasdaq Composite Index: 4,548.92 up 121.27, 2.74%
o S&P 500: 1,388.25 up 0.58, 0.04%
o TSC Internet: 1,144.49 up 17.98, 1.60%
o Russell 2000: 558.42 up 10.66, 1.95%
o 30-Year Treasury: 100 11/32 up 17/32, yield 6.212%
Companies in Today's Bulletin:
Digital Impact (DIGI:Nasdaq)
NetCreations (NTCR:Nasdaq) NetBanks (NTBK:Nasdaq)
DoubleClick (DCLK:Nasdaq)
Durlacher
Sycamore Networks (SCMR:Nasdaq)
In Today's Bulletin:
o Internet: Consolidation Beckons for Online Direct-Mail Firms, but Buyers Are Unclear
o Wrong! Dispatches from the Front: Bricks-and-Mortars May Be the Ones to Bank On
o Evening Update: Sycamore Networks Beats Analysts' Estimates by a Penny
o Bond Focus: Greenspan Takes Wind Out of Bond Market's Sails
Also on TheStreet.com:
Internet: DoubleClick Takes Another Hit but Secondary Is Still on Track
The firm doesn't appear short of cash, but an analyst suggests taking the money now rather than waiting.
http://www.thestreet.com/tech/internet/886320.html
Europe: The Anglo File: Durlacher Wants to Be the CMGI of U.K.
The diversified incubator of high-tech firms wants to eventually build these companies itself.
http://www.thestreet.com/int/euromarkets/886151.html
Internet: When the Message Boards Turn Blue
Our reporter recounts the personal attacks a message-board poster served up following an article that offended him.
http://www.thestreet.com/tech/internet/885527.html
Wing Tips: Frontier Faces New Challenges
Possible management changes, equipment transitions and competition could mean cloudy skies ahead.
http://www.thestreet.com/comment/wingtips/886254.html
Internet: Consolidation Beckons for Online Direct-Mail Firms, but Buyers Are Unclear
By
George Mannes
Staff Reporter
2/17/00 7:54 PM ETThe online direct-mail business, say analysts, is ripe for consolidation. But it's not quite clear who will end up atop the heap as the alpha email.
Are the ultimate buyers online advertising firms? Firms that manage customer relationships? The theories vary.
The unclear direction of direct marketing over the Internet highlights the difficulty investors face as they try to value the companies in this sector. Built into the prices of several of these stocks may be expectations that they're ripe takeover targets. But money may be an object.
Taking Stock
Digital Impact
(DIGI)
,
NetCreations
(NTCR)
,
LifeMinders.com
(LFMN)
and
Exactis.com
(XACT)
, all of which went public within a few days of each other last November, are all trading above their offering prices, though they've fallen back from last year's peaks.
Certainly, online direct marketing has caught the attention of larger companies in the online advertising business, prompting some recent acquisitions.
CMGI
(CMGI)
last fall agreed to acquire marketer
yesmail.com
(YESM)
.
DoubleClick
(DCLK)
has acquired privately held
Opt-In Email.com
. Online ad firm
24/7 Media
(TFSM)
says its email advertising revenue in the third quarter quadrupled from the second quarter to $2.5 million.
The goal of these companies is not to indiscriminately email, or spam, an ad to millions of customers, but to target messages at people who have "opted in," or provided personal information understanding that it will be used to target advertising to them. Marketers hope that by being upfront about collecting information on consumers, they'll avoid the
controversy engulfing DoubleClick's online advertising business. "Right now, demand is extraordinarily strong," says Dave Tolmie, CEO of yesmail.com. "And it creates a situation where anybody with a permission-based email list can generate revenues."
Who Doesn't Like Spam?
Though it's growing, the business seems relatively small. About 2% of ad spending in the third quarter of 1999 was for emailed pitches, according to the
Internet Advertising Bureau
trade group, compared with 1% the prior quarter.
As with other online businesses, online direct marketing's boosters see a huge opportunity in taking an off-line business and bringing it online. In this case, the size of the opportunity is some fraction of the $176.5 billion -- including $42.2 billion on direct mail -- that the Direct Marketing Association estimates was spent on direct marketing in the U.S. in 1999. In contrast, the total Internet ad market is estimated at $4.4 billion for 1999.
Some people foresee consolidation as the larger online advertising companies swallow up direct-marketing firms. "Email is a piece of an overall picture," says Bill Jacobson, vice president of
eDispatch
, direct email operations for
Flycast Communications
, which was recently acquired by CMGI. "You can't have an email strategy without having a Web strategy. You could, but it just wouldn't be as powerful."
Not true, says Rosalind Resnick, CEO of NetCreations, which is building a database for opt-in marketing. "I don't see us as just another product line to include in the Internet advertising mix," she says. Building a list of consumers willing to receive direct marketing messages isn't a narrow goal, she says, because the company will have opportunities beyond email in mobile phones, pagers and other devices.
The Overall Picture
In fact, NetCreations will be an acquirer, not an acquiree, believes Rob Martin, senior Internet analyst at
Friedman Billings Ramsey
. It could acquire one of what he calls the marketing service providers, like Digital Impact, which in turn could acquire other companies like Exactis.com and
MessageMedia
(MESG)
. Martin has a buy rating on NetCreations, for which his firm was lead underwriter.
Michele Slack, an analyst who covers email advertising for
Jupiter Communications
(JPTR)
, says she sees partnerships or licensing deals more likely than outright acquisitions -- "especially companies that have gone public; they're not cheap."
A DoubleClick executive agrees that it makes sense for email advertising and Web-based advertising to be under one roof, but objects to current prices among many of the email companies. "Just because the market values a company at $500 million doesn't mean that company is worth $500 million to DoubleClick," says Eli Chalfin, general manager of DoubleClick's DARTmail operations.
But perhaps it's wrong to look at email companies like MessageMedia as marketing companies at all, suggests Rick Juarez, Internet and e-commerce infrastructure services analyst for
BancBoston Robertson Stephens
. He says people should be thinking about online direct marketing in terms of a bigger picture he calls "e-messaging," or communicating with a customer over time. That includes not just marketing, but also e-commerce and customer service. Juarez has a buy on MessageMedia, for which his firm did a private placement.
Wrong! Dispatches from the Front: Bricks-and-Mortars May Be the Ones to Bank On
By
James J. Cramer
2/17/00 6:58 PM ET
The hot buttons keep getting pushed around here. Now the B&M Bs are weighing in and saying, hold it, don't you go writing us off so fast.
Yes, the bricks-and-mortar banks are fighting back and flooding my email box with some pretty cogent arguments about why the
NetBanks
(NTBK)
of the world won't Amazon the industry as easily as I think that they might.
First, unlike
Amazon
(AMZN) - Get Amazon.com, Inc. Report
, which is offering a premium service for basically the same price as a bookseller at the mall, the pure online banks can't offer the premium service that banks provide customers: ATMs.
Second, the kind of business these online banks are generating, checking accounts, is not a great business, but is an expensive processing business. It only looks good right now because rates are rising, so the online folks can capture the differential.
"And if you are thinking about signing up for a NetBank account, ask them about unlimited, free ATM usage," one e-mailer writes. "Better yet, ask them about how to make deposits of grandma's Xmas checks, or the rebate check from
Microsoft
. On and on -- after a while, even the convenience, lower fees and higher rates' arguments wear a little thin."
The reader goes on to say that the banks themselves, now that they are through with the big Y2K spend, are moving aggressively to offer lots of terrific Web offerings.
"If the major banks get their Web acts together," he concludes, "NetBank will be little more than a spitball against an aircraft carrier."
I like this combat. I think it makes sense and clarifies the threat that the Web may offer. Perhaps, however, there's another issue here that is larger than NetBank. What happens if
AOL
(AOL)
and
Yahoo!
(YHOO)
move aggressively into banking?
Isn't that the real worry? I don't mean to come up with new straw men that can explain the weakness in the bank stocks, but surely these stocks cannot be going down just on the yield curve and higher rates alone.
I guess my innermost fear is that it is not the Web that is knocking these bank stocks down; maybe it is a concern in the marketplace that
Greenspan
may have to take rates much, much higher, so high to where these banks will be paying out in passbooks at incredibly high levels and loaning at low rates. Maybe I just don't want to believe that is going to happen. After today's speech, though, maybe it will.
******
James J. Cramer is manager of a hedge fund and co-founder of TheStreet.com. At time of publication, his fund was long AOL and Yahoo. His fund often buys and sells securities that are the subject of his columns, both before and after the columns are published, and the positions that his fund takes may change at any time. Under no circumstances does the information in this column represent a recommendation to buy or sell stocks. Cramer's writings provide insights into the dynamics of money management and are not a solicitation for transactions. While he cannot provide investment advice or recommendations, he invites you to comment on his column at
jjcletters@thestreet.com.
Evening Update: Sycamore Networks Beats Analysts' Estimates by a Penny
By
Tara Murphy
Staff Reporter
2/17/00 8:04 PM ET
Sycamore Networks
(SCMR)
reported second-quarter earnings of a penny, beating the seven-analyst break-even estimate and up from the year-ago three-cent loss. The company also said it filed with the
Securities and Exchange Commission
for a 15 million-share secondary offering.
Saks Holdings
(SKS)
warned investors that it would post fourth-quarter earnings of 98 cents a share, missing the 18-analyst estimate of $1.08 a share. Chairman and CEO R. Brad Martin blamed lower-than-expected same- and new-store sales and a 200 base-point gross-margin-rate drop for the disappointing earnings. Prior to the earnings warning, the company said it would assume a $20 million charge in the fourth quarter.
In other postclose news (earnings estimates from
First Call/Thomson Financial
; earnings reported on a diluted basis unless otherwise specified):
Mergers, acquisitions and joint ventures
eToys
(ETYS)
said it would join its two baby businesses under its
BabyCenter
brand. eToys said the merge, which calls for a workforce reduction, would keep the BabyCenter headquarters in San Francisco. eToys also said that BabyCenter's founders Matt Glickman and Mark Selcow would depart from the division, leaving Glickman's seat on the eToys board vacant.
Citigroup
(C) - Get Citigroup Inc. Report
said negotiations with
Student Loan Corp.
(STU)
involving a possible acquisition of Student Loan have ended. Last year, Student Loan established a special committee to review Citicorp's offer to buy all of its outstanding shares for $45 a share.
Northwest Airlines
(NWAC)
said it negotiated with
China Airlines
on possible "commercial cooperation." Northwest rejected a Taiwanese newspaper report that it plans to acquire an interest in China Air.
Earnings/revenue reports and previews
Aviron
(AVIR)
said it would assume a first-quarter $10.9 million charge due to an amendment to a warrant agreement with the
University of Michigan
. The amendment enables the university to buy 340,000 shares of the company at an earlier-than-expected date. Aviron set the warrant agreement in exchange for exclusive intellectual property rights on influenza viruses that were used to create its flu remedy FluMist.
Birmingham Steel
(BIR)
posted second-quarter loss of 68 cents a share, which included charges. The year-ago report was a 17 cent loss. The six-analyst estimate expected Birmingham to report a 6 cent profit, which excludes extraordinary items.
Ingram Micro
(IM)
reported fourth-quarter earnings of 51 cents share, which includes gains and expenses. The year-ago report was a 49 cent profit. The eight-analyst estimate forecasted the company to post an 8 cent profit.
Offerings and stock actions
Brocade Communications
(BRCD)
said it set a 2-for-1 stock split.
Harley-Davidson
(HDI)
said it set a 2-for-1 stock split.
Immunex
(IMNX)
said it set a 3-for-1 stock split.
Miscellany
Ohio Casualty
(OCAS)
said that it has tapped Vice Chairman William Woodall as its new president and CEO, following the resignation of Lauren Patch. The company said the management changes were effective immediately.
For a look into this evening's after-hours trading action, please check out
TheStreet.com's
The Night Watch.
Bond Focus: Greenspan Takes Wind Out of Bond Market's Sails
By
Elizabeth Roy
Senior Writer
2/17/00 5:06 PM ET
Hawkish
comments by
Fed
Chairman
Alan Greenspan
took the steam out of a bond-market rally triggered by a friendlier-than-expected report on inflation at the wholesale level.
Without suggesting that the
Federal Open Market Committee
will hike the
fed funds rate
more than 25 basis points at its next meeting on March 21, Greenspan indicated that rates will continue to rise until stock prices stop rising at a faster pace than incomes. Incomes have grown about 6% a year for the last three years. Stock prices rising faster than incomes is helping cause growth in demand for goods and services in excess of supply, Greenspan said. And that's a recipe for higher inflation.
Noting that the interest-rate-sensitive sectors of the economy have not slowed substantially even though rates have risen, the Fed chairman said: "
The FOMC will have to stay alert for signs that real interest rates have not yet risen enough to bring the growth of demand in line with that of potential supply, even should the acceleration of productivity continue."
And, in a departure from previous speeches, in which he has characterized rising productivity as a force of unmitigated good, Greenspan offered this thought:
The problem is that the pickup in productivity tends to create even greater increases in aggregate demand than in potential aggregate supply. This occurs principally because a rise in structural productivity growth has its counterpart in higher expectations for long-term corporate earnings. This, in turn, not only spurs business investment but also increases stock prices and the market value of assets held by households, creating additional purchasing power for which no additional goods or services have yet been produced.
"This is not your traditional economics right now,"
Lehman Brothers
senior economist Ethan Harris commented. Increasing productivity "certainly is a good thing, but it's become more of a mixed blessing now that the stock market has reached a point where the cumulative gains are so big." Today's $17 trillion stock market creates three times as much wealth when it rises 10% than the $5 trillion stock market of 1993, he pointed out.
The benchmark 10-year Treasury note finished down 6/32 at 99 16/32, lifting its yield 2.6 basis points to 6.569%. The 30-year Treasury bond -- displaced as the benchmark in recent weeks because the government's plan to reduce the supply of long-dated issues has driven up its price disproportionately -- rose 18/32 to 100 11/32, trimming its yield 4.1 basis points to 6.224%. Trading desk sources said the long bond got a big boost after Greenspan's speech by a large buyer of bonds and bond futures who was simultaneously selling eurodollar futures. Eurodollars are a more liquid proxy for the fed funds rate.
At the
Chicago Board of Trade
, the March
Treasury futures contract ended up 15/32 at 94 5/32.
"Things are so thin in bondland now, so illiquid, that one heavy-handed buyer comes in and can really drive it," said Mark Mahoney, Treasury market strategist at
Warburg Dillon Read
.
The bond market's relatively muted reaction to Greenspan -- historically, Humphrey-Hawkins testimonies have triggered much larger moves -- shows that his hawkishness on interest rates was well-anticipated. The course of action that Greenspan hinted at is more or less the one that the market has priced in. That course of action, Fed-watchers say, is more rate hikes, but at a gradual pace. Meaning that rate hikes are unlikely to come in increments greater than 25 basis points. If a larger rate hike were in the offing, Greenspan would have taken this opportunity to signal it, they say. "To the markets, saying nothing
about a 50-basis-point hike is like saying he's not thinking about it,"
Barclays Capital
senior economist Henry Willmore said.
The
fed funds futures
listed at the CBOT upgraded the risk of a 50-basis-point rate hike only slightly, to 62% from 59%.
Earlier this morning, a much friendlier-than-expected report on wholesale inflation gave bond prices a small boost.
The January
Producer Price Index
was unchanged, well below the average forecast of economists polled by
Reuters
for a 0.2% gain. Excluding food and energy prices, the PPI declined 0.2%; the core rate had been expected to rise 0.1%.
The lack of change in the PPI caused its annual pace to slow to 2.5% from 3% in December. That's the slowest pace since August. The core PPI slowed from 0.9% to 0.8%, the slowest pace since June 1998.
While these trends are important, investors will look to tomorrow's
Consumer Price Index
for January to confirm that inflation remains broadly in check.
The
Philadelphia Fed Index
, drew a very different conclusion. While the index itself rose only a little, to 13.3 from 9.1, a sub-index that measures prices paid by Philadelphia-area manufacturers rose sharply, from 21.9 in January to 40 in February, the highest reading since March 1995.
The Treasury market also drew early support from a nice gain by the dollar against the yen. The dollar moved higher against the yen after
Moody's Investors Service
, the bond rating agency, said it was putting Japan under review for a possible
downgrade. Japan lost its top-notch triple-A Moody's rating in November 1998 and is now rated double-A by the agency.
Economic Indicators
Also today, the weekly count of
initial jobless claims
indicated continued tightness in the labor market. The count dropped from 303,000 to 283,000. Four weeks ago, it dropped to 264,000, the lowest level since the early 70s.
Currency and Commodities
The dollar rose against the yen and the euro. It was lately worth 110.62 yen, the highest since September, up from 109.40 yesterday. The euro was lately worth $0.9875, up from $0.9866 yesterday.
Crude oil for March delivery at the
New York Mercantile Exchange
fell to $29.46 a barrel, down from $30.05 yesterday.
The
Bridge Commodity Research Bureau Index
fell to 212.71 from 212.97 yesterday.
Gold for April delivery at the
Comex
fell to $303.80 an ounce from $305.30 yesterday.
TO VIEW TSC'S DATABANK, SEE:
http://www.thestreet.com/markets/databank/881349.html
Copyright 2000, TheStreet.com