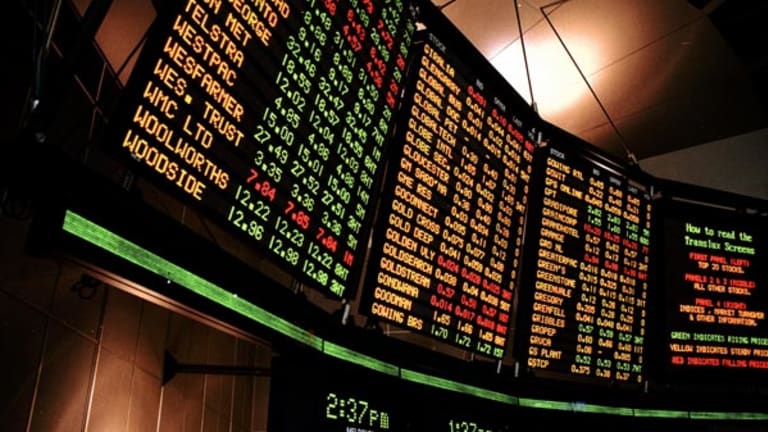 TheStreet.com's DAILY BULLETIN
February 16, 2000
http://www.thestreet.com
Market Data as of Close, 2/15/00:
o Dow Jones Industrial Average: 10,718.09 up 198.25, 1.88%
o Nasdaq Composite Index: 4,420.77 up 2.22, 0.05%
o S&P 500: 1,402.05 up 12.11, 0.87%
o TSC Internet: 1,135.28 down 4.32, -0.38%
o Russell 2000: 540.24 up 0.30, 0.06%
o 30-Year Treasury: 100 02/32 down 5/32, yield 6.244%
Companies in Today's Bulletin:
Applied Materials (AMAT:Nasdaq)
American Express (AXP:NYSE)
Charles Schwab (SCH:NYSE)
Lycos (LCOS:Nasdaq)
In Today's Bulletin:
o Financial Planning: Special Report: Client Complaints Threaten to Tarnish American Express' Golden Name
o Wrong! Rear Echelon Revelations: Good Things to Come
o Evening Update: Applied Materials Beats Estimates, Sets 2-for-1 Split
o Bond Focus: Bonds Stick to a Close Range, Await Greenspan's Thursday Thud
Also on TheStreet.com:
Online Brokers: E-Brokers and Daytraders Are Vying to Stop New Margin Rules
An unlikely, if not unholy, alliance comes together to oppose an NYSE rule change.
http://www.thestreet.com/stocks/trading/884734.html
Retail: Scuffed-Up Athletic Shoe Business Looking for a Bounce
Cheap stocks should benefit from a consolidating retail environment as manufacturers look to diversify.
http://www.thestreet.com/stocks/retail/884359.html
The TaskMaster: Navigating the After-Hours Market
Line between the primary market is blurred because of the seamless rollover of "regular hours" quotes.
http://www.thestreet.com/comment/taskmaster/884728.html
Tech Savvy: W2K Week: Gazing Into Microsoft's Cloudy Crystal Ball
Its stock and bottom line should benefit from Windows 2000, but the antitrust suit keeps its situation uncertain.
http://www.thestreet.com/comment/techsavvy/884398.html
Financial Planning: Special Report: Client Complaints Threaten to Tarnish American Express' Golden Name
By
David Dietz
Senior Editor
2/15/00 7:14 PM ET
With its vaunted brand and booming money management business,
American Express
(AXP) - Get American Express Company Report
figures it's ready to be a prime-time Wall Street player. In fact, the credit card giant's financial- planning division wants to get four times as big in eight years by amassing $1 trillion in assets.
As it expands, however,
American Express Financial Advisors
, now with 2 million clients, finds itself under increasing scrutiny. While the company reports a high client-satisfaction rate, hundreds of disgruntled customers have lodged formal complaints against the firm in recent years for allegedly deceiving them, mishandling their money or dribbling their investments away in inferior company products.
In some of the cases, American Express paid sums of up to $35,000 to unhappy investors. Other complaints were dismissed, while more are pending in the courts and with the
National Association of Securities Dealers
. American Express defends its performance and denies extensive client disillusionment.
Jack Beverland's story stands above most. Five years ago, an NASD arbitration panel found the company liable when the retired Florida retailer alleged that American Express hired his brother-in-law, a former construction worker with shaky investment inexperience, to rope him into a series of investments with a promise of a 12% annual return.
The investments, mostly stock, quickly flopped. Beverland lost almost half of a $213,000 retirement nest egg.
"He was great at building houses but lousy at being a financial adviser," Beverland says of his brother-in-law, Tim Kirby.
Stories like Beverland's are a blow to American Express, which prides itself on probity and trust. In part because of its reputation, the parent company enjoys wide investor support. And business has been strong, notably in financial advice, driving the stock up 50% in the last year. It closed up 3.3% Tuesday at 159 1/8, valuing the company at around $70 billion.
The Minneapolis-based financial-advisers unit is American Express' fastest-growing division. It now contributes more than a third of corporate profit, behind travel-related services. Any flubs in running the division, the largest marketer of financial plans in the country, could cause serious financial setbacks for the company.
Shadows and Fog
Despite its size and roots, which trace back more than a century, American Express Financial Advisors has operated mostly in Wall Street's shadows. Through a network of more than 9,000 advisers, the unit sells computerized financial plans costing between $200 and $8,000 and mostly in-house, fee-based products, from mutual funds to insurance to estate plans.
Planning Power
In five years, profits have nearly doubled at American Express Financial Advisors
Figures in billions of dollars. Total profit in 1996 exclude charges and gains.
Source: Company reports
The unit doesn't operate like most Wall Street firms, which hire their own brokers to reel in clients. American Express advisers are mostly independent contractors. While trained by the company, the advisers are outsiders who pay a fee to the company in exchange for sales and marketing help, including access to American Express credit card holders. Card customers account for about one-third of all new clients.
While American Express defends its record of client service, the company has strident critics, many of whom wonder whether the company cares more about selling products than helping clients with their financial needs. About 100 lawsuits and NASD complaints alleging misconduct are filed each year against the firm, many raising questions whether the unit is acting responsibly.
Challenge to Funds
"It's still a sales-oriented operation instead of a financial-planning operation," says Robert McLeod, a financial planner who teaches finance at the
University of Alabama
. "They're using financial planning as a carrot to get people in to sell products. It's a question of loyalties to clients."
A key complaint of disillusioned clients is the poor performance of company products. Case in point: American Express' mutual funds, which hold nearly half of the $232 billon in assets under management at the company. By the company's own admission, the funds aren't doing well. They land largely in the bottom performance tier when stacked up against competitors, according to a
Morningstar
review for
TheStreet.com
.
"We have not been satisfied across the board with our mutual fund performance," says Tom Joyce, a spokesman for American Express Financial Advisors. "We need to get better."
But Joyce denies widespread client dissatisfaction with the firm. He says complaints are isolated. Typically, he says, the unit keeps 95% of its customers.
"About 85% of our clients say they're highly satisfied with their advisers," Joyce adds, citing an in-house survey.
Examining Motives
But Kenneth Robison, a Pittsburgh elevator engineer, claims in a 1996 lawsuit that he encountered an adviser so hungry for sales commissions that the broker sold Robison's mother, then in her 70s, 20 life insurance policies in a five-year period.
"He'd take my mother out to dinner and then we'd find out we had more insurance," Robison says. "It seemed to be making the company money, and that's fine, but I expected my interests to come first."
Robison says he filed papers to sue American Express but backed off when he discovered that a family attorney had reviewed the transactions. The attorney failed to question the sales, Robison says.
The adviser, David E. Martin, is no longer with American Express. He couldn't be reached for comment.
Joyce, the American Express spokesman, defends American Express' actions and says the policy sales were appropriate. He wouldn't discuss Martin's departure.
Adviser motives also are at issue in a 1998 case in which an Ohio couple's dealings with American Express apparently got the unsophisticated investors needlessly in trouble with the
IRS
.
According to a lawsuit filed by Wilma and Marcellus Truxal, adviser Sandra Haines engaged in a strategy of repeatedly buying American Express annuities for a tax-deferred IRA. Annuities, which typically carry substantial commissions, are themselves tax-deferred instruments normally held outside retirement accounts.
If not for an apparent blunder by Haines, the questionable strategy might never have been noticed. But Haines, in handling one transaction, filled out government paperwork incorrectly, triggering an incorrect IRS claim for taxes, the suit charges.
In the suit, which is pending, the Truxals are seeking $25,000 for any taxes they might owe and unspecified damages.
In an interview with
TheStreet.com
, Glenn Woody, a veteran fee-only financial planner in Costa Mesa, Calif., chided use of annuities in such arrangements. "From the overall point of view of the client, this makes my blood boil," he says. "It's a waste of tax deferral."
Haines, a 16-year American Express veteran, and American Express declined to comment on the suit. In court papers, the company has formally rejected the accusations.
Matter of Trust
Beverland, the Florida retiree, says he invested funds with American Express because his brother-in-law had joined the company and because American Express verbally guaranteed him a 12% annual gain with a series of investments.
But within three months, he says, the value of the investments had dropped to $102,000.
What's more, the company had left his account unattended, since Kirby had gone back to construction.
Beverland complained to NASD arbitrators in 1995, who found against the company and awarded him $35,000. He had asked for damages of $234,000.
"It was not near enough," he says of the award. "I learned a lot. You don't trust your brother and you don't trust American Express."
In its defense, American Express said it didn't give Beverland a guarantee but merely told him the return was a goal. Kirby couldn't be reached for comment.
American Express says it was satisfied with Kirby's qualifications.
'Waste of Time'
In interviews with
TheStreet.com
, a dozen other former clients, while mostly commending American Express for initiating them to investments, challenged the abilities of their advisers. Their criticism ranged from poor knowledge of retirement investing to incompatible recommendations and poor service.
Orna Samuelly, a San Francisco Bay area investor, described her experience with the company as a "waste of time," mostly because of inept advice and poorly performing mutual funds.
She says of her adviser, "I didn't feel like he really understood that much about what was going on in the markets. I remember one conversation where he wanted to put a lot of money in international funds and I started asking him about the impact of currency exchange and he really didn't understand the implications."
Responding to Samuelly's complaint and those of other former clients, Joyce defends the overall competency and experience of company advisers and says that American Express clients overwhelmingly get good advice and service.
"We happen to be very proud of the record we have in terms of complaints," he says.
Fund and Games
American Express can't say the same about its mutual funds. A recent Morningstar review showed that among the company's 14 largest funds, only two have been consistently strong when measured against their sector over periods of up to five years.
Only one fund,
New Dimensions A
, had a five-star Morningstar ranking recently. In comparison, another family of load funds,
American Century
, had four funds carrying five stars.
American Express says it is dealing with the problem in a number of ways, including refunding fees at least in part if a fund's performance lags. It is also bolstering in-house research and allowing clients to invest in more nonproprietary funds.
Justin Craib-Cox, a Morningstar analyst, attributes the funds' lackluster record to deeply rooted investment caution at the firm, and to the company's inability to cultivate strong fund managers.
"Everything has poked along like a second-hand car, not very fast and not with a lot of style," he says. "If you're risk-averse, that's fine. But if I was someone conscious about returns, I would be expecting more."
That applies particularly to a client drawn to technology stocks, Craib-Cox pointed out. Until recently, American Express did not have a fund that specialized in the past year's hottest market sector.
"That does tell you something indirectly about the quality of the organization," Craib-Cox says.
Wrong! Rear Echelon Revelations: Good Things to Come
By
James J. Cramer
2/15/00 4:49 PM ET
We like we see from
Applied Materials
(AMAT) - Get Applied Materials, Inc. Report
on orders and we like what we see from
Lycos
(LCOS)
on page views, so we are wading into the badlands to take a few thousand of both.
Sans
conference calls we can't be more aggressive because we shouldn't be trading without more of a feel for the guidance, but we sure like the direction of things.
We are not alone. Some are taking Applied Materials at 170 while others are taking Lycos at 72. So far, good signs for tomorrow. If I weren't under the weather I would be manning the conference calls, but I have to head home.
Strange day, wasn't it? If you blinked you missed that
Intel
(INTC) - Get Intel Corporation Report
comment and you didn't get in. Hence, why it is so important to buy them when you can, not when you have to.
******
James J. Cramer is manager of a hedge fund and co-founder of TheStreet.com. At time of publication, his fund was long Lycos, Applied Materials and Intel. His fund often buys and sells securities that are the subject of his columns, both before and after the columns are published, and the positions that his fund takes may change at any time. Under no circumstances does the information in this column represent a recommendation to buy or sell stocks. Cramer's writings provide insights into the dynamics of money management and are not a solicitation for transactions. While he cannot provide investment advice or recommendations, he invites you to comment on his column at
jjcletters@thestreet.com.
Evening Update: Applied Materials Beats Estimates, Sets 2-for-1 Split
By
Tara Murphy
Staff Reporter
2/15/00 8:06 PM ET
Applied Materials
(AMAT) - Get Applied Materials, Inc. Report
posted first-quarter earnings of 80 cents a share, beating the 28-analyst estimate of 77 cents and up from the year-ago 12 cents. The company also set a 2-for-1 stock split.
Applied Materials chairman and CEO James Morgan attributed strong demand and orders for the better-than-expected results. "Typically, their guidance is understated," said Brian Gilmartin, a portfolio manager at
Trinity Asset Management
. This quarter, they shot the lights out. Their demand trends are firmly in place and a backlog 2.3 billion portends good things."
Gilmartin noted that last year, Applied Materials was responsible for 25% of the industry's revenues.
Lycos
(LCOS)
reported second-quarter earnings of 3 cents a share, beating the 14-analyst estimate of a penny and up from the year-ago report of a 2-cent loss.
In other postclose news (earnings estimates from
First Call/Thomson Financial
; earnings reported on a diluted basis unless otherwise specified):
Mergers, acquisitions and joint ventures
Compaq
(CPQ)
said it plans to sell a new computer product line targeting Web businesses, which uses
Microsoft's
(MSFT) - Get Microsoft Corporation Report
Windows 2000
and
Unisys
(UIS) - Get Unisys Corporation Report
technology.
The upgraded software would replace mainframe-level computers with machines that use
Intel
(INTC) - Get Intel Corporation Report
chips, enabling Web site users access to large amounts of data simultaneously. In August, Compaq rolled out the first phase of its plan when it offered its
ProLiant
servers based on Intel chips. Compaq said it would build servers based on Unisys technology in the second half of 2000.
The
Federal Communications Commission
gave its stamp of approval to
VoiceStream Wireless's
(VSTR)
$1.7 billion merger with
Omnipoint
(OMPT)
Earnings/revenue reports and previews
Network Appliance
(NTAP) - Get NetApp, Inc. Report
reported third-quarter earnings of 11 cents a share, a penny better than the 15-analyst estimate and up from the year-ago report of 6 cents a share. The company also set a 2-for-1 stock split.
Newpark Resources
(NR) - Get Newpark Resources, Inc. Report
warned investors that its fourth-quarter loss would be wider than the analyst consensus estimate of 2 cents. The company blamed slowness in the oil field services industry during December for the larger-than expected loss. CEO James Cole said he expects the company to turn a profit in early 2000.
7-Eleven
(SVEV)
said same-store sales increased 6.2% in January.
Offerings and stock actions
Aspect Development
(ASDV)
set a 2-for-1 stock split.
Be Free
(BFRE)
said it set a 2-for-1 stock split.
IntraNet Solutions
(INRS)
said it filed with the
Securities and Exchange Commission
for a 4 million-share secondary offering.
J.B. Hunt
(JBHT) - Get J.B. Hunt Transport Services, Inc. Report
said it set a 500,000-share repurchasing program.
RenaissanceRe
(RNR) - Get RenaissanceRe Holdings Ltd. Report
said it set a $25 million share buy back.
Shopnow.com
(SPNW)
said it priced an 8 million-share secondary offering at $14.50 a share.
Miscellany
Home Depot's
(HD) - Get Home Depot, Inc. Report
diversified businesses president David Suliteanu said at a
Banc of America
conference that he sees the company's
Expo
home decor unit expanding to more than 200 stores over the five years. At the end of 1999, the unit consisted of 15 stores.
Lowe's
(LOW) - Get Lowe's Companies, Inc. Report
CEO Robert Tillman said at Banc of America's conference that the company plans to open 95 new stores in 2000 and an additional 125 in 2001. Tillman said that 20% of the stores, which are set to open this year, are relocations. Lowe's is set to report fourth-quarter earnings on Friday. The 21-analyst estimate sees the company posting earnings of 36 cents a share.
For a look into this evening's after-hours trading action, please check out
TheStreet.com's
The Night Watch.
Bond Focus: Bonds Stick to a Close Range, Await Greenspan's Thursday Thud
By
David A. Gaffen
Staff Reporter
2/15/00 3:44 PM ET
The ability for the bond market to shift from nail-biting volatility to finger-drumming tedium is an impressive thing. For the first two days of this week, the market's been entertained with the latter, as it gears up for what's likely to be more of the former on Thursday and Friday.
After some early losses, the market settled into a range, gently tossing about on the stock market's multiple sea changes during the day. Two key economic releases -- the
Producer Price Index
and the
Consumer Price Index
-- are due out Thursday and Friday.
Fed
Chairman
Alan Greenspan's
strides up the hill for his semi-annual
Humphrey-Hawkins
testimony Thursday.
That's a lot to worry about. So, the bulk of the market didn't bother today, leaving traders to square positions, knocking down the 30-year bond a bit, since supply issues has made it the best performer so far this year. The market initially reacted negatively to the stronger-than-expected increase in
industrial production and capacity utilization
, but the decline was brief and limited.
Lately, the benchmark 10-year Treasury note was unchanged at 99 18/32, yielding 6.56%. The 30-year Treasury was kicked around, lately down 10/32 to 100, pushing the yield up 1.8 basis points to 6.263%. The five-year note was down 6/32 to 96 19/32, yielding 6.722% and the two-year note was unchanged at 6.632%.
The March bond contract, traded on the
Chicago Board of Trade
, was down 12/32 to 93 24/32.
It might be sheer boredom, but analysts said last week's volatility has receded, so the bond market exudes some semblance of order, a welcome change from a few weeks of disorder surrounding the issue of sharp reductions in Treasury supply in coming months. The wild swings that caused the 30-year bond to rally 30 basis points in a week most certainly flushed out people caught going against the grain of the market. That only made last week's gyrations worse, but consequently, the market's a calmer place thus far this week.
"We're finally consolidating," said Michael Krauss, chief technical strategist at
Chase Securities
. "The violence is behind us."
Kim Rupert, senior economist at
Standard & Poor's MMS
, is expecting more volatility, if not violence. It's expected that the Fed chairman's opinions haven't changed much since his market-rattling Jan. 13
address to the
Economic Club of New York
, but this is a fuller, longer report, and there's always the possibility that a few curveballs will be tossed by the chairman.
"Greenspan typically does evoke considerable volatility, and I don't suppose this will be any different," said Rupert. "Most people think him to be consistent with a gradual approach to Fed tightening, and the markets sense that's the path he's going to follow."
It appears the Treasury has learned its lesson. After roiling the markets with some comments that, if not misinterpreted, were at least ill-timed, Assistant Treasury Secretary
Lee Sachs
took the fifth at a Congressional testimony today, declining to comment on whether the Treasury was planning to eliminate the 30-year bond.
Economic Indicators
Industrial production rose 1% in January, far outpacing expectations (in a
Reuters
poll) for a 0.6% increase. Capacity utilization, a measure of what percentage of resources manufacturers are using, rose to 81.6%, compared with the 81.5% forecast. The figures are the strongest since August 1998, which coincides with the beginnings of the economic downturn in most of Asia that sapped demand in the manufacturing sectors.
The
National Association of Home Builders
Housing Market Index
fell to 68 in February from 71 in January. The figure is the lowest since May 1998, and it's a mild positive for the Treasury market, as many view a slowing in housing activity as a precursor to a slowing in economic strength.
The market will get another clue about that tomorrow, when the
Census Bureau
reports on January
housing starts
. Starts, which jumped surprisingly in December, are expected to fall to a seasonally adjusted annual rate of 1.65 million in January. The rate of building permits is expected to fall to 1.61 million.
The
BTM/Schroder
weekly chain store sales index rose 1.2% last week. The
Redbook Retail Average
was up 0.8% for the month through Feb. 12, vs. January.
Currencies and Commodities
The dollar turned it around against the yen, but was weaker against the euro. Dollar/yen dropped to 109.10 from 108.90 yesterday, and the euro rose to $0.9811, up from $0.9785 yesterday.
Crude oil for March delivery at the
New York Mercantile Exchange
was down slightly from yesterday, lately at $30.03 a barrel, from $30.25 yesterday.
The
Bridge Commodity Research Bureau Index
fell to 212.87 from 214.53 yesterday.
Gold for April delivery at the
Comex
was down, trading at $304.2 an ounce from $311 yesterday.
TO VIEW TSC'S ECONOMIC DATABANK, SEE:
http://www.thestreet.com/markets/databank/881349.html
Copyright 2000, TheStreet.com