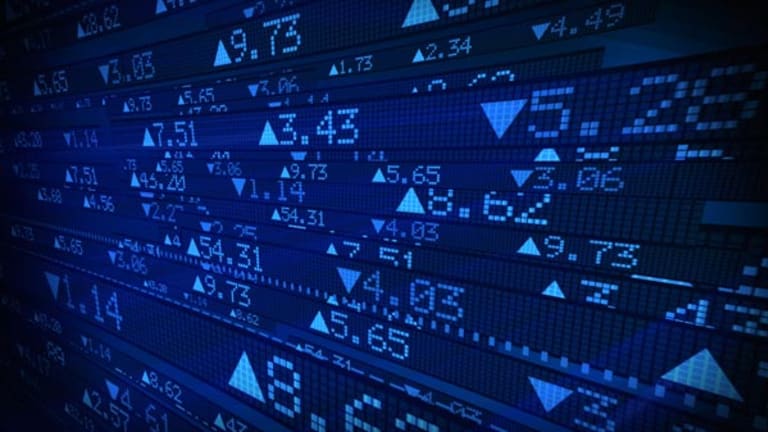 TheStreet.com's DAILY BULLETIN
February 15, 2000
http://www.thestreet.com
Market Data as of Close, 2/14/00:
o Dow Jones Industrial Average: 10,519.84 up 94.63, 0.91%
o Nasdaq Composite Index: 4,418.55 up 23.10, 0.53%
o S&P 500: 1,389.94 up 2.82, 0.20%
o TSC Internet: 1,139.60 down 14.84, -1.29%
o Russell 2000: 539.94 up 2.84, 0.53%
o 30-Year Treasury: 100 07/32 up 17/32, yield 6.217%
Companies in Today's Bulletin:
DoubleClick (DCLK:Nasdaq)
JDN Realty (JDN:NYSE)
Worldwide Fiber
Merrill Lynch (MER:NYSE)
In Today's Bulletin:
o Internet: Cookie Monsters? DoubleClick Pushes Its Take on Net's Private Parts
o Smarter Money: Getting a Piece of an IPO
o Evening Update: Justice Department Rules Against SBC Communications in Texas Case
o Bond Focus: Treasuries Rally, Repairing Auction Damage, Despite Oil's Rise
Also on TheStreet.com:
Asia/Pacific: China Tel Answers New Call for Fund Managers
Led by China Telecom, the Hong Kong stock market has shifted its focus from banks to telephones.
http://www.thestreet.com/int/asia/883613.html
Brokerages/Wall Street: O'Neal's Advancement Seen as Another Step Toward Merrill Helm
His move to private-client group, coupled with CFO experience, is rounding out his resume.
http://www.thestreet.com/stocks/brokerages/883936.html
Building Blocks: REITs' Reputation Gets Tarnished Once Again
Secret payments to senior officers at JDN Realty leave investors and industry watchers aghast.
http://www.thestreet.com/comment/buildingblocks/883892.html
View From the North: With Top Leaders and Alliances, Worldwide Looks for Solid IPO
But the Canadian firm doesn't face calm seas in fiber-optics biz, as significant competition awaits.
http://www.thestreet.com/int/viewnorth/883898.html
Internet: Cookie Monsters? DoubleClick Pushes Its Take on Net's Private Parts
By
George Mannes
Staff Reporter
2/14/00 9:02 PM ET
DoubleClick
(DCLK)
tried to win America's hearts with its Valentine's Day announcement of privacy initiatives, but Internet privacy advocates weren't smitten. The clash is important, since one of the fundamental promises of online advertising's future is the ability to target advertising -- a future that could be clouded by the prospect of laws restricting current business practices.
DoubleClick, the industry leader among companies selling and delivering ads on behalf of other Internet companies, took the offensive Monday amid a wave of complaints about how the company uses information about Web surfers. In response to recent bad publicity -- such as a bill that Sen.
Robert Torricelli
, D-N.J., introduced last week that would sharply restrict how Internet companies collect online data -- DoubleClick announced what it called a "major five-point consumer online privacy initiative."
At stake is whether DoubleClick and other companies can continue to target Web advertising based on anonymous profiles of people's demographic information, and how easily DoubleClick will be able to take advantage of data collected by its recently acquired
Abacus Direct
subsidiary and connect it to real-world information about Internet users, including their names, addresses and off-line buying habits. DoubleClick says money-losing Net companies will stay that way if they're restricted in how they can collect data. Its stock fell 2.4% Monday to 108 7/16.
Window Dressing?
Whether DoubleClick's initiative will be seen by legislators and others as a meaningful step or just window dressing is open to debate. The centerpiece of the announcement is a new advertising campaign publicizing a DoubleClick site called
privacychoices.org
. At that site, consumers can choose to surf anonymously from their computer, rather than have DoubleClick -- and the sites on behalf of which it sells advertising -- collect information about where they've been and what their interests are, the better to target them with advertising.
The idea, according to DoubleClick, is that interested consumers who see the ad can click on it, then go to the privacychoices.org Web site, where they can make the selection to have DoubleClick stop collecting the information that it quietly gathers as people visit different sites in the DoubleClick network. DoubleClick President Kevin Ryan says the company hopes to have 30 million to 50 million U.S.-based Internet users (
Media Metrix
estimates that there were 65 million of them in December) see an ad in the campaign up to three times.
But the number of people affected by the campaign is likely to be a fraction of that. In a study released last year, for example, DoubleClick found that less than a third of 1% of Internet surfers clicked on a public-service ad campaign; at that rate, 155,000 out of 50 million people might click on DoubleClick's privacy banner. And the advertising copy isn't exactly enticing. Rather than something like, "Click here to find out how online advertisers are using information about you," or some other throat-grabbing call to action, an initial banner in the campaign, launched Monday, was the bland and mysterious, "PrivacyChoices/Your resource for online privacy information/click here."
Over the past three years, fewer than 100,000 people have "opted out," or asked DoubleClick to stop collecting information about them. However, people who thought they opted out might be having information collected about them, say the privacy advocates, who held a press call immediately after DoubleClick's announcement to take issue with the company's position on online privacy.
They say that the mechanism for opting out is a special "cookie" on people's machines that, in effect, tells DoubleClick to stop collecting information about them. However, if computer users delete the cookies on their machine -- a broadly publicized tactic to stop a widely followed practice that Web sites, including
TheStreet.com
, use to identify visitors to their site -- DoubleClick will start collecting information about them again, privacy advocates say.
Opting In
But the real chasm between DoubleClick and the privacy hawks is whether the ability to "opt out" of data collection by DoubleClick and other online marketers is sufficient privacy protection for online consumers. DoubleClick says yes; the other side, as explained in the post-DoubleClick call, insists that the only thing that works is "opting in" -- in which companies are allowed to collect information and target Web advertising only to consumers who specifically say it's OK. They say that DoubleClick's plans to integrate off-line data with online data make this issue even more acute. "It's an extraordinary threat to personal privacy," said Marc Rotenberg, executive director of the
Electronic Privacy Information Center
.
On Capitol Hill, Torricelli, for one, is holding out for opting in, a major feature of his bill. Despite that, DoubleClick's announcement "is a very positive first step, and it's a sign that the industry is aware there's a problem and is willing to work at correcting it," says Kristin Carvell, Torricelli's press secretary.
If
Congress
passed an opt-in law, says Ryan, DoubleClick and the rest of the Internet would suffer, and consumers would have to pay more to surf the Web. "It's either going to be subscription fees or advertising for noncommerce sites," he says. If companies targeted ads only at people who agreed specifically to data collection, "I think it would be extremely hard for the Internet to be successful." And that would hurt DoubleClick, too, he says. "To the extent that Internet advertising is hurt, it definitely hurts our business as well."
One analyst isn't so sure that DoubleClick would suffer. "The company's going to make its numbers for the foreseeable future" just on its ability, like
Yahoo!
(YHOO)
and
America Online
(AOL)
, to help advertisers reach a huge segment of the Internet population, says Dana Serman, an Internet analyst at
Lazard Freres
. Recent dips in DoubleClick's stock have been a buying opportunity, says Serman, who has a buy, his firm's highest rating, on the stock. Lazard Freres has not done investment banking for DoubleClick.
It also looks like an uphill climb in the Republican-majority Congress to enact privacy legislation anytime soon. Serman says Congress rarely passes a law that would upend the economics of an entrenched industry. In Torricelli's office, Carvell says the senator acknowledges that getting his bill passed is going to be tough.
Smarter Money: Getting a Piece of an IPO
By
James J. Cramer
2/14/00 10:00 PM ET
You want a piece of a hot initial public offering? You want to cash in on the stocks that are up 200% and 300%? I can't delude you: The best way to get in is to be a part of the buying group that does the best at these things, the mutual funds.
IPOs that pop are scarce commodities allocated to the best clients of the firm. Because the mutual funds are so large, and because they have so much clout, they get the lion's share of these hot IPOs.
Sure, you can win the lottery that an e-broker might be holding (for more on these lotteries, see a recent
story and
follow-up by
TSC
contributor
John Rubino
). And if you do enough business with one of the brokers handling the IPOs, you might get a few shares. But if you want to get stock consistently, you have to be part of one of the powerful fund groups that controls so much money.
I am not here to debate whether that is right or wrong; I am here to tell you how to win. I think the best way to win in the initial public offering game is through one of the funds of a larger fund family that specializes in tech.
Otherwise, I think you will
always
be disappointed by your allocation and you'll get turned off to the stock market entirely. That's not what should happen, but because of the difficulty of buying these stocks at the deal price -- the hotter the IPO the tougher it is to get in -- the only realistic way to win is with someone who gets favored regularly with big chunks of the best deals.
*******
James J. Cramer is manager of a hedge fund and co-founder of TheStreet.com. At time of publication, his fund had no positions in any stocks mentioned. His fund often buys and sells securities that are the subject of his columns, both before and after the columns are published, and the positions that his fund takes may change at any time. Under no circumstances does the information in this column represent a recommendation to buy or sell stocks. Cramer's writings provide insights into the dynamics of money management and are not a solicitation for transactions. While he cannot provide investment advice or recommendations, he invites you to comment on his column at
jjcletters@thestreet.com.
Evening Update: Justice Department Rules Against SBC Communications in Texas Case
By
Tara Murphy
Staff Reporter
2/14/00 7:32 PM ET
The Justice Department
said that
SBC Communications
(SBC)
has failed to meet the legal conditions to be a long distance service provider in Texas's $6 billion market. Justice's nonbinding recommendation weighs heavily on the
Federal Communications Commission's
decision to approve SBC as a long distance carrier.
The Justice Department said that SBC, which is a leading local telephone provider in 13 southwestern and midwestern states, was not giving its competitors equal access to its networks, which is required under the
1996 Telecommunications Act
.
Congress
attempted to increase competition by having the Bells lease access to parts of their networks that would be too costly for other carriers to build. Justice said that carriers that wanted to lease copper wires for DSL faced delays and received second-rate service compared to SBC lines for its own service.
Intel
(INTC) - Get Intel Corporation (INTC) Report
said it would make a $100 million investment in
Symbol Technologies
(SBL)
and work with Symbol to develop wireless networking products. The investment, which represents roughly 1.4 million shares of Symbol, would give Intel a 1.5% interest in the company. The companies expect to launch their first product line in 2000.
In other postclose news (earnings estimates from
First Call/Thomson Financial
; earnings reported on a diluted basis unless otherwise specified):
Mergers, acquisitions and joint ventures
ChoicePoint
(CPS) - Get Cooper-Standard Holdings Inc. Report
said it has agreed to a $450 million stock deal to acquire
DBT Online
(DBT)
. ChoicePoint said it would issue 10.5 million new shares to buy DBT. DBT shareholders would get 0.525 of ChoicePoint for each share of DBT.
CMS Energy
(CMS) - Get CMS Energy Corporation Report
said it plans to sell its 50% interest in the
Loy Yang Power
plant in Melbourne, Australia. Spokesman Kelly Farr told
Reuters
that that the company would hire an advisor to handle the sale. CMS Energy bought the stake in 1997 for $1.84 billion.
Earnings/revenue reports and previews
Agency.com
(ACOM)
posted a fourth-quarter loss of 21 cents a share, wider than the three-analyst estimate of a 10-cent loss but narrower than the year-ago 26-cent loss.
Goto.com
(GOTO)
posted a fourth-quarter loss of 17 cents a share, narrower than both the four-analyst estimate of a 40-cent loss and the year-ago 24-cent loss.
Guess
(GES) - Get Guess?, Inc. Report
reported fourth-quarter earnings of 44 cents, which included adjustments. The year-ago report was a 10-cent profit. The four-analyst estimate expected the company to report a 32-cent profit.
Helix Technology
(HELX)
posted fourth-quarter earnings of 30 cents a share, beating the four-analyst estimate of 25 cents and up from the year-ago breakeven report.
Rare Hospitality
(RARE) - Get Ultragenyx Pharmaceutical, Inc. Report
posted fourth-quarter earnings of 26 cents, missing the seven-analyst estimate of 35 cents but up from the year-ago 11-cent profit.
Rare Medium
(RRRR)
reported a fourth-quarter loss of 24 cents, wider than both the single-analyst estimate of a 19 cent-loss and the year-ago 10-cent loss.
Sierra Health Services
(SIE)
reported fourth-quarter earnings of 35 cents a share, a penny better than the 11-analyst estimate but down from the year-ago 46 cents.
Watson Pharmaceutical
(WPI)
said it posted fourth-quarter earnings of 46 cents a share, beating the 12-analyst estimate by a penny and up from the year-ago 30 cents.
Offerings and stock actions
Robertson Stephens
priced a 4.85 million-share IPO for
Chordiant Software
(CHRD)
at $18 a share.
Macrovision
(MVSN)
said it set a 2-for-1 stock split. The company posted fourth-quarter earnings of 19 cents a share, a penny better than the three-analyst estimate and up from the year-ago 12-cent profit.
Merrill Lynch
and
Morgan Stanley Dean Witter
priced a 17 million-share IPO for
Savvis
(SVVS)
at $24 a share.
Robertson Stephens priced a 4.075 million-share IPO for
VarsityBooks.com
(VSTY)
at $10 a share.
Miscellany
Fruit of the Loom
(FTL)
said it is seeking approval in
U.S. Bankruptcy Court
for its restructuring plan to end its operations of its
Pro Player
unit, which includes its fully owned
Salem Sportswear
and
Pro Player
divisions.
Fruit of the Loom said it could sell Pro Player, which has licenses with the
National Hockey League
and the
National Football League
, if adequate bids were received before its February 23 court hearing for the approval request.
For a look into this evening's after-hours trading action, please check out
TheStreet.com's
The Night Watch.
Bond Focus: Treasuries Rally, Repairing Auction Damage, Despite Oil's Rise
By
Elizabeth Roy
Senior Writer
2/14/00 4:18 PM ET
The Treasury market started
Humphrey-Hawkins
week with a rally, in spite of a decisive move by oil above the $30-a-barrel level.
Analysts said the market was repairing itself today after last week's selloff, which was due in large part to the cool reception the Treasury's auctions of new notes and bonds got. The action left most yields at their best levels since the week before last.
The benchmark 10-year Treasury note rose 12/32 to 99 22/32, trimming its yield 5.2 basis points to 6.543%. The 30-year Treasury bond, which in recent weeks has been displaced as the market benchmark (because its increasing scarcity has it trading like a commodity), rose 24/32 to 100 15/32, trimming its yield 5.5 basis points to 6.215%.
At the
Chicago Board of Trade
, the March
Treasury futures contract finished up 24/32 at 94 4/32.
The market: Join the discussion on
TSC
message boards.
"It looks like we're getting rid of the refunding,"
Merrill Lynch
Treasury market strategist Jerry Lucas said, referring to the process by which the dealers who bought new Treasury notes and bonds in last week's series of auctions move them out to customers.
Unimpressive auction results,
Bianco Research
president Jim Bianco pointed out in a research note today, don't necessarily mean the market can't subsequently rally. In fact, over the last 17 years, it has done better in the weeks following the worst auctions than in the weeks following the best ones.
Also, trading desk sources said a single large, determined buyer sparked the move higher early in the session, and the market didn't look back.
As for Humphrey-Hawkins,
Fed
Chairman
Alan Greenspan's
semiannual speech to
Congress
on the economy and monetary policy is still three days away, but it's the first thing on bond traders' minds this week.
Small wonder. Over the last seven years, the 30-year Treasury bond has moved less than 29/32 (in either direction) on Humphrey-Hawkins day only once, and the average move has been 1 3/32, said Tony Crescenzi, chief bond market strategist at
Miller Tabak
. Then, in the week after the speech, the market typically moves another full point in the same direction.
Today's turn into positive territory may be based on the hope that "with the stock market slipping, Greenspan won't have an axe to grind," Crescenzi said.
At the same time, bond market participants are anxious for any wisdom Greenspan might have to offer on the implications of the only recently inverted Treasury yield curve, said Roger Bayston, bond portfolio manager at
Franklin Templeton
. The Treasury's plan to reduce issuance of long maturity debt in particular has increased its value relative to short maturity debt. As a result, longer maturity yields are in many cases lower than shorter maturity ones.
To say nothing of the outlook for the March 21
Federal Open Market Committee
meeting. Market participants agree that the FOMC is very likely to hike the
fed funds rate
again. But it's hard to guess by how much, since the Fed heads (whose ruminations
TSC's
new
Fed Scorecard can help interpret) have been strangely silent lately. "I would be more comfortable understanding what they're going to do if we had some more information," Bayston said.
There were no major economic releases to give the bond market direction today. But crude oil, which last week renewed its assault on $30 a barrel, a level it hadn't seen in years, finally breached it, with negative implications for inflation.
Economic Indicators
There were no first-tier economic releases today.
On the lower tier, December
business inventories
rose 0.5%, a tenth more than expected by economists surveyed by
Reuters
. The year-on-year pace of inventory growth rose from 4.0% to 4.8%, the fastest since April 1998.
But business sales continue to rise at a much faster pace, suggesting that inventory growth -- a driver of economic growth -- needs to speed up further. Business sales rose 1.1% in December, and the year-on-year pace fell to 9.3% from 10.2%.
This week's economic highlights -- the
Producer Price Index
and
Consumer Price Index
for January -- are on Thursday and Friday.
Currency and Commodities
The dollar fell against the yen and rose against the euro. It was lately worth 108.78 yen, down from 108.80 on Friday. The euro was worth $0.9803, down from $0.9864 on Friday.
Crude oil for March delivery at the
New York Mercantile Exchange
hit $30.25 a barrel, up from $29.44 on Friday.
The
Bridge Commodity Research Bureau Index
fell to 212.63 from 214.53 on Friday.
Gold for April delivery at the
Comex
fell to $311 an ounce from $313.60 on Friday.
TO VIEW TSC'S ECONOMIC DATABANK, SEE:
http://www.thestreet.com/markets/databank/881349.html
Copyright 2000, TheStreet.com