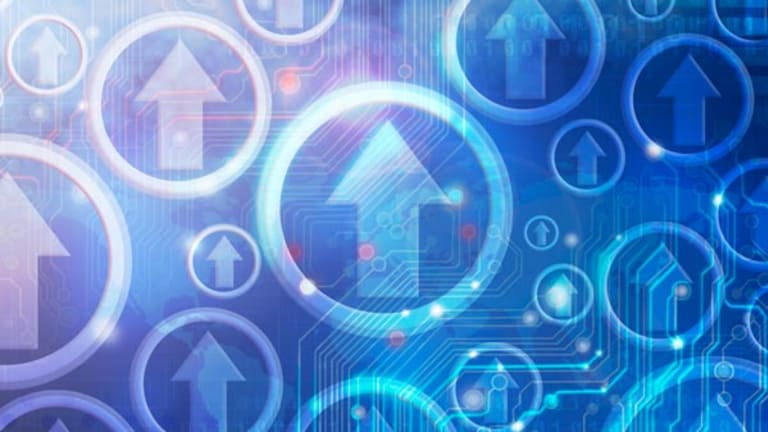 TheStreet.com's DAILY BULLETIN
February 11, 2000
http://www.thestreet.com
Market Data as of Close, 2/10/00:
o Dow Jones Industrial Average: 10,643.63 down 55.53, -0.52%
o Nasdaq Composite Index: 4,485.63 up 122.39, 2.81%
o S&P 500: 1,416.83 up 5.12, 0.36%
o TSC Internet: 1,177.50 up 30.67, 2.67%
o Russell 2000: 542.21 up 6.21, 1.16%
o 30-Year Treasury: 96 00/32 down 1 13/32, yield 6.436%
Companies in Today's Bulletin:
Dell (DELL:Nasdaq)
Cabletron (CS:NYSE)
Berkshire Hathaway (BRK.A:NYSE)
In Today's Bulletin:
o IPOs: SEC Is Moving Toward Opening Pre-IPO Roadshows
o Wrong! Rear Echelon Revelations: Wastin' Away in Humdrum Stocks
o Evening Update: Cabletron Systems Splitting Core Business Into Four Companies
o Bond Focus: Bonds Tank After Lousy Bond Auction
"TheStreet.com" on Fox News Channel
Computer hackers are mucking up the works at some Internet titans. How will their handiwork impact your Net stocks? We'll get the "Word on TheStreet" with Ark funds portfolio manager, Christopher Baggini and TSC's Herb Greenberg, Adam Lashinsky and special guest, "CapitalistPig" Jonathan Hoenig.
Also, funds writers Joe Bousquin and Dagen McDowell face-off on the best way to tap into this year's biotech boom. And "Chartman" Gary B. Smith and Adam Lashinsky check out two of the most asked about stocks in Lashinsky's mailbag. All that and predictions.
"TheStreet.com" on Fox News Channel airs Saturdays at 10 a.m. and 6 p.m. ET and Sundays at 10 a.m. ET. FNC is Fox's 24-hour cable news channel. To find Fox News Channel in your area, call your local cable operator or see our "TSC on Fox TV" page at www.thestreet.com/tv.
Also on TheStreet.com:
Market Roundup: Tech Stocks Rule the Day Again but Raise Questions of Sustainability
The Nasdaq turned in another stirring performance on the upside, but some analysts think it's looking toppy.
http://www.thestreet.com/markets/marketroundup/881747.html
Online Brokers: Online Brokers Breaking Into Venture Cap Plays
Electronic players follow E*Trade's golden path, as private-equity funds move closer to average investors.
http://www.thestreet.com/stocks/trading/881676.html
Options Buzz: Option Volatility Rising in Surprising Places
US Air options get busy.
http://www.thestreet.com/stocks/optionsbuzz/881508.html
Europe: The Anglo File: Small Caps Appear to Be Big Bargains in U.K.
A survey shows development of a two-tier, smaller-quoted market with an increasing tech focus.
http://www.thestreet.com/int/euromarkets/881684.html
IPOs: SEC Is Moving Toward Opening Pre-IPO Roadshows
By
Beth Kwon
Staff Reporter
2/10/00 6:52 PM ETThe
Securities and Exchange Commission
is preparing a proposal that could give individual investors access to pre-IPO roadshows that are typically attended only by analysts and institutional investors.
Commissioner Laura Unger confirmed Thursday that the staff is drawing up a proposal, to be submitted in March or April, that would broaden access to IPO roadshows, or the presentations companies give to analysts and institutional investors.
The proposal could help individual investors by further discouraging selective disclosure, whereby institutions and larger investors typically receive key information ahead of retail investors. But regulators and industry observers emphasize the delicacy of the issue, suggesting it's possible that such a rule might ultimately stem the flow of information to all investors, which would fly in the face of the agency's intentions.
Information, Please
"Giving
individual investors the most information to make as informed a decision as possible seems to be in the investor's and public's best interest," says Scott Ryles, president and CEO of
Epoch Partners
, a new investment bank formed by
Charles Schwab
(SCH)
,
Ameritrade
(AMTD)
and others. "It's an attempt to democratize access to relevant information in making an investment decision."
The proposal follows a series of letters from the agency stating that more open roadshows don't violate securities laws. Those letters included one issued to Charles Schwab last November that allowed the brokerage firm to open up Internet roadshows to certain retail customers. Roadshows have been accessible to analysts and institutional investors on the Net through such sites as
NetRoadshow
.
"Basically they're codifying a series of no-action letters regarding roadshows, and we've been supportive of those," says Margaret Draper, assistant vice president of corporate communications for the
Securities Industry Association
.
Difficult Issue
But Commissioner Unger says that while she hasn't yet seen a draft of the proposal, "the issue of roadshows has been a difficult one" for the SEC. "If roadshows are to be made widely available to all investors, we should avoid the creation of two roadshows: the regular roadshow where institutional investors can get earnings projects and elicit material information, and a sanitized 'roadshow lite' for retail investors," she said in a speech last month.
Unger is also concerned that the "filtering" done by analysts may change. "If we make all the information available to everyone, do we lose something in this filtering function that the analyst plays?"
The SEC has been split on the issue. "There's one part of the SEC that would like to roll back the clock, and there's another part that seems to be forward-looking and recognizing that technology is a great way to provide more information to investors in a responsible and reasonable way," says a person familiar with the agency.
Bigger Questions
And the roadshow question touches on larger issues of selective disclosure, or releasing information to some investors and not others.
"The commission is recognizing that they can't simultaneously be against selective disclosure in other contexts and then say you can make selective disclosure to investors in the IPO context," says John Coffee, a securities law professor at
Columbia University
.
The SIA's Draper says that a move to force companies to disclose information to everyone may have negative results. "We're afraid companies will clam up, and stop talking to analysts with the fear that what they say to one they'll say to others, and that they'll just stop talking," he says.
But some say that recent events like the
Webvan
undefined
IPO, which was delayed in October following a
story in
TheStreet.com
about information provided in the roadshow that wasn't in the prospectus, necessitate a change of policy.
The Webvan IPO "is exactly why the same information should be available to everybody, and the Net gives you a perfect vehicle to do that," says Sandy Robertson, partner with
Francisco Partners
and founder of
Robertson Stephens
.
Wrong! Rear Echelon Revelations: Wastin' Away in Humdrum Stocks
By
James J. Cramer
2/10/00 4:25 PM ET
Matt "I'm Better than Buffett -- Jimmy Buffett" Jacobs
and
Jeff "Better than Graham -- Kent Graham" Berkowitz
were marvelling at the decline in
Berkshire Hathaway
(BRK.A)
today.
Matt's theory was that it doesn't matter that Berkshire Hathaway goes down pretty much every day -- it is "financially incorrect" to say anything negative about the "Informix of Omaha" (Matt thinks it is a travesty to confuse Buffett with the red-hot B2B play that he used to be known as).
So immediately (in case they thought I was listening), they stipulated that Buffett is the greatest investor ever, even if Berkshire drops another 50%. In fact, they are standing over me now demanding that I write that the
Bloomberg
machine is simply printing out the chart since November
upside down
!
In truth, I think the reason why this stock is going down is because of Berkshire's buy of
General Re
. As someone who is long
AIG
(AIG)
, I can tell you that these stocks could pull down any portfolio, but especially one dominated by
Coke
(KO)
and
Disney
(DIS)
!
Join the discussion on
TSC
Message Boards.
In other words, Buffet not only has no
Cisco
(CSCO)
,
Nokia
(NOK)
,
Sun Microsystems
(SUNW)
and the other rockets, it owns the ballast. A veritable double-whammy!
That doesn't mean he isn't the best that has ever lived. It does mean that I would stay away from the stock.
Random musings
: Some bogus story about accounting changes at Cisco gets passed off as journalism and the stock gets hit for a nanosecond. Thanks for the opportunity! ... Join me for the
Yahoo!
chat after the bell.
********
James J. Cramer is manager of a hedge fund and co-founder of TheStreet.com. At time of publication, his fund was long AIG, Cisco, Nokia, Yahoo! and Sun Microsystems. His fund often buys and sells securities that are the subject of his columns, both before and after the columns are published, and the positions that his fund takes may change at any time. Under no circumstances does the information in this column represent a recommendation to buy or sell stocks. Cramer's writings provide insights into the dynamics of money management and are not a solicitation for transactions. While he cannot provide investment advice or recommendations, he invites you to comment on his column at
jjcletters@thestreet.com.
Evening Update: Cabletron Systems Splitting Core Business Into Four Companies
By
Eileen Kinsella
Staff Reporter
2/10/00 8:52 PM ET
Cabletron Systems
(CS)
said it plans to reorganize its core business into four independent operating companies in order to better focus on high-growth areas of the communications market. The new companies --
Riverstone Networks
,
Enterasys Networks
,
Global Network Technology Services
and
Aprisma Management Technologies
-- will focus on service provider, enterprise electronic business, professional services and infrastructure management, the company said. Cabletron said the four units eventually will be separate, publicly traded companies.
As reported earlier,
Dell
(DELL)
reported fourth-quarter earnings of 16 cents a share, a penny ahead of the revised 29-analyst estimate and the year-ago earnings. The consensus estimate was lowered from 21 cents a share, excluding the gain, following Dell's Jan. 26 announcement that it expected to report fourth quarter net income of about 16 cents a share, including an investment gain of 1 cent a share.
Dell said its profit growth was slowed by parts shortages and a sales slowdown tied to Y2K fears. Net income was $436 million, compared with $425 million in the year-ago period.
For more on Dell's
earnings, see separate coverage from
TheStreet.com/NYTimes.com
joint newsroom.
Equity inflows totaled $11 billion for the week ended yesterday, the largest since Jan. 3, 1996, according to
AMG Data Services
. Of that, 22% went to technology funds overall, and 26% went to
Janus
equity funds specifically. International equity funds received inflows to all regions, while taxable bond funds reported outflows from all sectors, totaling $764 million except for high-yield bond funds, which received their first inflow in 10 weeks, and high-quality bond funds.
In other postclose news (
earnings estimates from First Call/Thomson Financial; earnings reported on a diluted basis unless otherwise specified
):
Earnings/revenue reports and previews
Amerco
(UHAL)
reported a third-quarter loss of 57 cents. The single-analyst estimate called for a loss of 7 cents a share, which would have matched the year-ago loss. Amerco said three primary factors contributed to the wider loss: the cost of Yellow Pages advertising for several directories shifted to December from January; Amerco recognized additional repair expense because of shifting to calendar accounting from week-end accounting; and profits fell at
Republic Western
.
Cylink
undefined
posted a fourth-quarter loss of 22 cents a share, wider than the three-analyst expected loss of 6 cents. The year-ago loss was 23 cents a share. The company said it incurred unusually high costs during the fourth quarter related to continuing implementation of a new enterprise resource planning system, lease termination and relocation expenses in connection with the company's move to a new campus, and higher headcount and marketing expenses.
Delphi Financial Group
(DFG)
reported fourth-quarter earnings of 93 cents a share, missing the three-analyst estimate of 99 cents but up from the year-ago 59 cents.
Infonet Services
(IN)
posted third-quarter earnings of less than a cent, narrowly beating the two-analyst estimate of a 1-cent loss and the year-ago break-even results.
Shared Medical Systems
(SMS)
posted fourth-quarter earnings of 60 cents a share, missing the 19-analyst estimate of 63 cents, and the year-ago earnings of 69 cents. The company said its 2000 earnings-per-share goal is in the range of $2.75 to $2.85 a share. The current 18-analyst estimate is $3.17.
TheStreet.com Inc.
undefined
, publisher of this Web site, posted a fourth-quarter loss of 36 cents a share, narrower than the seven-analyst expected loss of 41 cents and the year-ago loss of 47 cents.
Vlasic Foods International
undefined
said it is seeking ways to better manage the company and warned that investors can expect weak sales in 2000 and a loss in the second quarter. The company unveiled a plan that calls for a 20% cut in staff, or about 45 positions, from its corporate headquarters in New Jersey. The company expects a second-quarter loss of 32 cents to 36 cents a share on charges and slower sales in certain divisions.
In other earnings news:
Offerings and stock actions
Newport
(NEWP)
set a 3-for-1 stock split.
Tollgrade Communications
(TLGD)
set a 2-for-1 stock split.
Miscellany
Safety-Kleen
(SK)
said it disbanded a special committee to consider the sale of the company, saying such a move is now unwarranted. At issue was
Laidlaw's
undefined
time horizon for divesting its stake in Safety-Kleen.
Bond Focus: Bonds Tank After Lousy Bond Auction
By
David A. Gaffen
Staff Reporter
2/10/00 3:57 PM ET
The Treasury market plunged sharply this afternoon after one of the worst 30-year Treasury bond auctions in recent memory. Investors balked at buying the $10 billion in bonds, due to the wild vacillations in the last week and expectations that the
Federal Reserve
is going to raise interest rates several times in the coming months.
Traders responded to the poor results by selling positions, and the entire market collapsed as a result of the poor auction results. It should be noted that the new bond actually managed to finish the day at 6.24%, significantly lower yield than the 6.34% it was issued at, but that's the one bright spot in an environment that isn't a compelling one for investors.
The 10-year Treasury note was lately down 19/32 to 98 26/32, increasing the yield 6.3 basis points to 6.664%. The 30-year bond was hardest hit -- the bond was lately off 1 16/32 to 95 31/32, although at its lowest it was down 1 24/32. The yield rose 12.2 basis points to 6.432%. The five-year note was down 5/32 to 96 13/32 to yield 6.768% and the two-year was unchanged at 99 15/32, yielding 6.666%.
The
Treasury Department
sold $10 billion in 30-year notes, which, if the Treasury keeps its word, will be the only new 30-year bond sale this year. The bonds were awarded at 6.34%, the highest since Aug. 7, 1997, when the yield was 6.445%. What's especially striking, however, is that the bid-to-cover ratio (a gauge of the level of interest in the auction, measured by the number of bids vs. what the Treasury offered) was a freakishly low 1.33-to-1. The average bid-to-cover ratio for the last 10 auctions -- including this one -- was 2.242-to-1.
Some sources put the blame firmly at the feet of the Treasury Department, which some believe sent mixed signals to the market in the past week after revamping its schedule for new debt issuance.
"When investment bankers underwrite corporate issues, they give you guidance" when they are changed, said Bill Quan, senior economist at
Aubrey G. Lanston
. "Meanwhile, the Treasury decides to spring this on you. It's like walking with nitroglycerine -- what if you decide to short the two-year note, and the Treasury decides to eliminate it?"
Last week the Treasury announced it would sell just one new 30-year bond a year, in addition to divulging details of its planned buybacks of long-dated securities. A
New York Times
article last week suggested that this marked the eventual extinction of the 30-year bond, which may have been overly speculative, but it did include quotes from Treasury undersecretary
Gary Gensler
, who said that he expects the bond market to regard the 10-year bond as more of a benchmark.
The market was then shocked yesterday by Treasury Secretary
Lawrence Summers
, who told reporters that the Treasury would endeavor to manage its debt along the entire yield curve -- which suggests that the Treasury won't be eliminating the 30-year bond. "Clearly, the capital markets will need to adapt to the situation where there is reduced federal debt issuance," Summers said.
Investors aren't thrilled. "We're willing to play the role of the quote 'vigilante' as long as we don't get whipsawed, so our balance sheets don't take a whack courtesy of you guys saying something that runs counter to the generally understood game plan," said Mitch Stapley, chief fixed income officer at
Kent Funds
in Grand Rapids, Mich. "Clearly, over the last three weeks or so, the communications or understanding between the Street and the Treasury have been strained."
However, with the current yield on the bond is less than the rest of the yield curve, this auction just looked unattractive to investors. While that's partially due to the market's expectations for low inflation and more rate hikes from the Fed, strategists said investors aren't interested in buying the bond at these levels when it appears that the economy isn't slowing at all. For that reason, the dealers are to blame for overreacting to the Treasury's confusing pronouncements.
"Before all this started a couple weeks ago, we were up around 6 3/4% on the bond. Now, it's 50 basis points lower -- what has changed in two weeks? If anything, the economy looks stronger, not weaker," said Jim Kochan, senior bond market strategist at
Robert W. Baird
in Milwaukee. "And a portfolio manager is asked to ignore all that and buy the bond at 6.25%? I don't blame them for telling the dealers where they can put that idea."
Fannie Mae
undefined
sold $5.5 billion in notes and bonds earlier today. Fannie Mae sold $3 billion in five-year notes and $2.5 billion in 30-year bonds. Fannie Mae today said it would expand its benchmark sales program to include quarterly 30-year bond sales, stepping into the void created by the Treasury.
Federal Reserve
Chairman
Alan Greenspan
testified in Washington today, but it was a nonevent. Greenspan and Treasury Secretary
Lawrence Summers
testified before the
Senate Agriculture Committee
on over-the-counter derivatives markets.
The
Bank of England
overnight raised its key short-term refinancing rate by 25 basis points to 6%.
Economic Indicators
Initial jobless claims
rose 27,000 to 301,000 last week, from the previous week's unrevised 274,000 figure. The
Labor Department
attributed some of the rise in jobless claims to a bounceback in state reporting after the previous week's snowstorm.
The four-week, moving average fell to 276,250 -- the lowest the moving average has been since Dec. 15, 1973. The previous week's moving average was 278,750. This was the day's only economic release.
Tomorrow's most important release is the January
retail sales
report. Expectations are for a 0.6% increase in sales, according to economists polled by
Reuters
. Excluding autos, sales are expected to rise 0.5%.
Currencies and Commodities
The dollar was stronger against both the yen and the euro. Dollar/yen was lately up to 108.77 from 108.75 yesterday, while the euro was lately at $0.9874, down from $0.9938 yesterday.
A rally in commodities also hurt the bond market today, as gold and oil rallied sharply.
Crude oil for March delivery was up strong, closing at $29.42, up from $28.77 yesterday.
The
Bridge Commodity Research Bureau Index
rose to 214.97 from 210.38 yesterday.
Gold for April delivery on the
COMEX
closed at $318.7 per ounce, up $10.1 from $308.6 yesterday.
TO VIEW TSC'S ECONOMIC DATABANK, SEE:
http://www.thestreet.com/markets/databank/875977.html
Chat with John J. Edwards III on AOL's MarketTalk Monday, Feb. 14 at 3:30 p.m. ET. MarketTalk is hosted by Sage Online.
James J. Cramer will be appearing on New York's WNYW-TV Channel 5 newscast Monday, Feb. 14 at 10 p.m.
Copyright 2000, TheStreet.com