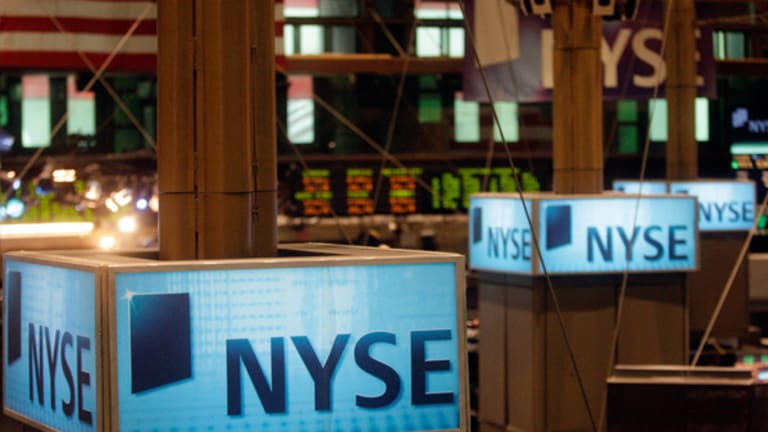 TheStreet.com's DAILY BULLETIN
February 9, 2000
http://www.thestreet.com
Market Data as of Close, 2/8/00:
o Dow Jones Industrial Average: 10,957.60 up 51.81, 0.48%
o Nasdaq Composite Index: 4,427.50 up 105.73, 2.45%
o S&P 500: 1,441.75 up 18.75, 1.32%
o TSC Internet: 1,161.37 up 24.18, 2.13%
o Russell 2000: 537.49 up 5.10, 0.96%
o 30-Year Treasury: 98 17/32 up 1 14/32, yield 6.220%
Companies in Today's Bulletin:
Buy.com (BUYX:Nasdaq - news)
eBay (EBAY:Nasdaq)
Cisco (CSCO:Nasdaq)
Reuters (RTRSY:Nasdaq ADR)
In Today's Bulletin:
o General: Hackers Shut Down eBay, Buy.com Sites
o Wrong! Dispatches from the Front: You Can't Hide Your Bottom Line
o Evening Update: Cisco Outperforms; Web Site Attacks Continue
o Bond Focus: Long Bond Rides Productivity Data and Short-Covering to a Massive Rally
Also on TheStreet.com:
SiliconStreet.com: Yahooey!
The notion that the tech bellwether will be crushed by its technology problems is just nonsense.
http://www.thestreet.com/comment/siliconstreet/879979.html
Retail: Investors Take Out the Bebe Gun as Same-Store Sales Slide
Shares in the women's apparel chain take a 10% hit, but shorts say the future promises more tears.
http://www.thestreet.com/stocks/retail/879774.html
Telecom: BellSouth Plans Tracking Stock for International Business
The IPO will give investors a way to play the international telecom sector.
http://www.thestreet.com/tech/telecom/879945.html
The TaskMaster: Some Value Managers Die Hard
At least one of these guys just won't give up, despite the tech sector's big comeback on Tuesday.
http://www.thestreet.com/comment/taskmaster/880126.html
General: Hackers Shut Down eBay, Buy.com Sites
By
Kevin Max
TheStreet.com/NYTimes.com Staff Reporter
2/8/00 8:20 PM ET
Updated from 3:50 p.m. EST
The Web sites of
Buy.com
undefined
and
eBay
were shut down by computer hackers Tuesday, one day after
Yahoo!
(YHOO)
came under a similar attack.
The hackers' action against Buy.com may have been timed to coincide with its stock-market debut on Tuesday, in which Buy.com's shares closed at nearly double the price of their initial public offering. The online retailer said its site was disrupted for more than three-and-a-half hours during the afternoon.
The hackers shut down eBay's Internet auction site around 6 p.m. EST, and it did not appear to be working around 8 p.m. EST.
Greg Hawkins, Buy.com's chief executive, said in an interview that the failure of Buy.com's Web site was "due to a coordinated denial-of-service attack," alluding to the same process that the Yahoo! hackers had used.
"We engineered this site, believe me, to handle capacity, so this was an unprecedented attack and it obviously slowed down the site," Hawkins said. He reiterated that the disruption of the site was not caused by the increase in user traffic that followed the company's IPO.
The Buy.com site went down around 1:50 p.m. EST and resumed service around 5:30 p.m. EST, the company said. It was unclear whether the problems with the site were restricted to only parts of the U.S.
CNBC
said the problems were limited to computer users in and near New York, Boston and Chicago.
An eBay spokeswoman, Jennifer Chu, confirmed that hackers had shut down the company's site. Another spokeswoman, Kristin Seuell, said the company did not immediately know what geographical areas were affected by the outage.
It was not known whether the same hackers were responsible for the attacks on all three sites.
The latest problems surprised a computer-security expert. "I didn't expect to see a repeat performance," said Elias Levy, the chief technology officer of
SecurityFocus.com
. "But as long as they can find enough machines to break into to launch the attack, they can keep doing this," he added, referring to computer hackers.
The Web sites of the cable channel
CNN
also appeared to have been disrupted for at least an hour Tuesday night, but it was unclear whether computer hackers had shut them down.
On Monday, Yahoo!, which operates one of the most popular and best-performing sites on the Web, said it was the victim of a "planned attack" that killed service for almost three hours.
The Yahoo! hackers had taken over computers, installed their own remote-controlled software and flooded the site's server with requests, Levy explained. "Right now, there is no defense for this," he said.
Levy said that these attacks don't endanger credit card information, just close the doors for shoppers.
The disruption of Buy.com's site cast a pall over what might have been a day of celebration for the company's executives. Earlier, shares of Buy.com more than doubled in their first hours of trading after the company's initial public offering. The stock later retreated a bit but closed up 12 1/8, or 93%, at 25 1/8. Shares of eBay finished up 3/16 at 169 3/4.
Buy.com, based in Aliso Viejo, Calif., is involved in the cutthroat business of online retailing dominated by
Amazon.com
(AMZN) - Get Amazon.com Inc. Report
. Buy.com sells through its virtual warehouse computer hardware and peripherals, software, books, videos, DVDs, computer games and music.
Shepherded by lead underwriter
Merrill Lynch
, the company raised $182 million through the initial public offering of 14 million shares at $13 apiece. The market reaction appeared strong, as this sector, with its rock-bottom prices, low margins and stiff competition, has become less attractive to investors, who are being lured by steep growth projections for business-to-business companies and their stocks.
While Buy.com raised its IPO price slightly above the original range of $10 to $12, institutional demand for the stock wasn't as strong as for new business-to-business
issues like
Avanex
undefined
and
FirePond
(FIRE)
last week.
Scott Blum, the company's founder, owns about 56% of Buy.com; the Japanese venture capital firm
Softbank
owns 34%. Blum left Buy.com in 1999, just before it filed to go public.
Wrong! Dispatches from the Front: You Can't Hide Your Bottom Line
By
James J. Cramer
2/8/00 3:17 PM ET
At least
Nike
didn't blame Y2K!
That was better than what
Global TeleSystems Group
(GTS) - Get Triple-S Management Corporation Report
did; GTS actually cited Y2K in its bad miss this morning. While I was feeling the pain vicariously in Nike, I felt it actually in Global TeleSystems.
Nasty, kind of like the proverbial sharp stick in the eye.
What bothers me about both of these stocks, though, was the oblivious, cavalier way the companies' management handled these miserable quarters. They acted as if they were great. You had to wade through a tremendous amount of verbiage before you discovered the simple truth:
These guys really blew it
.
Nike's got a ton of people angry at it, as this big meeting came as a giant sandbag to the analyst community, most of which felt all the negatives were already known. In fact, things had been falling apart at the sneaker seams. I hear the only positive was a new line of watches!
Join the discussion on
TSC
Message Boards.
GTS, on the other hand, acted as if it were a party. I was listening to the playback and was struck at how all "one time" the problems were. GTS management, the market is not fooled. The market says you blew it, so stop beating around the bush, declare it bad, and move on.
Both bad situations were exacerbated by managements' insistence that all was well.
The moral: When things are bad, tell it like it is. Fast, loud and clear. We are going to figure it out anyway, but at least we can empathize with you rather than wishing we had never met you.
*********
James J. Cramer is manager of a hedge fund and co-founder of TheStreet.com. At time of publication, his fund was long GTS. His fund often buys and sells securities that are the subject of his columns, both before and after the columns are published, and the positions that his fund takes may change at any time. Under no circumstances does the information in this column represent a recommendation to buy or sell stocks. Cramer's writings provide insights into the dynamics of money management and are not a solicitation for transactions. While he cannot provide investment advice or recommendations, he invites you to comment on his column at
jjcletters@thestreet.com.
Evening Update: Cisco Outperforms; Web Site Attacks Continue
By
Eileen Kinsella
Staff Reporter
2/8/00 8:49 PM ET
Cisco
(CSCO) - Get Cisco Systems Inc. Report
perked up the tech sector with a strong second-quarter earnings report. The networking giant posted pro forma earnings of 25 cents a share, a penny ahead of the 34-analyst estimate and up from the year-ago 17 cents. The company also set a 2-for-1 stock split. Cisco cited strength in its end-to-end Internet solutions for each of its key markets.
For more details on Cisco's
earnings, see a separate story from the
TheStreet.com/NYTimes.com
joint newsroom.
eBay
said a hacker attack had shut down its site. The attack marked the third "denial of service" attack on a major Web site in just two days. Earlier,
Buy.com
undefined
, whose shares were enjoying a trading debut today, said a similar type of attack crippled its site for about three hours and
Yahoo!'s
(YHOO)
site problems yesterday were also believed to be the result of similar hacker activity.
In other postclose news (
earnings estimates from First Call/Thomson Financial; earnings reported on a diluted basis unless otherwise specified
):
Earnings/revenue reports and previews
Allegiance Telecom
undefined
posted a fourth-quarter loss of 93 cents a share, including a charge. The 11-analyst estimate called for an operating loss of 91 cents a share, while the year-ago loss of 79 cents also includes a charge. The company approved a 3-for-2 stock split.
Flir Systems
(FLIR) - Get FLIR Systems, Inc. Report
warned that its net earnings fourth-quarter earnings will fall short of analyst estimates due in part to slower than expected part deliveries. The company said its earnings per share will be 8% to 12% above the year-ago earnings of 53 cents. The four-analyst estimate calls for 87 cents.
Chiron
(CHIR) - Get Global X MSCI China Real Estate ETF Report
reported fourth-quarter earnings from continuing operation of 13 cents, excluding items. The 15-analyst estimate called for earnings of 14 cents while the year-ago earnings were 8 cents a share.
U.S. Aggregates
(AGA)
reported fourth-quarter pro forma earnings of 20 cents a share, in line with the five-analyst estimate and up from the year-ago 12 cents a share.
ZD Net
undefined
reported fourth-quarter earnings of 7 cents, better than the five-analyst expected loss of 1 cent a share. Year-ago pro forma earnings were 1 cent including items.
Mergers, acquisitions and joint ventures
Oneok
will buy
Kinder Morgan's
(KMI) - Get Kinder Morgan Inc. Report
natural gas gathering and processing business in Oklahoma, Kansas and West Texas in addition to other businesses. ONEOK will pay Kinder about $114 million plus an amount equal to net working capital at the closing.
Transportation Corp. of America
undefined
and
USFreightways
undefined
have terminated their stock-swap merger agreement just three weeks after it was announced. In a brief statement the companies gave no reason for calling off the deal which was unveiled on Jan. 18 , saying only that the decision was by mutual agreement.
Transport also reported fourth-quarter earnings of 15 cents before charges, compared with the year-ago earnings of 38 cents. The three-analyst estimate had called for earnings of 40 cents a share. The company also said it restated its results for its latest third quarter to reflect a reduction in revenue and costs related to a customer service agreement.
Offerings and stock actions
Miscellany
Sola International
(SOL) - Get Renesola Ltd. ADR Report
said CEO and President John Heine plans to step down once a successor is named to the posts. The company said Heine would remain on the board of directors.
Bond Focus: Long Bond Rides Productivity Data and Short-Covering to a Massive Rally
By
David A. Gaffen
Staff Reporter
2/8/00 4:33 PM ET
The 30-year Treasury bond rode this morning's
productivity and unit labor costs data
to a one-point rally today, while the rest of the Treasury curve was nearly unchanged. Investors gave a tepid reception to today's sale of $12 billion in five-year Treasury notes, but dealers were pleased, because the lack of demand allowed them to pick them up on the cheap.
The 30-year rode a wave that formed on the 5% increase in fourth-quarter productivity. But once the rally reached a full point, short-covering kicked in, and that enhanced the move in the late afternoon, dropping the 30-year bond yield to 6.23%. With the exception of last week's rally, this is the lowest the bond has yielded since December. The 30-year bond continues to benefit from the
Treasury Department's
recent announcements detailing its buyback program, which will significantly reduce the number of existing long-dated securities.
The 30-year Treasury bond was up 1 15/32 today to 98 19/32, dropping the yield 11 basis points to 6.23%. The 10-year note was up 8/32 to yield 6.609% and the two-year was unchanged at 99 14/32 to yield 6.683%.
The auction, a reopening of the five-year note sold in November 1999, was sold at a yield of 6.741%, higher than expected, and the bid-to-cover ratio (the number of bids vs. how much the Treasury offered) was a low 1.90-to-1. That's good for dealers -- they picked up the notes at a lower price than expected.
"I'm surprised they came as cheap as they were," said Bill Kirby, co-head of government trading at
Prudential Securities
. "I was pleased to buy where I did, but it caught me by surprise. The Street did a good job of pushing
the five-year note's price down into the auction process."
But sources said the lack of retail interest in the Treasury auction underlies the overall perception that investors are better off staying away from this volatile environment than buying in when interest rates have consistently gone up for months.
That the five-year note is currently the highest-yielding, and therefore potentially the most attractive, wasn't lost on William Sullivan, chief money-market economist at
Morgan Stanley Dean Witter
, who said it bodes poorly for the next two auctions, since the 10-year and 30-year sectors aren't as cheap.
"The five-year was well positioned on the yield curve, and it seems to suggest reticence among retail investors to participate in the Treasury market," said Sullivan. "The area that has been free of technical considerations and represented general value against other maturities is the five-year."
The average bid-to-cover ratio since the Treasury started auctioning five-year notes on a quarterly basis is 1.84-to-1. However, today's $12 billion auction was the smallest since the Treasury was selling five-year notes on a monthly basis. The Treasury will sell $10 billion in 10-year notes tomorrow and $10 billion in 30-year bonds Thursday.
Michael P. Ryan, chief fixed-income strategist at
PaineWebber
, said the market is being held back because of upcoming supply, despite this morning's data. Productivity rose 5% in the fourth quarter, the largest quarterly increase in nearly seven years, and unit labor costs fell 1%, the largest quarterly decline in labor costs in almost four years.
The 5% increase -- along with the third-quarter revision to 5% from an original 4.9% -- is the largest increase since the fourth quarter of 1992, when productivity rose 7.4%. Economists were looking for a 4.2% increase, according to
Reuters
.
Productivity rose 2.9% for 1999, compared with a 2.8% increase in 1998. Unit labor costs rose 1.8% in 1999, compared with a 2.4% increase in 1998. The 1% decrease for the fourth quarter was the largest decline since the 1.4% decrease in the first quarter of 1996. The
Reuters
consensus forecast was for a 0.8% increase.
Economists said with the
unemployment rate
at 4%, the Fed can't be sure that productivity will continue to offset compensation costs. Compensation costs were up 4.8% in 1999, and increased 5.2% in 1998. (Compensation minus productivity equals unit labor costs.)
Joel Naroff, chief economist at
Naroff Economic Advisors
, said today's data gives the
Federal Reserve
the latitude to continue their minimalist approach, rather than aggressively raise the
fed funds rates
, currently 5.75%. But it doesn't shut off the spigot.
"In spite of all the wonderful numbers here, we're going to see a worsening in the labor costs picture unless the economy slows down," Naroff said. "That's why we're going to see additional rate hikes this year."
The low yield on the 30-year bond has resulted in a number of companies jumping into the fray, planning to sell 30-year corporate issues in coming days.
Bank of America
(BAC) - Get Bank of America Corporation Report
is expected to sell $750 million in 10-year notes and 30-year bonds, and
Wal-Mart
(WMT) - Get Walmart Inc. Report
is expected to sell $500 million in 30-year bonds, according to sources. Despite the yield curve inversion, many underwriters have started pricing longer-dated paper off the 10-year note, so it's unclear how much corporate issuers will benefit.
Economic Indicators
Third-quarter unit labor costs were revised to a 0.3% decline from a 0.2% decline. Manufacturing productivity increased 10.7% for the quarter, the largest increase since 1982, and for all of 1999, manufacturing output rose 6.4%, the
Labor Department
said.
The
BTM/Schroder
weekly chain-store sales report rose 0.1% for the week ended Feb. 5, after a 0.2% decline the previous week. The
Redbook Retail Average
was up 0.6% for the first week of February, compared with January.
There are no monthly economic releases tomorrow. The next major report is Friday's
retail sales
figures for January.
Currencies and Commodities
The dollar was stronger against the yen and weaker against the euro. Dollar/yen was lately trading at 109.43 from 108.69 yesterday, while the euro was at $0.9864 from $0.9808 yesterday.
Crude oil for March delivery on the
New York Mercantile Exchange
closed down 43 cents to 28.02.
The
Bridge Commodity Research Bureau Index
was lately down to 210.48 from 211.53.
Gold for April delivery on the
COMEX
was looking ugly, after U.S. producer
Barrick
(ABX)
said it would not cut back on a forward sale program that would have reduced the availability of the metal. It closed at 301.7, down 3.8 from 304.5 yesterday.
TO VIEW TSC'S ECONOMIC DATABANK, SEE:
http://www.thestreet.com/markets/databank/875977.html
Street Sightings
Chat with Cory Johnson on AOL's MarketTalk Wednesday, Feb. 9 at 4 p.m. EST. MarketTalk is hosted by Sage Online. (Keyword: PF Live)
Copyright 2000, TheStreet.com