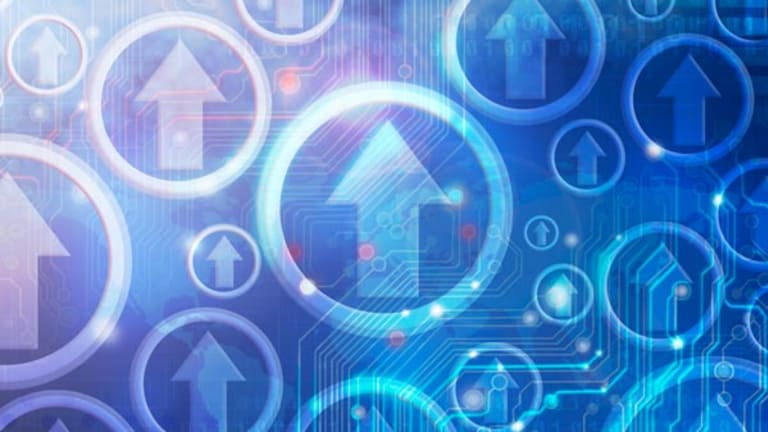 TheStreet.com's DAILY BULLETIN
February 8, 2000
http://www.thestreet.com
Market Data as of Close, 2/7/00:
o Dow Jones Industrial Average: 10,905.79 down 58.01, -0.53%
o Nasdaq Composite Index: 4,321.77 up 77.63, 1.83%
o S&P 500: 1,423.00 down 1.37, -0.10%
o TSC Internet: 1,137.19 down 3.07, -0.27%
o Russell 2000: 532.39 up 6.87, 1.31%
o 30-Year Treasury: 97 03/32 down 31/32, yield 6.334%
Companies in Today's Bulletin:
Buy.com (BUYC:Nasdaq)
Safeguard (SFE:NYSE)
Polo Ralph Lauren (RL:NYSE)
NBC Internet (NBCI:Nasdaq
NaviSite (NAVI:Nasdaq)
In Today's Bulletin:
o Internet: Polo-NBCi Deal Heralds Convergence of E-Commerce, Media Industries
o Wrong! Tactics and Strategies: Hitchin' Their Wagons to a Star
o Evening Update: Buy.com IPO Priced Above Range at $13 a Share
o Bond Focus: Auctions Ahead, Bond Prices Fall
Street Sightings
Vern Hayden will be a guest on CNBC's PowerLunch Tuesday, Feb. 8 at 12 p.m. ET.
Chat with Patrick Fitzgibbons on AOL's MarketTalk Tuesday, Feb. 8 at 3 p.m. ET. MarketTalk is hosted by Sage Online. (Keyword: PF Live)
Also on TheStreet.com:
Hardware & PCs: Goldman Tech Conference: Meet Michael Dell, B2B Entrepreneur
Dell pushes its Internet strategy as old-tech firms swarm the Net.
http://www.thestreet.com/tech/hardware/879104.html
Internet: As Web Expands, Web-Hoster NaviSite Plows On Full Speed Ahead
The provider of outsourcing services has seen its shares jump more than 40% in a week.
http://www.thestreet.com/tech/internet/879210.html
Jim Sweeney: Behind the Scenes in the Bond Market
Jim Sweeney offers an insider's view of the volatile bond action last week.
http://www.thestreet.com/comment/sweeney/878841.html
Tech Savvy: Incubating Success at Safeguard Scientifics
Nurturing and then spinning out smaller firms is hardly a new idea, but Safeguard has made the most of it.
http://www.thestreet.com/comment/techsavvy/879228.html
Internet: Polo-NBCi Deal Heralds Convergence of E-Commerce, Media Industries
By
George Mannes
Staff Reporter
2/7/00 8:31 PM ET
Polo Ralph Lauren
(RL) - Get Ralph Lauren Corporation Class A Report
has built a fortune thanks in part to an idealized version of the past. Now it's building an idealized version of the future.
Monday's deal between the apparel/home/fragrance empire and the broadcast network
NBC
could very well be a blueprint for a new relationship between advertisers on one side and broadcast networks on the other. It's not just a business relationship in which a network sells advertising and an advertiser sells products, say participants in the deal. Instead, as the world moves toward high-speed Internet connections, they say, the two sides will blur.
Advertisers with strong brands, such as Polo Ralph Lauren, will become more like media companies, and media companies such as the
GE
(GE) - Get General Electric Company Report
-owned unit NBC will, through the Internet, jump into the retail business, which they've previously left to their clients. Assuming that media companies can find enough brands big enough to hang a lifestyle on, that means investors may start having to think of media companies as e-commerce plays.
Progression
Those moves are reflected in the terms of Monday's deal to create
Ralph Lauren Media
, which expects to launch the
Polo.com
Web site by the end of the year. Rather than just be a place for selling clothes, Polo.com will be "a destination site dedicated to the American lifestyle" featuring original content, commerce and community, according to the companies -- the sort of description which seems to put it in the same line of business as online portals like
Yahoo!
(YHOO)
and
Lycos
(LCOS)
.
Meanwhile, by giving NBC and related companies a 50% stake in the venture, the deal essentially makes NBC not just a company from which Polo Ralph Lauren buys advertising time, but a retailing partner which gets a cut of the clothing, perfume and accessories that Polo.com sells online.
Expect to see a lot more of these types of deals in which a media company partners with a retail brand on an Internet retail site, says
PaineWebber
new-media analyst Christopher Dixon. He calls it a natural progression in the media business, which started out as an advertising-supported industry earlier this century, and added subscription fees with the rise of cable TV. The Polo.com transaction closely resembles the deal announced last week between
USA Networks
(USAI) - Get Pacer American Energy Independence ETF Report
and the
National Basketball Association
, says Dixon, in which the two are teaming up on the NBA Store in the
NBA.com
Web site. "I look at these announcements," says Dixon, "as an affirmation that the Internet is becoming a bona fide mass medium." Dixon has a buy rating on USA Networks, which has been an investment banking client of his firm.
Ah, Broadband
Although high-speed Internet connections to the home aren't absolutely necessary for the NBC/Ralph Lauren deal to work, that broadband, interactive future looks important to some of the people in the deal. Doug Williams, group vice president of global business development for Polo Ralph Lauren, envisions a time when customers around the country will be able to watch the unveiling of the firm's women's collection, a privilege that's now limited to the 600 or so people attending the fashion show. He also imagines Ralph Lauren-affiliated golfers teaching online. The technology to make this work might not be widespread for three or four years, Williams says, but today is the time to create the expertise to operate in that world.
Similarly, Chris Kitze, CEO of
NBC Internet
(NBCI)
, says the Polo.com site -- chock full of material related to such Ralph Lauren-like activities like golfing, sailing and travel -- will thrive in the broadband world, one in which the images in Polo Ralph Lauren's advertising will spring to life.
"We believe there's going to be a major transformation in the Web from utility to lifestyle and entertainment," he says -- the type of material that will work well in a broadband environment. However quickly that will arrive for the general population, he says, "The real question is, What is the time it takes for the Polo audience to be
broadband enabled? ... You've got to believe it's going to be faster."
Wrong! Tactics and Strategies: Hitchin' Their Wagons to a Star
By
James J. Cramer
2/7/00 8:07 PM ET
The surreal world of the
Nasdaq
went totally through the looking glass for me Monday when I ventured to the Nasdaq market site in Times Square.
There, dozens of reporters and commentators comment on the action in the Nasdaq as if we are at the nerve center for the market.
Of course, it is for show: The whole point of the Nasdaq is that there is no central place for the market. No matter, it's good theatre. Reporter after reporter stood in front of the screens talking about the Nasdaq hitting an all-time high.
I ran up there because
Fox 5 News
in New York wanted to do a little market piece with me. It was an eye-opener. Like many people in the business, I follow both Nasdaq and listed stocks. I have winners and losers on my screen.
Join the discussion on
TSC
Message Boards.
At the Times Square Nasdaq show, it was like someone had gotten rid of all of the losers. All I saw were stocks up 7 and 12 and 23 points. The parade of winners is so stark as to make me think I am an idiot to invest anywhere else.
Of course, it was a great day for the NDX. Still, when the conversation drifted to the listed stocks, I found myself thinking, once again, What's the point? The big money is all being made in the four-letter names.
Could it be that managers who formerly pegged themselves to the
S&P 500
are now, after last year's tremendous outperformance, trying to mimic the NDX? Could that be the reason for the strength?
I think so. I remember when the S&P 500 first started gaining traction as a method of investment. It used to go up just like this.
Coke
(KO) - Get Coca-Cola Company Report
,
Pepsi
(PEP) - Get PepsiCo, Inc. Report
,
Merck
(MRK) - Get Merck & Co., Inc. Report
and
Exxon Mobil
(WOM)
would go up day after day and nobody could figure out why the heck they were rallying. Turns out that people just wanted to get a piece of the action. And the action was in the S&P.
Now the action is in the NDX and we are seeing the same sort of move.
How long will it last?
How long did the S&P 500 move last?
Years and years and years.
*****
James J. Cramer is manager of a hedge fund and co-founder of TheStreet.com. At time of publication, his fund had no positions in any stocks mentioned. His fund often buys and sells securities that are the subject of his columns, both before and after the columns are published, and the positions that his fund takes may change at any time. Under no circumstances does the information in this column represent a recommendation to buy or sell stocks. Cramer's writings provide insights into the dynamics of money management and are not a solicitation for transactions. While he cannot provide investment advice or recommendations, he invites you to comment on his column at
jjcletters@thestreet.com.
Evening Update: Buy.com IPO Priced Above Range at $13 a Share
By
Eileen Kinsella
Staff Reporter
2/7/00 7:56 PM ET
Merrill Lynch
priced 14 million shares of
Buy.com
(BUYC)
at $13 each, above the expected range of $10 to $12. The company is an Internet retailer of goods ranging from computers to books.
In other postclose news (
earnings estimates from First Call/Thomson Financial; earnings reported on a diluted basis unless otherwise specified
):
Earnings/revenue reports and previews
Caliper Technologies
(CALP)
posted a fourth-quarter pro forma loss of 38 cents a share, narrower than the three-analyst estimate of a 42-cent loss but down form the year-ago 5-cent profit.
Cox Radio
(CXR)
reported fourth-quarter earnings of 30 cents a share, beating the two-analyst estimate of 28 cents and up from the year-ago 24 cents. Cox also said it set a 3-for-1 stock split.
Harleysville Group
(HGIC)
said it will cut 370 jobs and said fourth-quarter operating profit would be well below the same quarter last year. The company said it expects to report earnings between 25 cents and 27 cents a share, well below the year-ago 49 cents. The current seven-analyst estimate calls for earnings of 27 cents.
La-Z-Boy
(LZB) - Get La-Z-Boy Incorporated Report
reported third-quarter earnings of 41 cents a share, a penny ahead of the six-analyst forecast and up from the year-ago 33 cents a share. The company said the results from the latest third quarter reflect its June 1 acquisition of
Bauhaus USA
, with about $100 million in annual sales; and its Dec. 28 buy of
Alexvale Furniture
, with about $60 million in annual sales.
Pre-Paid
(PPD)
posted fourth-quarter earnings of 46 cents a share, which is in line with the two-analyst estimate. The year-ago report was 50 cents a share, which included a tax benefit gain.
Watsco Energy
(WSO) - Get Watsco, Inc. Report
reported fourth-quarter earnings of 13 cents a share, missing the 10-analyst estimate of 18 cents and down from the year-ago 16 cents. The company expanded its share buyback program to repurchase up to an additional 1.5 million shares.
Yankee Energy
(YES)
posted first-quarter earnings of 63 cents a share, which includes a merger charge of 14 cents a share. The two-analyst estimate called for earnings of 78 cents, while the year-ago earnings were 74 cents. The company said warmer than normal weather conditions reduced earnings by 17 cents a share in the latest first quarter and 16 cents a share in the same period a year ago.
In other earnings news:
Miscellany
Merrill Lynch
(MER)
announced a $32.5 million settlement with 14 California government agencies dubbed the "Killer Bs," wrapping up major legal actions against the brokerage stemming from Orange County's financial collapse in 1994.
The Killer Bs earned their name in 1995 when they balked at Orange County's plan to repay them for the losses incurred when the county investment pool failed. Instead they chose "Option B" and filed their own lawsuit against Merrill for its alleged involvement in the bankruptcy.
Photogen Technologies
(PHGN)
said John Smolik resigned as chairman, CEO and president as part of a companywide restructuring. The positions will be filled on an interim basis by Timothy Scott, who previously served as vice president and COO.
Bond Focus: Auctions Ahead, Bond Prices Fall
By
Elizabeth Roy
Senior Writer
2/7/00 4:19 PM ET
The Treasury market lost ground today, an unsurprising development after last week's big rally and ahead of this week's auctions of new notes and bonds. Especially auctions that follow so closely on the heels of a massive repricing of the Treasury market that has many investors very confused.
Also, the pricing of a $5.25 billion corporate bond from
Vodaphone Airtouch
(VOD) - Get Vodafone Group Plc Report
-- with interesting results, in light of the recent changes in the Treasury market -- sapped demand for Treasuries.
With no economic data on the docket, bond traders focused primarily on the Treasury auctions, which start tomorrow.
The market: Join the discussion on
TSC
Message Boards.
The so-called quarterly refunding consists of three auctions: $12 billion of five-year notes tomorrow, $10 billion of 10-year notes on Wednesday and $10 billion of 30-year bonds on Friday. If dealers can push the market lower ahead of the refunding, they can pick up the new notes and bonds at lower prices. So it's standard for the Treasury market to go down before the refunding.
What's not standard is for the Treasury market to undergo a complete makeover in the weeks before the refunding. In the last few weeks, the Treasury yield curve has inverted, sending long-term yields lower than short-term yields. That has happened because short-term yields are being held up by the
Fed
, which last week hiked the
fed funds rate
and indicated it would probably do so again in the near future. Meanwhile, long-term yields moved lower after the
Treasury Department
elaborated on plans to curtail the supply of long-dated issues. Relative scarcity drove their prices disproportionately higher.
The radical shifts in Treasury valuations have some investors perplexed enough that they may stay away from this week's auctions, said Mike Franzese, a trader at
Zions First National Bank
in Jersey City. "Normally, we have good participation in the auctions from certain customers, but our sales force is not getting anything," he said.
"People are trying to find their footing," Franzese said. "Maybe the
30-year bond is decoupled from the rest of the market, or maybe the worst is behind us," and the 30-year issue will come back into a more normal position relative to its shorter-maturity counterparts.
The 30-year Treasury bond ended down 27/32 at 97 5/32, lifting its yield 6.5 basis points to 6.339%. The 10-year note fell 18/32, lifting its yield 8.3 basis points to 6.641%. The five-year note dropped 10/32, lifting its yield 8 basis points to 6.735%. And the two-year note shed 2/32, lifting its yield 3.5 basis points to 6.665%.
At the
Chicago Board of Trade
, the March
Treasury futures contract ended down 24/32 at 94 12/32.
Very light volume in Treasuries today, which is unusual before a refunding, "suggests there's probably more downside potential going into these auctions," said Ken Logan, managing analyst at
Thomson Global Markets
in Boston. Also arguing in favor of continued weakness in Treasuries is last week's big rally, which short-covering accounted for much of, Logan said. "The short squeeze probably erased a lot of the market short-based, and it probably needs to be restocked."
"I see it mainly as an unwinding,"
Barclays Capital
senior economist Henry Willmore concurred. At least some of the people who covered shorts in the Treasury market last week did so mainly as a precaution, Willmore said. "Because they didn't know how far it could go." Once the squeeze seemed to have played itself out, the selling from possibly overvalued levels could resume.
Vodaphone Rejects Long Bond as Benchmark
The Treasury yield curve may have inverted, but that doesn't mean corporate borrowers can save any money by going long.
Today's Vodaphone deal illustrated that the corporate yield curve maintains its positive slope -- longer-maturity issues yield more than shorter-maturity ones. Vodaphone sold $1.75 million of five-year bonds, $2.75 million of 10-year bonds, and $750 million of 30-year bonds. The five-years were priced to yield 7.663%, the 10-years to yield 7.84% and the 30-years to yield 7.99%. Contrast that to the Treasury curve, where the five-year note yields more than the 10-year, which yields more than the 30-year bond.
The results point up that "there's nothing really fundamental behind the
Treasury curve inversion," said John Atkins, market analyst at
IDEAglobal.com
. If there were, there would be some degree of participation in the trend by the other bond markets, he said.
Meanwhile, the inversion of the Treasury curve has created a problem for the corporate market. When corporate bonds are sold to investors, the key number is the spread to Treasuries; in other words, how much higher is the corporate bond's yield than a comparable Treasury's? If the Treasury curve is inverted and the corporate curve is not, spreads to Treasuries will be abnormally large for the longest-maturity issues.
To get around the problem, corporate bond underwriters started with the Vodaphone deal to price 30-year and other long-maturity corporate bonds off the 10-year Treasury rather than the 30-year Treasury. For example, Vodaphone's 30-year bonds were priced 143 basis points over the 10-year Treasury, compared to a 128-basis-point spread for the 10-year bonds. It's merely a convention and doesn't affect the issuer's cost of money. But it clearly illustrates the increasing irrelevance of the 30-year Treasury bond.
Economic Indicators
There were no economic releases today. This week's highlights are preliminary
productivity and unit labor costs
for the fourth quarter, tomorrow, and January
retail sales
on Friday.
Currency and Commodities
The dollar rose against the yen and the euro. It was lately worth 108.67 yen, up from 107.20 on Friday. The euro was worth $0.9802, down from $0.9825 on Friday.
Crude oil for March delivery at the
New York Mercantile Exchange
fell to $28.45 from $28.82 on Friday.
The
Bridge Commodity Research Bureau Index
fell to 211.60 from 213.24 on Friday.
Gold for April delivery at the
Comex
gave back earlier gains to close at $304.50 an ounce, down from $313.00 on Friday.
TO VIEW TSC'S ECONOMIC DATABANK, SEE:
http://www.thestreet.com/markets/databank/875977.html
Copyright 2000, TheStreet.com