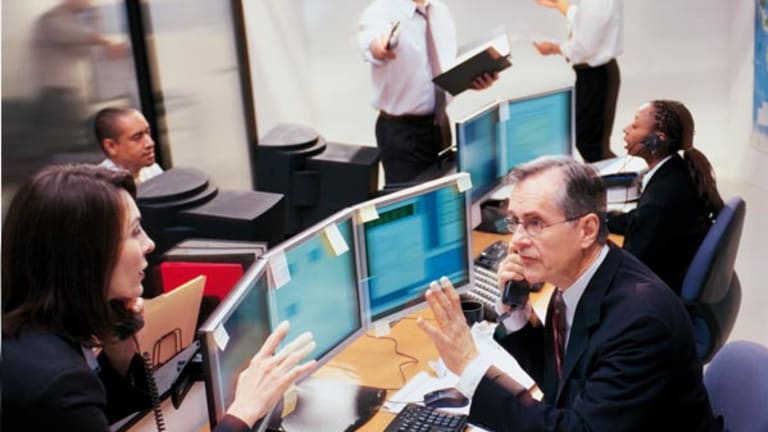 TheStreet.com's DAILY BULLETIN
February 4, 2000
http://www.thestreet.com
Market Data as of Close, 2/3/00:
o Dow Jones Industrial Average: 11,013.44 up 10.24, 0.09%
o Nasdaq Composite Index: 4,210.98 up 137.02, 3.36%
o S&P 500: 1,424.97 up 15.85, 1.12%
o TSC Internet: 1,171.61 up 62.21, 5.61%
o Russell 2000: 521.63 up 11.74, 2.30%
o 30-Year Treasury: 99 24/32 up 1 30/32, yield 6.153%
Companies in Today's Bulletin:
Mattel (MAT:NYSE Oracle (ORCL:Nasdaq)
Vodafone AirTouch (VOD:NYSE - news)
Mannesmann (MNNSY:Nasdaq)
VA Linux Systems (LNUX:Nasdaq)
In Today's Bulletin:
o Internet: Surging Web Software Market Presages New Mergers
o Wrong! Tactics and Strategies: Feel His Pain
o Evening Update: Mattel's Boss Quits and Five IPOs Get Priced in Evening Action
o Bond Focus: Long-Bond Fever Spreads Across Treasury Market, Fully Inverting Curve
"TheStreet.com" on
Fox News Channel
Cramer's done the "Stock Drill" before, but never from the hot seat!
It's a not-to-be-missed show as Herb Greenberg and guest take on Cramer when it comes to his favorite stock picks in this market. Plus, "Chartman" and predictions you can't afford to miss.
"TheStreet.com" on
Fox News Channel
airs Saturdays at 10 a.m. and 6 p.m. ET and Sundays at 10 a.m. ET. FNC is Fox's 24-hour cable news channel. To find
Fox News Channel
in your area, call your local cable operator or see our "TSC on Fox TV" page at www.thestreet.com/tv.
Also on TheStreet.com:
Taxes: BCE's Nortel Distribution Leaves U.S. Investors in a Tax Bind
The distribution is taxable as a dividend. But selling BCE to avoid the dividend could bring capital-gains taxes.
http://www.thestreet.com/funds/taxes/876659.html
Internet: Amazon Rallies but Numbers Still Look All Wet to Some
The company's going to have a hard time reaching profitability at this rate, say two observers.
http://www.thestreet.com/tech/internet/876737.html
The Speculator's Corner: Planning Around January Is a Chancy Strategy
As seductive as the January effect is in theory, it offers a less-than-perfect way to pick stocks.
http://www.thestreet.com/comment/thespeculatorscorner/876591.html
Europe: Vodaphone Rules the World
The hostile takeover of Germany's Mannesmann will be the largest ever, and will probably change Europe forever.
http://www.thestreet.com/int/euromarkets/877010.html
Internet: Surging Web Software Market Presages New Mergers
By
Spencer E. Ante
Staff Reporter
2/3/00 8:52 PM ET
SAN FRANCISCO -- A highflying group of software developers is chasing its version of the Internet's Holy Grail: a set of applications that would enable corporations to run their entire businesses on the Web, from processing transactions to customer support.
But to succeed, analysts say, some companies will have to gobble up others in order to fill key product gaps.
Old-guard software developers like
Oracle
(ORCL)
and
Siebel
undefined
, as well as highflying upstarts like content-management company
Vignette
(VIGN)
, online marketing firm
E.piphany
undefined
and customer-support company
Silknet
(SILK)
are all chasing after this giant opportunity.
These companies and others were some of Wall Street's biggest winners last year, and analysts expect robust demand to propel Net software developers to another banner year.
TSC
highlighted some of the companies, focusing on customer-relationship-management software, in a
previous article. Despite their success, however, such companies are often missing key parts of the puzzle. And it's these holes that are sparking an emerging wave of consolidation.
"Over time, Net software will have to move into a more integrated solution," says Greg Vogel, a senior analyst with
Banc of America Securities
who covers Internet software. "If you start losing business to someone who has more features than you, then you have to fill those holes."
The action is just starting to heat up. Last October, Silknet acquired Web-based marketer
InSite Marketing
for $32 million. On Jan. 10, Vignette scooped up online marketing firm
DataSage
for $500 million. And on Jan. 26,
BroadVision
(BVSN)
purchased content manager
Interleaf
(LEAF)
for about $852 million. Consolidation is not just a way to stay ahead of the pack -- it's a matter of survival, say some analysts.
"You don't survive as a large software company by being a one-trick pony," says Drew Cupps, portfolio manager of the
Strong Enterprise Fund
, which is long Vignette,
BMC Software
(BMCS)
and
Rational Software
undefined
. Corporations, say analysts, would much rather deal with one software company that handles the whole e-business enchilada.
It's the Software, Stupid
Investors hear a lot of hype about Internet infrastructure and business-to-business e-commerce. But beneath that hype lies a simple truth: Much of the Internet's guts is plain old software. Even
Microsoft
(MSFT)
is coming around to this fact. During his coronation as chief executive officer,
Steve Ballmer
remarked that "the fundamental value of the Net will be in developing software."
Corporate America seems to agree. With year 2000 conversion out of the way, corporate geeks are turning their guns and budgets to the challenge of electronic business. According to
Forrester Research
, 68% of corporations are more than doubling their information-technology spending on e-business. The software will help them improve customer service, streamline business processes and create marketing advantages, among other benefits. All told, Banc of America estimates that e-business software will grow into an $18 billion market by 2003, up from nearly $6 billion this year.
"I think it's going to be a very hot space in terms of the growth of these companies," says Cupps. "Corporate America needs to spend more on this area."
Finding the Action
So where's the next round of action? The Internet software market is so fragmented that mergers and acquisitions are likely to pop up from a number of directions. Like other industries, analysts expect the leaders in each individual market segment to be the aggressors. "The guys with the big valuations are going to provide the best suite of products," predicts Cupps.
BroadVision, for example, could use an online customer-relationship-management device. Web-tool developer
Allaire
(ALLR)
has a few holes, including a lack of order-processing and e-marketing software. And Vignette still needs a back-end transaction engine and customer-support mechanism to round out its suite. At a presentation during the
Banc of America Securities Technology Week 2000
conference, Vignette CEO and President Greg Peters told investors the company was mulling more acquisitions to meet its needs. "We're continuing to broaden the capabilities inside the platform," said Peters to a packed room.
The most likely candidate in the near term seems to be
Inso
(INSO)
, a Boston-based maker of content-management software that just blew up. After warning investors of a revenue shortfall, Inso said it had retained
Morgan Stanley Dean Witter
to "explore strategic alternatives," including the sale of the company. The day after the warning, on Feb. 2, Inso's shares fell a brutal 58% to 14 3/4 from 35 1/4. Even though most analysts say the company has a good content-management product, Inso won't be able to meet its numbers.
"If you're ever going to shine, now's the time," says John Seabern, an analyst with
RS Investment Management
. "I think there are some serious management issues. These guys don't know what the hell they're doing."
One powerhouse you can never count out is Microsoft. Although the world's most powerful software company has yet to make any significant inroads in the Internet software market, it intends to extend its dominance of PC software on to the Net. The focus of its effort in this area is the development of a new set of applications and software, dubbed "Next-Generation Windows Services." Still, some analysts are skeptical about whether the giant will be able to seize the opportunity.
"Microsoft is nowhere in enterprise applications," says Banc of America's Vogel. "It doesn't mean they can't be, but they've been trying for the last five years. I take threats from Siebel and Oracle more seriously than those from Microsoft," says Vogel, who doesn't cover Microsoft, Siebel or Oracle.
Wrong! Tactics and Strategies: Feel His Pain
By
James J. Cramer
2/3/00 9:06 PM ET
You never know when things are going to bottom. In the last few weeks I have written that we bought more
Yahoo!
(YHOO)
and
Internet Capital Group
(ICGE)
after some painful downturns. (We had held on throughout the ups and downs.)
Almost immediately I heard the e-catcalls. "There can be no bottom in Yahoo!," the wiseguys told me. And ICGE? Well, a lockup expiration there would play havoc with it for months.
Both stocks promptly bottomed.
Do you know when I bought more stock in both of these long-term winners? At the moment when I wanted to puke them up. The pain was so visceral that I could not imagine one more point down without the relief of making a sale.
That's when I pounced.
Join the discussion on
TSC
Message Boards.
What was evident from your emails is that there are few people out there who are tolerant of pain. I did not receive a single email from someone who agreed with me. (Just like yesterday when everyone told me
Sapient
(SAPE)
was headed much lower; I bet that bottomed today, too.)
Bottoms get formed in extreme pessimism. Never forget that. If you are at a point of maximum pain, try buying instead of selling. I bet it produces better results.
*******
James J. Cramer is manager of a hedge fund and co-founder of TheStreet.com. At time of publication, his fund was long Internet Capital Group and Yahoo!. His fund often buys and sells securities that are the subject of his columns, both before and after the columns are published, and the positions that his fund takes may change at any time. Under no circumstances does the information in this column represent a recommendation to buy or sell stocks. Cramer's writings provide insights into the dynamics of money management and are not a solicitation for transactions. While he cannot provide investment advice or recommendations, he invites you to comment on his column at
jjcletters@thestreet.com.
Evening Update: Mattel's Boss Quits and Five IPOs Get Priced in Evening Action
By
Tara Murphy
Staff Reporter
2/3/00 8:52 PM ET
After an emergency board meeting in New York today,
Mattel
(MAT)
CEO
Jill Barad
stepped down from her position. Barad's departure follows a series of disappointing quarters stemming from its floundering
Learning Co.
division.
Mattel said its board of directors would manage the company's operations until it taps Barad's successor.
Along with its management changes, the company released its fourth-quarter results of a 4-cent loss, greatly missing the 11-analyst estimate of 25 cents a share and down from the year-ago profit of 20 cents.
TheStreet.com's
Herb Greenberg wrote a
piece on Mattel this evening.
Five IPOs will make their trading debuts during tomorrow's session. For more pricing and underwriting information, check out
TheStreet.com's
Offerings and stock action
coverage below.
In other postclose news (earnings estimates from
First Call/Thomson Financial
; earnings reported on a diluted basis unless otherwise specified):
Mergers, acquisitions and joint ventures
Intel
(INTC)
said it has agreed to buy
Ambient Technologies
in a cash deal valued at roughly $150 million. Intel said Ambient, which would become division in its
Network Communications Group
, would make silicon chipsets for DSL and high-speed analog modems for Intel's products.
Terayon Communication Systems
(TERN)
said it has entered a stock deal to buy
Raychem Access Network Electronics
, a division of
Tyco
(TYC)
for roughly $90 million. Separately, Terayon said that it has also agreed to buy closely held
Combox
for 775,000 shares of its stock.
Viacom
(VIA)
said it has offered to either purchase
BHC Communications'
(BHC)
50% interest in their financially floundering
UPN
television network joint venture, or sell its own stake to BHC for $5 million.
After the transaction, UPN would be fully owned by either Viacom or BHC, which is a division of
Chris-Craft Industries
(CCN)
. Viacom said that BHC has 45 days to consider both options, as part of the buy-sell procedure in their joint venture agreement.
Viacom denied rumors that its merger partner,
CBS
(CBS)
was negotiating an acquisition of Chris-Craft or any of its units.
Earnings/revenue reports and previews
Avid Technology
(AVID)
reported a fourth-quarter loss of $4.42 a share including charges compared with earnings of 4 cents a year ago, including an item. The two-analyst estimate was for a loss of 4 cents a share.
Earthweb
undefined
reported a pro forma loss of $1.00 a share, narrower than both the seven-analyst estimate of $1.03 loss and the year-ago $5.00 loss.
E-Stamp
undefined
posted a fourth-quarter loss of 81 cents a share, which included deferred compensation. This compares to the year-ago loss of 16 cents a share, which also includes deferred compensation. The three-analyst estimate expected the company to post a fourth-quarter loss of 48 cents a share.
Starbuck's
(SBUX)
posted an 11% increase in January same-store sales.
7-Eleven
undefined
posted fourth-quarter earnings of 3 cents a share, beating the single-analyst estimate of 2 cents and up from the year-ago 2 cents. The company said it would tap COO James Keyes to replace retiring president and CEO Clark Matthews, upon his retirement on April 26.
USEC
(USU)
posted second-quarter earnings of 36 cents a share, beating the four-analyst estimate of 34 cents and up from the year-ago 32 cents. The company also said that it plans to reduce its workforce by 20%, or by 850 jobs, as part of an cost-savings plan.
USEC warned investors that its that it expects fiscal 2001 earnings to be considerably lower than fiscal 2000 due to lower prices and softer sales. The three-analyst estimate expects the company to report fiscal 2001 earnings of $1.16.
Offerings and stock actions
Kaufman & Broad Home
(KBH)
said it added 4 million shares to its stock buyback program.
Quintiles Transnational
undefined
said it set a $200 million share repurchasing program.
Miscellany
Enzo Biochem
(ENZ)
said it can not explain the recent volatility in its stock price. Shares of Enzo plummeted 16 11/16, or 20%, to 66 11/16, falling greatly below its Jan. 24 high of 138.
For a look into this evening's after-hours trading action, please check out
TheStreet.com's
The Night Watch.
Bond Focus: Long-Bond Fever Spreads Across Treasury Market, Fully Inverting Curve
By
Elizabeth Roy
Senior Writer
2/3/00 5:26 PM ET
Frenzied buying of the 30-year Treasury bond morphed into a more-or-less equal-opportunity rally in the Treasury market today.
Snapping the recent trend, which has seen the 30-year bond outperform shorter-maturity Treasuries by ostentatious margins, every Treasury benchmark rallied smartly today, with the exception of the two-year note, which gained just a little.
The 30-year bond, which traded up as much as 3 3/32 during the session, ended up 1 27/32 at 99 22/32, dropping its yield 13.8 basis points to 6.148%, the lowest since mid-November. The 10-year note, which traded down as much as 31/32 overnight and up as much as 1 21/32 around midday, finished up 28/32, dropping its yield 12.7 basis points to 6.448%, the lowest since Dec. 31. The five-year note, which traded down as much as 6/32 in the morning and up as much as 1 3/32 around midday, ended up 19/32 at 97 13/32, cutting its yield 14.9 basis points to 6.513%, the lowest since Jan. 10. And the two-year note, which traded down as much as 4/32 last night and up as much as 12/32 around midday, ended up 4/32, shaving its yield 6.8 basis points to 6.528%, the lowest since Monday.
The action inverted every segment of the Treasury yield curve -- meaning that the two-year note's yield is highest, followed by the five-year note's, followed by the 10-year note's, followed by the 30-year bond's -- for the first time since March 1989.
At the
Chicago Board of Trade
, the March
Treasury futures contract finished up 31/32 at 94 14/32.
The market: Join the discussion on
TSC
Message Boards.
The shift in the action -- from a rally that lifted the long bond and left everything else far behind -- to a rally that also lifted the five- and 10-year notes quite a bit, had at least two sources, market analysts said.
The first was flight-to-quality. Around midday, rumors swept trading desks that the massive repricing of the Treasury market in the last few weeks has some players in deep enough trouble that the
New York Fed
was getting involved. The New York Fed subsequently denied the rumors.
The second was a profound sense that the long bond's rally had gone too far. Traders who owned it, and were simultaneously short the five- or 10-year note in order to profit from additional outperformance by the bond, took profits on the trade by selling the bond and buying the intermediate notes back.
That sense was bolstered by the fact that the Treasury Department's quarterly auction of new five-, 10- and 30-year notes and bonds takes place next week. Prices usually fall in the days leading up to the so-called quarterly refunding. And since the 30-year's price has risen so much, it has further to fall. "With the auction, you can make the case that
the 30-year bond is going to give 20 to 25 basis points back before the bids go in,"
Thomson Global Markets
managing analyst Ken Logan said.
The early trade, in which only the 30-year rallied strongly, was an extension of the trend of the last few weeks, in which the Treasury Department's plans to shrink the supply of 30-year bonds has driven those prices up relative to the shorter-maturity Treasury benchmarks. At the same time, shorter-maturity note yields can't rally because the
Fed
, which yesterday hiked the
fed funds rate
to 5.75% to 5.5%, is poised to hike it further in the coming months to curb economic growth. Short-maturity yields are heavily influenced by the fed funds rate. As a result, the yield curve has inverted: Long-maturity yields have dropped below short-maturity yields.
The rage to own the 30-year bond grew from seeds planted in August, when the Treasury cut the number of 30-year bond auctions from three a year to two. It accelerated last month, when the Treasury announced the details of a plan to buy long-dated securities back from investors -- another measure to reconcile the federal budget surplus with the government's borrowing program. And it went into overdrive yesterday, when the Treasury
said it will "significantly" reduce the size of one of the two annual long bond auctions.
Describing this morning's action,
Warburg Dillon Read
Treasury market strategist Mark Mahoney said: "It's just a very, very big panic right now." Investor demand for the newest 30-year Treasury bond, the one issued last August, with a 6.125% coupon and maturing in August 2029, was "an extraordinarily huge panic, comparable to the six-and-a-quarter of August '23 squeeze of 1993 and the nine-and-a-quarter of Feb. '16 squeeze of 1986," Mahoney said, referring to previous instances of investor frenzy to own particular bond issues. "People are selling off-the-runs to buy the bond, selling corporates to buy the bond, selling mortgages to buy the bond, overseas guys are buying the bond. We've got a pretty massive panic going on right now."
The 1993 panic, like the current one, was triggered by cutbacks in the Treasury's auction schedule,
Wrightson Associates
chief economist Lou Crandall said. In May 1993, the Treasury reduced the number of 30-year bond auctions from four a year to three, and discontinued seven-year note issuance. The 1986 panic, Crandall said, happened when Japanese investors who owned a large chunk of the 30-year bond Mahoney named did not sell it and buy the next 30-year issue, the 7.25% coupon maturing in May 2016, as expected. That left dealers unable to cover their short positions in the February 2016 bond, Crandall said.
Swap spreads, an indicator of willingness to own any kind of spread product -- corporate bonds, mortgage-backed securities, etc. -- moved out sharply again today, indicating increasing distaste for spread product. The bellwether 10-year swap spread was lately 96.50 basis points, up from 70 a week ago and the highest since September, which was the worst period for spread markets since the panic of October 1998.
The fever to own the 30-year issue spread to the rest of the Treasury market when rumors started to spread that the big changes that have taken place over the last three weeks in the shape of the Treasury yield curve have resulted in trading losses of such magnitude that one or more large financial institutions is on the brink of collapse.
Treasury prices peaked for the day -- and stock prices hit their lows -- at the point when the rumors were in full swing, around 12:30 p.m. EST.
Huge changes in the yield relationships between Treasuries of different maturities matter because traders make bets on them. For example, a trader who expects the difference in yield between the two-year Treasury note and the 30-year Treasury bond to increase can buy the two-year note and short the 30-year bond. As long as the difference in yield increases, the trade will be profitable, even if the prices of both securities drop.
The changes in yield relationships over the last few weeks have been extraordinary. In just one example (there are dozens, when you count the futures and other derivatives markets related to the Treasury market), the difference in yield between the 30-year bond and the two-year note went from 24.8 basis points on Jan. 22, to negative 38 at last glance. Earlier today, the spread was negative 55.4.
For every trader who made a killing on the move, there's one in critical condition. "A lot of people are happy, and a lot of people are unhappy," said one market analyst.
One of the more persistent rumors over the last week has had a major West Coast money management firm on the happy side, having sold a large quantity of mortgage-backed securities to dealers, and bought a large quantity of long Treasuries. The dealers, on the unhappy side, were said to have sold the long Treasuries to the firm, thinking they would cover their short position at next week's refunding. But the market went up so quickly that they couldn't wait. Their buying supposedly helped drive the market higher today.
Economic Indicators
There were no first-tier economic indicators today. This week's highlight, the January
employment report
, comes out at 8:30 a.m. EST tomorrow.
Today, the weekly count of
initial jobless claims
rose to 274,000 from a revised 279,000 last week.