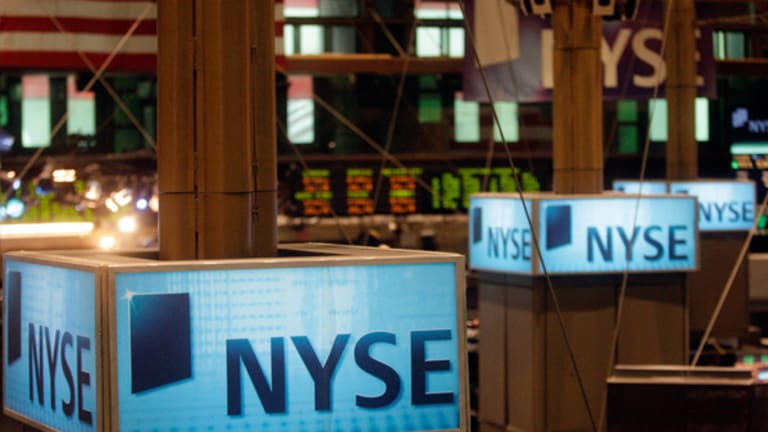 TheStreet.com's DAILY BULLETIN
February 3, 2000
http://www.thestreet.com
Market Data as of Close, 2/2/00:
o Dow Jones Industrial Average: 11,003.20 down 37.85, -0.34%
o Nasdaq Composite Index: 4,073.96 up 21.98, 0.54%
o S&P 500: 1,409.12 down 0.16, -0.01%
o TSC Internet: 1,109.40 up 36.18, 3.37%
o Russell 2000: 509.89 up 6.14, 1.22%
o 30-Year Treasury: 97 26/32 up 1 25/32, yield 6.315%
Companies in Today's Bulletin:
Amazon.com (AMZN:Nasdaq)
Pfizer (PFE:NYSE - news)
Warner-Lambert (WLA:NYSE)
Schwab (SCH:NYSE)
In Today's Bulletin:
o Online Brokers: Schwab Bid for CyberCorp a Sign of Things to Come
o Wrong! Dispatches from the Front: Heading for Home
o Evening Update: Mattel Stock Surges on CEO Rumors and Amazon.com Posts Earnings
o Bond Focus: Treasuries Unfazed by Fed Rate Hike
"TheStreet.com" on
Fox News Channel
Cramer's done the "Stock Drill" before, but never from the hot seat!
It's a not-to-be-missed show as Herb Greenberg and guest take on Cramer when it comes to his favorite stock picks in this market. Plus, "Chartman" and predictions you can't afford to miss.
"TheStreet.com" on
Fox News Channel
airs Saturdays at 10 a.m. and 6 p.m. ET and Sundays at 10 a.m. ET. FNC is Fox's 24-hour cable news channel. To find
Fox News Channel
in your area, call your local cable operator or see our "TSC on Fox TV" page at www.thestreet.com/tv.
Also on TheStreet.com:
Europe: The Anglo File: British Telecom in Trouble
After its disastrous earnings results, investors want more than just talk from the company.
http://www.thestreet.com/int/euromarkets/875653.html
Europe: Timing of Rate Hike Clouded by ECB President's Remarks
A tightening to stymie inflation is all but certain. The question is, when?
http://www.thestreet.com/int/euromarkets/875973.html
Jim Griffin: A Predictable Fed May Put the Market in Peril
Greenspan, like a presidential candidate, seems to want to please most of the people most of the time.
http://www.thestreet.com/comment/jamesgriffin/875785.html
Mutual Funds: New Site Aims to Track Funds Flying Under the Radar
MAXfunds.com will focus on new and small funds, a group full of promise and peril.
http://www.thestreet.com/funds/funds/875959.html
Online Brokers: Schwab Bid for CyberCorp a Sign of Things to Come
By
Caroline Humer
Senior Writer
2/2/00 6:39 PM ET
Black sheep, welcome to the flock.
When
Schwab
(SCH)
this morning announced plans to acquire
CyberCorp
, a renegade software firm-turned-trading shop, it was the most clear sign yet that direct-access systems pioneered by daytraders have gone mainstream.
It's a strange sort of road that brought Schwab, which went up-market with its acquisition of blue-blood
U.S. Trust
three weeks
ago, to the doorstep of tiny CyberCorp with $488 million of flowers and candy. But it's one that's likely to be traveled by many established brokers -- online and otherwise -- that need connections to firms that will allow them to cut commissions for active traders by offering direct-access trading without market makers.
Instinet
has already arrived there, with
plans to launch direct-access trading in April. Firms such as Schwab are tired of losing their most active, profit-generating investors, exactly the ilk that will jump into direct trading, says Bill Burnham, a general partner at
Softbank Capital Partners
and a former online brokerage analyst.
CyberCorp fashioned itself into exactly the kind of "direct access" trading firm Wall Street sees as part of the evolution of electronic trading. It was pushed on to the must-buy list by aggressive chief executive Philip Berber, whose experience at the Irish defense ministry,
Avon
(AVP)
and
Ford
(F)
lacks even a trace of a Wall Street pedigree. He'll now be chairman of the Schwab unit, CyberCorp.
"They came on the radar screen about this time a year ago," Burnham says. "They were very aggressive in telling me how many trades they were doing and how big they were getting. They wanted to be part of the quarterly survey." CyberCorp never made it into that survey, but its persistence -- and growth -- paid off. It's now on the list of top 10 online brokerages compiled by two other big Wall Street firms, an important measure of the credibility afforded it by major players.
Going Mainstream
Schwab's acquisition of CyberCorp shows a shift in the future of electronic brokerages.
Online Trading
Direct-Access Trading
In addition to Schwab, CyberCorp's Berber says management had talked to
Lehman Brothers
undefined
,
Merrill Lynch
(MER)
and Instinet. Lehman and Merrill declined to comment.
And CyberCorp wasn't the only belle at the direct-access ball.
Momentum/Tradescape
, a daytrading firm with similar technology, also says that it has alliance discussions underway. And
A.B. Watley
(ABWG)
, a small New York firm of the same genre, last week said it was looking around, too.
Like CyberCorp, Tradescape is being represented by investment bankers from
Morgan Stanley Dean Witter
undefined
, while A.B. Watley has
Wasserstein Perella
pitching it to suitors. Not exactly the grunge typically associated with daytrading companies.
Still, CyberCorp's path from obscurity wasn't all Berber bluster -- there was good reason for Schwab to make the move.
Adding CyberCorp should keep Schwab's active investors -- about 1% of the company's more than 6 million accounts -- from wandering, co-chief executive David Pottruck said during a conference call. By discounting prices for clients who make more than 30 trades per quarter to $19.95, and to $14.95 for those who make 60 trades per quarter from $29.95, Schwab instantly becomes a player in a direct-access world.
According to US Bancorp Piper Jaffray's fourth-quarter research released today, Schwab's market share fell by 0.60 percentage points during the quarter to 22% and was down 5.5 percentage points in 1999.
Direct-access opportunities may help that situation. For one, Schwab is following a typical securities industry trend -- growing retail access to what was once the domain of professionals, like investment-grade research and initial public offers. Here they'll have some of the trading tools of professional investors.
Then there's the stock market itself. Electronic order-matching systems are attracting more equity volume -- making trading cheaper and easier and leaving the
Nasdaq
, the
New York Stock Exchange
and their member firms in a race to catch up.
Now Berber, whose early CyberCorp development was done on his son's home computer, and CyberCorp have gotten the entire cottage industry about a half-billion worth of validation from traditional Wall Street. Momentum/Tradescape President James Lee, who is shopping around his own firm and technology to similar players, remembers when big equity traders wouldn't even consider taking order flow. "We couldn't get the relationships with the major wholesalers in years past," he said.
Modern direct-access trading (the kinder, gentler way to describe daytrading systems) came about in 1997 as changes in the Nasdaq's order-handling rules created an opening for a slew of Instinet knock-offs -- cheap, fast electronic trading systems. From these systems emerged an army of semiprofessional traders who, from their homes or small trading firms, could send buy and sell orders at a speed
J.P. Morgan
himself could never have imagined.
In 1998, CyberCorp stopped selling its software to daytrading firms and opened an online brokerage of its own, seeking to establish itself as a virtual player and distancing itself from an industry under intensifying regulatory scrutiny
Berber made the rounds with analysts and the press in 1999. That summer, about six offers floated into CyberCorp. Things looked good. Strangely enough, even the shooting rampage in July 1999 by former daytrader Mark O. Barton did little to slow daytrading's popularity. Meanwhile, that spring, Schwab and others had started working on whether to build or buy a trading system for active investors.
Now that Schwab has made that decision and chose to look beyond daytrading's image problem, other brokerages won't be far behind.
Wrong! Dispatches from the Front: Heading for Home
By
James J. Cramer
2/2/00 2:01 PM ET
You want some speculation? How about this?
Pfizer
(PFE)
buys
Warner-Lambert
undefined
because it needs the
Lipitor
formulation, among others.
Procter & Gamble
(PG)
, which never rallied after that float of buying
American Home Products
(AHP)
and Warner-Lambert, then buys Home Products (as we all call it on Wall Street) and buys the consumer-goods stuff from Warner-Lambert to dovetail with
Richardson-Vicks
.
Join the discussion on
TSC
Message Boards.
Procter & Gamble goes up because that move is much less dilutive than the purchase of both American Home Products and Warner-Lambert. (In other words, the company softened the market effectively when it leaked that idea to the press. Leaked? Well, I believe it because nobody was fired for that disgraceful bout of leakage, so maybe it wasn't so disgraceful.)
Warner-Lambert and American Home go up because of the prices they receive.
We have a small position in American Home (20,000 shares, which, for us, is about a quarter of a position), but I am hoping the drug stocks get clocked after the
Fed
meeting so I can buy more.
Conviction level? It would be much lower, but the key variant is the inability of Procter & Gamble to rally. If nothing were going on, this stock would be higher. It just doesn't deserve to be down here if talks were totally off.
*******
James J. Cramer is manager of a hedge fund and co-founder of TheStreet.com. At time of publication, his fund was long American Home Products. His fund often buys and sells securities that are the subject of his columns, both before and after the columns are published, and the positions that his fund takes may change at any time. Under no circumstances does the information in this column represent a recommendation to buy or sell stocks. Cramer's writings provide insights into the dynamics of money management and are not a solicitation for transactions. While he cannot provide investment advice or recommendations, he invites you to comment on his column at
jjcletters@thestreet.com.
Evening Update: Mattel Stock Surges on CEO Rumors and Amazon.com Posts Earnings
By
Tara Murphy
Staff Reporter
2/2/00 8:49 PM ET
Amazon.com
(AMZN)
posted a pro forma fourth-quarter loss of 55 cents a share, wider than both the 28-analyst estimate of a 48-cent loss and the year-ago 7-cent loss. During a conference call with investors, CFO Warren Jenson said that, "Q4 of 1999 was a high point for the overall level of operation losses as both a dollar amount and as a percentage of sales." Jenson and CEO Jeff Bezos said they see operating losses as a percentage of revenues declining from more than 20% in the fourth quarter to the single digits by the end of 2000.
Despite the fourth-quarter shortfall, investors like Brian Gilmartin, portfolio manager at
Trinity Asset Management
took some confidence out of the conference call. "The big news is that the U.S. retail build-out is complete for all practical purposes. No new distribution centers will be constructed and capital spending is going to decline in 2000. Its business has reached scale, which means that they will start to gain operating leverage and operating losses will start to decline."
Mattel
(MAT)
shares rocketed higher during today's session, ending up 1 7/16, or 13.9%, to 11 13/16 on rumors that CEO
Jill Barad
may be leaving the company.
Barad has been at the helm of the struggling toymaker since March 1997 after she was widely credited for the resurrection of the company's struggling Barbie product lines. Since then, though, the company's fortunes have turned and Barad has been blamed for many of those problems.
TheStreet.com's
Herb Greenberg wrote a
piece on Mattel's struggles late last year and the company is slated to release its earnings for the fourth quarter next week.
In other postclose news (earnings estimates from
First Call/Thomson Financial
; earnings reported on a diluted basis unless otherwise specified):
Mergers, acquisitions and joint ventures
BP Amoco
undefined
and
Atlantic Ritchfield
(ARC)
said they would fight a
Federal Trade Commission
decision to prevent their planned merger.
The FTC voted 3-2 to block BP Amoco's $27 billion purchase of Atlantic Richfield after determining that the merger would trigger a rise in gasoline prices and would give BP Amoco an upper hand in controlling prices. The two companies contend however, that the merger would not hinder competition in the gasoline market on the West Coast because their business lines are not conflicting.
Separately, the FTC said it would seek a preliminary injunction in federal district court to stop the merger.
Meditrust
(MT)
said it has sold
Paramount Real Estate
and most of its medical office building portfolio for cash and debt valued at $204 million.
The company said the sale includes Paramount Real Estate, 23 medical office buildings and three medical building mortgage loans. Meditrust said it would use the sale's profits to pay back some of its debt. Board member William Byrnes has been tapped to serve as the company's interim CEO after Meditrust's president and CEO David Benson stepped down on Jan. 28.
Sony
undefined
said that its
Sony Music
and other entertainment assets are not on the auctioning block, in response to rumors that began after
Time Warner's
(TWX)
announcement last week to link with
EMI
. Today,
The Financial Times
reported that German-based Bertelsmann and Sony had held talks regarding cooperation in their music businesses.
Warner-Lambert
undefined
has accepted an $85 billion takeover bid by
Pfizer
(PFE)
, but needs approval from its former merger partner
American Home Products
(AHP)
before it can move forward, according to
Reuters
.
Pfizer upped its bid to 2.75 shares for each share of Warner-Lambert, from its initial 2.5 per share offer.
All three companies declined to comment on the merger. However, people close to the matter say that Pfizer and Warner-Lambert were not expected to unveil their merger plans until they set an agreement with American Home.
Earnings/revenue reports and previews
Gap
(GPS)
said that January same-store sales rose 11%.
Hot Topic
(HOTT)
said that January same-store sales rose 30.5%.
MetaCreations
undefined
reported a fourth-loss of $1.59 a share due to charges, compared with a year-ago loss of 15 cents, also on charges. No per share figures from operating income were provided. The three-analyst expectation was for earnings of 1 cent a share.
Persistence Software
undefined
reported a fourth-quarter loss of 19 cents a share, wider than the three-analyst expectation of a loss of 16 cents a share, and the year-ago pro forma loss of 3 cents.
Printware
undefined
posted fourth-quarter earnings of 8 cents a share, which includes an inventory writedown, compared with year-ago earnings of 17 cents a share. The lone-analyst estimate called for earnings of 1 cent a share.
Tekelec
(TKLC)
posted fourth-quarter earnings of 20 cents a share, beating the five-analyst estimate of 18 cents and up from the year ago 24-cent profit, which included a gain.
Value City Department Stores
undefined
said January same-store sales increased 20%.
XL Capital
(XL)
warned investors that losses from severe weather conditions would slash its fourth-quarter net operating earnings by 97 cents a share after taxes.
The company said that losses from two windstorms in Europe dented its books of business for
XL Mid Ocean Reinsurance
,
NAC Re International
and
Le Mans Re
. Without the storms, the company maintains it would have met the 9-analyst consensus estimate of $1.19.
Offerings and stock actions
Robertson Stephens
priced a 5 million-share IPO for
Centra
(CTRA)
at $14 a share.
Miscellany
Daisytek
undefined
said it has tapped James Powell as it president and CEO.
Financial Federal
(FIF)
said its CEO Clarence Palitz has retired. The company said that it has not tapped a successor for Palitz, who will remain its chairman, but said its president and COO Paul Sinsheimer would manage the company.
For a look into this evening's after-hours trading action, please check out
TheStreet.com's
The Night Watch.
Bond Focus: Treasuries Unfazed by Fed Rate Hike
By
Elizabeth Roy
Senior Writer
2/2/00 5:02 PM ET
The Treasury market ended the day roughly where it stood before the
Fed's
afternoon decision to hike the
fed funds rate
from 5.5% to 5.75%.
The long end of the market -- the 30-year bond -- ended up sharply in response to this morning's unexpected announcement that the Treasury Department will issue fewer 30-year bonds in the future. In the middle of the market, the 10-year note rode the long bond's coattails a bit higher. The five- and two-year notes were mixed.
The market: Join the discussion on
TSC
message boards.
In all, the day's action advanced the process that has been underway for three weeks now: Longer-term debt securities are outperforming shorter-term ones, driving most longer-term yields lower than most shorter-term yields. Normally, the yields on longer-term obligations are higher, to compensate investors for the increased price risk associated with tying up money for long periods of time.
A combination of strong economic growth, which has the Fed in rate-hiking mode, and a flush Treasury, which is cutting back on debt issuance, especially at the long end, has pulled the rug out from under the normal paradigm. Rate hikes by the Fed tend to lift short-term yields, while reduced supply of long-term bonds gives them a scarcity value that drives prices up and yields down. The same combination of forces has inverted England's yield curve for the better part of the last few years.
"I don't know where exactly the split is, but we've got two Treasury markets,"
Thomson Global Markets
managing analyst Ken Logan said. "One is focusing on the Fed, and one is focusing on the Treasury."
"The Treasury is the more influential force by far," Logan continued. "It's as if it's pulling the plug from the tub, and people are saying, 'We've got to grab as far out the curve as we can.'" The market, he said, "is making a massive adjustment. We're in a price discovery process: Where should things be priced on the curve?" For now, he said, the trade of choice is the one that will profit from further inversion of the yield curve -- short the short end, long the long end.
The 30-year Treasury bond ended up 1 28/32 at 97 28/32, dropping its yield 14.5 basis points to 6.284%, a level it hasn't seen since mid-December. The 10-year note gained 11/32, its yield sinking to 6.571%. The five-year note gained 3/32, its yield 6.654%. And the two-year note fell 1/32, its yield 6.596%. "There's almost a panic to get long paper,"
Bear Stearns
Treasury market strategist Avram Altaras said in the hours after the auction announcement.
At the
Chicago Board of Trade
, the March
Treasury futures contract finished up 19/32 at 93 15/32.
The massive outperformance of the bond has extended the inversion of the Treasury yield curve to new extremes. The long bond's yield dropped 31.2 basis points below the two-year note's (from 15 yesterday), 37 below the five-year note's and 28.7 below the 10-year note's. The curve from the two-year note to the 30-year bond hasn't seen that degree of inversion since 1989.
Bond guru
Bill Gross
argues in an essay posted on his firm's
Web site today that the 30-year Treasury bond yield has peaked
intermediate-maturity yields "are another story", and that the inversion of the Treasury yield curve that has occurred in the last few weeks could last for years.
Fed Delivers, Treasury Surprises
The decision by the Fed's monetary policy panel, the
Federal Open Market Committee
, to hike the fed funds rate to 5.75% was expected by pretty much everyone. The only people who didn't expect a 25 basis-point hike expected a 50 basis-point hike.
The FOMC's
statement announcing the rate hike also fell in line with expectations. Under a
disclosure policy announced Jan. 19, FOMC statements, starting with today's, will indicate whether the risks to its twin goals of price stability and sustainable economic growth are weighted mainly toward higher inflation, weighted mainly toward economic weakness, or balanced. (Gone is the FOMC's "bias" with respect to the fed funds rate. In past announcements, it indicated that it was biased either to tighten or ease monetary policy in the near future, or that it was neutral.) As expected, the statement says the committee believes "the risks are weighted mainly toward conditions that may generate heightened inflation pressures in the foreseeable future."
That left the Treasury market in the position it assumed after the
Treasury Department's
morning
announcement of the details of the quarterly refunding -- its auction of long-dated notes and bonds.
At a press conference in Washington, the Treasury Department announced that next week's auctions will be sized as follows: $12 billion five-year notes (4 3/4-year, actually -- they're going to reopen, or add to, the five-year note issued in November), $10 billion 10-year notes and $10 billion 30-year bonds (30 1/4-year, actually -- the Treasury hasn't issued a long bond due in May since 1991). The expected amounts, according to
Wrightson Associates
, were $15 billion five-year notes, $12 billion 10-year notes and $10 billion 30-year bonds. The auctions will take place next Tuesday, Wednesday and Thursday.
The surprise in the announcement was that the other 30-year bond auction, in August, will become a reopening of the February bond issue, and that it will be "significantly smaller" than the February issue. Similarly, two of the four annual five- and 10-year note auctions will become reopenings of previous auctions, and the reopenings will be "smaller" than the new issues.
In addition, the Treasury announced that its buyback program will start within two months, focus on issues that mature in more than 10 years, and amount to about $1 billion apiece. The buybacks are a debt reduction measure made possible by the federal budget surplus. They are an alternative to further reducing the auction schedule, which impairs market liquidity.
Gross' Thesis
In his essay published today, bond guru Gross argues that two forces will keep the Treasury yield curve inverted -- unless the stock market crashes. The first, which is well-understood, is the Treasury Department's planned buyback program. Because federal budget surpluses have reduced its need to borrow, the Treasury is planning to buy back $30 billion of its securities from investors this year alone.
Buybacks will shrink the supply of long-dated Treasuries, while demand for long-dated assets from investors who need them remains constant. That drives the price of long Treasuries higher and their yields lower.
The second force, Gross says, is the fact that Fed Chairman
Alan Greenspan
, by cutting interest rates aggressively after the stock market crash of 1987, and in response to the market turmoil of the fall of 1998, "has demonstrated to investors that he will, when required, lower interest rates and provide emerging liquidity to support the stock market." This amounts to a free put option for stock investors, Gross says. Accordingly, stock prices will be higher than they should be at any given point in time, the economy will be stronger than it should be and the short-term interest rates controlled by the Fed will be higher than they would otherwise be. As long as the Treasury is buying back long-dated paper, only a stock market crash that prompts the Fed to cut short-term interest rates has the power to un-invert the yield curve, Gross says.
Economic Indicators
There were no first-tier economic indicators today. This week's highlight, the January
employment report
, comes out at 8:30 a.m. EST Friday.
Today, the weekly
Mortgage Applications Survey
detected a drop in refinancing activity and a pickup in new mortgage activity. The Refinancing Index fell to 384.4 from 413.6, while the Purchase Index rose to 292.6 from 286.1.
New home sales
accelerated more than expected in December, to 900,000 from a revised 861,000 in November.
And the
leading economic indicators
index rose 0.4% in December, a tenth more than expected.
Currency and Commodities
The dollar rose strongly against the yen and fell a bit against the euro. It was lately worth 108.14 yen, a level it hasn't seen since September, up from 107.81 yesterday. The euro was worth $0.9761, up from $0.9721 yesterday.
Crude oil for April delivery at the
New York Mercantile Exchange
fell to $27.55 a barrel from $28.22 yesterday.
The
Bridge Commodity Research Bureau Index
was unchanged at 209.65.
Gold for February delivery at the
Comex
rose to $287.7 an ounce from $285.4 yesterday.
TO SEE TSC'S ECONOMIC DATABANK, SEE:
http://www.thestreet.com/markets/databank/867256.html
Copyright 2000, TheStreet.com