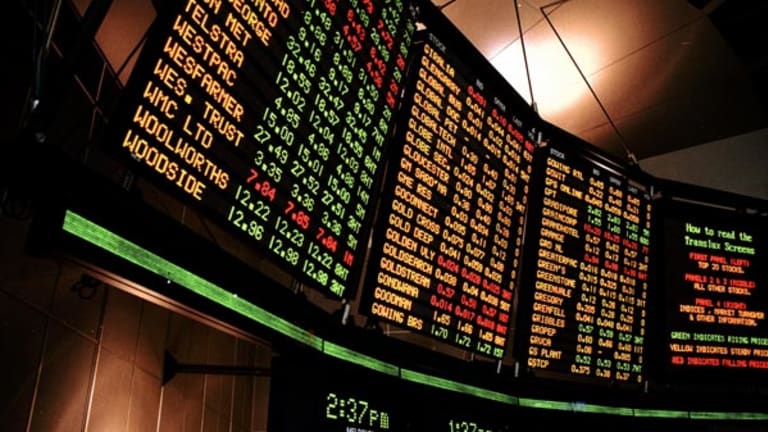 TheStreet.com's DAILY BULLETIN
January 31, 2000
http://www.thestreet.com
Market Data as of Close, 1/28/00:
o Dow Jones Industrial Average: 10,738.87 down 289.15, -2.62%
o Nasdaq Composite Index: 3,887.07 down 152.49, -3.77%
o S&P 500: 1,360.16 down 38.40, -2.75%
o TSC Internet: 1,075.00 down 65.73, -5.76%
o Russell 2000: 504.62 down 12.40, -2.40%
o 30-Year Treasury: 95 22/32 up 27/32, yield 6.431%
In Today's Bulletin:
o Editor's Letter: The Coming Week on TSC
o Weekend Report: Battle for Europe Internet Access Intensifies
o The Coming Week: A Market Running in Circles
o The Coming Week in Europe: Investors Mull Mannesmann's Intentions
Also on TheStreet.com:
Wrong! Tactics and Strategies: Cramer and Co. Will Play Tech Until They Retire
But as a generalist, the trader's also looking to banks and drug companies right now.
http://www.thestreet.com/comment/wrongtactics/873070.html
This Week in IPOs: IPOs Dancing to Their Own Soundtrack
Despite last week's market volatility, the average gain on an IPO was a solid 69%.
http://www.thestreet.com/comment/ipoweek/872346.html
The Coming Week in Asia: All Eyes on the Fed
Despite an imminent hike in U.S. interest rates, sentiment for Japanese equities remains solid.
http://www.thestreet.com/markets/comingweekasia/872230.html
Jim Griffin: Laws of Motion and Markets
The economy's brakes are just about shot and the speedometer shows no sign of slowing.
http://www.thestreet.com/comment/jamesgriffin/873019.html
Editor's Letter: The Coming Week on
TSC
By
Dave Kansas
Editor-in-Chief
1/30/00 4:12 PM ET
It's blustery in lower Manhattan these days. The cold wind whipping through the canyons has everyone bundled up from head to toe. And given the recent market action, the weather is more than fitting.
After a rollicking fourth quarter, the stock market has greeted the new year with a ferocious volatility. Once seemingly sure bets are slipping; the big tech horses are faltering and the staid drug and bank stocks are attracting newfound love. And it's likely to get a little wilder yet before anything settles down.
This week the
Federal Reserve
meets to discuss interest-rate policy, and we'll be tracking this closely. The market's recent gyrations in large degree stem from growing concerns about an economy that's become too strong, and the likelihood that still-higher rates will be required to bring it to heel. And higher rates are not the recipe for a happy stock market.
Given the intensifying volatility, we're focusing more than ever on market action. We've got a team of reporters combing the markets from the important premarket hours, throughout the day and into the post-trading action. On top of that, we've got reporters focused on the bond market, an especially important arena when interest rates are on everyone's mind. From the crack of dawn through the coming dusk, we've got you covered, with constant updates, with the best markets coverage anywhere.
Wondering about IPOs? Our ace
Ben Holmes
will be a Q&A guest on
TheStreet.com
's Message Boards Monday, Jan. 31, 2000. Holmes will discuss how premier IPOs like
Aspect Medical Systems
(ASPM)
,
Caminus
(CAMZ)
and
John Hancock Financial Services
(JHF)
are doing -- and answer your questions about IPOs on the horizon. Post your questions now in the Community section at
www.thestreet.com/bbs/Forum8.
Finally, if you've got any feedback or ideas, don't hesitate to email me at
dkansas@thestreet.com. Also, our customer support staff at
members@thestreet.com stands ready to assist you with any problems or questions about our operation.
So get ready for another exciting week on
TheStreet.com
. It may be blustery outside, but the market is chilling for no one these days. We've got it covered.
L'Etoile du Nord
Dave Kansas
Editor-in-Chief
Dave Kansas is editor-in-chief of TheStreet.com. In keeping with TSC's editorial policy, he doesn't own or short individual stocks, though he owns stock in TheStreet.com. He also doesn't invest in hedge funds or other private investment partnerships. He welcomes your feedback at
dkansas@thestreet.com.
Weekend Report: Battle for Europe Internet Access Intensifies
By
David Rheingold
Special to TheStreet.com
1/30/00 9:11 PM ET
Those of you who spent all weekend gearing up for the Super Bowl missed out on an exciting round in the battle for control of Internet access in Europe.
(It was exciting to us, at least.)
Vodafone's
(VOD) - Get Vodafone Group Plc Report
campaign to win over the hearts of
Mannesmann
(MNNSY)
shareholders escalated another notch, as the British-U.S. phone operator announced a joint venture with France's
Vivendi
(VVDIY)
.
The two plan to create a European Web portal that would rival
Yahoo!
(YHOO)
and
AOL Europe
, a joint venture between
America Online
(AOL)
and
Bertelsmann
. They will also look at joining together to form a pan-European telephone network.
But the alliance is contingent upon Vodafone winning control of Mannesmann, Germany's leading wireless company, which has repeatedly spurned Vodafone's advances.
Mannesmann brass remained opposed to Vodafone's $170 billion hostile takeover bid Sunday; investors have until Feb. 7 to decide.
British generator
PowerGen
(PWG)
, which has been looking for a U.S. acquisition for some time, is reportedly eyeing two companies. The
Sunday Times
of London reports that the company is looking at a bid for Kentucky's
LG&E Energy
(LGE)
worth as much as $2.7 billion. Meanwhile, the
Sunday Business
reports that PowerGen may be preparing a $1.6 billion bid for the distribution business of
Midlands Electricity
, which is owned by
GPU
(GPU)
.
In Germany,
Nortel Networks
(NT)
was selected as the solutions integrator for the launch of
EINSTEINet
, an application service provider. The two partners estimate that the deal will be worth $200 million during the next three years.
Separately, Nortel wrapped up its acquisition of
Qtera
this weekend, a deal worth $3.25 billion in stock.
British Sky Broadcasting
is prepared to spend a quarter of a billion pounds, or nearly $406 million, on Internet investment, the London's
Observer
newspaper reported Sunday. The move follows last week's announcement by U.K. media giant
Pearson
that it will invest the same amount of money in the Net.
Back home,
Harold Greene
, the federal judge who oversaw the government's antitrust case that led to the dismantling of
AT&T
, died Saturday. He was 76.
A
Kenya Airways
plane carrying 169 people plunged into the sea after taking off from the Ivory Coast capital of Abidjan late Sunday,
Reuters
reports. The aircraft, an Airbus A310, was heading to Nigeria. On Friday, Kenya Airways announced a $750 million plan to replace its Airbus fleet with Boeing B767-300 aircraft.
And in Japan, stocks fell in early Monday trading. The Nikkei average was down 39.70 points to 19,395.08, a loss of 0.2%, by the close of the morning session. Earlier, however, the Nikkei had dipped to 19,224.47.
In the Papers
The Internet may have incited a price war among insurance companies, but their policy premiums are not the only prices that have dipped in the past year. One analyst tells
Barron's
that Swiss insurer
Zurich Financial Services
looks attractive because it has become heavily discounted. ZFS is jointly owned by
Zurich Allied
(ZRHAY)
of Switzerland and
Allied Zurich
(ADZHY)
of the U.K.
The Sunday
New York Times
features an interview with
Bertelsmann
chief exec Thomas Middelhoff, who left AOL's board following its merger with
Time Warner
(TWX)
. Middelhoff would not comment on speculation that Bertelsmann would sell its stake in AOL Europe, but he did say that the company needs to make more acquisitions, namely in magazine publishing and music.
Predictions of the demise of major record labels have been greatly exaggerated, the
Washington Post
reports. The majors still have their marketing muscle, which is continuing to attract many up-and-coming bands despite the distribution advantages offered by the Internet.
David Rheingold is a New York-based freelance writer. At the time of publication he had no positions in any of the securities mentioned, although holdings can change at any time.
The Coming Week: A Market Running in Circles
By
Justin Lahart
Associate Editor
1/28/00 8:07 PM ETOne might make a mandala of the global investment arena in the coming week. Along its borders are investors in Europe and Latin America and Asia, somewhat closer in are the U.S. markets and at its center is the
Marriner S. Eccles Building
in Washington, D.C., where
Alan Greenspan
and his cohorts will meet Tuesday and Wednesday to decide what to do with U.S. interest rates.
It is essentially a foregone conclusion that they will raise them. It is a near certainty that they will raise them by 25 basis points -- no matter how many commentators try to make a grab for the headlines by suggesting 50. All but the most dovish economists reckon there's at least another hike to come -- and after Friday's strong
Employment Cost Index
and
gross domestic product
reports, more are shading toward a minimum of two more hikes.
It's hoped that the
Federal Open Market Committee
will give some indication of the pace and depth of cuts to come in the statement that follows the meeting.
The committee has vowed to be more open -- which might be interpreted as more blunt -- on its views of the economy. There will no longer be a "policy bias," the meaning of which was often misinterpreted, particularly in the equity market.
"The old way of doing things, they would have shifted to neutrality," said Kevin Flanagan, money market economist
Morgan Stanley Dean Witter
. "They may go to the thing where they say, 'The risks are weighted mainly toward conditions that may generate heightened inflation pressures in the foreseeable future.'" That would likely signal another hike at the March meeting.
The Fed won't come out with its decision until Wednesday afternoon, and that may mean the first part of the week remains tough for stocks, which were riled by Friday's strong numbers and rumors, unconfirmed, of hedge funds running into trouble in fixed-income and currency trades.
"Until we get the Fed out of the way, I think we're going to continue to be volatile with a downward bias," said Tony Dwyer, chief market strategist at
Kirlin Holdings
. The problem is not just the Fed but a fear of losing the money made in the fourth-quarter run-up. "Everybody's trying to get out the door at the same time, to not give up the gains. That's a more important backdrop to the market than even interest rates."
Fanning the fear, the market's technicals are not good. Important levels of 1380 on the
S&P 500
and 11,000 on the
Dow Jones Industrial Average
have been broken. The next major lines of support are a ways off -- 1300 and 10,000, thinks Bob Dickey, managing director of technical analysis at
Dain Rauscher Wessels
.
"That's a real good floor area, and that's probably where we're headed," he said.
The
Nasdaq Composite
has yet to hit its big support level at 3750, the place it hit in that first, bad week of the year. And that is a good thing, said Dickey. "Underneath there, I don't know where the support is, so it's real important that it keeps it."
Scared? A lot of people are. The highfliers are cracking, and people are seeing those once-in-a-lifetime gains melt away. Those who stand their ground, who buy when the weak holders capitulate, will make out well, Dwyer believes.
"The momentum stocks that took the market up to unstable levels are bringing it back down," he said. "You're even beginning to hear panic in people's voices. Panic brings opportunity."
It will be an interesting week for the bond market, which rallied strongly on flight-to-quality trades Friday. It is a good -- but not sure -- bet that bonds will decline again once the scare over the full inversion of the yield curve resolves itself. Details remain sketchy, but it appears that when the yield on the two-year lifted above the 30-year's, a major selloff in the mortgage-backed area ensued. That money moved to the safety of Treasuries.
"It would appear, for all intents and purposes, that Treasury rates will move higher yet again," said Flanagan. It does not help that the big data coming out in the coming week -- the
Purchasing Managers Index
on Tuesday and the January
jobs report
on Friday -- will likely not signal any slowing of the economy.
"One should not expect any weakness in the key figures," Flanagan said. "It seems to be graven in stone and baked in the cake that the economy is incredibly robust and resilient."
The Coming Week in Europe: Investors Mull Mannesmann's Intentions
By
Marc Young
German Correspondent
1/29/00 12:30 AM ET
BERLIN -- Is it simply a cheap ploy to avoid being swallowed up by another company? Or could it be a stroke of strategic genius? Perhaps, pray tell, a little of both?
Those were the likely questions on the minds of
Mannesmann
(MNNSY)
shareholders Friday as speculation surfaced that the telecommunications-and-engineering concern was in talks with
America Online
(AOL)
and
Bertelsmann
regarding a stake in their joint venture,
AOL Europe
.
Mannesmann, Germany's leading wireless company, has been trying to ward off a $170 billion hostile takeover bid from the U.K.'s
Vodafone
(VOD) - Get Vodafone Group Plc Report
for weeks and the firm's chances of remaining independent appear be waning, day by day. Now, if the speculation is true, Mannesmann could be on the verge of helping build Europe's largest Internet service provider.
Analysts agree the deal would offer a more realistic lifeline for Mannesmann than the white knight the company had supposedly sought with French concern
Vivendi
(VVDIY)
, although should it come to pass it would by no means completely rule out a successful Vodafone takeover. Regardless, things should crystallize for investors in the coming week, as the Feb. 7 deadline for Vodafone's offer draws nearer.
Even if the potential deal reeks of desperation on Mannesmann's part, it could still offer something to all parties involved. "Everything they
Mannesmann do now is going to be influenced by the Vodafone bid, but from a strategic sense, linking up with AOL would be a good fit for Mannesmann," says Robert Halver, an equity strategist for
Delbrueck Asset Management
in Frankfurt.
One report said a one-third stake of AOL Europe would cost Mannesmann $7.5 billion if AOL and Bertelsmann both sold an equal amount. But some analysts figure that if a deal is to be done, Bertelsmann would likely use the opportunity to gracefully exit the joint venture in the wake of AOL's proposed blockbuster merger with competitor
Time Warner
(TWX)
.
Mannesmann would also trump its domestic nemesis
Deutsche Telekom's
(DT) - Get Dynatrace Inc. Report
Internet unit
T-Online
to become Europe's largest online service, with over 5 million customers. (On Jan. 25,
TSC
examined DT's intention to spin
off the ISP.) AOL, too, would revel in topping DT and would gain access to Mannesmann's quite extensive telephony infrastructure in Germany. According to Germany's telecommunications regulatory authority, as many as 20 million Germans could be online by the end of 2000. Any way AOL improves its market share would be incredibly valuable.
At the end of the day, a Mannesmann-AOL Europe deal may come too late to save Mannesmann from Vodafone. However, just because the German telco is on the ropes at the moment doesn't mean the prospect lacks considerable appeal for all the parties. Besides, over half of all mergers fail, so Bertelsmann and AOL may just have to wait a little longer for Mannesmann than they would have liked.
Copyright 2000, TheStreet.com