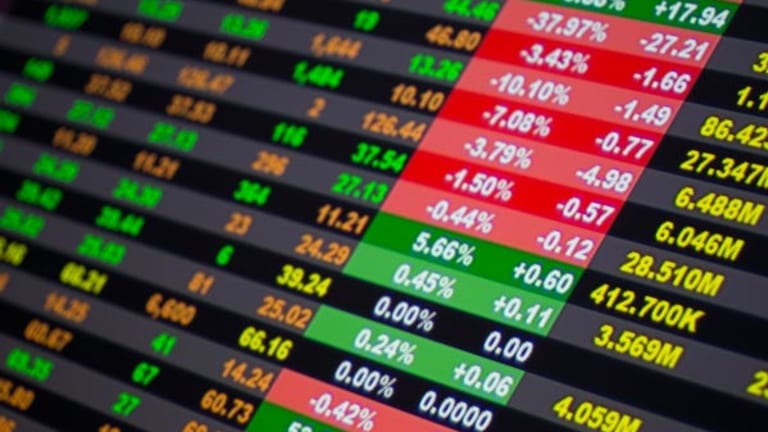 TheStreet.com's DAILY BULLETIN
January 25, 2000
http://www.thestreet.com
Market Data as of Close, 1/24/00:
o Dow Jones Industrial Average: 11,008.17 down 243.54, -2.16%
o Nasdaq Composite Index: 4,096.08 down 139.32, -3.29%
o S&P 500: 1,401.91 down 39.45, -2.74%
o TSC Internet: 1,127.77 down 34.53, -2.97%
o Russell 2000: 522.95 down 10.99, -2.06%
o 30-Year Treasury: 93 05/32 up 18/32, yield 6.647%
Companies in Today's Bulletin:
Disney (DIS:NYSE)
Harley-Davidson (HDI:NYSE)
Biogen (BGEN:Nasdaq)
Excite@Home's (ATHM:Nasdaq)
In Today's Bulletin:
o Internet: Excite's DSL About-Face Seen as Smart, but Fraught With Challenges
o Wrong! Rear Echelon Revelations: Sellers With an Agenda
o Evening Update: Disney Smashes Estimates; Harley, Biogen Joining S&P 500
o Bond Focus: Bonds Cheered by Falling Stock Prices
Also on TheStreet.com:
Media/Entertainment: Time Warner-EMI, Sweet Music to Some, Likely to Spark More Mixing
Still, a rival EMI bidder might attempt a deal, as other firms ponder similar marriages.
http://www.thestreet.com/stocks/media/868699.html
Consumer Products: Procter & Gamble Just Says No
The company cuts off talks with Warner-Lambert and AHP, but speculation continues over Gillette.
http://www.thestreet.com/stocks/consumer/868108.html
The TaskMaster: Speaking of Selloffs
The TaskMaster ponders whether Monday's downturn was a hiccup -- or the start of a horror show.
http://www.thestreet.com/comment/taskmaster/868694.html
Tish on Tech: Internet Hunks, Stand Down!
Mark Breier may have looked great in his skivvies, but now Beyond.com is looking for a different kind of hero.
http://www.thestreet.com/comment/tish/868645.html
Internet: Excite's DSL About-Face Seen as Smart, but Fraught With Challenges
By
Spencer E. Ante
Staff Reporter
1/24/00 9:50 PM ET
Excite@Home's
(ATHM) - Get Autohome Inc. American Depositary Shares each representing four class A. Report
recent
decision to explore selling high-speed Internet access over phone lines is seen as a smart move by analysts, but it also carries plenty of baggage.
The move is designed to address the company's most important long-term strategic issue: figuring out a way to prosper in a much more competitive market when Excite@Home's exclusive contracts with cable operators begin to expire in mid-2002. The new strategy was unveiled by Excite@Home President and CEO George Bell last week on a conference call following the company's earnings announcement. Beyond giving the company some leverage in negotiations with its 23 cable partners, selling phone-based fast Internet service would enable Excite@Home to reach the remaining 50% of U.S. homes that it doesn't have access to through those partnerships.
"For a company to limit itself to one platform would be shortsighted," says David Levy, an analyst with
Chase H&Q
who rates shares of Excite@Home a buy. (His firm has performed underwriting for the company.)
The move also reinforces Excite@Home's desire to become a broadband media company, rather than just an Internet-access provider. Company Chairman Tom Jermoluk has long justified the merger of
@Home
, which provides Internet access via cable, with the
Excite
portal as a hedge against a future in which Internet access becomes a commodity.
"They're becoming more content-focused and technology agnostic," says Jeanette Noyes, a broadband analyst with
IDC Research
. IDC has not done consulting for Excite@Home.
That's the good news. Now comes the hard part of closing a deal. Excite@Home must also be careful not to alienate its cable partners and confuse consumers with the new service. So far, investors have not cheered. Excite@Home's stock has dropped 4 6/16, or 10%, since the Jan. 20 announcement.
Some analysts question whether the move is a bluff. Excite@Home's Bell declined to specify what phone companies it was in talks with, but several contacted by
TheStreet.com
said they are not in discussions with the cable-modem provider. Regional telephone companies
SBC
(SBC)
,
Sprint
undefined
,
U S West
(USW)
,
BellSouth
(BLS)
, as well as digital subscriber line, or DSL, providers
Covad
(COVD)
and
NorthPoint
(NPNT)
, said they had no dealings with Excite@Home to offer DSL service to consumers.
Still, DSL is not new to Excite@Home; it does sell a co-branded version of Northpoint's DSL service to business customers of its
@Work
division.
While Bell said he hopes to start offering DSL service to consumers by year-end, it's unclear what shape such a deal would take. The options could include a high-level partnership, a strategic investment or an outright acquisition. At least one analyst says an outright purchase of a phone company is not a good idea because it would weaken the company's focus on cable-modem deployment. Excite@Home is under a lot of pressure this year to sharply increase its cable-modem subscriber base, the company's most important gauge to investors.
"They've got a big bone to chew on there, let alone going into the DSL space," says Michael Harris, an analyst with broadband research firm
Kinetic Strategies
. Harris has not done any consulting for Excite@Home.
Excite@Home will also be challenged to maintain good relations with its cable partners, many of which also happen to be minority owners of the company. Backing DSL, the main competitive technology of cable modems, could alienate its cable partners. In public, some cable companies appear to be understanding. David Woodrow, executive vice president of
Cox Communications
(COX)
, one of Excite@Home's biggest cable partners, says the news did not come as a surprise. "It was understood from the beginning that @Home would sell DSL service," says Woodrow, who sits on Excite@Home's board.
For now, Bell says that Excite@Home would honor its contracts with cable operators that prevent the company from offering anything but high-speed Net access over cable lines. But in markets where Excite@Home does not have contracts, it is free to pursue relationships with firms that sell competitive technologies such as phone and satellite access. Another option for Excite@Home is using DSL as an interim solution to deliver high-speed access in areas where its cable partners have not upgraded their cable plant to handle rich, two-way data transfers.
Cox's Woodrow said this would not violate its contract. But one analyst criticized the idea. "
DSL is not a migration technology," says Harris. "If the customer is happy with DSL service, why would they want to switch?"
Although some analysts say Excite@Home embraced DSL as a way to enhance its leverage with cable operators, it's not clear this move will prove effective. For starters, many analysts and cable executives say that Excite@Home is likely to win renewal of its cable-operator contracts, though not on an exclusive basis. The bigger question is whether Excite@Home will continue to receive preferential treatment by cable operators for both its broadband access and content services. Kinetic's Harris predicts cable operators are likely to push Excite@Home as the house brand, but some cable executives say that's premature.
"If someone wants to pay for a premium position on our network, we would entertain that," says Woodrow. "We may be promoting another service because we think it's better."
If Excite@Home does start offering DSL service, some analysts say the shift may confuse consumers. Until now, Excite@Home has branded cable modem as a superior delivery technology. "Excite@Home utilizes the high-speed, always-on attributes of cable to provide residential subscribers with multimedia content that goes far beyond current Web experiences," reads copy from its Web site. Promoting another technology may undermine those claims.
"The bigger issue is branding and positioning," says Harris. "Do they dilute the @Home brand or confuse the consumer by entering into partnerships with DSL providers?"
Wrong! Rear Echelon Revelations: Sellers With an Agenda
By
James J. Cramer
1/24/00 6:10 PM ET
For what it is worth, I just had an earful of
Texas Instruments
(TXN) - Get Texas Instruments Incorporated Report
and
Foundry
undefined
and both of those stocks were excellent.
I took a little Texas Instruments after the bell at 111, as there is
no
seasonality, which is really bullish. I saw no Foundry for sale.
Join the discussion on
TSC
Message Boards.
Why bother to point out these positives in a sea of red ink? Because I thought today was largely what we call agenda selling, meaning that someone thought the market
should
be falling and took anticipatory action on it. Kind of like the
GE
commercial where the guy comes to fix the fridge
before
it is broken.
If there is no earnings catalyst, however, all you have to bet against this market with is some
Greenspan
-speak tomorrow, and I don't think that will do the trick. I think the market reverts to earnings, and those are still pretty darn good.
Random musings
:
S&P
is doing that modernizing thing again, kicking out a couple of deadwood older industrial stocks and adding life-science play
Biogen
undefined
and motorcycle stalwart
Harley-Davidson
(HDI)
. Expect them to lead the market tomorrow.
*******
James J. Cramer is manager of a hedge fund and co-founder of TheStreet.com. At time of publication, his fund was long Texas Instruments. His fund often buys and sells securities that are the subject of his columns, both before and after the columns are published, and the positions that his fund takes may change at any time. Under no circumstances does the information in this column represent a recommendation to buy or sell stocks. Cramer's writings provide insights into the dynamics of money management and are not a solicitation for transactions. While he cannot provide investment advice or recommendations, he invites you to comment on his column at
jjcletters@thestreet.com.
Evening Update: Disney Smashes Estimates; Harley, Biogen Joining S&P 500
By
Eileen Kinsella
Staff Reporter
1/24/00 9:42 PM ET
Disney
(DIS) - Get The Walt Disney Company Report
posted first-quarter pro forma earnings of 25 cents a share, excluding
Go.com
(GO) - Get Grocery Outlet Holding Corp. Report
. The results topped the 16-analyst estimate of 20 cents. Revenue rose 5% to $6.8 billion and operating income increased 8% to $1.1 billion.
Chairman and CEO Michael Eisner said he expects to keep Disney independent, as speculation abounds over whether the company could use a megamerger in the wake of
America Online's
(AOL)
intended merger with
Time Warner
(TWX)
. Still, Eisner said the company was open to ventures or alliances in areas including the Internet, telephony, satellite transmission and other forms of content distribution.
Disney also announced that Robert A. Iger has been named president and COO as well as a member of its board. Iger had been chairman of the Disney unit
ABC Group
and president of
Walt Disney International
, the company's overseas business unit.
For more on Iger's appointment, check out additional
coverage from
TheStreet.com/NYTimes.com
joint newsroom.
Standard & Poor's
said
Harley-Davidson
(HDI)
and
Biogen
undefined
will ride into the
S&P 500
index after the close of regular trading on Friday. Left on the roadside after the move are
Fleetwood Enterprises
(FLE)
and
Foster Wheeler
undefined
which an S&P spokeswoman described as "down at the bottom of the index in terms of market capitalization and thought to be unrepresentative of the economy,"
Reuters
reported.
In other postclose news (
earnings estimates from First Call/Thomson Financial; earnings reported on a diluted basis unless otherwise specified
):
Earnings/revenue reports and previews
About.com
(BOUT) - Get Innovator IBD(R) Breakout Opportunities ETF Report
reported a fourth-quarter pro forma loss of 57 cents a share, which excludes noncash compensation and goodwill amortization charges, narrower than the five-analyst estimate of a loss of 81 cents and narrower than the year-ago 75 cents.
Active Software
(ASWX)
reported a fourth-quarter loss of 4 cents a share, narrower than both the three-analyst estimate of a 9-cent loss and the year-ago 15-cent loss.
Burr-Brown
(BBRC)
reported fourth-quarter earnings of 26 cents a share, beating the nine-analyst estimate of 24 cents and up from the year-ago 15 cents.
Corning
(GLW) - Get Corning Incorporated Report
reported fourth-quarter earnings from continuing operations, before special items, of 51 cents a share, ahead of the 13-analyst estimate of 48 cents and up from the year-ago 40 cents, before special items.
Foundry Networks
undefined
reported fourth-quarter earnings of 11 cents a share including a charge, beating the six-analyst estimate of 7 cents. The company said the year-ago break-even results were antidilutive.
Mentor
(MNTR)
posted third-quarter earnings of 29 cents a share, a penny better than the eight-analyst estimate and up from the year-ago 14 cents.
Network Associates
(NETA)
reported fourth-quarter earnings of 20 cents a share, excluding noncash interest expense, amortization expense and compensation charges related to employee stock options, 3 cents ahead of the 17-analyst estimate.
PSS World Medical
(PSSI)
posted third-quarter earnings of 18 cents a share, missing the 10-analyst estimate of 23 cents and the year-ago earnings of 22 cents. The company said it hired
Donaldson Lufkin & Jenrette
to help it explore various strategic options for the entire company or its separate operating divisions.
Rayonier
(RYN) - Get Rayonier Inc. REIT Report
reported fourth-quarter earnings of 69 cents a share including items. The eight-analyst estimate called for earnings of 48 cents, while the year-ago earnings of 50 cents also includes items.
Texas Instruments
(TXN) - Get Texas Instruments Incorporated Report
posted pro forma earnings of 51 cents a share, ahead of the 30-analyst estimate of 47 cents and above the 31 cents in the year-ago period.
Three-Five Systems
(TFS)
reported fourth-quarter earnings of 35 cents a share, beating the four-analyst estimate of 30 cents and the year-ago earnings of nine cents. The company said as a result of its 4-for-3 stock split in December and the equity offering at the end of last September, results for the latest fourth quarter are based on about 13 million shares outstanding.
In other earnings news:
Mergers, acquisitions and joint ventures
Procter & Gamble
(PG) - Get Procter & Gamble Company (The) Report
said it is poised to meet its sales and earnings goals even without a large merger such as the one which would have resulted from a deal with
Warner-Lambert
(WLA)
and
American Home Products
(AHP)
. CFO Clayt Daley told
Reuters
that P&G was disappointed that talks did not continue with the drug makers but said that the recent sharp drop in the company's stock had erased the economics of the deal.
Rainforest Cafe
(RAIN)
and
Lakes Gaming
(LACO)
said they terminated their $111 merger deal. On Jan. 13, Rainforest said it received an unsolicited $125 million bid from a public company, though it did not name the company. Lakes said it was not prepared to raise its bid for Rainforest.
Southwest Gas
(SWX) - Get Southwest Gas Holdings Inc. (DE) Report
said it sued
Oneok
for dropping plans to acquire Southwest, and was also suing rival bidder
Southern Union
(SUG)
for trying to block the $925 million deal.
Offerings and stock actions
DSP Group
(DSPG) - Get DSP Group, Inc. Report
said it sold 600,000 shares of its affiliate
AudioCodes
(AUDC) - Get AudioCodes Ltd. Report
, or about a quarter of its stake, for $44 million.
Tibco Software
(TIBX)
said set a 3-for-2 stock split.
WebTrends
(WEBT)
set a 2-for-1 stock split and named Daniel Maub chief operating officer.
Miscellany
Intuit
(INTU) - Get Intuit Inc. Report
named Stephen Bennet president and CEO, ending a four-month search. Bennet, 45, was formerly at
General Electric
(GE) - Get General Electric Company Report
, where he was an executive vice president and member of the office of the chief executive at
GE Capital
.
For more on Intuit's new CEO, check out additional
coverage from
TheStreet.com/NYTimes.com
joint newsroom.
Semitool
(SMTL)
said Fabio Gualandris resigned as president and CEO effective Feb. 15. Gualandris is leaving to join a global chip manufacturer. Chairman Raymon Thompson will assume responsibilities of interim CEO and president.
Bond Focus: Bonds Cheered by Falling Stock Prices
By
Elizabeth Roy
Senior Writer
1/24/00 3:54 PM ET
An assortment of factors -- the meltdown in stocks chief among them -- combined to give the bond market a boost today, but with
Fed
Chairman
Alan Greenspan
making public appearances tomorrow and Wednesday, and with key economic data out at the end of the week, volume was light and participation was limited.
Perhaps the most interesting development of the day was the reversal of last week's trend, in which the benchmark 30-year Treasury bond's yield dropped below the 10-year Treasury note's yield. This morning, the bond's yield dipped 8 basis points below the note's yield, a degree of yield curve inversion that hasn't been seen since 1990, and then abruptly reversed.
The 30-year bond ended the session up 19/32 at 92 20/32, trimming its yield 5.2 basis points to 6.649%, while the 10-year note rose 18/32 to 95 6/32, cutting its yield 8.3 basis points to 6.689%. (The same change in yield produces a larger price change in longer-maturity securities.) The note's yield wound up 4 basis points below the bond's.
Scott Graham, co-head of government bond trading at
Prudential Securities
, said the outperformance of the 10-year note was due in part to a trade in which German 10-year government bonds were sold and 10-year Treasuries were bought. The trade made sense because at the end of last week, 10-year U.S. yields were higher than 10-year German yields by the widest margin since July, about 120 basis points.
While the long bond underperformed shorter-maturity issues, the entire Treasury spectrum benefited from the decline in stock prices, since rising stock prices get a generous portion of the blame for why the economy is growing too fast for the Fed's comfort. Sustained weakness in stocks could slow the economy enough to keep interest rates from having to rise, the thinking goes.
Also, the dollar strengthened against both the yen and the euro, and oil and commodity prices eased slightly.
Some of the buying represented short covering ahead of month-end, when the market may get a lift from portfolio managers putting money to work, Graham said.
Today's action does not appear to be a reversal of the strong negative trend, analysts said. "It's a more consolidative, corrective kind of day than a change of trend," said Ken Logan, managing analyst at
Thomson Global Markets
in Boston. "Conditions are still strong, the consumer is still spending, so there's probably still room for rates to rise down the road."
John Burgess, global head of structured fixed income at
Deutsche Bank Investment Management
in London, likewise sees today's action as a pause in the trend that will push Treasury yields higher until there is evidence that U.S. economic growth is slowing. "I don't think there's a magic level of interest rates" that will mark the end of the bear market in bonds, he said. "Rates will peak out when the economy slows down."
The big economic events of the week are the
Employment Cost Index
on Thursday and advance
GDP
on Friday, both for the fourth quarter.
In the meantime, Greenspan is slated to address the
Senate Budget Committee
tomorrow at 10 a.m. and to attend the
Senate Banking Committee
hearing on his nomination to a fourth term as Fed chairman on Wednesday at 10 a.m.
Economic Indicators
No economic indicators were slated for today.
Currency and Commodities
The dollar traded up against both the yen and the euro. It was lately worth 105.61 yen, up from 104.73 Friday. The euro was lately worth $1.0055, down from $1.0089 Friday.
Crude oil for March delivery at the
New York Mercantile Exchange
fell to $27.82 a barrel, from $28.20 on Friday.
The
Bridge Commodity Research Bureau Index
fell to 211.02, from 211.51 on Friday.
Gold for February delivery at the
COMEX
was slightly weaker, at 288.1, down from 289.7 yesterday.
TO VIEW TSC'S DATABANK, SEE:
http://www.thestreet.com/markets/databank/865836.html
Street Sightings
Chat with James J. Cramer Tuesday, Jan. 25 on AOL at 5 p.m. EST. (Keyword: Live)
Copyright 2000, TheStreet.com