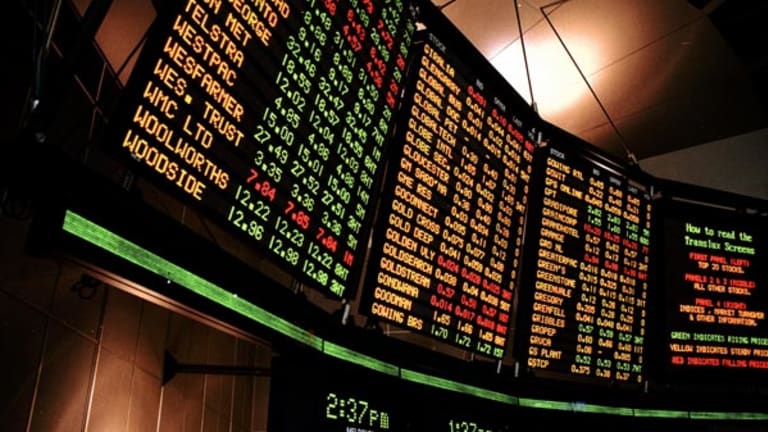 Publish date:
daily01-20-00
TheStreet.com's DAILY BULLETIN
January 21, 2000
http://www.thestreet.com
Market Data as of Close, 1/20/00:
o Dow Jones Industrial Average: 11,351.30 down 138.06, -1.20%
o Nasdaq Composite Index: 4,189.51 up 38.22, 0.92%
o S&P 500: 1,445.57 down 10.33, -0.71%
o TSC Internet: 1,145.08 up 12.89, 1.14%
o Russell 2000: 527.28 up 7.26, 1.40%
o 30-Year Treasury: 92 04/32 down 7/32, yield 6.727%
Companies in Today's Bulletin:
AT&T (T:NYSE)
Excite@Home (ATHM:Nasdaq - news)
Broadcom (BRCM:Nasdaq)
Sun Microsystems (SUNW:Nasdaq)
In Today's Bulletin:
o Telecom: AT&T, Facing Stagnant Stock, Cutting Jobs at Long-Distance Unit
o Wrong! Tactics and Strategies: With Broadcom, Cramer's Shoulders Weren't Broad Enough
o Evening Update: Sun Hits, Lucent Misses and AOL Latin America Readies for IPO
o Bond Focus: Another Rally Fails
"TheStreet.com" on
Fox News Channel
Tech is where you need to be in this stock market, but there's so much tech out there, where's the best place for your investment dollar? We'll talk about that and more on this week's "Word on TheStreet" our very special guest
Max Ansbacher
, president of
Ansbacher Investment Management
.
Plus,
Philip Orlando
of
Value Line Asset Management
joins us with his stock picks and Adam takes Gary to task on
America Online
. And, as usual, predictions you can't afford to miss.
"TheStreet.com" on
Fox News Channel
airs Saturdays at 10 a.m. and 6 p.m. ET and Sundays at 10 a.m. ET. FNC is Fox's 24-hour cable news channel. To find
Fox News Channel
in your area, call your local cable operator or see our "TSC on Fox TV" page at www.thestreet.com/tv.
Also on TheStreet.com:
Brokerages/Wall Street: Big Institutions Get Aggressive in Bid for Lucrative Deals
CalPERS' buy into Thomas Weisel Partners shows the appetite for tech hasn't waned.
http://www.thestreet.com/stocks/brokerages/865983.html
Asia/Pacific: Despite Lack of Earnings, China.com Leads in a Dazzling Dance
The Hong Kong portal's shares continue to skyrocket as a secondary offering is 10 times oversubscribed.
http://www.thestreet.com/int/asia/866196.html
Internet: In Bold Shift, CNet Will Seek to Be Everything to Net Shoppers
The technology concern makes an acquisition in responding to the evolving Net marketplace.
http://www.thestreet.com/tech/internet/866097.html
Internet: Excite Steps Up Offerings With DSL Shift
Soon-to-be CEO George Bell wants to establish the company 'is not the stepchild of anything.'
http://www.thestreet.com/tech/internet/866308.html
Telecom: AT&T, Facing Stagnant Stock, Cutting Jobs at Long-Distance Unit
By
Scott Moritz
Staff Reporter
1/20/00 7:20 PM ET
AT&T
(T) - Get Report
, facing down a continuing slide in long-distance revenue that threatens chief Michael Armstrong's plans to recast the phone giant as a sexy broadband play, is slashing jobs at its consumer division.
Four people close to the company say major layoffs are under way. A plan to cut as many as 7,000 jobs, or 30% of the consumer division's staff, could be announced as early as Tuesday when AT&T reports fourth-quarter earnings, these people say.
AT&T officials confirm there are job cuts in progress, saying the company is cutting $2 billion from its overhead costs for the year. But they couldn't provide specific numbers or name affected divisions. "We continue to shave projects and jobs in our voice-based businesses that are not growing," says spokesman Burke Stinson. Last quarter, AT&T's long-distance revenue dropped 4.9% from a year earlier.
Looking for Progress
The moves come as AT&T shares, now some 18% off their 52-week high of around a year ago, have resumed their struggles of the last decade. AT&T stock, which lagged behind peers throughout the 1990s amid the indecision of the Bob Allen regime, staged a sharp rally late in 1997 and 1998 after Armstrong set ambitious plans to refocus the nation's leading long-distance provider on cutting-edge telecom projects, including cable transmission. But the shares have lost their edge recently as investors have become impatient with the $100 billion cable rollout, worrying it is too costly and too ambitious. Now investors are once more asking whether the telecom giant is fat.
"They've got to get lean and mean in the next few months as the long-distance pricing war heats up," says
Wasserstein Perella
analyst Bill Klein, who has no rating on AT&T. Wasserstein Perella has no banking ties to AT&T. "AT&T has been too fat for too long," Klein said.
Layoffs have been pretty much an annual event at AT&T. Analysts say that to Armstrong's credit, AT&T's overhead costs have dropped from an industry-leading 25% to 21%. Yet despite Armstrong's headline-grabbing buyout offer that enticed 15,300 managers into early retirement last year, the ranks have continued to swell, as the company shuffles people and integrates big acquisitions. That record leads to the question of whether any job cuts or streamlining will be enough to satisfy Wall Street.
AT&T has had a hiring freeze in place since August, but nonetheless, the employee roster has topped 149,000, a 40% increase from a year ago, due primarily to the acquisition of
Tele-Communications Inc.
Cutting Board
Layoffs are expected to hit hardest at the consumer division's senior-level management. The knife looms over 1,000 to 1,500 jobs, representing 40% to 60% of the consumer business staff at AT&T's Basking Ridge, N.J., operations headquarters, according to one person familiar with the matter who asked not to be identified.
Several employees at the Basking Ridge office said layoff rumors had been circulating heavily in recent weeks. An internal email issued Wednesday by H. Eugene Lockhart, chief of AT&T's consumer marketing, helped add fuel to the speculation by outlining a reorganization and several key executive departures.
According to the four-page memo, the consumer organization will be doubling up on duties. Staff will be responsible for both geographic regions and for specific operations. In the past, these duties were handled by separate staffs. For example, Bob Aquilina will replace Byron Smith, who departed for an executive position with
Excite@Home
(ATHM) - Get Report
, as president of consumer long distance. Aquilina will also head AT&T's Eastern region.
Pocket Change
The picture should become clearer on Tuesday, when AT&T reports earnings and updates analysts and investors on its progress in 1999 and its plans for 2000 and beyond.
One thing is certain: AT&T doesn't want to be known as a long-distance company anymore.
"Hey, let's face it," says one analyst who rates AT&T a strong buy and whose firm has no banking ties to the company. "Long distance is a losing business. No sense throwing headcounts at it."
Wrong! Tactics and Strategies: With Broadcom, Cramer's Shoulders Weren't Broad Enough
By
James J. Cramer
1/20/00 6:34 PM ET
Some stocks are simply driving us crazy. Take
Broadcom
. I love Broadcom. It is pretty much in every important semiconductor market. People call it the next
Intel
(INTC) - Get Report
. It is, as
Stuart would say, "riding the wave of the future."
But I sold my Broadcom 50 points ago. As I write this I am reminded of when I got into trouble in elementary school and my teacher would make me write the embarrassing phrase that I had said on the blackboard a gazillion times.
I sold my Broadcom 50 points ago. I sold my Broadcom 50 points ago. I sold my Broadcom 50 points ago.
Why did I sell it? Because it had so far exceeded my expectations as a stock that I had run out of room for explanations for owning it. At one point our firm owned 100,000 shares of Broadcom. We pieced it out 5,000 shares every 10 points, thinking we would never run out of ammo with that scale. When we got to 20,000, we said, that's it, we are holding Broadcom, not letting a share more go.
But when we would sit down to analyze the stock in our portfolio meetings it got tougher and tougher to justify. As a multiple to earnings? Forget it. As a multiple to revenues? When it got to the mid-50s there was no way to keep owning it.
No, the only reason to own Broadcom in the 200s is because it is a great company. While that's terrific for individuals to say, it doesn't fly as a reason in the professional world.
Ah hah, there's that dichotomy again. As
Jeff
and I sat down to write our performance letter to our partners, we thought through each position we had to see if we could justify it to those in our fund. Broadcom, as much as we may love it, is still a semiconductor company that eventually has to trade as if it were a semiconductor company. We couldn't think of a rational reason to own the stock here. We couldn't "defend" the position.
Join the discussion on
TSC
Message Boards.
But to whom does an individual have to defend positions? The individual's predilection to own, coupled with his "inability to value" stocks on the same old measures that we were taught -- and that our investors believe in -- keeps him in a Broadcom after we're gone. In this case, and in countless other stocks that have risen well past traditional value parameters, staying long has meant outperformance for the individuals.
I sold my Broadcom 50 points ago. I sold my Broadcom 50 points ago. I sold my Broadcom 50 points ago. I sold my Broadcom 50 points ago.
Our goal for this year is to try to figure out a matrix, some methodology, some set of beliefs that allows us to keep Broadcom on our sheets well in excess of when we would normally sell it. Maybe we have to start rating companies based on their rate of change, quarter to quarter, and keep the ones with the best. Maybe we have to come up with some parameters that say that as long as Broadcom doesn't screw it up, we will continue to own it. (Although when it does, we know we will be hit upside the head but good.)
But right now, all we can do is kick ourselves when we see the price this stock trades at, and blast ourselves for not being nimble enough to buy it in those 43 nanoseconds it was down after it reported earnings.
And yes, marvel that we sold our Broadcom 50 points ago.
******
James J. Cramer is manager of a hedge fund and co-founder of TheStreet.com. At time of publication, has no positions in any of the stocks mentioned in this column. His fund often buys and sells securities that are the subject of his columns, both before and after the columns are published, and the positions that his fund takes may change at any time. Under no circumstances does the information in this column represent a recommendation to buy or sell stocks. Cramer's writings provide insights into the dynamics of money management and are not a solicitation for transactions. While he cannot provide investment advice or recommendations, he invites you to comment on his column at
jjcletters@thestreet.com.
Evening Update: Sun Hits, Lucent Misses and AOL Latin America Readies for IPO
By
Tara Murphy
Staff Reporter
1/20/00 10:32 PM ET
Sun Microsystems
(SUNW) - Get Report
posted second-quarter earnings of 21 cents a share, beating the 21-analyst estimate of 20 cents a share and the year-ago report of 16 cents a share. The company attributed its 30% increase in net income to the robust demand for its workgroup and high-end servers.
Brian Gilmartin, portfolio manager for
Trinity Asset Management
said he was pleased with Sun's positive performance after listening to the company's conference call earlier this evening. "According to their conference call, they're the Number #1 server company, taking market share away from
IBM
(IBM) - Get Report
and
Hewlett Packard
(HWP)
," said Gilmartin. "It seems as if they're trying to temper expectations because business is so strong."
Lucent
(LU)
reported first-quarter earnings of 36 cents a share, missing the 27-analyst estimate by a penny and down from the year-ago 48-cent profit. Earlier this month, the company cautioned investors that its first-quarter profits could fall as much as 25% as a result of purchasing delays and manufacturing problems, which the company expects to have resolved by the end of the second quarter. In reaction to the profit warning, analysts scaled back their consensus estimate to 37 cents a share from 54 cents.
America Online Latin America
, which has the exclusive right to offer
America Online
(AOL)
Internet services in Latin America, has filed with the
Securities and Exchange Commission
for an initial public offering. According to a preliminary prospectus, the company would offer $575 million in Class-A common stock, with
Cisneros Group of Companies
, a major shareholder, putting up another $115 million to current and former employees of Cisneros.
Salomon Smith Barney
,
Donaldson Lufkin & Jenrette
and
Lehman Brothers
are slated to serve as the deal's underwriters.
In other post-close news (earnings estimates from
First Call/Thomson Financial
; earnings reported on a diluted basis unless otherwise specified):
Mergers, acquisitions and joint ventures
Keebler Foods
(KBL)
said it has agreed to buy
Austin Quality Foods
, in a deal valued at $250 million.
Telewest Communications
(TWSTY)
said it has made a pact with Canada-based
Worldwide Fiber
to link London and Liverpool by a fiber network. The network's initial phase carries a price tag of $66 million.
Earnings/revenue reports
Airborne Frieght
(ABF)
cautioned investors that it sees fourth-quarter earnings coming in between 30 cents a share to 35 cents, falling below the 15-analyst estimate of 48 cents a share.
Clarent
(CLRN)
posted a fourth-quarter pro forma loss of 5 cents a share, narrower than the five-analyst estimate of a 10-cent loss and the year-ago 9-cent loss.
Excite@Home
(ATHM) - Get Report
posted breakeven results for the fourth quarter, in line with the 17-analyst estimate and up from the year-ago one-cent loss. Excite@Home said it had had roughly 1.2 million broadband service subscribers by the year's end. The company said it has granted president George Bell to the additional role of CEO, after Tom Jermoluk stepped down from the post earlier today. Jermoluk will remain the company's Chairman.
iManage
(IMAN)
reported fourth-quarter earnings of 3 cents a share, edging out the three-analyst breakeven estimate and the year-ago break-even report.
Iomega
(IOM)
reported fourth-quarter earnings of 8 cents a share, which includes a restructuring charge. The earnings edged out the year-ago report of 7 cents share, with the two-analyst estimate expecting the company to post fourth-quarter earnings of 4 cents. Separately, Iomega said it has tapped its president and COO Bruce Albertson to serve as CEO. Albertson replaces the company's interim CEO, David Dunn.
Michael Foods
(MIKL)
said it sees fourth-quarter earnings coming in between 62 cents a share to 64 cents a share, beating the four-analyst estimate of 58 cents a share. The company attributed the solid outlook to strong performance in its egg products and refrigerated distribution divisions.
Phoenix Tech
(PTEC)
reported first-quarter earnings of 10 cents a share, beating the single-analyst estimate of seven cents a share, and the year-ago 3 cents.
PMC-Sierra
(PMCS)
said it reported fourth-quarter earnings of 29 cents a share, edging out the 22-analyst estimate of 27 cents and up from the year-ago 14 cents. The company also said that it set a 2-for-1 stock split.
Reinsurance Group of America
(RGA) - Get Report
warned investors that it expects to post fourth-quarter earnings between 10 cents a share to 20 cents below the five-analyst estimate of 73 cents a share. The company blamed the disappointing outlook on unusually high claims levels in the last two months of the year.
Tredegar
(TG) - Get Report
posted fourth-quarter manufacturing and technology operation earnings of 39 cents a share, beating the two-analyst estimate of 36 cents a share and the year-ago 43 cents.
Offerings and stock actions
Dycom Industries
(DY) - Get Report
said it has set a 3-for-2 stock split, payable on Feb. 16 to shareholders of record Feb.2.
NTL
(NTLI)
said it set a 5-for-4 stock split, payable on Feb. 3 to shareholders of record Jan. 31.
Peregrine Systems
(PRGN)
said it set a 2-for-1 stock split.
Swift Transportation
(SWFT)
said it added 500,000 shares to its current share repurchasing program. During the fourth quarter of last year and so far this year, the company has bought back one million of its outstanding shares.
Telmex
(TMX)
said it set a 2-for-1 stock split.
Watchguard Technologies
(WGRD)
said it has filed with the
Securities and Exchange Commission
for a 3 million-share secondary offering. The company said it planned put up 1.5 million shares for sale, with its shareholders offering the remaining 1.5 million shares.
Credit Suisse First Boston
,
Dain Rauscher Wessels
,
SoundView Technology Group
and
Wit Capital
are serving as the deal's underwriters. Separately, Watchguard posted a fourth-quarter loss of 14 cents a share, narrower than the three-analyst estimate of an 18 cent-loss and year-ago 19-cent loss.
Miscellany
Network Equipment Techs.
(NWK)
said it would assume a fourth-quarter restructuring charge of $12 million for cutting its global workforce by 270 jobs, or 30%. The company said the restructuring plans, which would create a yearly savings of roughly $32 million over fiscal 2001 compared to third-quarter fiscal 2000 levels, would help it concentrate on its broadband, or high-speed Internet strategy.
For a look into this evening's after-hours trading action, please check out
TheStreet.com's
The Night Watch.
Bond Focus: Another Rally Fails
By
Elizabeth Roy
Senior Writer
1/20/00 5:36 PM ET
A morning rally gave way to an afternoon bloodletting in the bond market, where Treasury yields approached or surpassed their previous highs for the year.
Analysts blamed the reversal in the stock market, where the lows of the day coincided with the bond market's highs. Also, while oil plummeted in the last few minutes of the trading session to close down a bit, crude for February delivery on the
New York Mercantile Exchange
traded as high as $29.95, putting inflation fears into the bond market.
The benchmark 30-year Treasury bond finished down 8/32 at 92 5/32, lifting its yield 2.1 basis points to 6.740%, nearly matching its high close for the year -- of 6.750% -- on Tuesday. Shorter-maturity note yields made new high yields for the year, with the 10-year note's yield ending higher than the long bond's, at 6.786%, for the third session in a row.
The market: Join the discussion on
TSC
Message Boards.
Heavy new issuance in the intermediate sector of the yield curve, combined with diminishing supply of 30-year Treasuries, has increased the value of the bonds relative to shorter-maturity issues.
Treasuries rose out of the gate despite mixed economic news. The
Philadelphia Fed Index
was more benign than expected, falling from a revised 15.1 in December to 9.1 in January. Economists surveyed by
Reuters
had forecast a reading of 11.2, on average. On the other hand, the weekly count of
initial jobless claims
fell to 272,000 from 311,000, signaling potentially inflationary tightness in the labor market.
Finally, the
trade deficit
widened more than expected, to $26.5 billion from $25.6 billion, which will likely curb the fourth-quarter
GDP
growth rate. But the sharp acceleration in import growth, which caused the deficit to widen, is indicative of a free-spending U.S. consumer threatening to throw the economy into overdrive.
Tipping the scales for the bond market early, trading desk sources said, was an asset-allocation call by a major money-management firm. The firm recommended shifting assets from stocks into bonds, they said.
But the rally ran into trouble in the early afternoon as oil came within a hairsbreadth of the key $30-a-barrel level, and as the major stock proxies either pared their losses or moved into positive territory. Bond and stock prices have been moving in inverse lockstep lately based on the theory that rising stock prices are goosing the economic growth rate.
"There was some heavy, heavy selling in the Board of Trade that triggered it," said Gib Clark, manager of government bond trading at
Zions First National Bank
, referring to the
Chicago Board of Trade
, where Treasury futures are listed.
Not that the bond market needs an excuse to sell off these days. "A lot of days we go through mini short-covering rallies, and that's all they end up being," said Michael Pianin of
fixedincomefutures.com
. "Because the longer-term buyers are not coming in here. We haven't sustained a bid for more than 12 hours in weeks."
TO VIEW TSC'S ECONOMIC DATABANK, SEE:
http://www.thestreet.com/markets/databank/861109.html
Copyright 2000, TheStreet.com