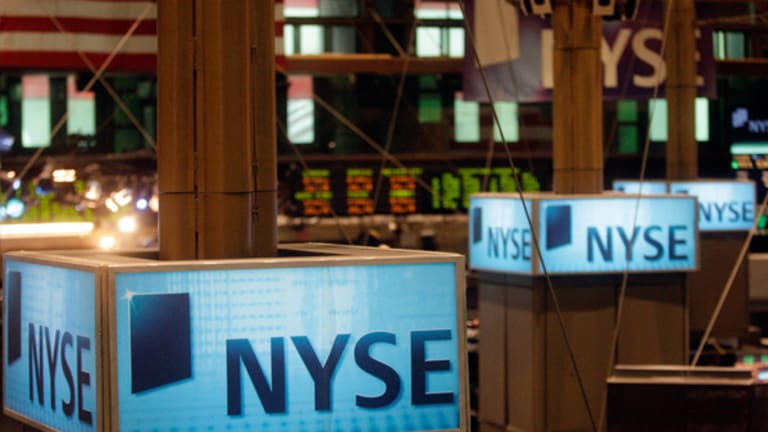 TheStreet.com's DAILY BULLETIN
January 19, 2000
http://www.thestreet.com
Market Data as of Close, 1/18/00:
o Dow Jones Industrial Average: 11,560.72 down 162.26, -1.38%
o Nasdaq Composite Index: 4,130.81 up 66.54, 1.64%
o S&P 500: 1,455.14 down 10.01, -0.68%
o TSC Internet: 1,118.22 up 9.98, 0.90%
o Russell 2000: 513.46 up 5.90, 1.16%
o 30-Year Treasury: 92 00/32 down 25/32, yield 6.742%
Companies in Today's Bulletin:
JDS Uniphase (JDSU:Nasdaq)
International Paper (IP:NYSE)
Microsoft (MSFT:Nasdaq) Manhattan Investment Fund
In Today's Bulletin:
o Networking: JDS Uniphase's Capacity Expansion Claims Another Victim
o Wrong! Tactics and Strategies: A Paper Dragon
o Evening Update: Earnings Season Launched With a Bang and Rambus Seeks to Draw First Blood
o Bond Focus: Long-Bond Yield Hits 6.75% as Oil Heats Up
Also on TheStreet.com:
Banking: Bank of America Sells Off as Skeptics Question Earnings Quality
The bank hits its earnings estimates, but some say its 2000 goals are in doubt.
http://www.thestreet.com/stocks/banking/863907.html
Brokerages/Wall Street: Failed Hedge Fund's Legal Battles Begin
The SEC and a big investor file suit against Michael Berger's Manhattan Investment Fund.
http://www.thestreet.com/stocks/brokerages/863975.html
The TaskMaster: Parts Supply Has Heavy Demand
Parts.com's spectacular market cap is hard to justify -- and so vexing to market observers.
http://www.thestreet.com/comment/taskmaster/863977.html
Tish on Tech: Matchmaker Headed Down the Aisle?
Garage.com hooks up entrepreneurs and VCs -- but could it be looking for love in the equity markets?
http://www.thestreet.com/comment/tish/863056.html
Networking: JDS Uniphase's Capacity Expansion Claims Another Victim
By
Kevin Petrie
Staff Reporter
1/18/00 8:54 PM ET
Now that it's taken its biggest bite yet out of the optical-fiber market with its $15 billion acquisition of
E-Tek
(ETEK)
, hyperacquisitive
JDS Uniphase
(JDSU)
at last looks ready to digest for a bit.
In the last year the former Uniphase has morphed from an unknown maker of components for optical-fiber networks to a genuine stock to watch, one of the
Nasdaq's
great highfliers in a highflying time. All the while the company has had one great quest: to acquire enough breadth, and enough manufacturing capacity, to serve as the supermarket to optical-fiber users. In fact, JDS Uniphase needed so dearly to accelerate output that it was willing to pay a 66% premium.
Now that it offers the requisite supermarket of components and boasts a near stranglehold on its market, JDS Uniphase has analysts and investors forecasting a pause to integrate operations and technology portfolios, while keeping an eye peeled for futuristic technologies.
Bid It Up
Ever-supportive investors heartily supported the deal Tuesday, bidding JDS Uniphase up 3 1/2 to 195 11/16 and pumping E-Tek up 42 1/2, or 31%, to 178 3/8. There appear to be few roadblocks on the way to completing the deal: Analysts say JDS Uniphase is unlikely to draw antitrust scrutiny because market forces remain strong. Its chief competitors,
Lucent
(LU)
and
Nortel
(NT)
, have chosen to farm more of their business to JDS Uniphase. If JDS Uniphase were to show monopoly power by keeping prices high, Lucent and Nortel could just retaliate by relying more heavily on their internal operations.
At the very least, this looks to be JDS Uniphase's biggest for a while. "I think that by definition the size
of deals has to go down," says equity analyst Kevin Slocum with
SoundView Technology Group
. For one, few publicly traded targets remain. If JDS Uniphase were to merge with its rival
SDL
(SDLI)
, together they might spark new antitrust worries by dominating the business of making pump lasers and modulators. Slocum says: "At this point in time, you don't want the regulators' antenna up any more than necessary."
Mike Foster, CFO of SDL, declined to comment on merger possibilities.
The Quicker Picker-Upper
Following the E-Tek deal, JDS Uniphase is finding that "very little" is missing from its portfolio of technology offerings, says Kevin Kalkhoven, CEO of JDS Uniphase. But that points to another question about a deal this big, coming on the heels of so many others: Right now, "we certainly have some work to do to absorb everything," Kalkhoven says.
Capacity expansion remains the key. By combining, Kalkhoven says, the companies are more likely to meet their goal of quadrupling capacity.
So when will investors know that the integration of
Optical Coating
(OCLI)
and E-Tek is complete?
"It's when our customers stop complaining in their conference calls that they are short of components," Kalkhoven says. He expects the same success he had with integrating Uniphase and JDS Fitel: Since closing the merger in June, the combined company has started to integrate technology offerings and maintained its sales-growth rate to more than 100% annually.
Third Empire
Still, even with all the typical caveats about integration issues, "I would not be surprised to see a third phase of acquisitions," says Slocum. He declined to name candidates, but observers point to a few: Sweden-based
Altitun
and
New Focus
in Santa Clara, Calif. Officials with both companies couldn't be reached for comment.
In March
CoreTek
in Wilmington, Mass., will introduce test versions of a so-called "tunable laser" that enables telephone and Internet carriers to adapt more quickly to changes in customer demands. JDS Uniphase "doesn't have the product we have," says Tom Dudley, vice president of marketing for CoreTek. Dudley declined to comment on speculation that CoreTek is a potential takeout candidate for JDS Uniphase.
Thanks to its frenetic acquisitions, JDS Uniphase is shopping from a position of strength. The combined operations likely will approach $2 billion in sales in 2000, according to equity analyst Charles Willhoit with
J.P. Morgan
. Researcher
RHK
estimates that segments of the optical-components industry will grow 50% annually for the next three years.
And that could mean there's a lot of buying left to be done.
Wrong! Tactics and Strategies: A Paper Dragon
By
James J. Cramer
1/18/00 6:33 PM ET
What a terrible time it is to be a non-Net, nontech company. Unless you can somehow show that you have either used a lot of tech to cut costs, or will use the Net to grow sales, you really have nothing to say.
And very few people are interested in buying your stock.
Take a trade we put on this morning, a buy of
International Paper
(IP) - Get International Paper Company (IP) Report
. We bought it because the company reported a great number, has taken out costs aggressively and is putting through price increases. In other words, International Paper is doing everything right.
After we bought it we were down a little less than a half-dollar. I found myself thinking, now what? They are not about to sign a big contract with
Ariba
(ARBA)
or partner with
Akamai
(AKAM) - Get Akamai Technologies, Inc. Report
. They don't have plans to move into fiber optics. They have no bandwidth solution of any sort. They just make paper.
What has to happen to International Paper for me to make money? Maybe I catch an upgrade from some paper-stock analyst somewhere who isn't already recommending the stock? Maybe I catch an
S&P
buy program that budges the stock upward, or I get an influx of 401(k) money that takes up all of the stocks in the index? Maybe over the next ten years it raises the dividend to where it can equal a T-bill?
Join the discussion on
TSC
Message Boards.
No one is going to take over International Paper. No one is going to take it private. No one is going to merge with it. It must battle with all of its intent and might to get people to notice how well it is doing. And even after they do, they will be worried, as I am, that no one cares.
What a strange time. International Paper has pretty much done everything right in this era and it hasn't mattered a whit. It's a bit depressing when you think about it.
I hope I don't lose money.
******
James J. Cramer is manager of a hedge fund and co-founder of TheStreet.com. At time of publication, his fund was long International Paper, Ariba and Akamai. His fund often buys and sells securities that are the subject of his columns, both before and after the columns are published, and the positions that his fund takes may change at any time. Under no circumstances does the information in this column represent a recommendation to buy or sell stocks. Cramer's writings provide insights into the dynamics of money management and are not a solicitation for transactions. While he cannot provide investment advice or recommendations, he invites you to comment on his column at
jjcletters@thestreet.com.
Evening Update: Earnings Season Launched With a Bang and Rambus Seeks to Draw First Blood
By
Tara Murphy
Staff Reporter
1/18/00 9:17 PM ET
Microsoft
(MSFT) - Get Microsoft Corporation (MSFT) Report
tonight reported strong second-quarter earnings, beating Wall Street's expectations by a nickel.
For the second quarter ended Dec. 31, the world's leading software company reported net income of $2.44 billion, or 44 cents a diluted share, on revenue of $6.11 billion. For the comparable quarter last year, the company earned $2 billion, or 36 cents a diluted share, on revenue of $5.2 billion. Excluding a charge, Microsoft earned 47 cents a share.
Shares fell slightly to 115 in after-hours trading on
Instinet
immediately after the announcement, which was made after the stock market closed. Microsoft shares had climbed 3 1/16, or 2.7%, in anticipation of the announcement.
Beating earnings expectations has become old hat for the Redmond, Wash., company, which is the world's most valuable in stock market terms. The company last week named its longtime No. 2 executive,
Steve Ballmer
, to replace founder
Bill Gates
as CEO. Gates will remain as chairman and become chief software architect, a new post.
--
Michael Brick
In an action that could affect the entire memory chip industry, embattled memory chip designer,
Rambus
(RMBS) - Get Rambus Inc. Report
went on the offensive Tuesday, by suing memory maker
Hitachi
for patent infringement. Filed in Federal District Court in Delaware, the suit seeks to stop Hitachi from making or selling a variety of its synchronous-DRAM chips. These include not only next generation double data rate DRAM, which has been seen as an alternative to Rambus, but PC100 SDRAM, which is the most common type of PC memory chip sold today.
Rambus announced the suit shortly after
Intel
(INTC) - Get Intel Corporation (INTC) Report
announced it had joined with memory makers
Hyundai Electronics
,
Infineon Technologies
,
Micron Technology
(MU) - Get Micron Technology, Inc. (MU) Report
,
NEC
and
Samsung
in a new consortium to develop advanced memory technology, which may not include Rambus in future designs.
The news pulled shares of Rambus down 7% Tuesday to close at 83 5/16. Rambus has become a cult stock among both individual investors and short sellers: Of the 23.80 million shares of Rambus outstanding, 37% are shorted -- that's 48% of the company's 18.60 million share float.
Chip analyst Seth Dickson of
Warburg Dillon Read
predicts that investors will applaud Rambus's aggressive action. "There will be more short covering than long buying, because it¿s an offensive on the part of Rambus and says that clearly they have legitimate technology that is being used today." (Dillon Read is not an underwriter of Rambus.)
Avo Kanadjian, vice president of worldwide marketing for Rambus, says his company is currently negotiating with other memory makers over infringement issues, although he declined to name names. It decided to sue Hitachi only after that company broke off negotiations. He says Rambus expects to reach amicable settlements with all the companies.
Rambus CEO Geoff Tate first acknowledged that alternative SDRAM technology might infringe Rambus patents during an
interview with
TSC
in August. "Every Rambus DRAM is basically a double-data-rate part," he said at the time. "We transfer data on both edges of the clock and we were the first to do so."
But industry watchers laughed at the notion. Rambus doesn't manufacture or sell its own products, but depends on memory makers adopting its designs and paying royalties for it. Kanadjian says Rambus has no choice. "We carefully evaluated our options but at the end of the day Rambus is in the
intellectual property business and we have to protect our IP," he says.
Spokespersons for Hitachi and Micron would not comment for this story.
--
Marcy Burstiner
In other post-close news (earnings estimates from
First Call/Thomson Financial
; earnings reported on a diluted basis unless otherwise specified):
Mergers, acquisitions and joint ventures
Harrah's Entertainment
(HET)
said that one of its divisions entered a preliminary agreement with a California Indian tribe to develop and run a $100 million casino and hotel in the San Diego area. According to Harrah's, the deal with the
Rincon San Luiseno Band of Mission Indians
is the first between a California Indian tribe and a gaming company. The deal is pending voter approval for
California Proposition 1A
, which would permit Indians to run slot machines, card games and possible satellite betting on horse races at casinos on tribal lands.
ViaSat
(VSAT) - Get ViaSat, Inc. Report
said it has agreed to acquire
Scientific Atlanta's
(SFA)
satellite networking unit, in a deal valued at $75 million. ViaSat said the purchase would immediately add to its earnings and expects it to more than double its revenues. With the acquisition, ViaSat said it would receive Scientific Atlanta's satellite network operations center and product lines related to satellite network gateways, telephony and data and space aging.
Earnings/revenue reports and previews
AvalonBay
(AVB) - Get AvalonBay Communities, Inc. Report
posted funds from operations of 87 cents a share, in line with the 15-analyst estimate and up from the year-ago 75 cents.
Broadcom
undefined
posted fourth-quarter earnings of 31 cents a share, beating the 17-analyst estimate of 27 cents and the year-ago 7 cents. The company also set a 2-for-1 stock split on or about Feb. 11.
Juniper Networks
(JNPR) - Get Juniper Networks, Inc. (JNPR) Report
posted fourth-quarter pro forma net income of 3 cents a share, ahead of the 12-analyst estimate of earnings of a penny a share and ahead of the year-ago pro forma loss of a penny.
Rent-Way
(RWY)
posted first-quarter earnings of 44 cents, a penny ahead of the eight-analyst estimate and up from the year-ago loss of 48 cents.
Sanmina
(SANM) - Get Sanmina-SCI Corporation Report
reported first-quarter earnings of 58 cents a share, beating the 18-analyst estimate of 56 cents a share and up from the year-ago 45 cents. Separately, Sanmina said it set a 2-for-1 stock split payable about Feb.22 to shareholders of record Feb 1.
Silicon Graphics
(SGI)
said it expects to post second-quarter results, "just short of breakeven." The 13-analyst estimate has the company pegged to post a second-quarter loss of 11 cents a share.
Sunrise Medical
(SMD)
reported second-quarter earnings of 5 cents a share, missing the three-analyst estimate of 9 cents and down from the year-ago 8 cents. Separately, the company said it tapped Michael Hammes as it new president and CEO. Hammes would replace interim CEO Murray Hutchinson, who will remain Chairman.
uBid
(UBID)
posted a fourth-quarter loss of 93 cents a share, narrower than the four-analyst estimated loss of 99 cents but wider than the year-ago 92-cent loss.
Offerings and stock actions
Corecomm
(COMM) - Get CommScope Holding Co., Inc. Report
said it set a 3-for-2 stock split.
Analyst actions
Soundview
rolled out coverage of
USInternetworking
(USIX)
with a strong buy rating.
PaineWebber
upped its rating on
Triton
(OIL) - Get iPath Series B S&P GSCI Crude Oil ETN Report
to buy from attractive.
For a look into this evening's after-hours trading action, please check out
TheStreet.com's
The Night Watch.
Bond Focus: Long-Bond Yield Hits 6.75% as Oil Heats Up
By
Elizabeth Roy
Senior Writer
1/18/00 5:16 PM ET
Treasury yields climbed to new two-and-a-half-year highs today. There was no single, strong catalyst, just a depressing melange of rising European bond yields, rising oil and commodity prices, and the knowledge that the
Fed
is likely to hike interest rates at least a couple of times in the months ahead.
The benchmark 30-year Treasury bond finished the day down 22/32 at 92 2/32, lifting its yield 5.8 basis points to 6.748%, a level it hasn't closed above since June 1997. Shorter-maturity note yields rose by similar amounts, with the 10-year note actually closing at a higher yield than the long bond (6.762%) for the first time since June 1990.
The market: Join the discussion on
TSC
Message Boards.
There were no major economic releases on the calendar, just the
Housing Market Index
, which dropped to 71 in January from 72 in December. It peaked in November 1998 at 78. Rising interest rates have stalled all measures of housing-sector performance.
More influential, obviously, were big selloffs in the European bond markets overnight, which lifted yields on most 10-year benchmarks by about 10 basis points. That forces Treasury yields higher because investors shift out of Treasuries and into the discounted European issues.
Also, oil prices rose sharply, threatening higher inflation more broadly and giving a big boost to a key commodity price index. Crude oil for February delivery, the benchmark, traded as high as $29 a barrel on the
New York Mercantile Exchange
before ending up $0.83 at $28.85. Cold weather in the Northeast and expectations that
OPEC
will prolong production cuts implemented last year are behind the latest move up, which started last week.
Oil helped propel the
Bridge Commodity Research Bureau Index
to its highest close since October, 209.30, another possible harbinger of higher inflation generally. (Rising grain prices have also contributed strongly to the CRB's sharp rise in the last week.)
Nothing really changed on the Fed front today: Bond traders and investors remain convinced that the Fed will hike rates at least once and probably twice in the next several months, and they are eagerly awaiting the statement that comes out of its Feb. 1-2 meeting for an indication of what the monetary policymakers are thinking.
Even so, that dynamic -- the expectation of an uncertain number of interest-rate hikes -- explains today's action as much as anything does, market watchers say. It's that dynamic that is responsible for the fact that no one wants to buy bonds, and it's the fact that no one wants to buy bonds that makes the market sag when faced with even a small amount of selling pressure, as was the case today.
Or as Kevin Logan, senior market economist at
Dresdner Kleinwort Benson
, puts it, "It doesn't take much in the way of selling to push the market lower when there's nobody to take the other side."
The bond market might see little rallies here and there, as people either "buy the dip for a trade," or put small amounts of cash to work. But as long as everyone is still waiting for the Fed to take action -- and for consumer spending to slow, confirming that higher interest rates are making a difference to the economy -- "it's hard to be an aggressive buyer of bonds," Logan said.
TO VIEW TSC'S ECONOMIC DATABANK, SEE:
http://www.thestreet.com/markets/databank/861109.html
Copyright 2000, TheStreet.com