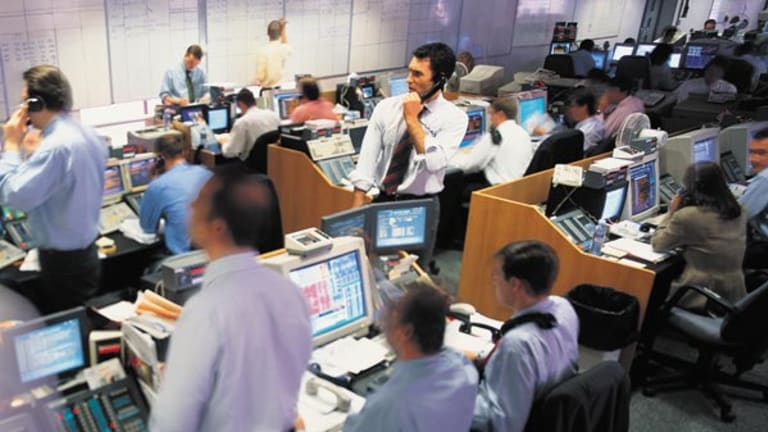 TheStreet.com's DAILY BULLETIN
January 18, 2000
http://www.thestreet.com
Market Data as of Close, 1/17/00:
Companies in Today's Bulletin:
AOL (AOL:NYSE)
Manhattan Investment
Vodafone AirTouch (VOD:NYSE ADR)
Mannesmann (MNNSY:Nasdaq ADR)
In Today's Bulletin:
o Editor's Letter: The Coming Week on TSC
o Wrong! Rear Echelon Revelations: AOL Had Many Reasons to Win
o Market Update: Markets Surge, Drug Firms Unite in Busy Overseas Action
o Tish on Tech: AOL Saves AT&T's Butt
Also on TheStreet.com:
Marc Chandler: Global Briefing: Central Bankers, the Real Class Warriors
Wage pressure will most likely be cited as institutions raise interest rates. But wages aren't the issue.
http://www.thestreet.com/comment/currency/862444.html
Market Features: Health Care Sector Looks Immune to Rate Hike
With growing sentiment that the Fed will tighten policy, investors may want to check out this group.
http://www.thestreet.com/markets/marketfeatures/862711.html
Brokerages/Wall Street: 'Short' Fuse Blows Up $500 Million Hedge Fund
Manhattan Investment Fund manager Michael Berger admits that the fund misstated its returns and assets.
http://www.thestreet.com/stocks/brokerages/862964.html
Telecom: Bells of the Ball: SBC, BellSouth Mulling Wireless Tracking Stocks
The staid telcos look to cash in on a hot sector before investor enthusiasm dries up.
http://www.thestreet.com/tech/telecom/862133.html
Editor's Letter: The Coming Week on
TSC
By
Dave Kansas
Editor-in-Chief
1/16/00 5:20 PM ET
Every morning, many of you wake up wondering what the market has to offer. Before you toss the covers and contemplate the day's events, we're already hard at work, sifting through significant information on your behalf.
During the hours before the market opens at 9:30 a.m. EST, we're analyzing all kinds of action. Many of you may have already noticed our Before the Bell package. That package, replete with analysis of early-morning trading, premarket economic reports and news from overseas, provides everything you need to get ready for the trading day.
Before the Bell also includes important stories on events of the day. For instance, last Monday we provided several stories and columns on the
AOL
(AOL)
-
Time Warner
(TWX)
deal before trading began. This is the kind of news and analysis that you should expect from
TheStreet.com:
a healthy dollop of stories on the morning's events, plus the analysis that helps you understand exactly what the news means.
In the coming weeks we'll be improving our Before the Bell coverage, including expanding our coverage of global markets. If you've got input on how we can make it better, don't hesitate to email me at
dkansas@thestreet.com.
For those who missed this past weekend's television show on
Fox News Channel
, I encourage you to view it on our
TV page.
Vanguard
visionary Jack Bogle and Peter Canelo of
Morgan Stanley Dean Witter
provided viewers with valuable information on how to approach the coming weeks of trading. It was one of our strongest shows to date. Next week, look for special guests Max Ansbacher, president of
Ansbacher Investment Management
, and Philip Orlando, chief investment officer of
Value Line Asset Management
.
So, get ready for another exciting week on
TheStreet.com
-- where premarket coverage will be stronger than ever!
L'Etoile du Nord
Dave Kansas
Editor-in-Chief
*******
Dave Kansas is editor-in-chief of TheStreet.com. In keeping with TSC's editorial policy, he doesn't own or short individual stocks, though he owns stock in TheStreet.com. He also doesn't invest in hedge funds or other private investment partnerships. He welcomes your feedback at
dkansas@thestreet.com.
Wrong! Rear Echelon Revelations: AOL Had Many Reasons to Win
By
James J. Cramer
1/17/00 12:04 PM ET
Maybe because we all sign onto
AOL
(AOL)
instant messaging in the morning. Maybe because if I haven't signed on,
Jeff Berkowitz
screams at me to do so. By 6:35 a.m.
Maybe because our primary Internet service provider periodically goes out. Maybe because we all need home addresses. Maybe because we all started with it and never left it, because we could tell our folks and our kids how to use it so easily. Maybe because, like everything else they did, the Bell operating companies should have won, but blew it.
Cramer's Latest: Join the discussion on
TSC
message boards.
Maybe because the print guys who should have beaten AOL were really noncomputer guys, or phone guys, or glamour guys, or
Nobu
guys who thought it was more important to be seen at the
Four Seasons
than be seen at their personal computers.
Maybe because the bull market allowed them to. Maybe because they bothered to make a profit when everyone else was coining eyeballs. Maybe because they were always deeper than just
Steve Case
. Maybe because they had
Bob Pittman
and they had
Barry Schuler
. Maybe because they had depth and bench, because they had financial expertise.
I don't know why America Online won. Some, or all, of those things, perhaps. But AOL became a part of the M.O., and it isn't going away. It needed dominant music and news and entertainment content to complete its computer dominance.
And
Time Warner
(TWX)
gives them that. In spades.
That I see this makes me go long. I don't care about growth rates or arbitrage pressure. I don't have time to assess those negatives. They get in the way of good longs all of the time. They are the stuff that always blinds you from seeing the concept, from buying the winning concept. They are the stuff that will make these now naysaying analysts go from hold to buy for the next two years, each time taking the combination higher.
Sure, a fast growth rate and a slow growth rate equal a less-than-fast growth rate. But how much does dominance cost these days? Two hundred billion? Four hundred billion? How many mergers make
Disney
(DIS) - Get Walt Disney Company Report
look tiny and silly and left behind?
How many mergers make you think that
GE
(GE) - Get General Electric Company (GE) Report
is now just another player, or that
CBS
(CBS) - Get CBS Corporation Class B Report
could be left back again?
Or that newspapers are some quaint items from yesteryear, getting delivered like diapers and milk? Or that
Justice
should now get off Mister Softee's back?
And just in case everybody else figured out that they didn't want to pay AOL any more to take content, that they were going to do it themselves, AOL can now say, "We don't care. We have the best music and entertainment anyway. We have
The Sopranos
and we have
Isaacson
. We have that Man of the Year stuff and we have
Nocera
and
Huey
and
Pearlstine
and Parsons and the best business journalism and the round-the-world news thing. We own it all. And they aren't going anywhere 'cause they don't mind making some money, either."
So, analysts and bears and backwoods folk, make AOL cheaper for me. Take it down, reduce it to some price that allows us to get longer. Makes no matter to me. When people speak of core positions in our business, they speak in unison of GE and
Microsoft
(MSFT) - Get Microsoft Corporation (MSFT) Report
and maybe a
Wal-Mart
(WMT) - Get Walmart Inc. Report
or
American Express
(AXP) - Get American Express Company Report
.
Soon they will speak of AOL. But not yet, please. Let me get my full position in. We want to make money from it, too.
******
James J. Cramer is manager of a hedge fund and co-founder of TheStreet.com. At time of the original publication, his fund was long America Online, General Electric and Microsoft. His fund often buys and sells securities that are the subject of his columns, both before and after the columns are published, and the positions that his fund takes may change at any time. Under no circumstances does the information in this column represent a recommendation to buy or sell stocks. Cramer's writings provide insights into the dynamics of money management and are not a solicitation for transactions. While he cannot provide investment advice or recommendations, he invites you to comment on his column at
jjcletters@thestreet.com.
Market Update: Markets Surge, Drug Firms Unite in Busy Overseas Action
By
Brian Louis
Staff Reporter
1/17/00 7:20 PM ET
While stock markets here were closed in observance of
Martin Luther King Jr. Day
, traders and investors around the globe were buying stock and reacting to the as-expected news of a mammoth drug deal.
Meanwhile, today
Motorola
(MOT)
posted fourth-quarter earnings of 82 cents a share, excluding special items, a penny ahead of the
First Call/Thomson Financial
29-analyst estimate and up sharply from the year-ago 26 cents. Excluding special items, fourth-quarter earnings came in at $514 million, compared to the year-ago $159 million.
As for the aforementioned drug deal,
Glaxo Wellcome
(GLX)
and
SmithKline Beecham
(SBH) - Get Sally Beauty Holdings, Inc. Report
made it official: Glaxo is buying SmithKline for $76 billion. The new company will be called
Glaxo SmithKline
, with combined sales of $24.9 billion and a projected 7.3% share of the global pharmaceutical market, the companies said. Glaxo SmithKline will have its corporate headquarters in London with operational headquarters in a new location in the U.S. Glaxo SmithKline expects its shares will be listed on the London and New York stock exchanges.
The companies on Friday confirmed they were in merger talks.
As for foreign markets, from Europe to Asia to North America, stocks enjoyed solid gains.
In Europe, Frankfurt's
Xetra Dax
rose 85.68, or 1.2%, to 7258.90. Elsewhere, London's
FTSE
gained 11.3, or 0.2%, to 6669.5, while the Paris
CAC
surged 55.34, or 1%, to 5842.78.
In Asia, the
Nikkei 225
index soared 480.68, or 2.5%, to 19,437.23. Meanwhile, in Hong Kong, traders were less enthusiastic, with the
Hang Seng
index closing up 32.23 to 15,574.56. For a complete summary of the action in Asia, check out the
Asian Markets Update.
In Toronto, Canada's
TSE 300
hopped 121.81, or 1.5%, to 8479.27.
In other corporate news today,
Tyco International
(TYC)
said its undersea fiber-optics business is going to design, build and operate its own undersea network. Tyco said that
Tyco Submarine Systems
, a Tyco subsidiary, has already begun the implementation of the first phase of the network's construction. Tyco plans to offer up to 20% of its undersea fiber-optics cable business for sale in an IPO, with plans for the offering by midyear, subject to market conditions. Tyco expects a registration statement will be filed with the
Securities and Exchange Commission
in the first quarter of 2000.
Elsewhere,
Parker Hannifin
(PH) - Get Parker-Hannifin Corporation Report
is buying
Commercial Intertech
(TEC)
for $366 million in cash and stock.
Siemens
of Germany is buying
Moore Products
(MORP)
for $170 million in cash.
Some investors and analysts think
Coca-Cola
(KO) - Get Coca-Cola Company Report
should lower its annual growth targets of 7% to 8% in volumes and 15% to 20% for earnings, the Heard on the Street column in
The Wall Street Journal
said.
FDX
(FDX) - Get FedEx Corporation Report
plans to unify its fragmented sales and marketing force instead of the separate teams that now sell FDX's
RPS
and
FedEx
delivery services, the
Journal
reported.
In
Barron's
this weekend, the publication rolled out the first part of its Roundtable feature. Archie MacAllaster, chairman of
MacAllaster Pitfield MacKay
, offered up the following stock picks:
Albertson's
(ABS)
,
MONY Group
(MNY)
,
Manulife Financial
(MFC) - Get Manulife Financial Corporation Report
,
Summit Bancorp
(SUB) - Get iShares Short-Term National Muni Bond ETF Report
,
M&T Bank
(MTB) - Get M&T Bank Corporation (MTB) Report
,
Safeco
(SAFC)
,
Frontier Oil
(FTO)
,
Old Republic International
(ORI) - Get Old Republic International Corporation Report
,
ReliaStar Financial
(RLR)
,
Harleysville Group
(HGIC)
,
National City
(NCC)
and
Partner Re
(PRE)
.
Elsewhere in the publication,
DoubleClick
(DCLK)
is the subject of a mostly favorable article.
ABN AMRO
(ABN)
is also the subject of a piece in
Barron's
, in which the article said the bank's shares have suffered lately from market uncertainties over its strategic direction.
Tish on Tech: AOL Saves AT&T's Butt
By
Tish Williams
Senior Writer
1/17/00 9:00 AM ET
Michael Armstrong
is one ecstatic schoolboy.
Oh sure, everyone is expecting him to be mad. All the years he's chased
AOL
(AOL)
around with a bouquet of withered dandelions have gone to waste. A tug on AOL's ponytails, tripping her up on the playground -- he gave the Internet starlet every reason to believe that
AT&T
was a manly suitor.
So AT&T denied AOL access to the cable infrastructure? Armstrong was simply giving AOL the Calvin and Susie treatment, giving her an affectionate schoolyard shove. What's a threat to customer-base expansion among grade-school sweethearts? AOL didn't have to get all huffy and tattle to her
FCC
friends.
Oddly enough, when Armstrong got the call Monday from
Steve Case
and
Gerald Levin
-- minutes before his beloved AOL posed locked in a warm embrace with a goofy-toothed
Time Warner
(TWX)
-- he felt uplifted. He was even happy. Forget about punching holes in the walls of his corner office.
AOL saved AT&T's fanny.
Smiling, perfect little AOL is an Internet company that just chose to "go around" with a cable and entertainment company. A cable company? Those geeks?! AT&T's been taking heat all fall for doing the same thing -- joining the ranks of the coaxial cable chess clubbers.
Armstrong got called nasty names when he picked cable's head dork
TCI
out of the crowd back in 1998 for $52 billion. Egged on by TCI's infamous founder and still AT&T board member John Malone, Armstrong was willing to take a chance on a less-than-cool best friend to get connected to 18 million homes.
But then when the cool kids caught him hanging out with
MediaOne
(UMG)
after school trading Pokemon cards, he got a Wall Street bruising. He had a nationwide brand to uphold. Why sink all his money and time into an outdated network in need of serious upgrade and repair?
Jerkface, broadband is still a few years away. You'll be "emeritus" by then, man.
Plucky Internet-service-providing rivals converged on Washington to demand entry into AT&T's cable network. AT&T was looking like a jerk, as local governments kicked it in the shins. Someone threw Armstrong's bike in a tree.
He needed to spend time on his homework, not on fighting in the playground. Armstrong was barely passing his universal telephone plan classes. And he was close to an "F" in Internet strategy -- his unoriginal "they'll have to pay my toll" strategy was a clear rip-off of the Baby Bells' defense against long-distance telephone carriers. Administrators slapped him with quiet time after school.
He didn't need this crap.
Armstrong was already poised to kick some Garanimal separates when the stock market pushed AT&T into a fall 1999 face plant. Then former TCI president and AT&T Broadband & Internet Services CEO
Leo Hindery
refused to be his best friend any longer and left to head up
Global Crossing's
(GBLX)
GlobalCenter Internet services arm. More cable executive brush-offs ensued.
Our petulant hero needed a break. He prayed for a sign that his ballsy M&A plays hadn't been for naught. He wanted his mommy and needed an uptick.
Out of the blue, AOL walked up and swept away Time Warner. When life was at its darkest, AT&T got a Wall Street reprieve. For the time being, the stock market has bigger Sweet Tarts than AT&T to chew. Can AOL stay Internet-time perky if it's pulling a hefty cable and content sweetheart behind it on a Red Flyer wagon? And how long before another Internet cutie picks one of the remaining independent cable guys to go steady?
AT&T scores on both accounts. If AOL can't keep up with Internet time, all the better for AT&T's aspirations. And if Wall Street learns to respect the talents of cable geeks even more, it'll stop stealing AT&T's lunch money. In the fall of 1999, AT&T sank into the low 40s. By Thursday's close, it had already perked up to 53 3/8.
Instead of wallowing in self-pity, Mike Armstrong is on top of the world. Its fickle love, AOL, gave it that final satisfaction.
*****
Tish Williams' column takes at look at the people who make Silicon Valley tick. In keeping with TSC's editorial policy, she doesn't own or short individual stocks, although she does own stock options in TheStreet.com. She also doesn't invest in hedge funds or other private investment partnerships. She waits breathlessly for your feedback at
twilliams@thestreet.com.
TO VIEW TSC'S ECONOMIC DATABANK, SEE:
http://www.thestreet.com/markets/databank/855707.html
Copyright 2000, TheStreet.com