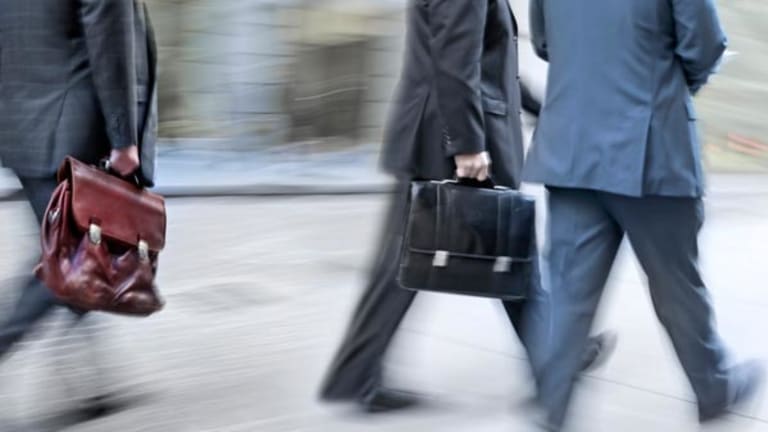 TheStreet.com's DAILY BULLETIN
January 13, 2000
http://www.thestreet.com
Market Data as of Close, 1/12/00:
o Dow Jones Industrial Average: 11,551.10 up 40.02, 0.35%
o Nasdaq Composite Index: 3,850.02 down 71.17, -1.82%
o S&P 500: 1,432.25 down 6.31, -0.44%
o TSC Internet: 1,031.57 down 63.12, -5.77%
o Russell 2000: 490.04 down 2.57, -0.52%
o 30-Year Treasury: 92 16/32 down 13/32, yield 6.701%
Companies in Today's Bulletin:Merck (MRK:NYSE)
SciQuest.com (SQST:Nasdaq)
Applied Materials (AMAT:Nasdaq)
Etec Systems (ETEC:Nasdaq)
Yahoo! (YHOO:Nasdaq)
In Today's Bulletin:
o Internet: Merck Deal Boosts SciQuest's Revenue and Reputation
o Wrong! Rear Echelon Revelations: Parting With Nasdaq Is Sweet, and the Sorrow Is Negligible
o Evening Update: Etec Systems Soars After Hours as Applied Materials Takes It Over
o Bond Focus: Supply-Burdened Treasuries Fall, Pushing Yields to 30-Month Highs
"TheStreet.com" on
Fox News Channel
For 50 years,
Vanguard's
Jack Bogle
has been a hero to everyone tired of being ripped off by Wall Street. He's the father of the low-cost, no-load index mutual fund, and he's our very special guest for "Word on TheStreet" this week.
Plus,
Peter Canelo
of
Morgan Stanley
joins us with his stock picks, and Gary B. Smith and Adam Lashinsky look to see if you can spot a takeover about to happen. And, as usual, predictions you can't afford to miss.
"TheStreet.com" on
Fox News Channel
airs Saturdays at 10 a.m. and 6 p.m. ET and Sundays at 10 a.m. ET. FNC is Fox's 24-hour cable news channel. To find
Fox News Channel
in your area, call your local cable operator or see our "TSC on Fox TV" page at http://www.thestreet.com/tv.
Also on TheStreet.com:
Asia/Pacific: The Silicon Tiger
An Internet economy has emerged from South Korea's economic crisis.
http://www.thestreet.com/int/asia/860290.html
Telecom: FCC Cancels NextWave's Wireless Telephone Licenses
Opens the process to other firms to bid.
http://www.thestreet.com/brknews/telecom/860468.html
The Night Watch: Drugmakers Isis, ImmuLogic Trade on Heavy Volume
http://www.thestreet.com/markets/nightwatch/860488.html
Trade Winds: Hackers, Beware: 2000 Could Be the Year of Internet Regulation
If it's done right, though, regulation could encourage cybergrowth, Kurapka says.
http://www.thestreet.com/int/tradewinds/860310.html
Internet: Merck Deal Boosts SciQuest's Revenue and Reputation
By
Suzanne Galante
Staff Reporter
1/12/00 9:35 PM ETSAN FRANCISCO -- Business-to-business firm
SciQuest.com
(SQST)
will unveil Thursday a heavy-duty contract with pharmaceutical giant
Merck
(MRK) - Get Merck & Company Inc. Report
that, together with a deal with
Dow Chemical
announced last month, could boost SciQuest's revenue to $5 million in the March quarter, analysts say.
That would be four times the revenue SciQuest posted in the September quarter, the most recently reported data. The company will release its fourth-quarter 1999 results during the week of Jan. 31.
B2B start-ups have been racing to sign up big customers before competitors move in.
Commerce One
(CMRC)
really came of age in the eyes of many investors when it announced a deal in November with
General Motors
(GM) - Get General Motors Company Report
. Since it announced that deal, Commerce One's stock has risen about 125%.
SciQuest.com, which runs an Internet-based marketplace for science-related products used by pharmaceutical, biotech, chemical and educational groups, has signed a three-year agreement with its own blue-chip, Merck. SciQuest.com will build a secure Web site where Merck can do business with suppliers. As part of the arrangement, Merck has agreed to undisclosed minimum-order goals.
On Dec. 20, SciQuest.com signed up Dow Chemical for a multiyear agreement. In the days following that announcement, the stock rose nearly 80% while the
Nasdaq
rose 6%. The company is also working to sign up
DuPont's
(DD) - Get DuPont de Nemours Inc. Report
pharmaceutical unit.
Mark Gulley, a specialty chemical analyst at
Banc of America Securities
, expects the deals to boost revenue to $5 million in the first quarter of 2000 and to $50 million for the full year. Losses are expected to be $10 million in the first quarter and $50 million for the year. In the September quarter, the company reported revenue of $1.2 million. By comparison,
Chemdex
(CMDX)
, its main competitor, reported $8.5 million in revenue for the same period. Gulley rates SciQuest.com a buy, and his firm has no underwriting relationship with it.
This isn't a winner-take-all space; two companies will likely be successful. But it does "pre-empt a third player from getting in, and establishes a horse race," says Gulley. "It establishes them as one of the two that will be successful."
Including Merck, the company has contracts with 50 customers. That's up 230% from 15 customers at the end of the third quarter.
The company derives its e-commerce revenue from auctions and transactions, advertising and information services such as data mining. About 97% of its revenue is based on transactions. It costs Merck little to use the service. But SciQuest makes money from Merck's suppliers; margins on those transactions range from the high single digits to low double digits, says Jim Scheuer, the company's CFO. Scheuer estimates that Merck spends $50 million to $100 million annually on lab supplies, and SciQuest has the potential to be in the middle of about two-thirds of that spending.
"This will have a significant impact on our business," says Scott Andrews, SciQuest's co-founder and CEO. "This is one of the most far-reaching agreements we have."
Wrong! Rear Echelon Revelations: Parting With Nasdaq Is Sweet, and the Sorrow Is Negligible
By
James J. Cramer
1/12/00 7:34 PM ET
We don't want to say goodbye to the
Nasdaq
, we just want the less exposure to the stocks that swing 25 points in a heartbeat. Why the change in focus, given that most of the exciting growth companies are located on Nasdaq?
For one, many of the great growth companies are exploited. When we were trading
Brocade
(BRCD)
this week we realized that almost everyone we know already owned it. That's not early, that's late. It is still a great story, but we can't fool ourselves into believing that we are first on the Brocade case.
Cramer's Latest: Join the discussion on
TSC
message boards.
Secondly, the liquidity has so dried up that we are making more enemies than friends when we go to buy these stocks. We have been spoiled by years of excellent market-making. We now find ourselves in Nasdaq hell every time we try to buy or sell ten thousand shares.
But most important, the risk/reward has swung back radically to the
New York Stock Exchange
. A month ago I wrote about wanting to be long the stocks that trade in 15 point moves and be short the ones that trade in quarter-point increments. Of course, I was being a little glib, but that was the kind of analysis that my trading positions seem to have in common. The rationale was that the stocks that swing 15 points tend to go up 15 points. But stocks that trade in quarter points tend to go down 15 points.
It wasn't always like that. In fact, we have historically run a pretty balanced portfolio at
Cramer Berkowitz & Co.
But an event happened in October of last year that colored all of our thinking. I had pretty much forgotten about it until I started doing work on whether
Unisys
(UIS) - Get Unisys Corporation Report
is a buy. (I haven't made up my mind yet.) I hit up the chart of Unisys over a 52-week period and saw that mammoth break in the name. Here is a stock that traded in the proverbial quarter-point increments that suddenly got cut in half. It had a price-to-earnings multiple and conservative management.
CRITICAL SPLIT
A STUDY IN RISK/REWARD RELATIONSHIPS
I remember talking with Matt "The Quiet Man" Jacobs after this event saying, "heck, if the risk of a collapse is the same in a B2B as a Unisys, who needs Unisys?" In other words, if NDX stocks go up 15 points and UIS goes down 15 points in a day, why not be much heavier into the NDX?
If you take a look at the amazing overlay provided between UIS and the NDX, I think you will conclude that others made that judgment around then too. The divergence starting from when Unisys crapped out is amazing. That's truly when the NDX took off.
But now that gravity is no longer being ignored in NDX-land, I find myself thinking, if they can take them up 30 and down 30, or maybe even 40, I would rather go back to the quarter-point runners. Maybe I can eke out some points going with slower stuff. At least until the fluff is taken out of the NDX.
Once again, like when we made the switch to the NDX, others are probably drawing the exact same conclusion simultaneously. We know that happens in the group-think Hedge Fund world. So, I don't know how long this new pattern will hold up. I do know, however, that the pain has lessened dramatically and I don't feel any of the pleasure diminished. Hmmmm, I guess that's another way of saying I like the risk/reward of the quarter-pointers here.
*********
James J. Cramer is manager of a hedge fund and co-founder of TheStreet.com. At time of publication, his fund was long Brocade. His fund often buys and sells securities that are the subject of his columns, both before and after the columns are published, and the positions that his fund takes may change at any time. Under no circumstances does the information in this column represent a recommendation to buy or sell stocks. Cramer's writings provide insights into the dynamics of money management and are not a solicitation for transactions. While he cannot provide investment advice or recommendations, he invites you to comment on his column at
jjcletters@thestreet.com.
Evening Update: Etec Systems Soars After Hours as Applied Materials Takes It Over
By
Eileen Kinsella
Staff Reporter
1/12/00 7:53 PM ET
Applied Materials
(AMAT) - Get Applied Materials Inc. Report
said it would acquire
Etec Systems
(ETEC)
in a stock swap worth $1.77 billion based on the companies' value at the close of trading Wednesday.
In an announcement after the markets closed, the Santa Clara, Calif., supplier of semiconductor parts and services said it would exchange 0.649 of a share for each Etec share.
Etec makes laser systems that produce masks used to print circuit patterns onto semiconductor wafers. The company is based in Hayward, Calif.
After the announcement, shares of Applied Materials fell 2 1/16 to 125, while shares of Etec gained more than 25 to 75 1/2, according to
Instinet
. Etec lately was trading at 76 on
Island
, with Applied Materials last traded at 124.
--
Michael Brick
Wells Fargo
(WFC) - Get Wells Fargo & Company Report
said it signed a definitive merger agreement with
National Bancorp of Alaska
(NBAK)
, Alaska's largest bank, for a stock deal worth about $907 million. Under the deal, National Bancorp of Alaska shareholders will receive $30 a share worth of Wells Fargo stock. The companies announced their intent to merge three weeks ago.
In other postclose news (
earnings estimates from First Call/Thomson Financial; earnings reported on a diluted basis unless otherwise specified
):
Earnings/revenue reports and previews
Carnival
(CCL) - Get Carnival Corporation Report
said its first-quarter earnings would slip by 1 cent to 2 cents a share after a fire aboard the cruise ship Celebration that kept the vessel adrift for several hours but left passengers unhurt. The current 17-analyst estimate calls for earnings of 31 cents.
LTC Properties
(LTC) - Get LTC Properties Inc. Report
said it sees fourth-quarter funds from operations at about 34 cents a share, below the five-analyst estimate of 42 cents a share. LTC said it sees first-quarter FFO between 41 cents and 43 cents, in line with the five-analyst estimate, also for 42 cents.
Network Equipment Technologies
(NWK)
posted a third-quarter loss of 31 cents, wider than the two-analyst estimate of an 18-cent loss and wider than the year-ago loss of 4 cents.
Rational Software
(RATL)
reported third-quarter earnings of 27 cents a share, beating the 10-analyst estimate of 24 cents and the year-ago 20 cents.
SilverStream Software
(SSSW)
said it expects a fourth-quarter loss of 34 cents to 37 cents a share before one-time charges. The five-analyst estimate is for a loss of 35 cents.
Walter Industries
(WLT)
posted second-quarter earnings of 22 cents, in line with the four-analyst estimate, but lower than the year-ago earnings of 25 cents excluding items.
Miscellany
American Home Products
(AHP)
said CFO Robert Blount will retire next month for personal reasons, unrelated to the company's planned merger with fellow New Jersey drugmaker
Warner-Lambert
(WLA)
. Blount will be succeeded by Kenneth Martin, currently senior vice president and CFO of the company's
Wyeth-Ayerst
pharmaceuticals unit.
barnesandnoble.com
(BNBN)
said CEO Jonathan Bulkeley has resigned to focus on his personal investments. The company, which is 40% owned by
Barnes & Noble
(BKS) - Get Barnes & Noble, Inc. Report
, said it would name a new CEO shortly. Steve Riggio, Barnes & Noble's vice chairman, will replace Bulkeley as both vice chairman and acting CEO for the online site, effective immediately. Bulkeley decided to leave the company to take charge of his investment in
QXL
, a European Internet auction business.
TheStreet.com/NYTimes.com
joint newsroom covered the departure in a
story tonight.
Bond Focus: Supply-Burdened Treasuries Fall, Pushing Yields to 30-Month Highs
By
David A. Gaffen
Staff Reporter
1/12/00 4:50 PM ET
Today turned out not to be so
pretty after all.
The Treasury market collapsed under the weight of supply in the afternoon, after fighting its way back to the unchanged level in the late morning. With investors making room for billion-dollar Treasury, agency and corporate issues, and with inflation worries looming over the entire market, buyers cut and run today, leaving bond yields to again surpass recent highs.
In the span of 24 hours, starting with tomorrow at 8:30 a.m. EST, the market will be hit with the
Producer Price Index
, the
retail sales
report, the
Consumer Price Index
and a much-anticipated speech by
Federal Reserve
Chairman
Alan Greenspan
. Ugh.
"Generally speaking, the overall debt burden brought on by new supply is weighing on the market along with other things," said Tony Crescenzi, chief bond market strategist at
Miller Tabak
.
Lately the 30-year Treasury bond was down 16/32 to 92 15/32, boosting the yield 4 basis points to 6.71%, the highest since July 2, 1997. For a brief time, the 10-year note yielded more than the 30-year, but it was lately trading at 6.71%, down 11/32.
The market: Join the discussion on
TSC
Message Boards. There were little data to move the market today, so supply of all types was the market's focus. To begin with, the Treasury sold $6 billion of 10-year Treasury Inflation-Protected Securities. Generally strategists don't attach much importance to these sales in terms of gauging market mood, but the 3.07-to-1 bid-to-cover ratio (that's the number of bids vs. what was offered) suggests that concern about rising inflation has intensified among the market. (July 1999's auction had a 2.1 bid-to-cover ratio.) Coupon payments on TIPS are calculated on principal that grows in line with CPI inflation, which many expect to increase this year.
Large corporate and agency sales also contributed to the pressure on the Treasury market.
Fannie Mae
undefined
sold $10 billion in two-year and 10-year notes today, partially distributed on the Internet by co-underwriter
Morgan Stanley Dean Witter
. About 35%, or $1 billion, of Morgan Stanley's portion of the deal was done over the Net, and a banker familiar with the deal said using the Net did help broaden distribution of the offering.
Ford Motor Credit
,
Ford's
(F) - Get Ford Motor Company Report
financing arm, also sold $1.2 billion in three-year notes over the Internet as well today, an increase from the original $1 billion size. This deal, sold through
Lehman Brothers
and
Fidelity Capital Markets
, was the first corporate offering sold entirely over the Net.
DaimlerChrysler
(DCX)
sold $3 billion in notes the old-fashioned way, all of which weighed on an already-strained market.
The supply, much of which is concentrated in the 10-year sector, along with the recent poor performance of major foreign bond markets, which generally use the 10-year note as their benchmark, is most responsible for the pressure on 10-year Treasuries. It caused the yield spread between the 10-year and 30-year to invert briefly, with the 10-year yielding 6.70% and the 30-year at 6.69%. Generally, when yields on longer-dated securities are lower than short-dated securities, strategists regard it as evidence that the economy is going to slow and that the Fed is taking an aggressive stance on inflation.
"It's more significant when two-year
notes and five-year
notes invert" with the 30-year bond, Crescenzi said. "It reflects confidence in the Fed and suggests that the Fed will be successful in raising rates and holding down inflation."
Especially if you believe
IDEAglobal.com
, which said in a report today that the Fed is on a fast track to raise interest rates by 100 basis points to 6.5% during the first half of the year. (
TSC's
economics correspondent
James Padinha
addressed this topic in a story
today.) The market's already looking for one rate hike at the Feb. 1-2
Federal Open Market Committee
meeting, but is nervously hoping for a clue to future Fed policy when Greenspan speaks to the
New York Economic Club
Thursday night.
Josh Stiles, market strategist at IDEAglobal.com, who did not write the report, said, "I would imagine the market is braced for pretty hawkish commentary tomorrow."
Knowing Greenspan's penchant for a measured, "on-the-one-hand, on-the-other" approach, he said, "A little more balanced testimony, rather than something all negative, the market could handle. People who believe in Greenspan are probably going to say, 'Let's get the news, and then wherever we are, let's put money to work."
Tomorrow morning, the PPI, the market's best indicator of wholesale inflation, will be released. The PPI is expected to rise 0.3% in December, according to economists as polled by
Reuters
, due to rising energy prices. The core PPI, which excludes volatile food and energy prices, is expected to rise 0.1%.
The December retail sales report will also be released. Economists have forecast a 0.7% increase, according to
Reuters
, but talk was the market is expecting an even stronger report because of the holiday shopping season. Excluding auto sales, economists are looking for a 0.6% rise.
TO VIEW TSC'S ECONOMIC DATABANK, SEE:
http://www.thestreet.com/markets/databank/851065.html
Street Sightings
James J. Cramer will be chatting on Yahoo! Thursday, Jan. 13, at 5 p.m. EST. Register for Yahoo! Chat at:chat.yahoo.com. It's free!
Chat with John J. Edwards III Monday, Jan. 17, on AOL's MarketTalk at 3:30 p.m. EST. MarketTalk is hosted by Sage Online.
Copyright 2000, TheStreet.com