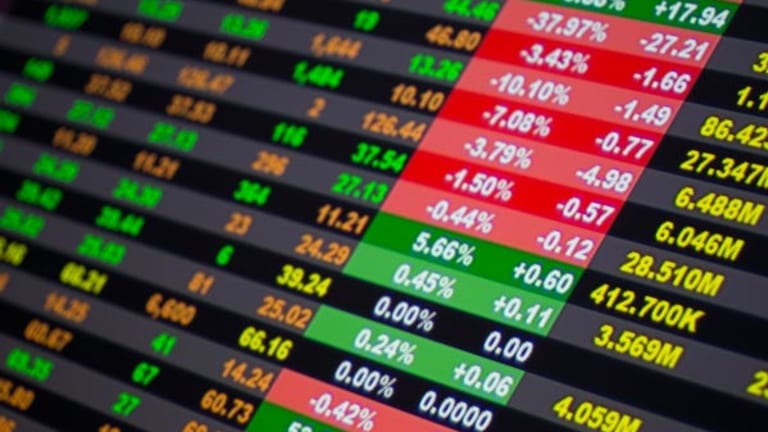 TheStreet.com's DAILY BULLETIN
January 8, 2000
http://www.thestreet.com
Market Data as of Close, 1/6/00:
o Dow Jones Industrial Average: 11,253.26 up 130.61, 1.17%
o Nasdaq Composite Index: 3,727.13 down 150.41, -3.88%
o S&P 500: 1,403.45 up 1.34, 0.10%
o TSC Internet: 1,026.40 down 81.40, -7.35%
o Russell 2000: 475.34 down 3.49, -0.73%
o 30-Year Treasury: 94 13/32 up 26/32, yield 6.572%
Companies in Today's Bulletin:
Lucent Technologies (LU:NYSE)
Promatory Communications
Edgar Online (EDGR:Nasdaq)
In Today's Bulletin:
o Stocks to Watch: A Lucent Call With Murky Information
o Wrong! Tactics and Strategies: Trying to Make Sense of It All
o Evening Update: Lucent's Woes Top Evening Action and Papa John's Boosts Buyback Program
o Bond Focus: Short-Covering Lifts Bonds Ahead of Jobs Report
Also on TheStreet.com:
Networking: Lucent's Woes 'Not a Market Issue'
Few market watchers expect Lucent's ailments to hurt the broader sector.
http://www.thestreet.com/tech/networking/856149.html
Internet: What Edgar Online Isn't Disclosing
The stock jumps on news of strong revenue, but the firm doesn't mention the site was down for a day and a half.
http://www.thestreet.com/tech/internet/855803.html
Networking: Instead of Going Public, Promatory Prefers to Merge
Some speculate that the DSL company opted for a takeover instead of facing a lukewarm IPO reception.
http://www.thestreet.com/tech/networking/856097.html
Market Features: Whiplash Volatility Crushing Wall Street's Confidence
Up or down, the market's been making bigger and bigger moves. Investors' strategies can't keep up.
http://www.thestreet.com/markets/marketfeatures/855745.html
Stocks to Watch: A Lucent Call With Murky Information
By
Joe Bousquin
Staff Reporter
1/6/00 9:05 PM ET
It seemed sensible enough at the time.
Steven Levy of
Lehman Brothers'
equity research department issued a bullish note on the telecommunications sector Thursday, specifically
Lucent Technologies
(LU) - Get Free Report
, raising his price target on the stock to 95 from 90.
Then, just a few hours later, Lucent issued an earnings warning that shook the analyst, rocked the stock in after-hours trading and caused many to wonder why the company left the analyst out there swinging in the wind.
Lucent:TSC Message Boards
"You're not the only one that's brought that up this afternoon," Levy said Thursday evening as he prepared to call Don Peterson, Lucent's CFO, to find out exactly what had gone wrong.
But the analyst said he wasn't as worried about making the price-target change -- he said he made it as part of a broader review of the entire sector -- as he was about changing his rating on the stock to buy from neutral just two months ago.
That report's unfortunate title: "Risks Abate ... A Buy We Now Rate!"
"Having been negative on it for 11 months and then going positive on it two months ago -- and having egg on my face now -- that's what concerns me," Levy said. "I was dead right on this thing right up until November."
On Nov. 8, Levy changed his rating on the stock. He said it was then, after extensive conversations with management, that he became convinced that the company's "deteriorating balance sheet" had turned around. Until then, he was convinced that Lucent's growth had gotten ahead of itself.
"Obviously, we were wrong," he says now. And while he won't say that Lucent's management out-and-out lied to him about the company's financial health, he didn't have too many kind words for them, either.
"This is a Lucent screw-up," he says. "There is an increased credibility gap that I think they would have to admit to themselves."
Lucent's Peterson, while admitting that the company's earnings warning was a disappointment, wasn't offering up any
mea culpas
. "That's an unfortunate perception," Peterson says. "I think the situation has changed, but I'm not sure that necessarily creates a credibility gap. He and we always have to deal with a changing reality. And the reality in this case is a marketplace that's moving very rapidly."
Levy said he hadn't talked to Lucent directly before issuing his revised price target, which he stressed repeatedly was part of a larger analysis of the overall sector. (The last time he talked to management, he said, was before Christmas.)
To be sure, though, Levy plans to speak to the company Thursday night and he was preparing a new note in light of the earnings news. He said he was also considering changing his rating on the stock.
One issue Levy had been concerned with initially at Lucent was the amount of vendor financing -- the practice of financing leased equipment to customers -- the company has on its books. But when he changed his rating in November, he said he was led to believe that those levels were going to remain flat, and that played into his decision to upgrade the stock.
Peterson says it was unfortunate that vendor-financing levels in Lucent's annual report in mid-December concerned analysts, including Levy.
"They certainly weren't higher than we expected," Peterson said. "Maybe we need to do some better communication in that area because we think it was where we intended it to be."
Peterson says companies certainly have an obligation to be upfront with analysts. Price targets are another matter.
"I think companies have a very clear responsibility to describe the business to analysts," Peterson says. "They don't necessarily have a responsibility to make forecasts. We don't make forecasts."
Unfortunately for Levy, analysts do.
Wrong! Tactics and Strategies: Trying to Make Sense of It All
By
James J. Cramer
1/6/00 8:19 PM ET
First, let's get one thing straight -- everybody is afraid.
Suddenly it is not just
Gateway
undefined
-specific. It is not just
BMC Software
(BMCS)
-specific. It is not just interest-rate-specific. And it is not just
Lucent
(LU) - Get Free Report
-specific. The selloff has merit, makes sense, is not irrational, and can be justified by bull and bear alike.
Second, the Lucent conference call, while very clearly indicating that
demand
was not a problem, can't allay fears because it is layered on top of these other recent disappointments. And this, of course, is layered on top of the greatest fourth quarter anybody can ever remember.
Third, we could still fall considerably and barely (
Freudians
, please note that in the first draft that came out "bearly") dent that colossal gain we had last year.
Fourth, it would be enough just to fret about how the payroll number might be because, as everyone knows, the
Fed
wants growth to be slower than it is.
At
Cramer Berkowitz
, we have cash both coming in and on the sidelines. We feel confident that we can continue to put money to work in the Lucent-created downturn.
We are split, however, on where to go. I was arguing last night that maybe we need to buy some safety first before we average in more on tech. If
Colgate
(CL) - Get Free Report
or
P&G
(PG) - Get Free Report
come down off of the futures, that should be our first buy. A
Kimberly-Clark
(KMB) - Get Free Report
would fit that bill.
Jeff Berkowitz
likes to buy distressed merchandise of nondistressed companies. Confident -- post-Lucent -- that telco demand and semiconductor demand is still strong, he is drawn toward "multiple" tech, or tech that sells at a multiple to earnings.
Cramer's Latest: Join the discussion on
TSC
message boards
Lucent (LU)
I am actually more confident that the
B2Bs and the
TheStreet.com New Tech 30 (formerly the Red Hots) have corrected enough to add to those positions, as we only have token amounts.
Neither one of us, of course, is so certain that we can sit here and say, "You have to buy this or that." If we were, we would be robots with a script.
Nevertheless, as we rap up our calls on Lucent we come down strongly on the side that says that the real earnings season will soon be upon us and we will regret selling our basic core tech at these prices -- even though they are up substantially from last year at this time.
I wish I could exude confidence right now; I know many people wish I would. But in the end, I am a portfolio manager struggling to make sense with a lot of unknowable items.
I came in with cash at the beginning of the year, not expecting, but actually hoping for, a dip to get in. I did not expect a chasm. But now that it is upon us, I am not going to turn tail.
That's not how the game is played.
******
James J. Cramer is manager of a hedge fund and co-founder of TheStreet.com. At time of publication, his fund had no positions in any stocks mentioned. His fund often buys and sells securities that are the subject of his columns, both before and after the columns are published, and the positions that his fund takes may change at any time. Under no circumstances does the information in this column represent a recommendation to buy or sell stocks. Cramer's writings provide insights into the dynamics of money management and are not a solicitation for transactions. While he cannot provide investment advice or recommendations, he invites you to comment on his column at
jjcletters@thestreet.com.
Evening Update: Lucent's Woes Top Evening Action and Papa John's Boosts Buyback Program
By
Eileen Kinsella
Staff Reporter
1/6/00 7:53 PM ET
Lucent Technologies
(LU) - Get Free Report
threw Wall Street for a loop when it announced it expects first-quarter earnings to fall below estimates. The telecommunications equipment giant attributed the shortfall to flat revenue growth caused by changes in customer purchasing habits, lower software revenues and lower-than-expected gross margins. The company said it expects to report earnings in the range of 36 cents to 39 cents a share, compared with 48 cents a year ago. The 29-analyst estimate from
First Call/Thomson Financial
was for 54 cents. Lucent said it expects revenues to be in the range of $9.8 billion to $9.9 billion, flat with the year-ago period.
The expected shortfall marks a sharp departure from the company's excellent earnings track record. Until now, Lucent has beat earnings forecasts in every quarter since it was spun off from
AT&T
(T) - Get Free Report
in 1996. Further
Lehman Brothers
decision this morning, to up the stock's target price to 95 from 90, looks unusual in light of the recent news.
For additional coverage of Lucent's earnings
warning, check out a separate story from the
TheStreet.com/NYTimes.com
joint newsroom. Also see
TheStreet.com's
past coverage of
Lucent including an in-depth look at the company's
accounting practices.
Inflows to equity funds totaled $2 billion for the week ended yesterday, according to
AMG Data Services
. International equity funds reported redemptions from all emerging & developed regions. Taxable bond outflows totaled $228 million.
In other post-close news (
Earnings estimates from First Call/Thomson Financial; earnings reported on a diluted basis unless otherwise specified.
):
Earnings/revenue reports and previews
AEP Industries
(AEPI)
posted a fourth-quarter loss from continuing operations of 33 cents including a charge, wider than the single-analyst estimate of a loss of 10 cents and lower than the year-ago earnings of 16 cents a share.
FVC.com
undefined
said it sees a fourth-quarter loss of 6 cents to 9 cents a share. The four-analyst estimate was for a loss of 1 cent a share.
Metron Technology
(MTCH) - Get Free Report
posted second-quarter earnings of 13 cents a share, beating the three-analyst estimate of 11 cents and the year-ago loss of 15 cents.
Mothers Work
(MWRK)
said it expects first-quarter earnings to beat analyst estimates. The company said it sees earnings between 56 cents to 58 cents, better than the single-analyst estimate of 46 cents a share.
Printronix
undefined
said its fully taxed diluted earnings per share for the third quarter were 51 cents a share, compared with the year-ago 36 cents. The two-analyst estimate called for earnings of 54 cents.
Sports Authority
undefined
said its December same-store sales fell 1%.
Starbucks
(SBUX) - Get Free Report
said its same-store sales rose 5% in December.
Sterling Software
(SSW) - Get Free Report
said it expects first-quarter earnings to match or narrowly exceed estimates. The seven-analyst estimate calls for earnings of 35 cents a share.
Systems & Computer Technology
(SCTC)
said it expects a loss of about 18 cents to 22 cents a share for the first-quarter, wider than the four-analyst estimate of a loss of 3 cents a share.
Ultimate Software
(ULTI)
warned fourth-quarter results will fall below expectations due to delays in closing year-end license business and customer buying decisions over Y2K concerns. The company said it expects results to be break-even to a loss of 3 cents a share. The lone-analyst estimate called for earnings of 19 cents a share.
Mergers, acquisitions and joint ventures
Ogden
(OG)
said it received approval from federal officials for a 20-year airport improvement plan in the Dominican Republic that is expected to generate about $2 billion in revenues for the company.
Primex Technologies
(PRMX)
said it will become a preferred strategic supplier to
Raytheon
undefined
.
Offerings and stock actions
Papa John
(PZZA) - Get Free Report
said it would increase its common stock repurchase program to $100 million.
Bond Focus: Short-Covering Lifts Bonds Ahead of Jobs Report
By
Elizabeth Roy
Senior Writer
1/6/00 6:18 PM ET
Flaunting its essential unpredictability, the bond market rallied today, in spite of the gains by the
Dow Jones Industrial Average
and the
S&P 500
.
Over the previous two trading sessions, the Treasury market traded inversely to the Dow and the S&P, rallying as the stock proxies tanked on
Tuesday and then sinking as they rebounded
yesterday.
The market: Join the discussion on
TSC
Message Boards.
The benchmark 30-year Treasury bond in late trading was up 26/32 at 94 13/32, trimming its yield 6.6 basis points to 6.555%. Shorter-maturity notes shed 5 to 7 basis points of yield on the session.
Favorable performances by the two economic reports of the day didn't hurt, but a market analyst said the main force behind the bond market's performance today was the pending release of the December
employment report
. Slated for release tomorrow morning at 8:30 a.m. EST, the jobs report is the most important economic release to hit the Street each month, because it is a big picture of how fast the economy is growing right now. Accordingly, the bond market makes some of its biggest moves on jobs-report Fridays.
Ken Fan, bond strategist at
Paribas Capital Markets
, said today's rally represented mainly short-covering ahead of the jobs report. "The market had been fairly short going into tomorrow's number," he said. The risk in that, Fan explained, is that the report will be market-friendly and the bond market will rally. "In the medium term everyone is bearish, thinking that the Fed has to tighten a number of times to get the economy straight," he said. "But the front-end of the market has priced in a lot of tightening, so the upside risk is just as high as the downside risk for a one-day trade tomorrow."
What he meant was: While most bond investors expect the
Fed
to raise the
fed funds rate
by 25 basis points to 5.75% at its next meeting on Feb. 1-2,
fed funds futures
have fully priced in that hike, as well as a nearly 30% chance of a 50-basis-point hike at that meeting. If the December employment report is friendly, it's possible that the market will rally because a 50-basis-point rate hike is less likely than previously assumed.
On the economic calendar today,
initial jobless claims
jumped 29,000 to 309,000, the highest level in 13 weeks. But
Chase Securities
economist Bill Sharp said it's not necessarily an indication of sorely needed slack in the labor market. Rather, he said, it's probably a function of the volatility that infects this data series around the New Year's holiday.
Also, November
new home sales
plummeted 12.2%, much more than expected, to 865,000. The bond market likes that because slower new home sales can help slow economic growth. But the pace is still quite high by historical standards.
A large new issue also affected Treasuries today, Paribas' Fan said. Federal agency
Freddie Mac
undefined
sold $6 billion of five-year notes to investors shortly before 9 a.m. After the deal priced, dealers who had sold Treasuries to hedge their exposure to it bought them back, a routine procedure.
World Bank Lines Up Internet Deal
Freddie Mac said its deal was the first agency bond issue to be offered to investors via the Internet.
Merrill Lynch
and
Warburg Dillon Read
, lead managers on the deal along with
Salomon Smith Barney
, used Internet platforms to market, process orders for, allocate and distribute the notes, which were priced to yield 6.941%. The process allowed Freddie Mac to watch in real-time as orders came in.
Merrill marketed the notes to U.S. investors; Warburg, to European and Asian investors.
Merrill clients phoned in their orders to salesmen, who entered them in Merrill's Direct Markets system, a Merrill spokesman said. Eventually, clients will be able to enter their own orders, he said. Warburg's DebtWeb system allowed clients to enter their own orders, but a company spokesman wouldn't say what share of the orders were entered that way.
Meanwhile, the
World Bank
today said that it will sell the first bond issue that investors can order, buy, and then trade online. Working primarily with
Goldman Sachs
and
Lehman Brothers
, World Bank is planning a $3 billion bond. A Goldman spokeswoman said the bond's maturity will be subject to market conditions, and that the pricing will probably be sometime in the next two weeks.
A World Bank spokesman said both Goldman and Lehman have Internet platforms that will feed into a World Bank Web site so that the bank can watch the so-called book-building process. Online brokerages
Charles Schwab
and
Fidelity
will participate, with Schwab funneling customer orders to Goldman and Fidelity funneling them to Lehman. John Ladensack, general manager of fixed income at Schwab, said customers will be able to place market orders for a specified quantity of bonds, which will be priced at or near par, and have the opportunity to cancel their orders if they deem the coupon on the bonds, which will be determined at the pricing, too low.
TO VIEW TSC'S ECONOMIC DATABANK, SEE:
http://www.thestreet.com/markets/databank/851065.html
Copyright 2000, TheStreet.com