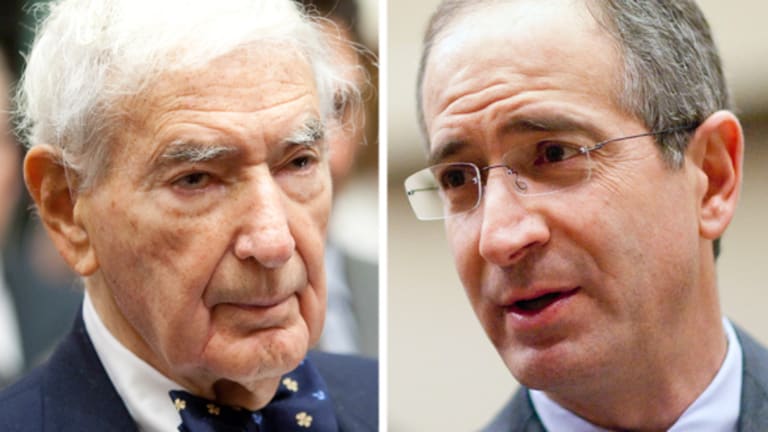 Dads Who Give Their Kids the Family Business, Even When It's a Huge Business
For dads in the business world, trusting their children has meant a lot more than just tossing them the keys to the family car.
NEW YORK (TheStreet) -- Father's Day came early for Rupert Murdoch, the Australian-born media mogul who controls 21st Century Fox (FOX) - Get Free Report (FOXA) - Get Free Report.
Just this week, Murdoch joined a long line of business-owning patriarchs who've handed their corporate jewels to their kids. As is the case with James Murdoch, 42, and his older brother Lachlan, 44, children of company founders have often been publicly groomed since their school days to assume the mantel of the family business.
Brian Roberts, the Comcast (CMCSA) - Get Free Report CEO, is one example. His father, Ralph J. Roberts, died on Friday at the age of 95, reminding investors of Philadelphia-based Comcast of the lineage that runs through the country's largest cable-TV provider. Whether James Murdoch will be as highly regarded as the younger Roberts is a matter to be played out over the coming years. 
Yet, as we approach Father's Day on Sunday, we can only wonder whether Rupert Murdoch -- and Fox's investors -- will rest easy with James and Lachlan poised to take over the global television and film company he began building from a local newspaper in Adelaide, Australia back in the 1950s.
Here's how things panned out for other dads who've handed their kids the right to run the family business:

Fred and Donald Trump (The Trump Organization)
What the transition was like: The Donald's father, Fred, was a self-made real estate developer known for his middle-class housing developments in Brooklyn and Queens. He still wore honorary titles as chairman of the board of Trump Management at the time of his death. In the months afterward, the younger Trump grappled for full control of the Empire State Building, built the Trump World Tower and weighed a first run for the presidency.
What's happened since: A lot. Trump became a reality TV star with The Apprentice and has gone on to more bids to be president. In 2005, he sued a reporter for the New York Times to the tune of $5 billion in damages for reporting he was worth less money than he claimed. There continues to be much debate over Trump's net worth, which he pegs at $8.7 billion but other analysts put at less than half that sum. We've reported elsewhere about the roles of extended members of the Trump clan in the family real estate business.
Arthur Ochs Sulzberger and Arthur Ochs, Jr. (The New York Times (NYT) - Get Free Report)
What the transition was like: Arthur Ochs Sulzberger, the publisher best known as"Punch," hand the position of publisher to his son in 1992, following his own stints as a reporter and editor. The younger Sulzberger took over as chairman of New York Times Company in 1997. Just over a year into his tenure, The New Yorker noted that while the paper's daily circulation was at its all-time peak at that time, Sulzberger was concerned about maintaining advertising revenue, recruiting a more diverse staff, and making the business side of the paper "nimble."
What's happened since: The Grey Lady has seen ups and downs. In the early 2000s, its credibility was undermined by rogue journalist Jayson Blair, whose shoddy reporting led to editor resignations. The Times' business model has since been under pressure by the migration of advertisers and readers to the Internet. As a result, the Times' stock has under-performed the S&P 500 by a widening margin over the past decade. Sulzberger Jr. has been closelyscrutinized for his efforts to make a digital future for the Times. By another measure, he has bagged 50 Pulitzer Prizes during his time as publisher.
Ralph and Brian Roberts (Comcast)
What the transition was like: Founded by Ralph Roberts in 1963 as a single cable system in Tupelo, Mississippi, Comcast went public in 1972. When told he would have been worth more as owner of a private business, Ralph replied that his goal was "to build a great company I can turn over to Brian." His son would literally climb his way to the top at Comcast, at one point stringing cables from utility poles. In 2002, the same year Brian Roberts became CEO, Comcast acquired AT&T Broadband to become the largest cable company in the U.S.
What's happened since: Comcast remains the largest video, Internet and phone provider in the country, but Brian's ambitions have sometimes proven too big for shareholders and regulators. A takeover bid for the Walt Disney (DIS) - Get Free Report in 2004 met with Wall Street disapproval, and the proposed deal flopped within months. More recently, regulators blocked Comcast from purchasing Time Warner Cable (TWC) . But that hasn't been bad for Comcast stock. Shares have gained 226% over the past five years.
Emilio and Ana Botin (Santander Group (SAN) - Get Free Report)
What the transition was like: Over nearly 30 years as chairman, Botin's aggressive acquisitions strategy helped make Madrid-based Santander the Eurozone's largest bank by market capitalization, but its balance sheet would fail two consecutive Federal Reserve exams in the weeks and months after his death in September 2014. His daughter Ana, a long-time board member and then head of Santander's U.K. bank, was immediately promoted to replace him as chair.
What's happened since: Ms. Botin, the fourth in her family at the bank's helm since 1909, has had no qualms about moving away from her father's legacy. "The priority now isn't to make acquisitions," she said at a news conference in February, "it is to offer better service." So far, she has replaced Santander's chief executive, shuffled its management team, and sold $8.5 billion in shares to ease investor concerns.
Ned and Abigail Johnson (Fidelity Investments)
What the transition was like: Abigail Johnson started working the phones at Fidelity in high school and returned to the Boston-based investment company by way of Booze Allen Hamilton and Harvard Business School. As her father announced in October 2014 that he was vacating his seat as CEO to make room for his daughter (and ascending to board chairman himself), Ms. Johnson was tasked with defending its core businesses while seeking to integrate new technologies and appeal to young people and women.
What's happened since: In 2014, Fidelity remained the second largest mutual fund company in the U.S. and reported that operating income rose 29 percent. While it has lost customers for its managed assets services to cheaper index providers such as Vanguard Group, the biggest mutual fund company, Fidelity managed to cut costs and grow its retirement business.
Eugene Schueller, father of Liliane Bettencourt (L'Oreal)
What the transition was like: Eugene Schueller started mixing homemade hair dyes and hawking them around Paris before World War I. Upon his death in 1957, Bettencourt inherited her father's stake in L'Oreal at the age of 34. She would never be its chief executive, but maintained a majority share when the L'Oreal Group was listed on the Paris Stock Exchange in 1963.
What's happened since: L'Oreal is now the world's largest cosmetics maker with a market capitalization of over $90 billion and counts Maybelline New York makeup and Garnier hair products among its brands. While in recent years the Bettencourt Meyers family has been embroiled in personal and political scandals, it continues to be L'Oreal's largest single shareholder, owning nearly a third of the Paris-based company.
Sam and Robert Walton (Wal-Mart (WMT) - Get Free Report)
What the transition was like: Wal-Mart founder Sam Walton's "Lowest Prices Anytime, Anywhere" mantra remains the guiding principle for the the Bentonville, Arkansas-based big box store he founded in 1962. Upon his death in 1992, the Waltons as a family controlled 39% of Wal-Mart's common stock.
What's happened since: Sam's eldest son, Rob, took his place as Wal-Mart chairman following his death in 1992. Christy Walton, sister-in-law to Rob and widowed wife to John Walton, is the world's richest woman. Four Waltons total hold spots in the top 20 richest people in the world, according to the Bloomberg Billionaires Index. If personal wealth is any indicator, they appear to be doing just fine.


Fred Koch, father of Charles and David Koch (Koch Industries)
What the transition was like: Fred Koch founded Wood River Oil and Refining Co., precursor to Koch Industries, in 1940. The family patriarch made his four boys work countless chores mowing lawns, bailing hay, and digging ditches at home in Wichita, Kansas. Two of them -- Charles and David -- would later fight brothers Frederick and Bill for control of their father's business. (The four would finally reconcile in 2001.)
What's happened since: When the business suffered several legal entanglements related to flouting government safety and environmental regulations, the Kochs redoubled their commitment to comply with the law while simultaneously putting more money into lobbying to change them and supporting conservative political causes. Today Koch Industries is the second-largest privately held company in the U.S., just behind the family-owned Big Food behemoth Cargill.
Hugh and Christie Hefner (Playboy Enterprises Inc.)
What the transition was like: The house that Hef built was past its prime when Christie Hefner took over as CEO after her father suffered a minor stroke in 1985. The younger Hefner would oversee an initial renaissance of sorts, with the brand enjoying renewed visibility and licensing revenue on the heels of a hit reality television program starring Hugh on E! Entertainment.
What's happened since: When Christie Hefner exited Playboy in 2008, the company was reporting falling sales and rising costs. The next year, Hugh Hefner ended Playboy's 39 years as a public company in a buyout deal. Shares had lost 82% of their value following a peak in 1999 at $33.44. Needless to say, the men's magazine market has lots of competition from the Internet.