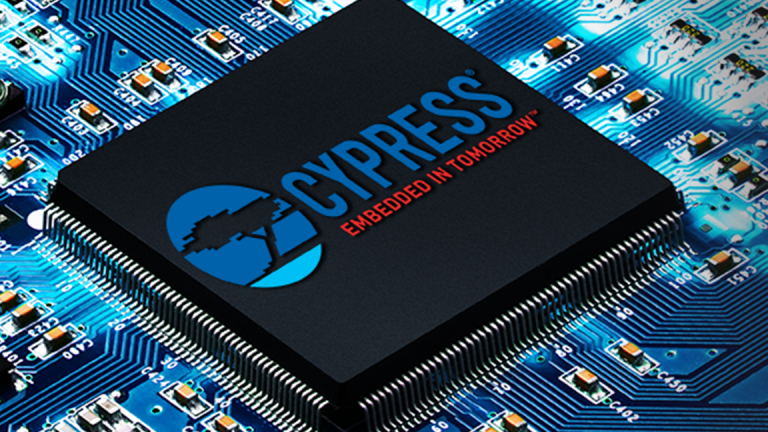 Cypress Semi's CEO Talks Cars, Smart Homes and Industry M&A With TheStreet
In an interview with TheStreet Cypress CEO Hassane El-Khoury discussed his company's near-term sales weakness and long-term opportunities, as well as the chip M&A landscape.
As Cypress Semiconductor  (CY) - Get Cypress Semiconductor Corporation Report weathers a chip industry downturn, it remains quite upbeat about its growth potential in the automotive and smart home markets over the next few years.
Cypress makes (among other things) micro controllers (MCU), connectivity chips, memory chips and power management chips for a wide variety of end markets. The company posted 2017 revenue of $2.33 billion, and the analyst consensus is for 2018 revenue of $2.48 billion. Over the last year, Cypress shares are down 23%, but they're up 4.5% so far in 2019.
As was the case in in 2017 and in 2018, I had a chance to talk with Cypress CEO Hassane El-Khoury at CES. Here's a look at his thoughts on several key topics.
The Industry Downturn
Like several peers, Cypress issued a light December quarter sales outlook in October. At the time, the company blamed lower order replenishment rates, particularly among customers in the Asia-Pac region that are servicing consumer and industrial end markets. El-Khoury reiterated that inventory replenishment issues among hardware makers and distributors (in China, particularly) are the main culprits behind Cypress' recent sales pressures, and added that the company hasn't seen a major drop in end market demand.
"Nobody wants to have inventory with all that uncertainty in the economy," he said. El-Khoury also indicated changes in the yuan-dollar exchange rate are motivating Chinese customers to hold less inventory, and that Cypress isn't seeing order cancellations. He said customers were in a "wait-and-see mode" regarding business conditions.
At a recent Needham investment conference, CFO Thad Trent indicated that some customers outside of China are also now ordering cautiously. "I think what you're seeing now in other parts of the world is just kind of that same conservatism," he said. "I think people are just going to kind of buckle up a little bit." The comments came ahead of Cypress' Jan. 31 fourth-quarter earnings report.
Cypress' Smart Home Growth and Product Plans
Cypress has had a number of ways to profit from the growing sales of smart home hardware. The company is a major supplier of MCUs and Wi-Fi/Bluetooth connectivity chips for consumer and industrial IoT devices, and also sells several other types of chips into these end markets. Its silicon can be found inside of Amazon.com's (AMZN) - Get Amazon.com Inc. Report Echo speakers, Nest's thermostats and Oculus' VR headsets, as well as plenty of lesser-known home devices.
Amazon.com is a holding in Jim Cramer's Action Alerts PLUS member club. Want to be alerted before Jim Cramer buys or sells AMZN? Learn more now.
El-Khoury claimed Cypress is seeing above-market growth in the smart home space, thanks in part to its willingness -- in a field where niche markets are mushrooming -- to support both high-volume and low-volume customers. "Strategically what we've done is we've taken that business broad," he said. IoT, El-Khoury observed, is a market where "you can't parachute 50 engineers to [address] every opportunity," which can make it a challenge for companies used to developing solutions for a limited number of customers or device types.
He also views Cypress' ability -- unlike MCU rivals such as NXP Semiconductors (NXPI) - Get NXP Semiconductors N.V. Report and Microchip Technology (MCHP) - Get Microchip Technology Incorporated Report , as well as connectivity chip competitors such as Qualcomm (QCOM) - Get QUALCOMM Incorporated Report  and Marvell Technology (MRVL) - Get Marvell Technology Inc. Report -- to supply both MCUs and connectivity chips for devices as a key competitive strength. "That's why Qualcomm was going after NXP," El-Khoury asserted. "Because they realized that you need both."
Going forward, Cypress wants to create solutions that put an MCU and Wi-Fi/Bluetooth connectivity functions onto a single chip. At the same time -- unlike firms such as Qorvo (QRVO) - Get Qorvo Inc. Report  and Silicon Labs (SLAB) - Get Silicon Laboratories Inc. Report  -- Cypress doesn't have any plans to enter the growing market for connectivity chips supporting the low-power Zigbee standard. In a statement, the company said it believes Bluetooth mesh networking and low-power Wi-Fi solutions will supplant Zigbee in time, thanks to their high levels of interoperability with other devices and ability to directly connect with smartphones (rather than always relying on a hub).
Automotive Opportunities and Competition
On Cypress' October earnings call, El-Khoury stated his company has a chip content opportunity of at least $125 per vehicle with some 2021 model cars, between MCUs, connectivity and flash storage chips going into driver-assistance systems, digital instrument clusters, infotainment systems and body electronics. When asked about this comment, he noted the accelerating pace at which automakers looking to differentiate are putting technologies initially offered within luxury cars into less costly vehicles is helping Cypress' cause.
On example given by El-Khoury: Toyota's decision to put a hybrid (partly digital) instrument cluster within its mid-range Corolla sedan. Cypress, he added, is the top provider of MCUs for instrument clusters.
At this year's CES, several firms including Qualcomm, NXP and Nvidia (NVDA) - Get NVIDIA Corporation Reportshowed off "digital cockpit" solutions in which a digital cluster and a high-end infotainment system are powered by the same processor. Though some of these systems use hypervisors to isolate the resources powering critical instrument cluster functions from the resources powering infotainment systems, El-Khoury insists legal and regulatory compliance issues will still help Cypress land cluster design wins for digital cockpits.
The Memory Business
Three months ago, a few months after the NAND flash memory market saw prices start to nosedive, Cypress announced that it is offloading its NAND business to a joint venture that will be 60%-owned by South Korean memory giant SK Hynix. However, El-Khoury indicated Cypress remains comfortable holding onto its NOR flash and SRAM memory chip businesses, given that these businesses are far more focused on higher-margin products sold via long-term supply deals.
Cypress has already walked away from $150 million worth of low-margin NOR sales, El-Khoury pointed out, while adding that the company got little credit for the moves when they were carried out since the NOR market was healthy at the time. "Now, when the market turns, people go 'A-ha, that was the right strategy'," he said.
Views on Chip M&A
A year ago at CES, El-Khoury and Trent sounded optimistic that the chip industry would see more consolidation in 2018. Of course, that was before trade tensions and the Chinese government's unwillingness to approve the Qualcomm-NXP deal cast a pall over the chip M&A landscape, and also before the stock prices of many chip developers saw large haircuts.
Even if trade and regulatory worries go away, El-Khoury believes the fact that many firms are trading well below their highs will limit M&A in the near-term. "I would expect companies that have an incoming [offer], even with a premium, they're gonna look at it and say 'Yeah, OK, that's a great premium...but that's not even close to my 52-week high,'" he said. "So until the dust settles with the macro and the uncertainty, and the valuations stabilize," M&A activity is unlikely to pick up.