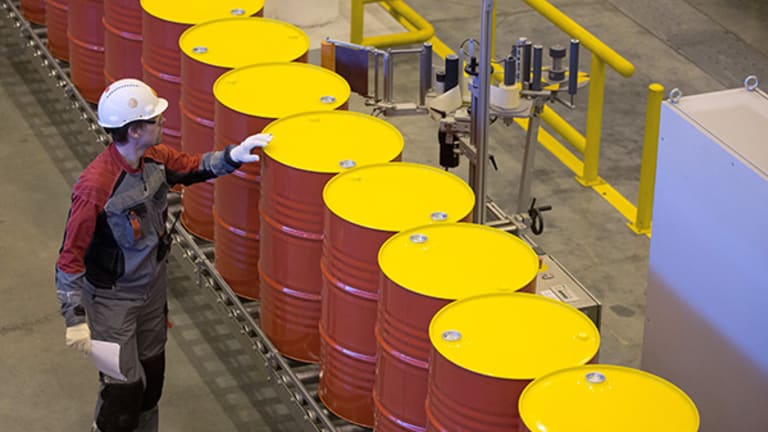 CXO, RDS.A, GLCNF, FCX: Jim Cramer's Views
Jim Cramer shares his views on hope in the oil patch and the worst bets in commodities. Concho, Royal Dutch Shell, Glencore and Freeport are among the stocks discussed here.
NEW YORK (Real Money) -- Jim Cramer shares his views every day on RealMoney.Click here for a real-time look at his insights and musings.
The Only Rule That Works in This Market
Posted at 4:43 p.m. EDT on Thursday, Oct. 1, 2015
You bought Concho (CXO) - Get Free Report on the last underwriting, the one at $108 back in February. You caught a moonshot to $128 as oil had that amazing fake-out move to the low $60s from the low $40s. It was an amazing deal and people felt great about it ... until oil collapsed back to $3 below where it was when that secondary was priced.
But hope springs eternal in the oil patch, and today's $92-a-share offering of 7.7 million shares was another winner, with the stock finishing up six.
Funny, oil's $3 lower than it was in February, and Concho, which is one of the best of the Permian plays, had to sell oil $16 lower than last time.
I think this says a lot about where the oil stocks are in this country.
First, Concho's a great company with a better balance sheet than most of the independents. It's been one of those companies that's been able to throttle back costs and still expand production growth. In other words, it is one of those scrappy companies that can muddle through.
It didn't need to do this offering.
Unless, perhaps, it wanted a war chest to be ready to drill for the oil of other companies that can't get credit.
So, it is both a hopeful and a negative sign. Hopeful because perhaps other oils besides Royal Dutch (RDS.A) , which obviously overpaid for its acquisition of BG earlier this year, are ready to do deals and create value via consolidation.
But negative because oil's basically at the same price as it was for Concho's last deal, but these stocks are trading like wasting assets given that decline in Concho's stock price.
At the time of publication, Action Alerts PLUS, which Cramer co-manages as a charitable trust, had no positions in the stocks mentioned.
Making Bets on Copper, Coal or Iron Is a Bad Idea
Posted at 11:00 a.m. EDT on Thursday, Oct. 1, 2015
Of all the commodities to go nuts about, of all the commodities to make positive bets on, copper, coal and iron have to be the worst. And yet those are the three commodities that seem to have seen the most interest and attracted the most leverage, just when the great commodity boom ended.
I totally get the issues in oil. The U.S. took production up gigantically, from 5.6 million barrels a day to a staggering 9.3 million barrels a day from 2011 to 2015. That made sense. There's always going to be a fairly robust market for oil, and, most important, as prices decline, more does get used. We have terrific light sweet crude production, and we'd be getting a lot more for it if we could export it -- as right now the companies that produce it can't get enough refinery capacity domestically to be able to get as big a profit as they would like, although more is coming online.
But ramping up copper, coal and iron ore? These were uniquely stupid bets. Think about these lunkheads. Glencore (GLCNF) , a trading firm that is light on assets, spends $41 billion for Xstrata to become a gigantic copper miner, just when copper was rolling over. Freeport (FCX) - Get Free Report, so confident in the cash flow of its copper mines, buys Plains and McMoran Exploration near the height of the oil boom at the end of 2012 for $9 billion.
The coal acquisitions? I can't even begin to understand what they were thinking. Alpha Natural (ANR)  spending $7 billion to buy the totally hobbled Massey back in 2011 being perhaps the most unimaginable. And then there are the production ramp-ups at Peabody  (BTU) - Get Free Report and Arch (ACI) - Get Free Report to meet world demand. Here is what Peabody Energy CEO Gregory Boyce said at a conference in June 2010: "We're in the early stages of a 30-year super cycle in global coal markets." He was confident that demand would accelerate for coal over the next decade. Accelerate!
And finally there are the three stooges of iron ore: Vale (VALE) - Get Free Report, BHPBilliton (BHP) - Get Free Report and Rio Tinto (RIO) - Get Free Report. All three have been boosting output, with Vale stepping up production massively, this most recent quarter being the second biggest on record. Iron prices have fallen by two thirds over the past two years and the glut is only intensifying. Anyone have a way out of Cliffs Natural  (CLF) - Get Free Report, which has about $3 billion in borowings? In retrospect, the Casablanca Capital activist challenge was one of the worst I have ever seen. The winners just plain lost.
Now the high yield market is truly being crushed by all of these producers who need credit. More importantly, when you hear about the issues involving, say, Glencore, remember you are talking not about things they can do to save themselves. You are talking about the price of copper. When you think about Peabody trying to not have to restructure, you are thinking about the price of coal.
Which is why the idea that any of these commodity companies is "out of the woods" is just fanciful. You just aren't going to cut your way out of these situations.
So remember, there's been tremendous damage here, almost all self-inflicted, and the end of the quarter offers no respite at all to any of these companies, even if their stocks saw selling decrease. Demand, so muted for all of these, is showing no signs of getting better; in fact it is getting worse -- because, alas, it is their own darned fault.
At the time of publication, Action Alerts PLUS, which Cramer co-manages as a charitable trust, had no positions in the stocks mentioned.