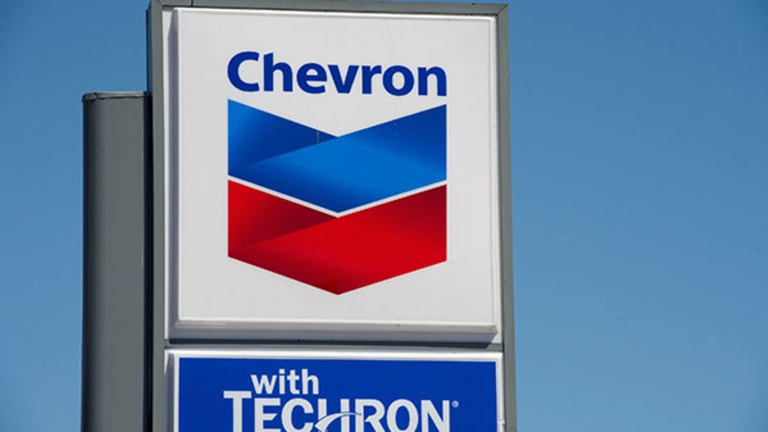 CVX, COP, CLX, GOOGL: Jim Cramer's Views
Jim Cramer shares his views on the importance of yield and online advertising. Chevron, Conoco, Clorox and Google are among the many stocks discussed here.
NEW YORK (Real Money) -- Jim Cramer shares his views every day on RealMoney.Click here for a real-time look at his insights and musings.
Yield Doesn't Mean Much These Days
Posted at 3:08 p.m. EDT on Friday, Aug. 7, 2015
It's rare that I have seen yield mean less than it does right now in the oil patch or in anything related to China.
There was a time when I would have thought, for example, that I could get Chevron (CVX) - Get Report with a 5% yield or Conoco (COP) - Get Report with a 6% one, and I would have been saying, "How can you not pick some up?" But the other times these stocks have been down here, no one expected a sustained downturn that would call their cash flow into such question. Both companies pledged their fidelity to the dividend when they reported, but it really didn't seem to matter at all.
As far as the distributions for the pipeline limited partnerships? They are all considered totally suspect. All of them. Plains All American (PAA) - Get Report pretty much assured us of that when it talked on the call about the possibility of not raising its distribution any time soon. What was extraordinary was that the stock acted as if it was going to cut the dividend. Same thing with MarkWest (MWE) , which is doing incredibly well and is merging with MPLX (MPLX) - Get Report so it doesn't even matter. That group's got the double whammy of too much MLP supply and some real bad holders, oh, not to mention a belief, rightly or wrongly, that we don't need all the pipes anymore because we aren't going to ship as much as before. MarkWest is sending Marcellus natural gas to where it is needed and there's little chance of that going away.
Or take Caterpillar (CAT) - Get Report. There is no doubt its almost 4% dividend is safe even as the company has a ton of Chinese exposure.
But it isn't enough protection against earnings shortfalls.
What's daunting right now is that many of these stocks are trading at worse levels than they did relative to their yield in the Great Recession. It says to me that the Fed is going to raise more than we think and people think the dividends are going to be cut more than the companies believe.
That's why these moves are so worrisome.
Yesterday after I did a whole show urging even more caution than usual as I haven't liked the setups most days, I heard more than the usual catcalling by the Twitter-atti. "Oh, if Cramer's this bearish, then I better get ultra-long," pretty much summed it up. News flash: Signs like yield not mattering are signs of real trouble. I am not predicting, I am just seeing, and I don't like what I see. 
At the time of publication, Action Alerts PLUS, which Cramer co-manages as a charitable trust, had no positions in the stocks mentioned.
Ad Dollars Moving Online at Lightning Speed
Posted at 8:34 a.m. EDT on Friday, Aug. 7, 2015
How big is this onslaught against traditional media? Last night I interviewed Benno Dorer, the new CEO of Clorox  (CLX) - Get Report, and I almost fell out of my chair when he said he had now shifted 30% of his media budget to online, particularly Google (GOOGL) - Get Report. Why? Because he says he demands to know his return on investment and the online dollars are more accountable and deliver more.
Holy cow. Clorox.
Now, Clorox isn't your parents' Clorox. It has updated its product lines. It is trying to think more youthfully. When there is a big flu epidemic, it follows it through social media -- not the Weather Channel, as Benno joked -- and it knows where to send extra disinfectants where the stores might otherwise run out.
But this is a lightning, not glacial, change and it is the other side of the cord cutting. Not only has traditional media become besieged by the overpricing of cable, but the deliverables, what can be promised and who can be reached, simply aren't as good, according to the CEO of Clorox.
Now remember, when you hear Google what that means is programmatic. You write Google a check and it gets your ads for a very low price to whatever sites algorithmically produce the most likely buyers of Clorox goods.
Clorox has many different shop-keeping units targeting many demos -- think of Burt's Bees with its organic, non-petroleum-based lip balms -- so it doesn't make sense to just make some big old media ad buy. The Web can be niche enough and gamed enough that the Burt's Bees ads hit far more sought-after targets than others.
It cannot be lost on the other consumer packaged goods companies that the company with the greatest acceleration in its industry is now spending far more online than they are. So, you can only expect to see more, not less, money going to Google and Facebook (FB) - Get Report and AOL (AOL)  and Yahoo! (YHOO)  and even Twitter (TWTR) - Get Report, if only the latter could possibly figure out how to get people to read it or pay for it.
At the time of publication, Action Alerts PLUS, which Cramer co-manages as a charitable trust, was long GOOGL, FB and TWTR.