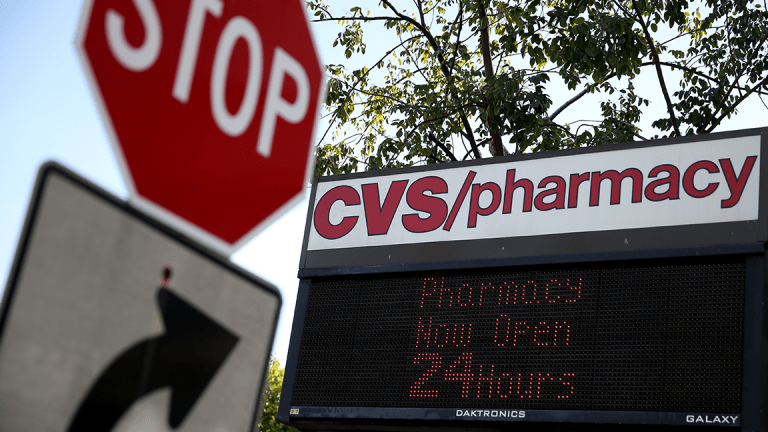 Relax, CVS Health's Stock Chart Still Looks Healthy Even With Amazon Lurking
What to do if you are wearing CVS Health on your sleeve, and suddenly realize that you were sucker punched?
One thing we have to understand is that while the entire equity market had gone somewhat parabolic in mid-to-late January, healthcare had gone even more so. The sector was ripe for some rotation, even if the three amigos -- Amazon's (AMZN) - Get Report Jeff Bezos, JP Morgan's (JPM) - Get Report Jamie Dimon and Berkshire Hathaway's (BRK.A) - Get Report Warren Buffett -- had not started landing kidney punches yesterday. It's plain to see on this chart of CVS Health (CVS) - Get Report that the stock was overbought; the 12 and 26-day exponential moving averages have simply galloped out in front of the nine-day EMA. On top of that, positive money flow of late exacerbated a move that had started even while that flow was still negative.
I have no position in this name, nor do I intend to initiate one. What to do if you indeed are wearing this position on your sleeve, and suddenly realize that you were sucker punched yesterday? The possible good news is that though the lower trend line of the Pitchfork was tested yesterday, that line has not yet been truly broken. There is no scandal here, and the business is not immediately threatened. If $80 support cracks, you still have Fan support just below $78, and then again just above $75.
I don't think you need to throw your entire position overboard at one time. That said, I think if it were me, that I would start working my way out of these on any pops that might come my way. One can start by covering the position by writing something against the equity. The March 16 $82.50 calls went out last night at $2.07. That ain't so bad, gang.
(This is an excerpt from Stephen "Sarge" Guilfoyle's Morning Recon, which now appears exclusively on Real Money, our premium site for active traders. Click here for a free 14-day trial and receive Morning Recon every day, along with exclusive columns from Jim Cramer, James "RevShark" DePorre, technical analyst Bruce Kamich and more.)
More of What's Trending on TheStreet:
At the time of publication, Stephen Guilfoyle was long AMZN, although positions may change at any time.