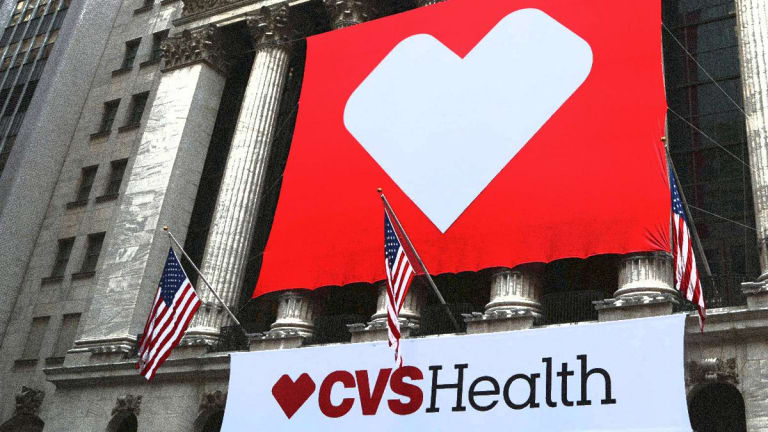 CVS Beats Q4 Earnings Forecasts but Guides for Weaker 2019 Profit
CVS Health trades sharply lower Wednesday after it posts stronger-than-expected fourth-quarter earnings but issues 2019 profit guidance that falls far short of Wall Street forecasts.
CVS Health Corp. (CVS) - Get CVS Health Corporation Report  shares closed 8.1% lower Wednesday at $64.22, after it posted stronger-than-expected fourth-quarter earnings but issued 2019 profit guidance that fell far short of Wall Street forecasts linked to "significant additional deterioration" in its long-term care business. 
CVS Health said adjusted earnings for the three months ending in December came in at $2.14 per share, up 11.5% from the same period last year and firmly ahead of the Street consensus of $2.05 per share. Group revenues, CVS said, rose 12.5% to $54.424 billion, a figure that fell modestly shy of the consensus estimate of $54.58 billion. CVS also said it took a $2.2 billion goodwill impairment charge linked to its long-term care (LTC) business.
Looking into 2019, CVS said it sees cash flow from operations in the range of $9.8 billion to $10.3 billion and full-year GAAP earnings of between $4.88 and $5.08 per share, or $6.68 to $6.88 on an adjusted basis, well below the Refinitiv forecast of $7.41 per share and the 2018 tally of $7.08 per share.
"2018 was a milestone year for CVS Health as we successfully completed our transformational merger with Aetna, began effective implementation of our integration strategy, and took important steps toward building the integrated healthcare model that will bring substantial value to our various stakeholders," said CEO Larry Merlo. "We had strong financial performance and delivered on our operating expectations."
CVS Health shares were down 7.6% to $64.58.
Last month, CVS Healthreached a multi-year agreement with Walmart (WMT) - Get Walmart Inc. Report to maintain its retail pharmacy Medicaid network and pharmacy benefit management systems after warning earlier this week that the two companies had parted ways.
CVS had argued that Walmart's required rates to maintain the system would result in higher drug prices for customers, but noted Friday that the two sides had reached a "a mutually agreeable solution", although terms of the deal were not disclosed.